Need ideas on where to travel to? Check out our 10 Days Da Nang Itinerary. We'd thought 10 days was more than enough time to spend in the beach city of Vietnam. But it wasn't. 
Towards the end of the trip, we were sad that the holiday was coming to an end and was hoping to have a few more days to enjoy the magnificent sea view at our last hotel of the trip.
Let me share with you our very relaxing and loose 10-day itinerary in Da Nang, Vietnam. Remember, the theme of this trip is "RELAX & REJUVENATE!".
---
10 Days in Da Nang: Is it too long? 
Thought I should provide some background on why we decided to spend 10 days in Da Nang. Having come out of a 2-year Covid pandemic, I've had too many days of leave to clear.
Therefore, even though most online resources suggested 3 to 5 days in Da Nang, we planned a 10 days trip. We thought that could make our stay there more relaxing. Indeed, it was! Planning was easy as we basically did just one or two things a day.
>> MUST-READ: Da Nang Itinerary Part 2 (Day 6 to 10)
But if you aren't dying to clear your leave, then you could possibly combine some activities into one day (which I'll share tips on how you can do so). 
Without any further ado, let me share with you a day-by-day account and tips on our wonderful Da Nang trip. It was a great trip and we were so sad to leave Da Nang, Vietnam.
Oh, had I said it already? :)
Which airline should you choose? 
I went to Da Nang first via Singapore Airlines and paid over $400, while my partner travelled by VietJet and we met in Da Nang like lovers! LOL! Let me share the pros and cons of each airline. 
1. SIA (Singapore to Da Nang)
SIA's flight to Da Nang was via an old airplane (737-800) and it didn't have personalised entertainment system. Though they said that you can watch entertainment using your own device, it didn't work for me and it wasn't an easy process. So, that's the con.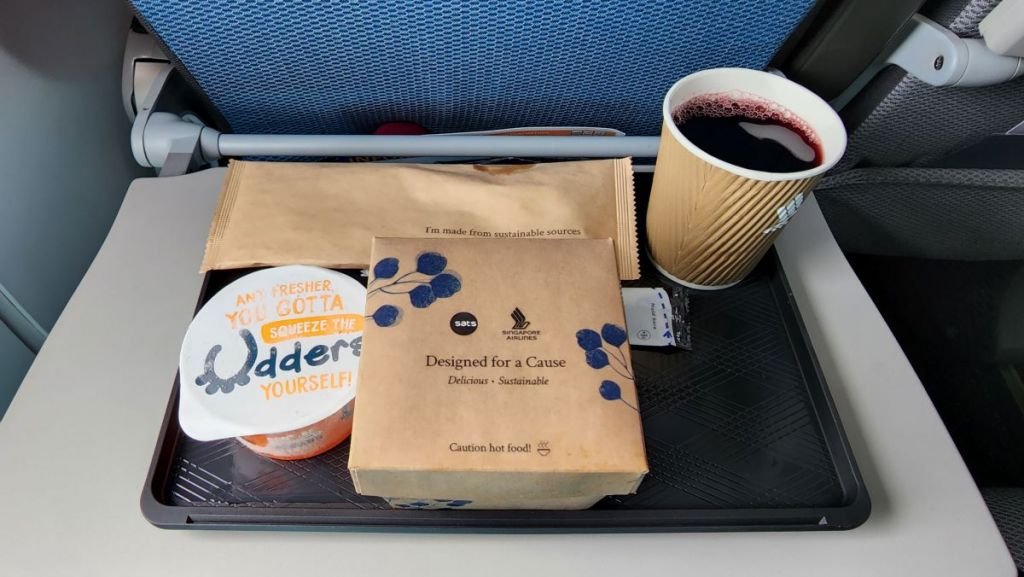 But the pros are: 
No delay in flight date and time
Served with food, including wine and all
No long queue when checking-in as plane was small (not so many passengers)
How about VietJet? Well, I didn't fly on one, but here's what I know from my partner.
2. VietJet (Singapore to Da Nang)
The reason why my partner flew via VietJet was because he didn't want to sit in an old plane. Furthermore, since he's taller, he wanted to upgrade the seat. With VietJet, even after upgrading for a more spacious seat and topping up for food, the price was about half of what I'd paid for SIA's ticket. 
However, there were downside to the cheap ticket. Both his flights – to and fro – were delayed. His flight to Da Nang was delayed by one day, and this leaves me to enjoy the sea view hotel and have its king-sized bed all to myself which I totally appreciated. Ha Ha Ha! 
His return flight was also delayed, but fortunately by only a few hours. I also heard that the food he topped up for was mediocre. 
So, you can decide your comfort level. If you fly by VietJet, you may want to leave your hotel booking opened. Do also buy travel insurance which may help with some compensation.  
---
Day 1: Arrive in Da Nang, Enjoy Sea view & Evening Spa
Hello, Da Nang! I was welcomed by a beautiful sky view of Da Nang when the plane was about to land.
Unfortunately, I couldn't book any 4G SIM card via Klook as it was somehow unavailable. That forced me to buy an expensive SIM card within the transit area of Da Nang (180k VND).
I then booked a Grab transport and paid about 100k VND to get to the beach area where the first hotel of my trip was located. 
Check out this view of the Grand Suite at Minh Toan Safi Ocean Hotel. I totally don't mind a solo stay here. It's all mine! Ha ha ha! 
I lingered for a short while, before deciding to take a short 8-minute walk to Min Luxury Spa at 6.40pm. It was short indeed but scary as night fell early in Vietnam. And it seemed like no one really walked on street as the path was so quiet.
In hindsight, I should have taken a detour and walked along the "big" main road.
Thankfully, Min Luxury Spa had an available slot and the price was within my expectation (because I didn't have a second choice). I chose a Vietnam Traditional Body Massage (60 minutes) for about 420k VND (and added 100k VND as tips) and enjoyed a relaxing session.
If you like to pre-book your session online, there's this very popular spa package here.
How much to tip for Spa in Da Nang? Some spa mandated tips within their price, while others leave it open. It was said that tips would normally be about 50k VND for a 60-minute massage and higher if the duration is longer.

I paid more because I enjoyed the massage and felt it would help the masseur a lot more than how it would affect our pocket, considering our strong currency exchange. 
After the massage, I had my first meal of the trip in Vietnam. To be honest, it was quite difficult for me to choose an F&B outlet for solo-dining as most of them were seafood restaurants. I sat in one initially and struggled to order as each dish was meant for many. Ha Ha! You can read about that restaurant here as I revisited it on Day 9.  
Anyway, I was happy with my ultimate choice at Am Thuc Xeo restaurant where I ordered a Banh Xeo that seemed small enough to be eaten by one person. But what came was a huge platter of veggies which caught me by surprise. The waitress explained through Google translate that those were "accompaniment".
She was so kind to come back with a pair of gloves to demonstrate how I should enjoy the local dish, i.e. to wrap the Banh Xeo (crepe) with rice paper with veggies and all. It was delicious…exactly the kind of thing a salad lover would enjoy. By sheer luck, I happened to order something that suited my palate to a tee – that's nice!
The young waitress was rewarded with a tip. :) And the whole meal that filled the entire table didn't even cost me S$10. 
Map Location for Day 1 Da Nang Itinerary
Da Nang Airport >> Buy SIM card >> Grab to Hotel >> Check in Minh Toan Safi Ocean Hotel >> Min Luxury Spa >> Dinner at Am Thuc Xeo
---
Day 2: Sun World Asia Park & Family-Friendly Night Market
Another precious day of "solo-ness". Ha Ha! See what I woke up to.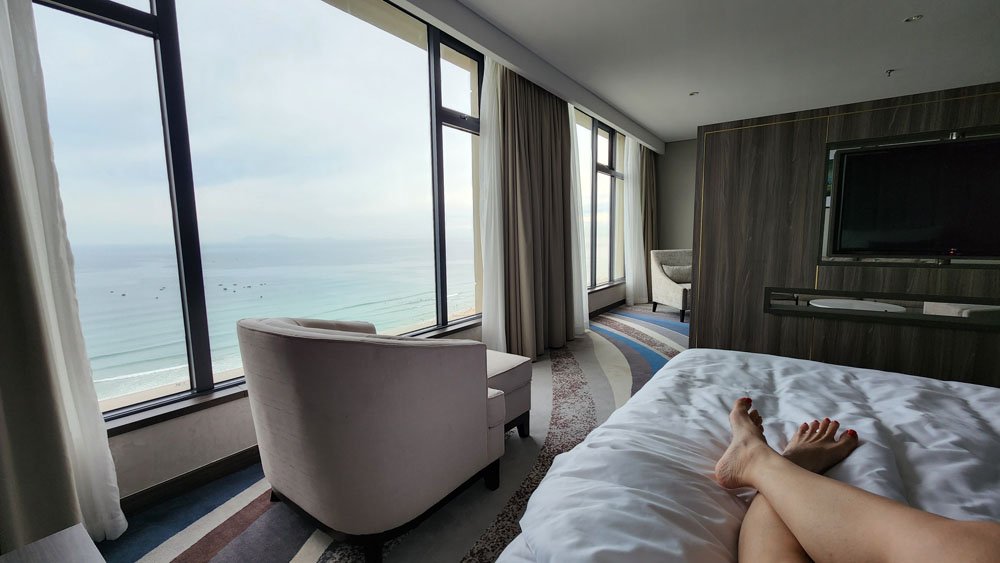 I started the day with a good spread of buffet breakfast at Minh Toan Safi Hotel, before returning to the room to do some blogging.
Woah…I could and should stay a day in the room doing nothing, but admiring the view. But I forced myself to leave by noon as there was something I wanted to do solo, i.e. to have fun at Sun World Asia Park.
My partner is prone to motion sickness and isn't a fan of theme park…so there's no point having him there – it would be torturous for him. 
I took a Grab ride to Lotte Mart first, as I thought it would be a happening mall. But, umh…..think that mall was badly affected by Covid?
I don't know, but I struggled to spend time there. There were some F&B outlets, but limited retail shops (most were closed. Even food court was closed).
There was of course a Lotte Hypermart, but seemed like things weren't cheap by local or even international standard. 
I got a little hungry and decided to have a drink at Phuc Long Cafe (coffee chain in Vietnam). Woah, the caffeine of my iced latte was "powerful" man! I felt a bit dizzy drinking it.
Also ordered an Oreo cheese cake that was more spongy than I was expecting from a cheese cake. 
>> MUST-READ: How we spent a day in Hoi An Ancient Town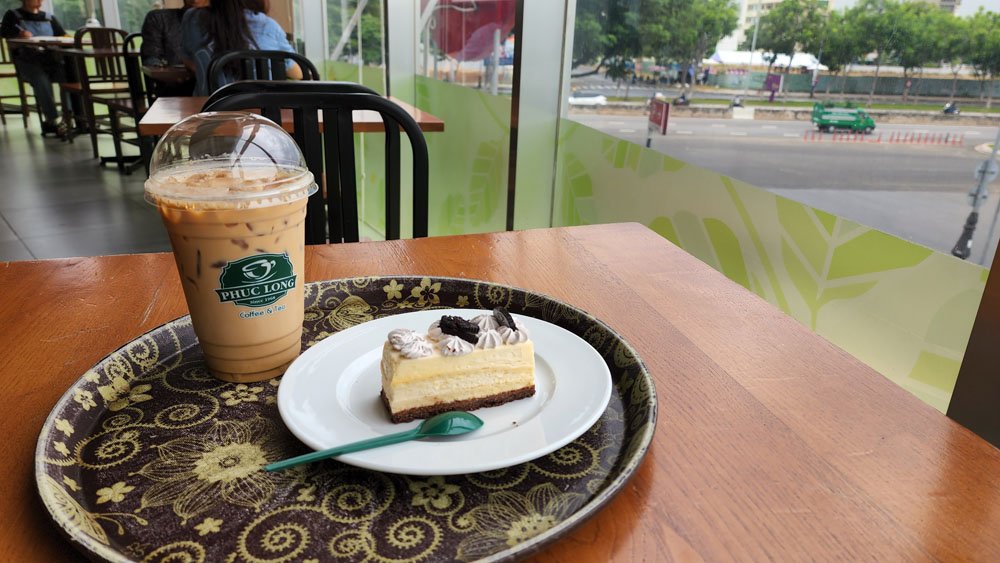 Finally, it was 3pm and I strolled to Sun World Asia Park in the drizzle. Admission was cheap, at 200k VND. You can get even cheaper Asia Park tickets here. 
If you like to skip the rides and just do the sun wheel, you will pay just half the price – select the option accordingly here. But I felt the former (all-in-one) was a much better deal. 
TIP: Do not bring all your precious belongings to Sun World Asia Park, because you would be asked to deposit your bag in a locker before each ride. The locker has no locks, and is merely guarded by "surveillance camera". I declined the first few rides but realised I had to succumb to the system if I wanted to have any rides there at all.
Sun World Asia park was too quiet, but the good thing was the minimal queue to each ride. When my partner finally arrived in Da Nang, he checked into hotel before meeting me at Asia Park nearing evening.
We took the Sun Wheel together and took in the night scene of the city. The theme park also looked more happening at night, with the colourful lightings and all. 
>> RELATED: Ba Na Hills Guide: Is this Da Nang Resort worth a visit?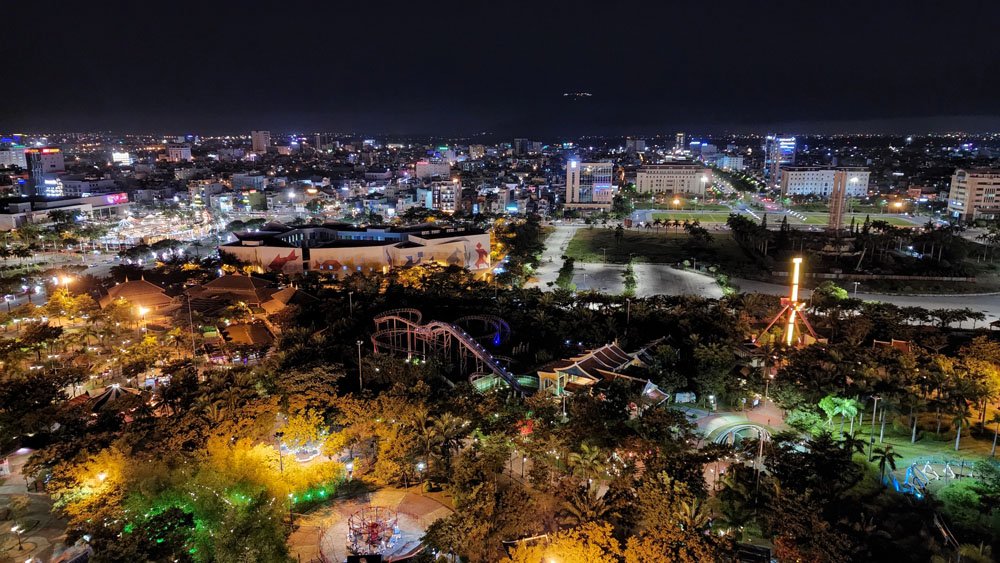 Thereafter, we walked to a nearby night market known on Google map as Khu Ẩm thực đêm Helio (see map). It was a family-friendly night market with live performance, mini amusement rides and local food, of course!
Saw lots of people posing for photos with its Instagram-friendly façade. After dinner, we grabbed back to hotel and called it a day.
>> MUST-READ: How we spent a day in Hoi An Ancient Town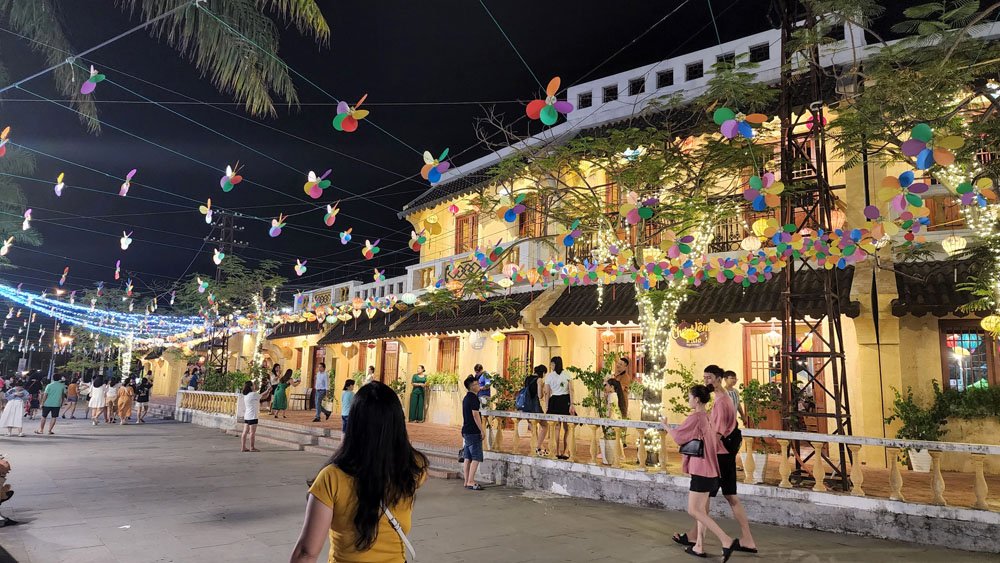 Map Location for Day 2 Da Nang Itinerary
Lotte Mart >> Sun World Asia Park >>  Night Market (Khu Ẩm thực đêm Helio)
---
Day 3: Bac My An Market, Son Tra Night Market & Dragon Bridge
Once again, we started the day with a sumptuous breakfast spread from Minh Toan Safi Ocean Hotel. Since it's a relaxing trip which we have 10 days to spare, we decided to spend the morning at the gym, beach and hotel pool.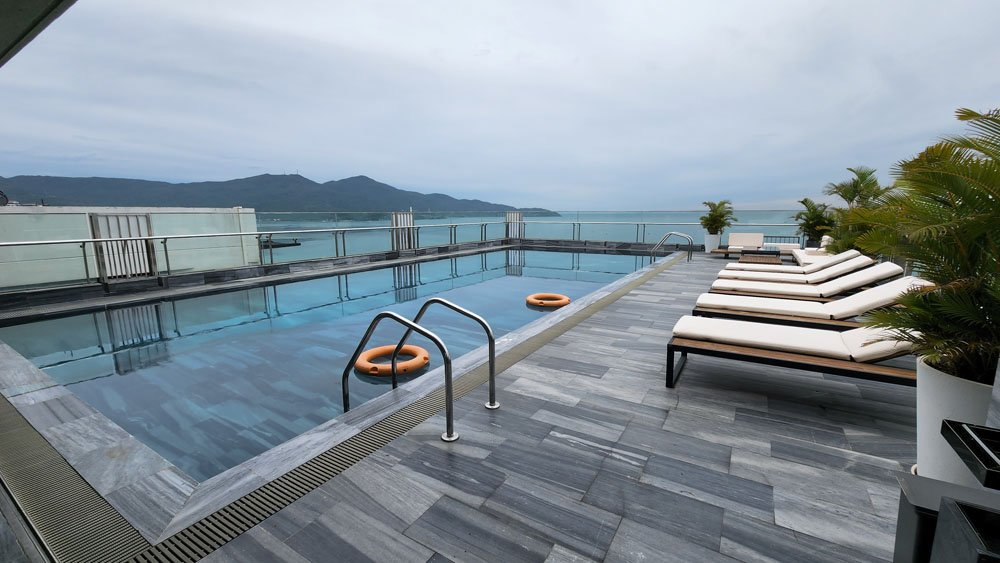 TIP: If you don't want to waste this much time on gym and pool like us, you can take a look at this Da Nang day tour that brings you to Da Nang's signature attractions, such as Marble Mountains and Linh Ung pagoda. 
By 3.30pm, we were ready to venture out to a day market – Bac My An Market. Google review of the market was good, but I didn't quite enjoy my stay there as it was a little "too local" and cramp for me.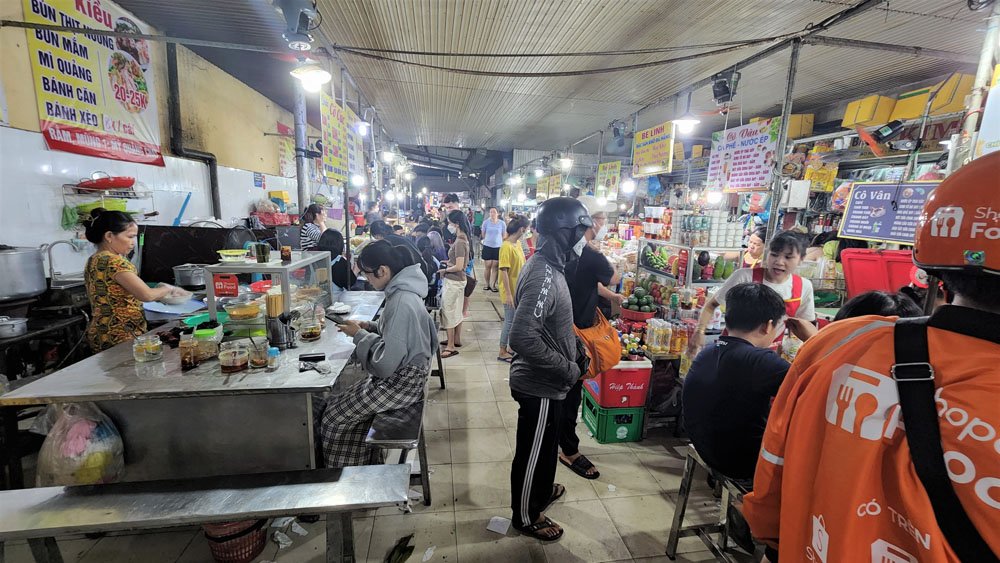 Think this day market could be good for domestic tourists or expats who would be staying there in the longer term. It was a little too local for us. 
Happened to see people crowding at a popular stall selling Avocado Coconut Ice Cream and we had to try it (50k for two cups). It was not bad!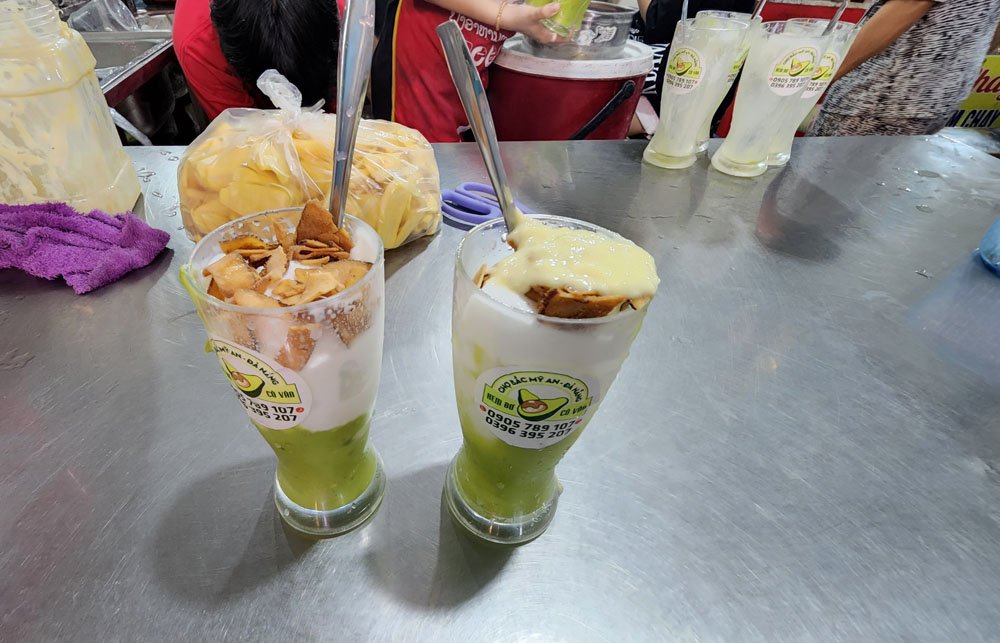 Then, randomly ordered a main dish not knowing what it was as nothing was in English here. It tasted ok….a bit cold, and came with an intestine, probably from pork?  
The alley was wet and crowded. Beware of opportunistic person with wild hands. If possible, dress conservatively here because people here were mostly well covered-up.
The trip to Bac My An Market didn't last long and we found ourselves walking quite an uncomfortable journey to the river side (Da Nang is not friendly for walking or road-crossing). Had a break at a random cafe – River Coffee – which like many of the shops and cafes in Da Nang were not air-conditioned.
Here's my salty coffee which I found too sweet for my palate! But oh well, I have to get used to local coffee, which made use of condensed milk more than unsweetened milk or creamer.
TIP: We had too much spare time and found it a drag to kill time. In hind sight, we could have gone for this very affordable Han River Cruise.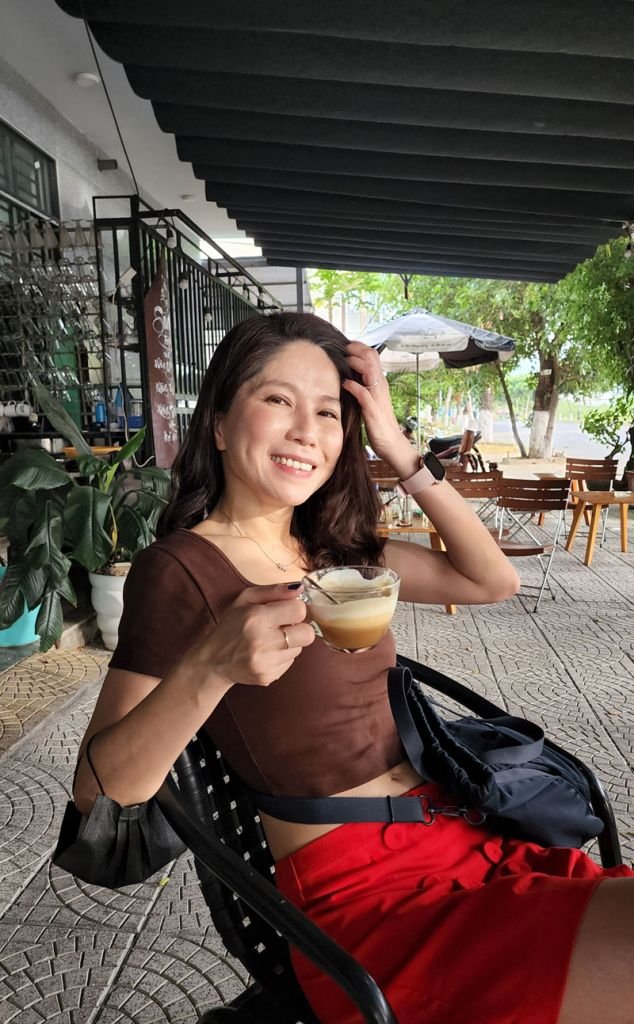 Finally dragged our time till Son Tra Night Market was opened in the evening, and ordered a 700k VND worth of seafood bundle. That's about SGD42, and comprised two lobsters, prawns, octopus, clams, oysters and more. What a steal! 
Just really really hot dining there because part of the seafood was served in a hot pot. Eating this in a hot Vietnam would make one sweat profusely. So maybe we should revisit Da Nang during colder months like January to March. 
TIP: Vietnam was very hot in Jun/Jul…hotter than in Singapore. Not surprising to see 34 to 36 degree Celsius. And very common to be soaked to undies if you venture out in the day.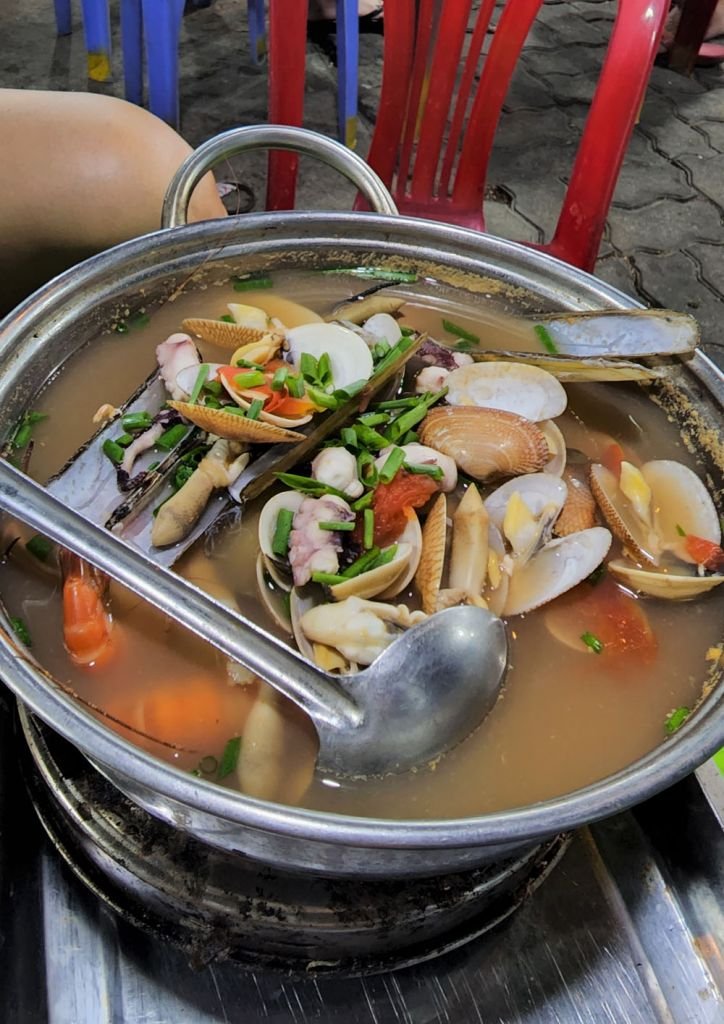 After the meal, we walked past DHC marina and took photo with a water-spouting dragon (Tượng Cá Chép Hóa Rồng) that reminded me of our Merlion.
It was a also a great spot to see the Dragon Bridge though it was way too early for the fire-spitting show at 9pm.
TIP: Fire-spitting show takes place at 9pm on Sat and Sun. 
We almost wanted to give the weekend "fire" show a miss, which we should have in hind sight. Had we known the massive crowd such a fire-spitting show would draw, we would have "siam" (avoid) the show at all cost!
Look at the crowd, not just along the pavement, but along the road. Traffic basically came to a standstill! Can you believe it? 
It was painful getting out of the crowd or getting back to hotel. Calling grab was quite impossible due to the traffic jam and we had to walk more than half an hour away from the "hot" spot, before the path was clear enough to call for Grab.
TIP: Do google Vietnam's public holiday or school holiday when planning your trip as Da Nang was well visited by domestic travellers.
I was deadbeat by the time I returned to hotel. What a day! ;~)
Map Location for Day 3 Da Nang Itinerary
Hotel Gym & Pool >> Phuoc My Beach >> Bac My An Market >> River Coffee Cafe >> Son Tra Night Market >> Water-spouting dragon >> Dragon Bridge 
---
Day 4: Beach Hopping Day in Danang
Chanced upon sunrise when I got up early for a toilet run, at around 5am. To my surprise, there were so many people at the beach, with some in the water enjoying the sun rising while others were jogging. 
>> RELATED: Sunrise view over Han River at Hilton Hotel (Day 7)
I went back to sleep, and later woke up once again for my daily buffet breakfast at Minh Toan Ocean Hotel. How not to get fat? Check out this post to see how much weight I'd put on after the trip. :~(
Went to the gym again, before deciding that the day's itinerary would be to walk to a western restaurant – Bikini Bottom Express, which would require us to walk past My Khe Beach.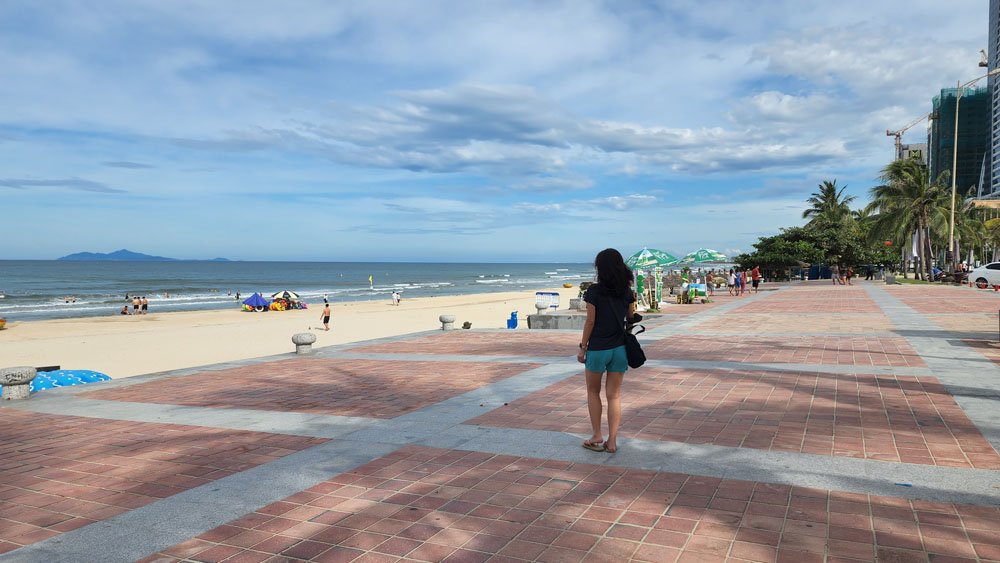 Google must have underestimated the distance as it took us about 50 minutes to reach the restaurant…by foot! :~)
Luckily, the food at Bikini Bottom Express was good! Having had Vietnamese cuisine for so many days in a row, the western burger was refreshing and I enjoyed my classic burger, truffle fries and coconut coffee!
On the way back, we spent some time at My Khe Beach. This part of the beach definitely has a lot more beach vibes than the area we stayed in which was further north of the stretch.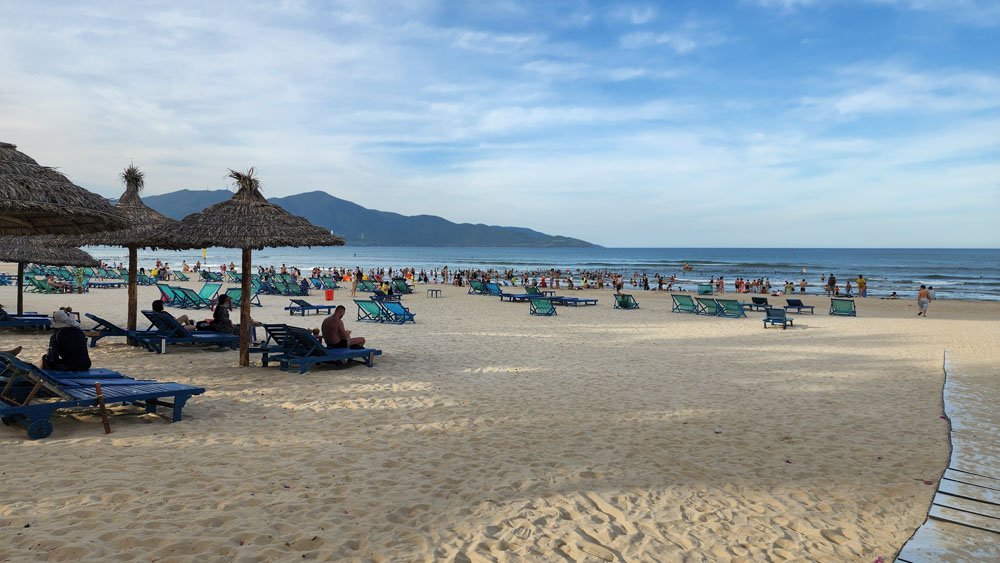 In hindsight, we should have stayed a couple of days here as it has more "beach feel" and amenities. We were initially considering Haian Beach Hotel, which is located at this more happening part of the beach. Do take a look if you are interested.
One memorable thing during our long walk along the beach was the sheer number of people in the water. That really killed our interest in getting into the water. 
For info, we were there in June/July, during Vietnam's summer holiday. 
By the time we walked back to the hotel, my legs were jelly and I was deadbeat.
Took the opportunity to enjoy a tub-soaking session and sheet mask, since I didn't have the energy to do anything else. Whee! The hot water was such a relief to my aching calves.
Map Location for Day 4 Da Nang Itinerary
Sunrise view at Minh Toan Ocean Hotel >> Walk along the Beach >> Bikini Bottom restaurant >> My Khe Beach 
---
Day 5: Shift to Da Nang City Centre (enjoyed river view)
Today, we would check out of Minh Toan Safi Ocean Hotel and shift to a hotel on the other side of the river. That is, we would be staying away from the beach and within the City Centre.
After our last round of buffet breakfast at Minh Toan Hotel, we returned to the room to enjoy the last few moments of the superb sea view.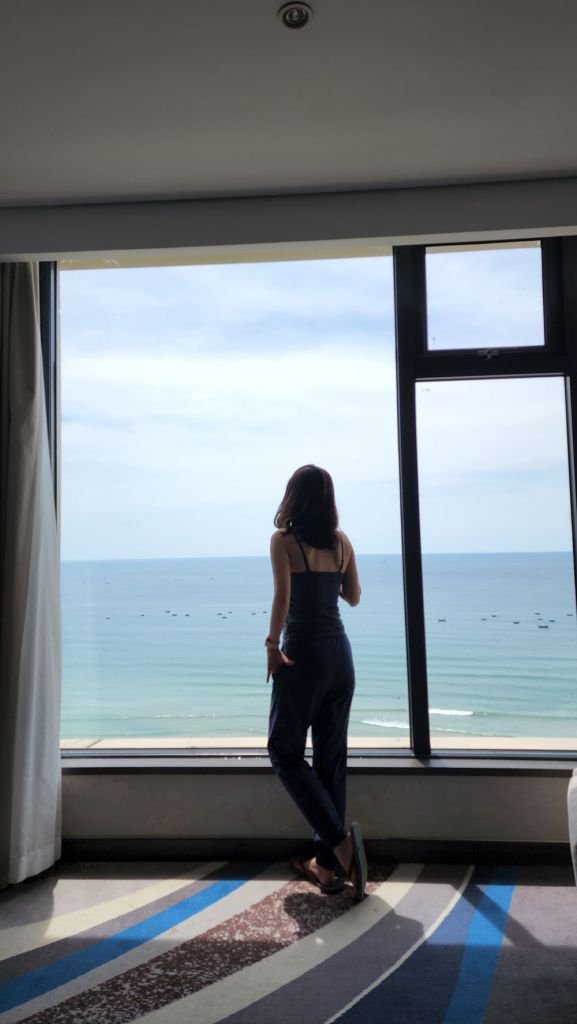 By noon, we checked out and "grabbed" to our second hotel of the trip – Hilton Da Nang Hotel, which was located next to the river. Since Hilton didn't allow check in till 3pm, we decided that it would be good to send our clothes to the laundry.
Then, the man got hungry (again) and had Pho at Quan Pho Hong restaurant (see map). It was an extremely hot day and we struggled within the non-airconditioned restaurant, sipping our coconut water.
The plan was to go to Da Nang Museum, but the place wasn't opened during lunchtime, and we had to wait till 2pm, which was torturous due to the heat.
When it was finally 2pm, we tried to make our way to Da Nang Museum which seemed so near based on Google Map. But you won't believe how many people I had to ask for directions to get there. LOL!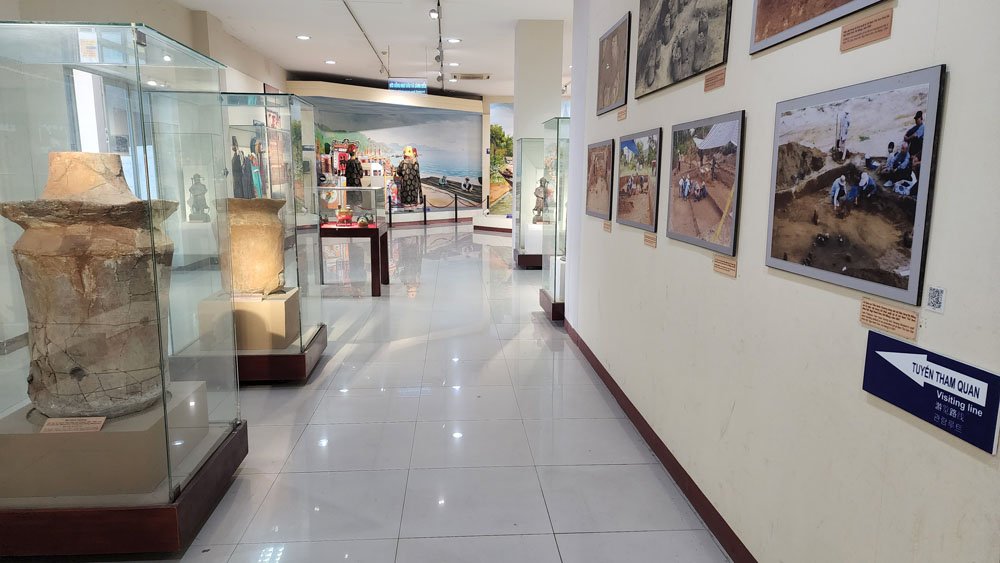 Finally, I got into the museum, but was soaked thoroughly in perspiration within my jogging pants. Nope, I had no mood to tour the non-airconditioned museum in this state.
After walking one quick round on the first floor of the dated museum, I told myself I would return to complete the tour but didn't. :P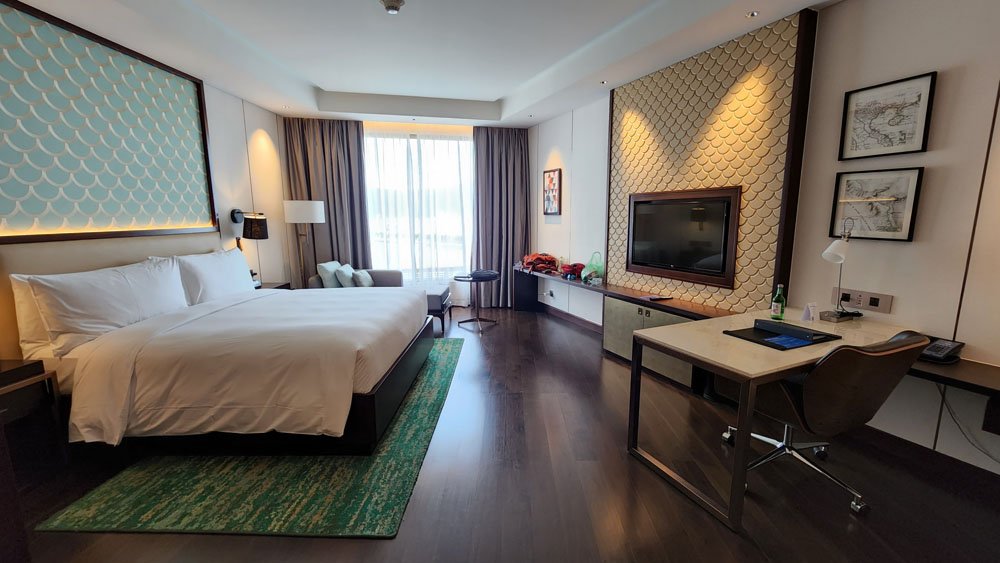 We then returned to check in Hilton Hotel, took a quick shower to freshen up and then went out to look for food (again). Our first try was at Indochina Mall, but food option was limited at this small mall. We were in and out within minutes. :P
Han Market was our next try and it was supposed to offer lots of food and merchandise. But we were still reminded of our earlier experience at a day market (Bac My An) and preferred to eat in comfort (space-wise), and to know what we would be eating. 
TIP: If you are near Han Market, you can walk to Da Nang Cathedral which is another attraction in Da Nang.
While scanning for reviews on Google Map, we found a random street stall selling Banh Mi. Ordered a grilled chicken Vietnamese bread and enjoyed the crispy bread which was surprisingly easy to bite into.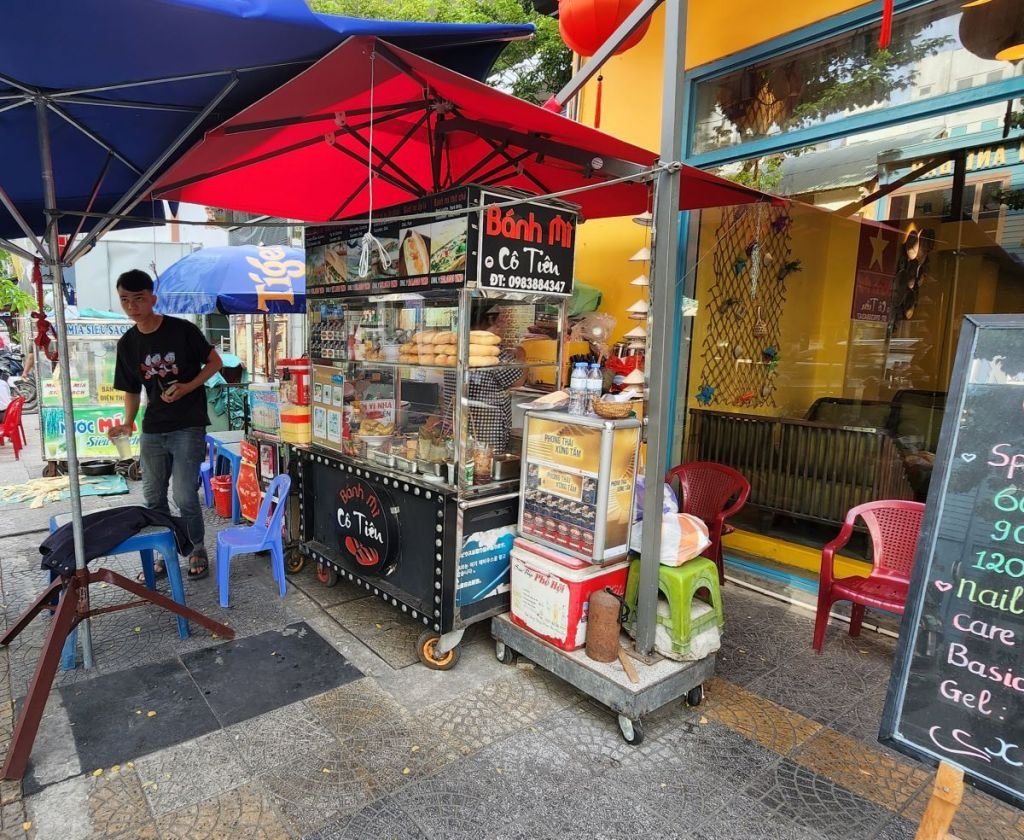 The next stop was at Aroi Cafe, which was popular for its bear bear mousse cake and river view from its 3rd floor terrace. Due to personal preference, I didn't exactly enjoy the sweet mousse cake, but read that many loved it. The price of drinks and dessert was also very reasonable.
Went up to the third floor via a spiral staircase and found the terrace too hot to enjoy in the day. But the view of the river was nice!
It may be a better idea to come here when the sun is about to set.
When night fell, we revisited Son Tra Night Market again. Instead of a bundle seafood set, the man ordered a big lobster (550k VND), a dozen of oysters (100k VND) and some prawns plus a lot of local snacks.
It was once again a day of indulgence (and I admire his stomach space and his calories-killing muscles). But the sad thing was that his big lobster wasn't that fresh as compared to the bundle seafood we had the previous round. 
Map Location for Day 5 Da Nang Itinerary
Check in Hilton Da Nang Hotel >> Laundry >> Quan Pho Hong restaurant >> Da Nang Museum >> Indochina Mall >> Han Market >> Da Nang Cathedral >> Street-side Banh Mi >> Aroi Cafe >> Son Tra Night Market
---
Alright, that's all to Part 1 of our 10-day Da Nang itinerary. Do check out Part 2 to see the fun-filled things we did from Day 6 to Day 10, such as visiting Hoi Ann and Ba Na hills. 
Connect with me if you like to get notified to our latest and 100% honest reviews! 
SUBSCRIBE
This post may contain affiliate links, meaning I earn a commission if you make a purchase, at no cost to you. Read my full disclosure for more info.
(Visited 1,933 time, 7 visit today)