Some of you have asked for recommendations on the things to do in Osaka. You ask, I give. :) Check out my 15 Days Osaka Itinerary which offers not just inspirations on places to visit in Osaka, Kobe and Kyoto. With the help of a rental car, you'll see us ventured out to cute manga-theme towns, dipped in public hot spring and made a dangerous attempt up a "windy" mountain.
It was also during this trip that I visited the best castle I've seen in Japan. The view literally took my breath away! 
So, yes, we had a blast in Japan and I'll like to share with you the things to do in and around Osaka. Read on as I'll share useful tips, map locations, food recommendations and more.
Here's a map to give you a quick glance of the places we've been to in this 15 Days Osaka Itinerary.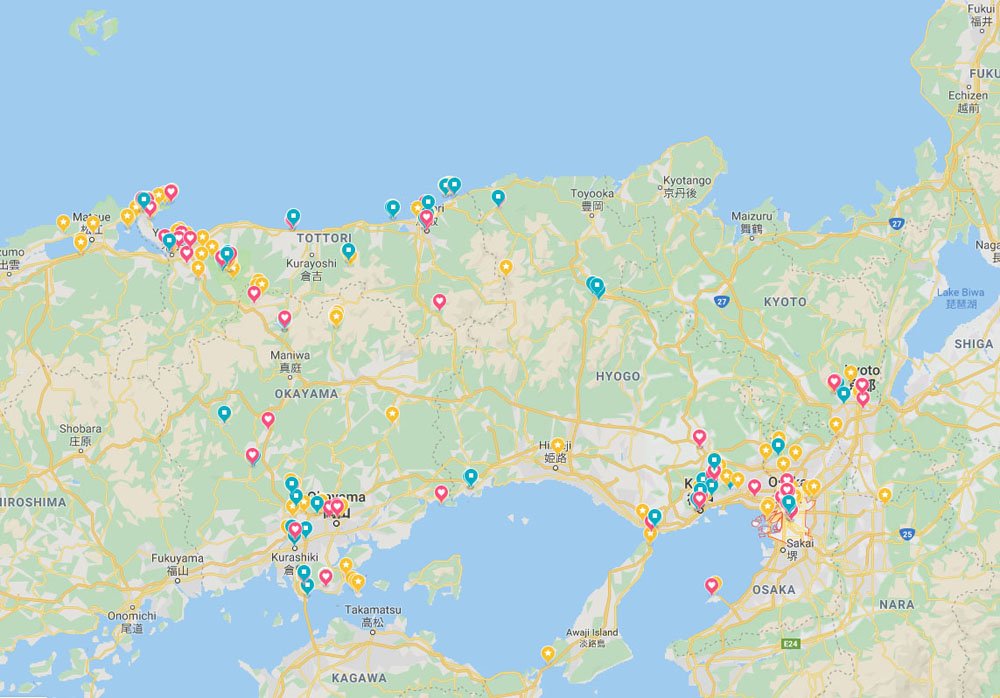 Don't forget to check back often as I'll follow up with dedicated post(s) for each day and add the links here when they are ready. Subscribe so that you'll get notified whenever a new post is published.
Must-Read: 15 Days Osaka Itinerary Part 2
---
15 Days Osaka Itinerary: Our Travelling Profile 
We traveled to Osaka as a couple in late May (end of Spring) and are city dwellers who love good food, nature and free-and-easy travel.
The only things we've pre-booked prior to the trip were Yokoso ticket, Hankyu Pass, Airport Limousine Bus, hotels and a rental car. Yes, this trip was made possible via a 50:50 split on public transport and a rental car.
Do we share similar traveling style? If yes, dive right in as I think you'll like the places we've covered in this 15 Days Osaka Trip.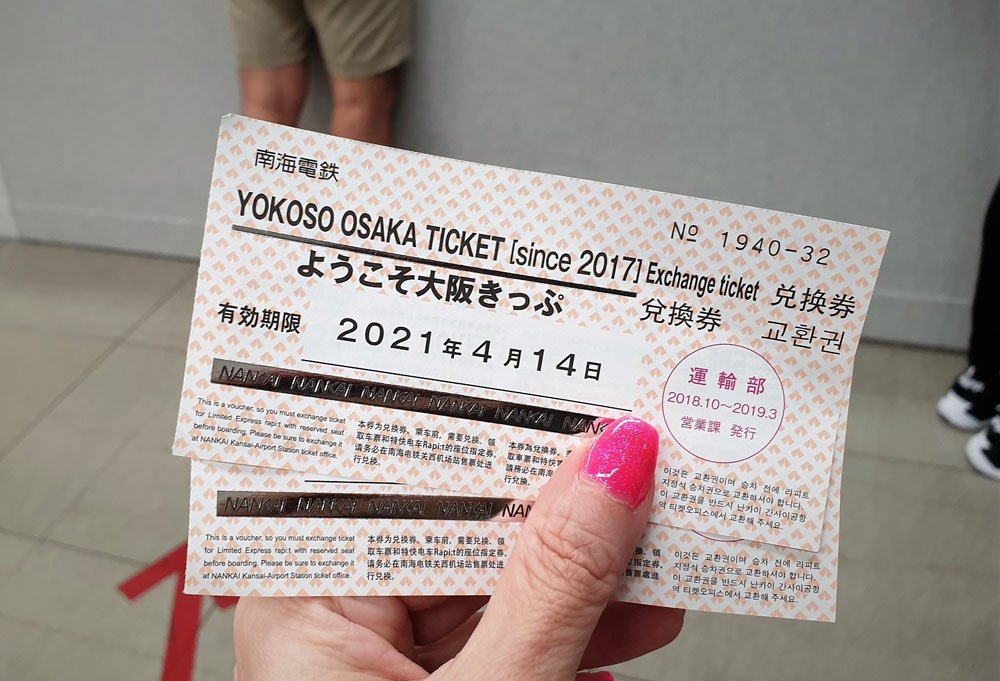 ---
DAY 1 of 15 Days Osaka Itinerary
Hello, Osaka! All thanks to Scoot Airline, we enjoyed an ultra-value direct flight from Singapore to Osaka. You can read my review of Scoot Flight TR804.
The first thing we did after arriving at Osaka Kansai International Airport was to collect our transport passes. Then, we boarded a Rapi:t Airport Express Train and alighted at Namba Station where our hotel in Osaka – Ookini Ota-Road Apartment – was located.
Must-read: How To Get From Osaka Kansai Airport To City Centre At A Bargain? YOKOSO Ticket Review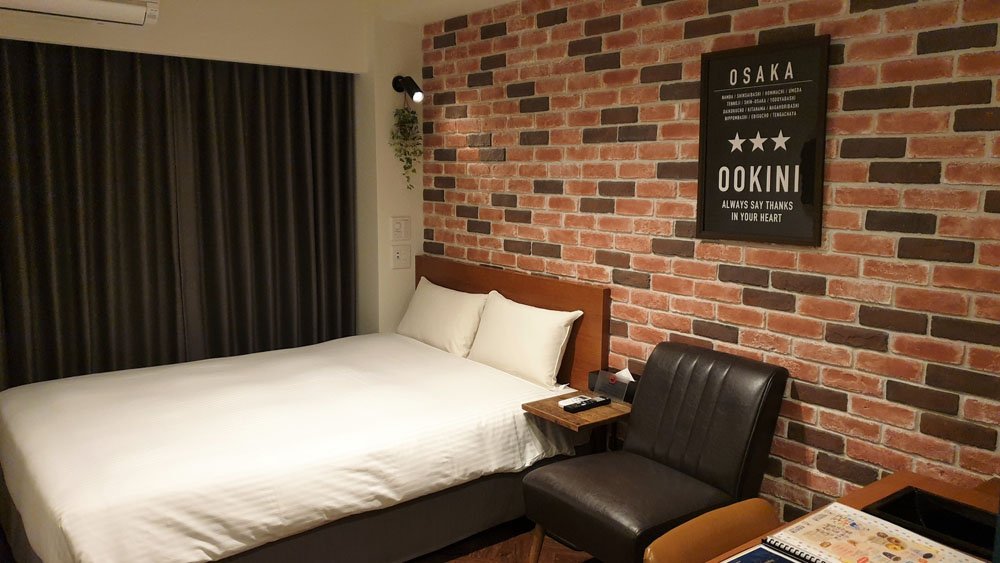 As it was already 8.30pm by the time we deposited our luggage, we could only visit the few places that were still opened, such as Dotonbori.
Exploring Dotonbori in Osaka
This vibrant and touristy street offered a wonderful visual treat, from the giant and creative 3D signage to the bustling street that was lined with food stalls and restaurants. Common items sold here include Takoyaki, Melonpan, Okonomiyaki, Ramen, Sushi and more.
Disappointed by the quality of the soggy Takoyaki that we ordered, we continued to explore Dotonbori but couldn't decide what else to try. The restaurants we were interested in had long queues, and the ones we weren't keen on were priced above the norm.
After an unmemorable experience dining at a sushi restaurant, we continued to do what tourists typically do in Dotonbori. One thing we did was to take photos with a "I'm-not-too-sure-why-this-is-so-popular" Glico Sign and then strolled by the Tombori River.
What is Glico Man? Glico Man is an ad ran by a popular confectionery company which is also behind the popular Japanese snack – Pocky. The reason why the signboard is so popular is because it has been around since 1935. Well, actually, this is not the original installation. It's the 6th and was installed in 2014. :)
The river walk has rows of pubs and eateries and reminded me of our boat quay in Singapore. There's also a Don Quijote there if you are interested in loading up on the Japan-must-buys.
TIP: Tombori River Cruise is one of the 30 tourists activities included in the Osaka Amazing Pass, a pass where everyone who've used it said it is "well worth the price". Take a look and you may save yourself a lot on admission fees (and transport costs).
And that ends the day. Tomorrow, we would start the day early to make good use of our One-day Unlimited Transport Pass.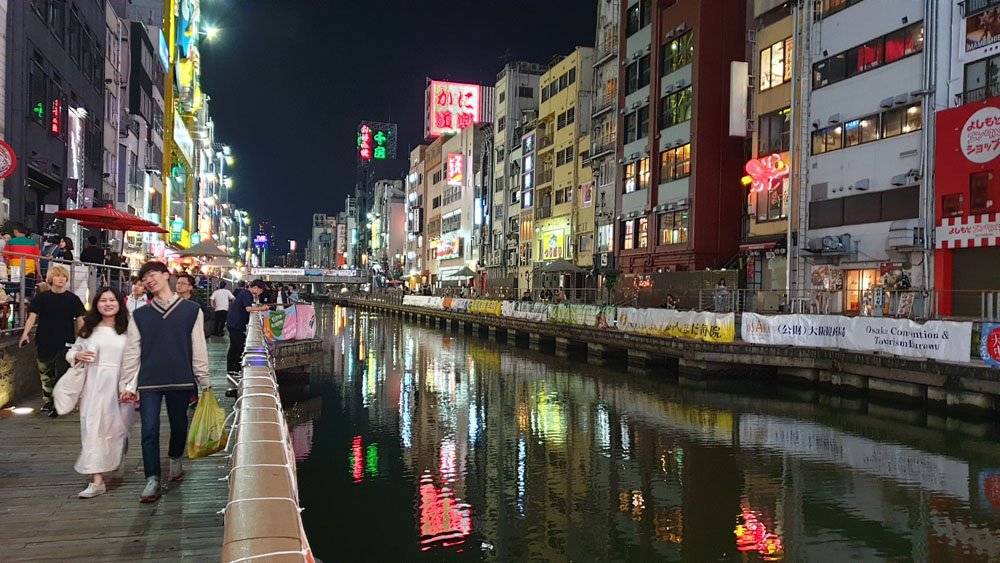 Map Location for Day 1
Hello Osaka >> Osaka Kansai Airport >> Collect Osaka Transport Pass >> Take Rapi:t Airport Express Train (see review) >> Namba Station >> Check in Ookini Ota-Road Apartment (see location) >> Dotonburi >> Glico Sign >> Tombori River Walk
---
DAY 2: EXPLORE OSAKA CITY
The Yokoso ticket gave us a One-day Unlimited Transport Pass and we've decided to use it on our second day in Osaka.
As such, we started the day early and visited Nambayasaka Shrine, which is probably the cutest shrine I've ever seen. After that, we made our way to what ended up being the best sushi we've had in this trip.
Activated Osaka 1-Day Unlimited Pass
Located next to a fish harbor, Endo Sushi wasn't exactly convenient to get to, but was well worth the effort. The sushi stood out for its presentation and freshness. We ordered four plates (¥1150 each for five pieces of sushi) and gobbled up everything in no time.
Next up was a ride on Tempozan Giant Ferris Wheel. We got a ¥100 discount after flashing our One-day Osaka Transport Pass. The ride was quite fun as we spent 15 minutes in our own private "wheel". :) If you like family-friendly activities, the Legoland Discovery Center Osaka and Osaka Aquarium Kaiyukan are located in the same vicinity.
Must-Read: Review of One-day Osaka Transport Pass
Osaka Castle was a place that we weren't keen in visiting because it's too modern for our liking. However, since we had the Unlimited One-day Transport Pass, we thought we would just drop by and take a look.
This place was so huge we expended lots of energy and time just to get a glimpse of the Osaka Castle.
Then, we tiredly and hungrily made our way to Kuromon Ichiba Market. Unfortunately, this place was a tad too touristy for our liking. And the food we ordered were mediocre and pricey.
On our way back to our hotel to recharge, we passed by a random Tempura Restaurant – Ichimizen – and decided to eat with the locals. Based on the photos pasted on the wall, this shop has apparently won some awards.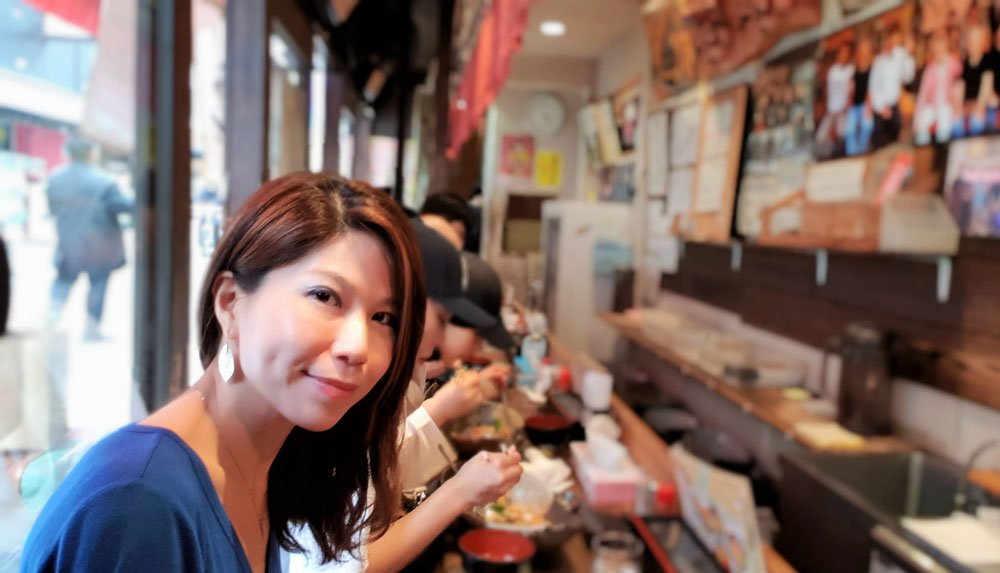 After resting in our hotel for a while, we set off again in the evening and walked to Osaka Den Den Town, Shinshikei and Tsutenkaku Tower. It was raining by then and the streets were quiet with little activities and buzz.
Best Experience in Osaka City: 15 Days Osaka Itinerary
Our final tourist activity of the day was to visit Harukas 300. The admission was quite expensive but we thought it was worth the experience. The million dollars view I've enjoyed was the best I've seen in a while and all photos turned up so amazing I had a hard time shortlisting them for this post.
If you want to visit the tallest building in Japan, you must include this in your Osaka must-visit list.
Map Location for Day 2 of 15 Days Osaka Itinerary
Nambayasaka Shrine >> Activated One-day Osaka Transport Pass >> Endo Sushi >> Tempozan Giant Ferris Wheel >> Osaka Castle >> Kuromon Ichiba Market >> Ichimizen Tempura Restaurant >> Osaka Den Den Town >>  Shinshikei >> Tsutenkaku Tower >> Harukas 300
---
DAY 3: A DAY IN KOBE CITY (SANNOMIYA) 
This is the day when we would leave Osaka and head to Kobe. In case you wonder why we spent so little time in Osaka, that's because we would be back and spend more time there from Day 13 to Day 15. :)
A 45 mins train ride (see route) brought us to Kobe-Sannomiya Station where we could easily stroll to our hotel – Kobe Sannomiya Tokyo REI Hotel.
Must-Read: 7 Budget-friendly Hotels in Osaka & Around – See which is my favorite!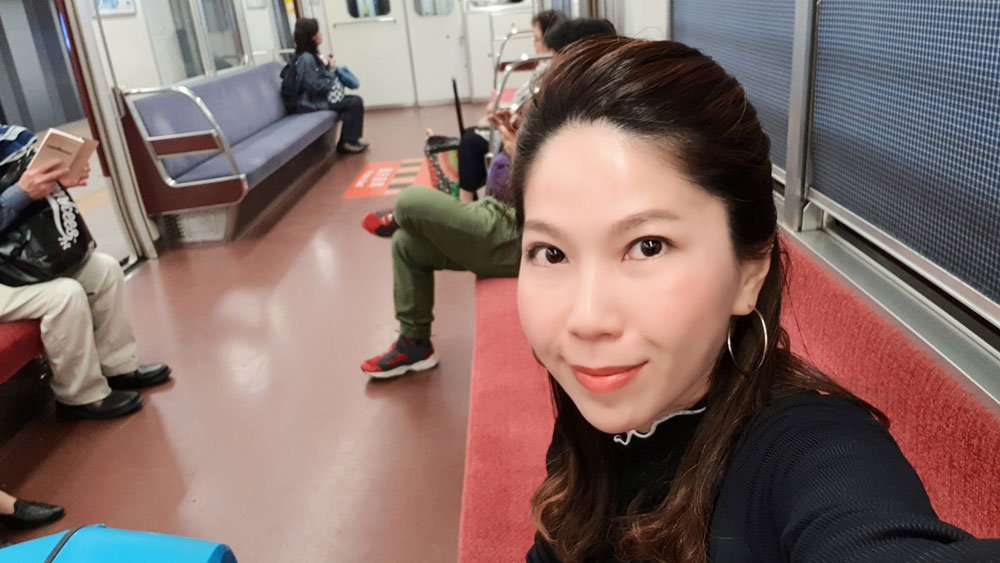 We deposited our luggage with the concierge and took a train ride to The Great Hanshin-Awaji Earthquake Memorial. There, we learnt about the tragic history that destroyed Kobe City in 1995.
TIP: On hindsight, we regretted not getting the Hanshin Transport Pass which would trim our travel expenses. Although we only traveled to a few places on Day 3, we still ended up paying more than what the Hanshin Pass cost.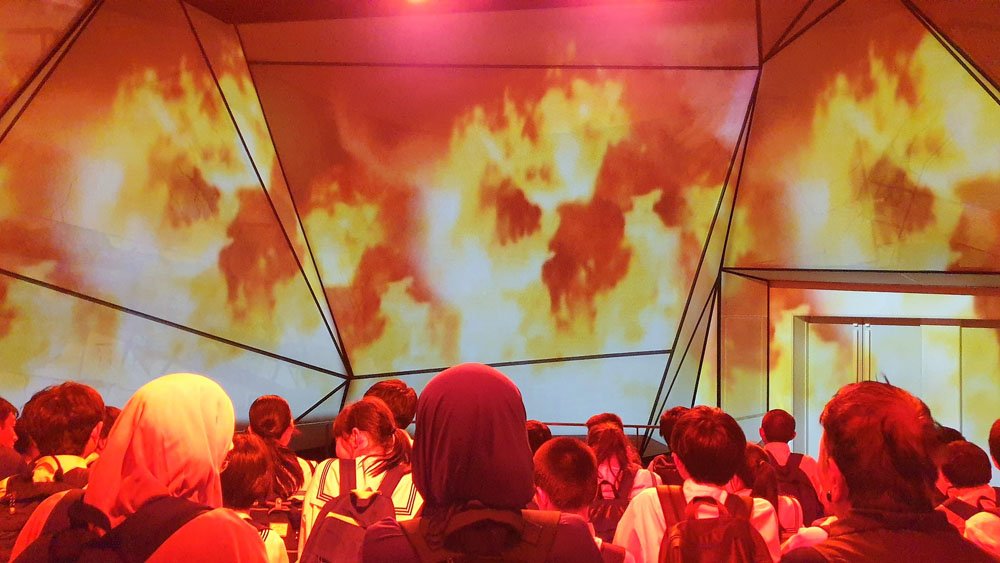 Then, we enjoyed a delicious Minced Tuna Rice Bowl at Blumer Mall, a heartland mall located opposite the museum.
Let's Explore Japan by Car for the next 8 Days 
By late afternoon, we made our back to a car rental shop – Budget Car Rental – located near our hotel in Kobe. Yay! This "white" rental car of ours would bring us to places off the beaten path for the next 8 days.
We must have been really daring to drive our rental car up a mountain for our first destination (something scary did happen – share with you guys later). Rokkosan Garden Terrace offered amazing sea view at a few vantage points.
TIP: To those who are visiting Rokkosan using public transport, please check out this Kobe Rokkosan Tourist Pass. For a cheap fare, you'll get access to bus, train and cable car to get to Rokkosan. 

Prefer a hassle-free trip? This day tour from Osaka will bring you to Rokkosan, Arima Onsen as well as Kobe-Sanda Premium Outlets.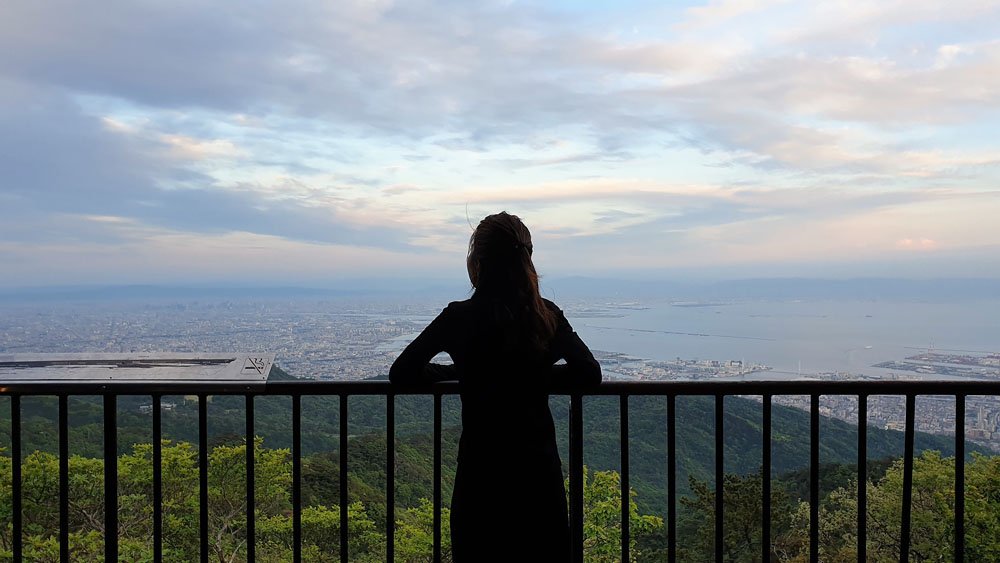 The next view point was at Tenrandai Observatory, a view deck located by Rokko Cable Station. The night view there was superb, but can't beat what we would be seeing next.
Best Night Observatory in Kobe 
Check out Kikuseidai Observatory! This must be the most entertaining and fun viewpoints I've ever been to. Not only was the night view awesome, you get to play with neon lights that can transform you into a zombie instantly. It was such a fun-filled night, all thanks to Kikuseidai Observatory.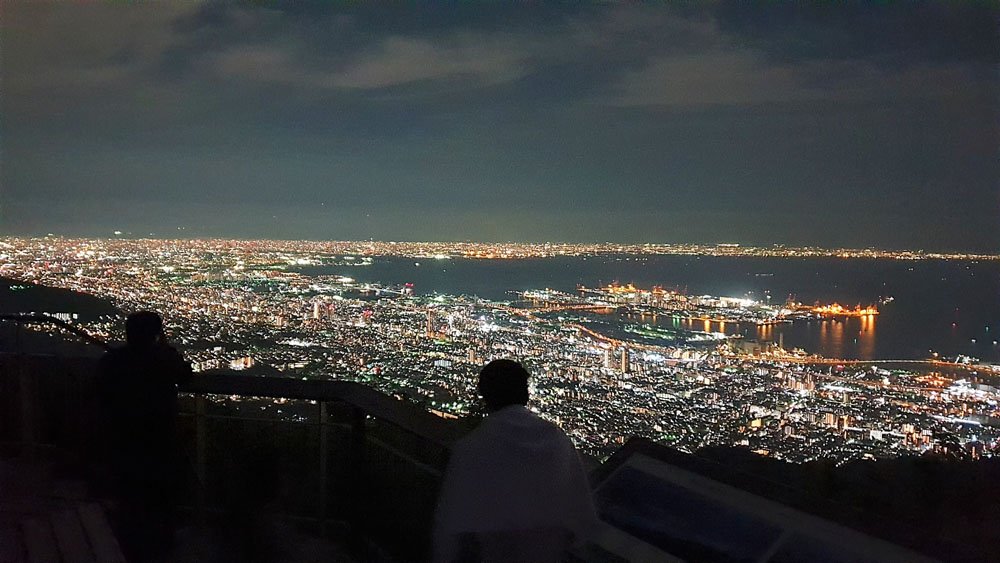 Map Location for Day 3 (15 Days Osaka Itinerary)
Take train to Kobe >> Deposit Luggage at Kobe Hotel >>  The Great Hanshin-Awaji Earthquake Memorial >> Blumer Mall >> Check in Kobe Sannomiya Tokyo REI >> Collect rental car (shop location) >> Rokkosan Garden Terrace >> Tenrandai Observatory >> Kikuseidai Observatory
---
DAY 4: SELF-DRIVE FROM KOBE TO OKAYAMA
Kobe was just a stopover for us to collect our rental car. We would be back to explore Kobe from Day 11 to Day 13. Right now, let us bid farewell and venture deeper into the less explored places around Kansai region.
Our first stop was to view the longest suspension bridge in the world – at Akashi-Kaikyo Bridge. We spent more time than we thought we would at the promenade, strolling about and observing the local activities and charming architectures.
Lingered Around at Ako City
Next up was Ako Castle Ruins which took us 2 hours to reach by car. This small and ancient-looking castle, with its large wooden door reminded me of the medieval period. Located next to the castle was Ako Oishi Shrine which has 47 samurai statues lining the entrance.
The most memorable experience within the Ako City was that spent within a popular bakery shop – Okayama Bakery. The aroma of freshly-baked bread enveloped us when we stepped in and made us buy more bread than we could consume.
Okonomiyaki at Kashira Island
Having done some prior food research, we then made a detour to Kashira Island in search of Oyster Okonomiyaki. Nobody on the island could speak English. Through awkward gesturing on our part and guesswork, we figured out that the oyster season could be off.
Using hand signs and google voice translate, we succeeded in ordering a Shrimp Okonomiyaki and a "too-huge" bowl of desert from a homely eatery on the island.
Arriving at Final Destination – Okayama City
Finally, we reached Okayama City, our end destination of the day and checked into Hotel Maira. But that's not the end of the day yet.
After depositing our luggage, we explored a few shopping malls in Okayama and was impressed at how modern and huge Aeon Okayama was. I had a lovely time shopping there and loading up on my Japan must-buys.
Must-Read: I'm missing Japan badly. Here're 11 things I love about Japan and I know you would too
Map Location for Day 4
Akashi-Kaikyo Bridge >> Ako Castle Ruins >> Ako Oishi Shrine >> Okayama Bakery >> Kashira Island >> Okayama >> Check in Hotel Maira (see location)>> Okayama Takashimaya >> Aeon Okayama
---
DAY 5: A SCENIC DAY IN OKAYAMA
Today, we would be spending time with nature. The first place was Ojigadake Hill which offered a great panoramic view of the ocean, with magical-looking islets jutting out from the horizon.
Next up was Washuzan Observatory, which was located a short drive away. What can I say? The view just kept getting better for today's itinerary in Okayama. Here, we could see Seto Bridge in a distance and were mesmerized by the view. This view by the way greatly surpassed that of the Akashi-Kaikyo Bridge. Yes, the one we saw on Day 3.
Let's Shop for Japan-made Jeans
By noon, we were done with nature and made our way to Kojima Jeans Street. I thought this would be a touch and go place as I've read how expensive things were over here (about ¥30,000 per pair of jeans).
However, the good quality and unique design of apparels sold in this town made us linger longer than we planned to. My partner spent a long time at some of the shops and almost bought some stuff…if only they allowed trying before purchase.
Near to Kojima Jeans Street was a mall – Happy Town – where we could seek shelter from the sweltering heat! We did something unplanned and played Pokemon games on the upper floor arcade center. Honestly, we just hit all buttons "aggressively" because we couldn't understand Japanese and didn't know what we were doing.
After expending "palm" energy, we were starving and made do with a simple Udon noodle at the limited eateries within Happy Town mall. This was also the first time we were conned in Japan – I'll share more in my day-to-day post later.
TIP: Most of the places visited today require a rental car to get to. You can either drive from Osaka/Kobe like us, or take a train/express bus to Okayama, and then pick up your pre-booked rental car at Okayama Station. 
Touristy Old-World Charm – Kurashiki Old Quarter
Having spent more time than we should in Kojima Jeans Street, we hastened to Kurashiki Old Quarter thinking that this place would require a few hours to explore.
It's a scenic place with an old-world Japanese vibe and would serve as a perfect photo spot for those donned in Kimono (yes, they have Japanese traditional costumes for rent). However, it's just a little too touristy for us. Many of the things sold here didn't feel like they were authentically made in Japan or priced for the locals.
INFO: This full-day Okayama tour can pick you up from Osaka and bring you to Okayama attractions, which include a visit to Kurashiki Old Quarter, Okayama Fruits Orchard and Sapporo Winery Factory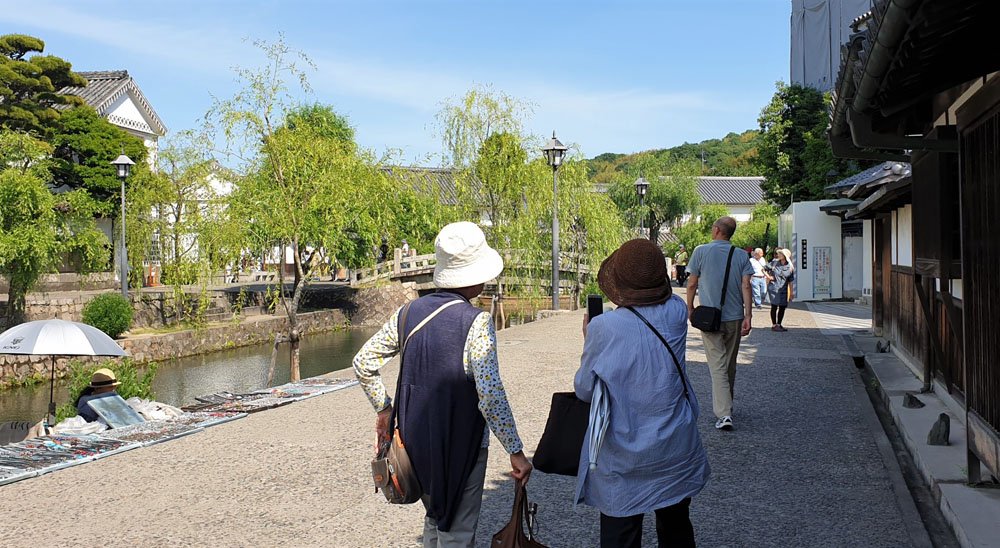 Which Jeans Street is Better? 
Yes, apparently, there's also a jeans street at Kurashiki Old Quarter. Many of the jeans products I checked out were mass-produced items that weren't made in Japan – found some to be made in Thailand.  Sorry, I'm only interested in buying products made in that country when I'm in that country. :)
On the contrary, Kojima Jeans Street offered a more authentic Japan-made jeans experience.
Best Castle Ruin I've Been to in Japan
Lastly, we found ourselves at the most scenic place I've set foot on in this 15-day Osaka trip. It's none other than Ki Castle. I can't even tell you how breathtaking the view was in real life.
You can see me using the photo of Ki Castle in my Facebook cover page, homepage and even my phone wallpaper. Oops, you can't see my phone over here. :)
Dinner was at The Central Buffet, a buffet restaurant in Aeon Okayama. Hmm, let's just say that you pay for what you get in Japan (buffet costs ¥1999+). This place made me lose appetite on minced tuna for the rest of the trip (till today).
Map Location for Day 5
Ojigadake Hill >> Washuzan Observatory >> Kojima Jeans Street >> Happy Town Mall >> Kurashiki Old Quarter >> Ki Castle >> Aeon Okayama
That's all to Part 1 of my 15 Days Osaka Itinerary. Check out Part 2 to see what we did on Day 6 to Day 10. Stay tuned and stay connected by clicking the button below and I'll keep you posted whenever new posts are published. You can also get exclusive access to my free gifts. See you soon!
Pin This!
This post may contain affiliate links. Read my full disclosure for more info.
(Visited 209 time, 1 visit today)