Is Phuket worth a second visit? Today, I'll share with you a 6 Days Phuket Itinerary as a second-time visitor. The question you may wonder – are there enough things to do in Phuket after having done those popular island-hopping tours and night shows? 
Well, there certainly are. Otherwise, I wouldn't have visited it again and chosen to stay for close to a week. Read on and see if the things we did in Phuket interest you. :) 
Updated (Jun 2022): This post was first published in Dec 2018 and last updated to include latest available information. Please verify with direct sources to ensure info remains accurate.
---
6 Days Phuket Itinerary: Travel History
The first time I visited Phuket was more than a decade ago. As usual, we did the most popular things tourists do in Phuket, which is Phi Phi Island Tours, snorkeling and to be honest, I can't remember much. Wish I had started blogging then so that I could document my experience.
TIP: If you are a first-time visitor to Phuket, browse through these popular island-hopping tours – James Bond Island Tour and Phi Phi Islands Tour
I can only recall snorkeling in murky water and seeing limited fishes. It was then just two years after the catastrophic tsunami that killed over 10,000 people on boxing day. So, I guess the water ecosystem then was still in a recovery phase.
Last year, I visited Phuket again and thoroughly enjoyed this second trip. If I can lay an honest opinion, this trip was more fulfilling and enjoyable than the first. Our cheap rental car brought us to so many places in Phuket, including places off the beaten path. If you wonder, car rental in Phuket is cheap. We rented this white car from Europcar at only S$35 per day.
Here's my 6 Days Phuket Itinerary. Take a look – maybe it'll interest you to visit Phuket again or extend your stay. As per my usual style, I'll expand on each day via subsequent posts to give you more in-depth tips and logistics info. Take this as a summary itinerary and do revisit often to find added links to this post.
You can also subscribe to get the latest travelogue updates. Without any further ado, let's explore this lovely resort island.
---
DAY 1: ARRIVE IN PHUKET & EXPLORE PHUKET TOWN
Good morning, Phuket! We arrived at the small airport at 9am and was able to collect our pre-booked rental car swiftly, right at the airport. An hour's drive then brought us to Sino House Phuket Hotel, a place in Phuket town that would serve as our base for the next few nights.
TIP: Phuket Airport is located quite far from Patong Beach or Phuket Town (about an hour). If you aren't renting a car, you can take a minibus (good for solo-travelers) or a taxi. If you want price certainty, here's a place to book your Airport transfer online. I've checked the rates and found it reasonable (and probably cheaper). It's better than getting scammed or ripped off as a tourist which isn't uncommon in this part of the world.
After depositing our luggage in our room, we left for lunch. Our first stop was at Tunk Ka Cafe, an open-air restaurant located at Khao Rang Hill. We enjoyed a panoramic view of Phuket Town while savoring the delicious Thai dishes. The best view was enjoyed from the unsheltered seating area, which was a little hot during the time of our visit (noon).
You can choose to sit in the sheltered area or come just before the sun sets. But I guess the place may be crowded during such popular timing. 
After lunch, we took some obligatory photos at the nearby Rang Hill Viewpoint before heading for some fun-time. The next destination – Upside Down House – gave us plenty of opportunities to be creative and to come up with the most believable "upside down poses". It was a fun 1.5 hours and the staff were helpful in offering photo/posing suggestions.
Travel Savings: You can get admission to Upside Down House at cheaper price here. 
The rest of the day was spent shopping and dining at Central Festival Mall where we enjoyed a western meal at the Sizzler. There's also a supermarket in this mall, but I find the prices a little marked-up as compared to Big C. 
Map Location for Day 1 Phuket Itinerary
Hello, Phuket >> Pick up Rental car >> Drive to Phuket Town >> Check in Sino House Hotel >> Tunk Ka Cafe >> Rang Hill Viewpoint >> Upside Down House >> Central Festival Mall
---
DAY 2: BIG BUDDHA & SOUTHERN PHUKET
Most hotels in Phuket comes with free breakfast buffet. We enjoyed a small but decent spread at Sino House Hotel before making our way to the Big Buddha. It is a massive sculpture that sits on a site with a spectacular view of the Andaman Sea. I highly recommend this as a must-visit destination in Phuket!
Next, we proceeded to Baan Noy Restaurant for lunch because online reviews were good. We left feeling slightly underwhelmed as the food while decent didn't seem special enough to warrant a special trip.
Feeling recharged, we then made our way to Prompthep View Point. This touristy spot offers amazing views of the sea and islets. After a 15-minute hike, we abandoned the tourists and reached Prompthep Cape. Took many funny photos there because the whole trail and cape was exclusively ours and we couldn't restrain ourselves from making silly poses (that are too embarrassing to share online).
TIP: To enjoy these scenic destinations, having a car would be convenient. It is cheaper to rent a car. However, if you prefer not to drive on foreign land, you can charter a Private Car (driver, fuel, insurance included).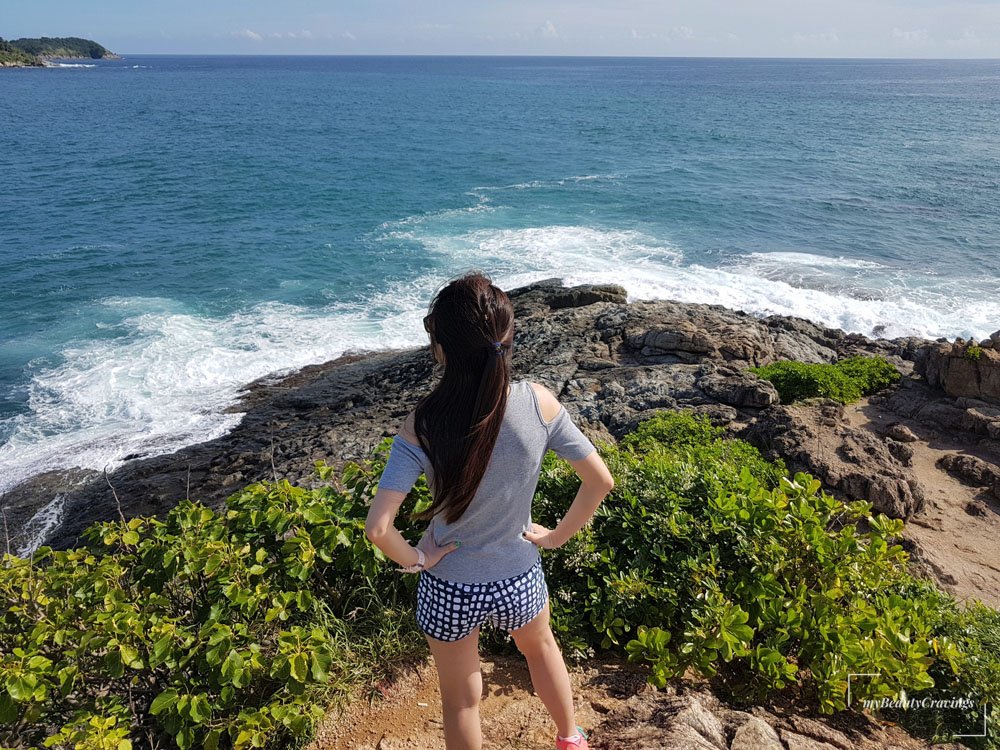 Just 7 minutes drive away was the Windmill Viewpoint. Once again, this spot offers you a nice view. However, at this point, we were getting kind of desensitized. This happens when you get to enjoy great views the entire day. :)
Finally, we got into some water activities at Nai Harn Beach. It's a shallow shore that's accompanied by powerful waves. Sunset was pretty although it was partially hidden by the hill. 
On our way back to Phuket Town, we stopped by at The Chillva Market. This must be our favorite night market in Phuket. It wasn't overly-touristy. In fact, I think most of them were locals and we like eating, shopping and just being surrounded by the locals. Another thing I like about The Chillva Market is how it isn't too big to cause confusion in terms of navigation. 
Map Location for Day 2 Phuket Itinerary
Big Buddha >> Prompthep View Point >> Prompthep Cape >> Windmill Viewpoint >> Nai Harn Beach >> Chillva Market
---
DAY 3: SHOPPING DAY & PHUKET WEEKEND NIGHT MARKET
Once again, we started the day with a free buffet breakfast at Sino House. The Thai Omelette and Thai Milk Tea were yummy! Sometimes, you'll feel sick having breakfast at the same hotel for consecutive days. Not for Sino House though. The food there was pretty good.
So, what were the activities lined up for Day 3? The great thing about visiting the same destination twice is how you can have a relaxing itinerary. After breakfast, we dilly dallied and set off only at 12pm. We would be going shopping today! The first stop was at Premium Outlet Phuket. To cut long story short, you can give this place a miss. Things there didn't offer good value and quite a number of shops had closed down – we counted eight.
FREE PRINTABLE: Download your Free Phuket Pocket Itinerary. It gives you one-click access to tips, logistics info and map locations. 
Next up was Big C Phuket, located near the Central Mall. It's a hypermart with its own building. You can load up on your Thai food souvenirs and groceries here – see Things to Buy in Phuket. I bought quite a lot of stuff here – mostly snacks, wine and beer.
Within the mall, you can also find small local shops. We had our lunch at Chesters, a local fast-food restaurant that specializes in grilled chicken. It was a decent meal.
Our night was dedicated to Phuket Weekend Night Market. This market was humongous – it was so huge it's impossible to get back to the same spot without the use of google map. Yeah, imagine I'd to use google map in a night market. LOL! That's because me and my partner split up and arranged to meet at a certain spot later. That's my preference for shopping – I don't like to keep people waiting when I shop. And I thought it's a more effective use of time, especially when time is limited.
TIP: You can book a 4G SIM Card online and collect it at Phuket Airport. Those who have used the service said it is cheaper than getting the SIM Card in Phuiket.
There was so much to see, eat and buy you can spend the whole night there seriously. Check out the food we had at Phuket Weekend Night Market.
Map Location for Day 3 Phuket Itinerary
Premium Outlet Phuket >> Big C Phuket >> Phuket Weekend Night Market
---
DAY 4: SHIFT BASE TO PATONG BEACH
After staying at Phuket Town for three days, it's time to change our base. It took only 45 minutes to get to Indochine Resort & Villa. I will share a dedicated post on this accommodation because the room we stayed in – Deluxe Double Room with Spa Bath – was spacious and super cool!
This accommodation experience can qualify as an attraction on its own. Considering the time we spent enjoying the facilities, I think it's well worth the price. After dipping in our private and outdoor Jacuzzi till late afternoon, we made our way to Patong Beach.
There, we enjoyed our late lunch at the Sweet Restaurant. Highly-recommended by the way as the Thai cuisine was good and generous in portion. Price was also reasonable.
Next up was a slow stroll by the beach. Patong Beach is a perfect spot to view sunset as the sun sinks slowly into the horizon, right before our eyes. 
When the night darkened, we made our way to the nearby Bangla Walking Street. It's a very "happening" 400m street that's great for night-life lovers. There were many open-air bars and pubs and eager leaflet distributors doing marketing for their establishments.
TIPS: There are other night activities in Phuket, including the Simon Cabaret show and Phuket Fantasea. These links allow you to buy the tickets at lower prices as compared to official rates.
As we no longer enjoy the night life as much as we do in our younger days, we decided to shop at Jungceylon instead. Of the malls I've visited in Phuket, Jungceylon is my favourite. It's not superb by international standard, but at least I did end up buying some stuff, like some discounted apparels from Superdry and cosmetics from drugstores.
There's also a Big C in Jungceylon if you want to pick up some groceries or food souvenirs.
We ended the night shopping along the bustling Streets of Phuket till late night. 
Map Location for Day 4 Phuket Itinerary
Check-in Indochine Resort & Villa >> Patong Beach >> The Sweet Restaurant >> Sunset Viewing >> Bangla Walking Street >> Jungceylon >> Phuket Street Shopping
---
DAY 5: BEACH HOPPING, MALIN PLAZA & RELAXING AT INDOCHINE 
If the breakfast in Sino House was good, then what we had in Indochine was first-class. You can even order your gourmet and specially-brewed coffee. I ate so much in Phuket I put on quite a bit of weight after this trip. Okay, it's a little embarrassing for me to share, but I've to tell you that I ate so much I kept poo-poo-ing in Phuket. Don't laugh! :P
Phuket accommodations really make an effort to feed people well. 
After the sumptuous breakfast, we visited Indochine's gym to burn off some calories. This must be one of the best gyms in terms of its view. That really enhanced our exercising spirit.
As usual, we left the hotel late at 1pm and drove to Karon Beach. It looked really beautiful, but was way TOO HOT. I couldn't stand there for more than 10 minutes – the heat was really intense and I knew I would get charred in no time, with or without a sunblock.
For some reasons, we thought Kata Noi Beach would be less hot. That must be wishful thinking on our part as it was equally scorching. Beach is clearly not a viable activity at this time of the day unless you love a good tan.
Getting a little hungry by mid-afternoon, we decided to explore Malin Plaza. It must be the least happening market in Phuket, but probably because we were there too early (at 3.30pm). Many stalls were not opened even though the official operating time was from 2pm to late night. Since there's no ambiance to speak of, we decided to do a food takeaway and have it at our own luxurious seafront terrace.
Unfortunately, the Pad Thai and Seafood Fried Rice that we brought home were below-average in taste. To be fair, maybe these takeaways would taste better if it was consumed right away. Or maybe not. :) Coz I remember the prawns weren't fresh. To be fair to Malin Plaza, that's just our experience with a particular stall.
Our late afternoon was spent swimming on the 4th floor swimming pool at Indochine Resort & Villa. How awesome is it to have the pool to ourselves? And look at this view!
As many units in Indochine come with their own Jacuzzi or Pool, the public swimming pool wasn't popular with the guests. Or perhaps, many were out in the afternoon for their island-hopping tours. In any case, it's good for us as we had the whole pool to ourselves – our "private" big swimming pool. 
After the swim, we returned to our unit to dip in the Jacuzzi (yes, again!), followed by watching twilight while bathing at the outdoor shower area. What an unforgettable experience!
Water-based Experiences: If you rather enjoy water-based activities outside of hotel, check out discounted tickets to Andamanda Phuket Waterpark, Phuket Dolphin Bay and Aquaria Phuket. Oh, you can also get wet at this popular Elephant Jungle Santuary experience.
With the convenience of having our own private transport, we drove all the way to a Japanese Restaurant near Phuket Town. 168 Japanese Restaurant was a place popular among the locals and we didn't see any tourists there, except ourselves. The Japanese food was decent. You can visit it if you crave for a Japanese meal, but do note that it's not superb by international standard, okay? 
We spent the night engaging in star gazing right from our own terrace. The countless twinkling little stars made an unforgettable night. 
Map Location for Day 5 Phuket Itinerary
Sea-facing Gym Session >> Karon Beach >> Kata Noi Beach >> Malin Plaza >> Swimming with a great view >> Jacuzzi Session >> 168 Japanese Restaurant >> Star Gazing
---
DAY 6: GYM, JACUZZI AGAIN & BYE BYE PHUKET
Today is the day we bid goodbye to Phuket. But not before enjoying the hotel facilities for one last time. You'll be amazed at how much activities we could squeeze into one morning.
After an equally satisfying buffet breakfast at Indochine Phuket, we went to the gym for a quick workout session. How to workout after a heavy buffet meal? Well, just avoid the cardio activities and focus on weights and squats. It was a little rushed and I abandoned my partner shortly because I wanted a last dip in the Jacuzzi. 
It was raining then and the view was quite different from what I'd enjoyed the past few days – misty and mysterious.
At 12pm, we were ready to check out. I gulped down my last can of Chang Beer and proceeded to the airport. A rental car doesn't just provide convenience, it also shaved off some expenditures such as to and fro airport transfers. At just S$30+ per day, I think it's totally worth it! 
At the Phuket Airport, you can find some cafes at the public area. If you need food, enter the transit area and proceed to Level 4 – there are ample food options. After loading some beauty products from the DFS, I bid adieus to Phuket. I'll be back for sure!
Map Location for Day 6 Phuket Itinerary
Sea-facing Gym Session >> Jacuzzi Session >> Return rental car at airport >> DFS Shopping at Airport >> Goodbye, Phuket 
---
That's it. Six super relaxing days in Phuket with good food, great accommodation and not a single dull moment. Did I mention the air tickets from Singapore were cheap too?
Are you now tempted to visit Phuket? Stay tuned as I have follow-up posts to share more tips on Phuket. Connect with me if you like to get notified of my latest and 100% honest reviews! 
SUBSCRIBE
(This post was first published in 2018 and last updated in Jun 2022 to include latest available information.)
Pin This!
This post may contain affiliate links, meaning I earn a commission if you make a purchase, at no cost to you. Read my full disclosure for more info.
(Visited 10,937 time, 1 visit today)