Jogging is always a drag. I'm not going to lie to you. Every single time! When I gear myself into my sports attire, there'll be a million reasons running through my mind on why jogging is not a good idea for the day. This post will share the common jogging excuses and tips to overcome them.
JOGGING EXCUSES
1) "I've had a heavy lunch, and am feeling

so full

. Maybe it's better that I jog tomorrow instead."
2) "I'm

too hungry

. No energy to jog, okay?"
Just two days ago, when the time came for me to prepare for a jog, I opened the wardrobe and couldn't find any sports attire. I was secretly feeling happy that these attire were in the laundry because that's such a valid reason not to jog. Alas, the attire was hidden beneath some other clothes. That turned my relief into anguish, almost instantly.
---
Why Jogging is Important
We all know how important regular exercise is in maintaining our health, mood and emotions. Whenever I'm in a shitty mood, I'll bring myself to the park for a jog. The short 30-minute session would instantly lift my spirit and make me happier and more relaxed. It works all the time, like a charm.
I'm not going to go into a long preaching on why jogging is important, as I'm sure you are not here to learn about that. Just a quick short pointers on the benefits of jogging:
Jogging can:
Improve your Health so that you live a longer and illness-free life
Improve your Emotions so that you stay happy
Improve your Appearance and Figure so that you can slip into any dress that you fancy
Maintain your Beauty and Youth and enjoy the envy of others
Let you Enjoy Food with a peace of mind
Lift your overall Confidence
---
How I Trick Myself into Jogging Twice Weekly
Since jogging is such a dreadful task, how did I manage to overcome all the seemingly valid reasons (aka excuses) and get myself onto the running track?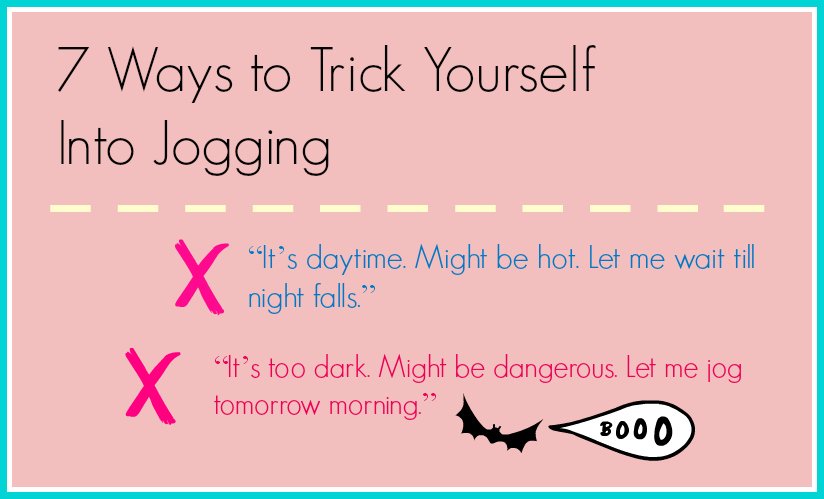 Fair enough, I don't succeed all the time. But, I can minimally win the battle at least twice weekly.
Here's how I do it! Yes, I'm going to show you how I 'speak' with my evil twin in chronological order.
1. Can we talk later, buddy!
This is a point where I'll have to shut off all my thoughts.
"Ok. I agree with you (and all the silly excuses), my evil twin. However, let me change into my sports attire first. We'll continue our discussion later."
2. Just going for a slow walk. Nothing difficult, yah?
By now, I'll be in my right attire, and ready to set off.
My evil twin said earnestly, "Hey, jogging is such a tiring and difficult task. It'll make you pant like a dog and sweat like a pig. How about we stay at home, and catch up on some nice movies?"
"Don't worry, buddy. I'll just go for a REALLY slow and leisure walk. That should be easy. Yes. I'll do just that."
3. Since we are here, might as well do a slow jog?
Great. I've successfully dragged myself to the park.  
"I took so much effort (and internal struggles) to get here. I really shouldn't waste it by just doing a walk. How about I'll do a slow jog and enjoy the breeze? It'll be soooo slow it's totally effortless."
4. I'm gonna win!
By the time I start jogging, albeit starting off really slowly, the adrenaline that kicked in should allow me to pick up pace quite easily. The longer I jog, the more energetic I would be.
At 400m mark from the end point (out of a typical 4km jogging distance), I'll start sprinting by competing with anybody who are standing between me and the end point. I would overtake as many of them as possible to emerge as the winner in this imaginary Olympics. 
---
How to Banish those Jogging Excuses?
Unfortunately, you can't. These excuses and random thoughts will always be around to haunt you. What you can do is to invalidate them, one by one depending on what they are.  
Excuse 1: Sports attire is in the laundry
Action: Monitor your laundry and make sure you have enough sports attire to last you for the week. Invest in more sports attire. It's worth it!
Excuse 2: I'm too hungry to jog
Action: If you tend to jog in the evening, try to take a small bite in late afternoon.
Excuse 3: I'm too full to jog
Action: Too full? Go for a brisk-walk then. That's better than not moving at all.
Excuse 4: It's daytime. So hot. I don't want my skin to age prematurely 
Action: Apply sunblock. You can also check out the neighborhood gym.
Excuse 5: It's dark. It may be dangerous.
Action: Be flexible. Try a different route. Instead of the park, how about jogging along main road? 
The above are some of my common excuses. What's yours?  
---
Give these Jogging Tips a Try for Better Health
As I've said, I don't succeed all the time. That's why I only get to jog about twice weekly. Ideally, I would have loved to jog at least 4 times weekly
Today, I almost succumbed to my evil twin. I told myself to go for a jog before nightfall. However, I was too engrossed in getting the first part of this post written and fine-tuning my website layout. By the time I was done, it was a little too late and too dark.
I didn't succeed in getting to step 4. However, I did reach step 2.5 (i.e. brisk-walking). That's way better than sitting on the couch and doing nothing at all.
Did you know? 

Many times, we would think that we are too tired for a jog. Let us remember this:

Jogging can actually cure tiredness and give you an energy boost.
Love honest reviews? If you like to get notified of my new posts, you can click the button below to subscribe, or connect with me through facebook or instagram. See you there!
This post may contain affiliate links. Read my full disclosure for more info.
(Visited 854 time, 1 visit today)