Deep blue sea, white fluffy clouds and awesome great views every day! That's how I would describe Okinawa. I've had a wonderful 9-day stay in the sunny Japanese island and would like to share with you my 9 Days Okinawa Itinerary. You'll see me visiting tourist attractions as well as places off the tourist map.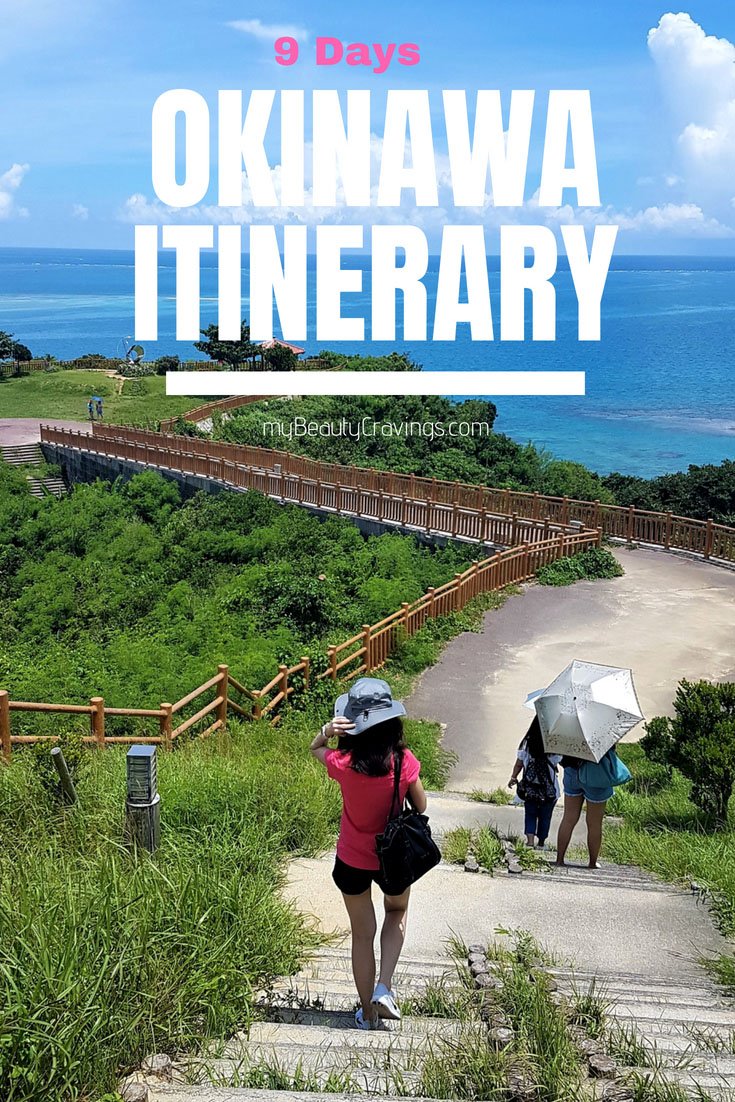 My 9 days in Okinawa were so fulfilling. There was not a single day when I wasn't wowed by what I saw or did. From snorkel-friendly beaches and rustic castle ruins to tumbling waterfalls and spectacular cape views, it was a daily feast for my eyes and other senses. I was having a blast every day, sans biting heat from the sun.
Today's post is a summary of the things I did or visited in Okinawa on Day 1 to 4. Once you are done, don't forget to check out Part 2 (Day 5 to Day 9). In both posts, you can find links to the day-by-day account where I share extra info, map locations and tips.
> MUST-READ: 25 Things to buy in Japan that are Inexpensive & Loved by Locals
---
Okinawa Trip: Our Travelling Profile
Before I begin, let me share our traveling profile and preference. We traveled to Okinawa in June-July as a couple and are city dwellers who crave nature, adventure and good food. Overly-touristy stuff isn't exactly our thing and we wouldn't mind missing some of these places if we have to.
We only travel on free and easy unless there is no such options available in the destination! You can read more about my traveling preference here. This 9 Days Okinawa itinerary is a self-drive trip around Okinawa Main Island.
If you find that your traveling style is similar to ours, read on and check out our fun-filled 9 days Okinawa Itinerary.
> MUST-READ: 18 Important Things To Know Before Visiting Okinawa
---
DAY 1: ARRIVE IN OKINAWA
Good morning, Okinawa! We landed in Naha Airport early morning via an overnight Jetstar flight from Singapore. An OTS representative standing near the exit of the small airport guided us to a bus bay located outside the airport. From there, we boarded a bus that took us to OTS Rent-a-Car Office.
TIP: In Okinawa, prices can vary significantly between high and low seasons. You can view live rates on car rental here.
After collecting our pre-booked car, we made our way to Itoman Farmer's Market and Itoman Fish Market which were located side by side. What an enjoyable first breakfast in Okinawa where we feasted on fresh sashimi, sushi and other delectable seafood.
Learn the History of Okinawa
With a happy stomach, we proceeded to the first tourist attraction of the day – Himeyuri Peace Museum. It was a good place to learn the tragic history of Okinawa during WW2 though knowledge was acquired mainly by reading off panels.
Next, we moved on to another historical site – Former Japanese Navy Underground Headquarters. It was a restored tunnel where many Japanese soldiers committed seppuku (suicide via self-disembowelment) instead of surrendering during WWII.
After the history lessons, it was time for us to check into Mr Kinjo in Mihara – our hotel for the next three nights. We changed out of our heat-retaining "flight attire" and got into more comfortable summer wear. This island was hot, man!
> ALSO SEE: 11 Tips You Need To Know When Choosing A Hotel In Okinawa
An Evening in Naha, Okinawa
Our first evening in Okinawa was spent strolling along Tsuboya Odori Pottery Street, a 300m street characterized by stone-paved roads and flanked by quaint little shops selling pottery wares. Although we were not into pottery, we found this picturesque street charming. It makes a lovely spot for a relaxing stroll.
Soon, we arrived at Kokusai Dori Shopping Street, presumably the most popular and touristy street in Okinawa where you can get souvenirs, food, beauty products and more. A short walk brought us to First Makishi Market, which was a sheltered alley of mini-shops selling an assortment of stuff – from toiletries, souvenirs and food. Unfortunately, the seafood section was closed by the time we arrived (5pm).
We found dinner at a steakhouse along Kokusai Dori Shopping Street. Thereafter, we proceeded to a dessert outlet where we indulged in a really addictive 'Blue Seal' ice cream before calling it a day. It was a really long day for us, considering how little we'd slept on the overnight flight!
Read Day 1 Travelogue:
---
DAY 2: EXPLORE SOUTHERN OKINAWA
On our second day in Okinawa, we overslept and had to settle for a quick breakfast at a nearby MOS Burger outlet. By the time we reached our first destination for the day, it was half past noon. That's late considering how early the sun rose during this time of the year, at 5.30am.
Seifa Utaki is located in the South-eastern part of Okinawa and is a World Heritage Site that used to serve as an important place of worship. Here, you'll see towering rock formations and sea view in a rather small area that can be completed within an hour.
Next destination was Cape Chinen. Although we drove there, it was within easy walking distance from Seifa Utaki. Cape Chinen was such a gorgeous landscape offering almost 360 degrees view of the ocean. As if the view wasn't great enough, colorful hang-gliders flew past us every few minutes and decorated the already mesmerizing blue sky.
Lunch at Ouijima Island
Lunch was at Oujima Island which was connected to Okinawa main island. The first thing that caught our eyes were kids happily jumping off a jetty located beside a fish market. They were having great fun.
We entered the small and unassuming Oujimaimaiyu Fish market to find many stalls already closed for the day (2pm). That didn't pose a big issue as the sashimi platter and burger we ordered from the remaining stalls were good enough. Very delicious actually!
Southern Coast of Okinawa
Gushikawa Castle was a castle ruin off the tourist map because it wasn't very impressive, to be honest. Our business of being there was to hike down to the beach, explore a nearby cave and snorkel in a natural pool. We were shocked when we stepped into the ocean water. It was hot and I thought I just stepped into a boundless ocean onsen. I don't recommend you making a special trip here unless you want to experience submerging in warm ocean water.
Cape Kyan was just a short drive away. The deep blue water was truly impressive and the white peace monument gave the blue sky a beautiful contrast. A lighthouse was also within sight.
The last wet activity of the day was to snorkel at a beach (大度浜海岸) located on the southern coastline of Okinawa. I can't find an English name for it, but you can pronounce it as 'Da Du Bin' beach (coined by me, not an official name). At Da Du Bin Beach, we saw small fishes in shallow and warmer-than-usual sea water (not as hot as the beach at Gushikawa Castle). The further we swam out, the more colorful the fishes were. Unfortunately, the corals here appeared to be in a bad condition (dying).
GREAT SAVINGS: This Main Island Okinawa Enjoy Pass gives you access to 12 popular attractions, including Churaumi Aquarium. You can use it at a relaxing pace over 5 days.
Next destination was Giza Banta Cliff, a tragic site where many Okinawan civilians were witnessed jumping off and committing suicide during WW2. There was a waterfall after a short hike, but water flow was pathetic – it must be due to the hot climate.
A Night at Chatan & Ginowan
Our night activity was dedicated to American Village. We admired the large Ferris Wheel, dined, shopped and just strolled about aimlessly. There was an Aeon Supermarket where we packed enough grocery for the next few nights and enjoyed delicious and cheap matcha ice cream.
As if we didn't cover enough places today, we stopped by Mega Don Quijote Ginowan and shopped till 2am. That was the place where I loaded my first pile of beauty products. Bedtime was 4am. OMG! Wonder what time we would wake up on Day 3. LOL!
Read Day 2 Travelogue:
---
DAY 3: WESTERN OKINAWA ITINERARY
We couldn't believe that we overslept again. All thanks to late night beauty shopping, we only left our hotel at 2pm on Day 3. OMG! That was 6 hours later than our initial plan – some things needed to be scraped off from our Day 3 Okinawa Itinerary.
Our first meal of the day was at Tomari Fish Market. Things seemed cheaper than other fish markets we'd visited in Okinawa. Unfortunately, we didn't see any seating area (except for two dine-in restaurants) and struggled to eat while standing. Our dining mood was somewhat affected because it wasn't easy accessing/dipping into wasabi and soya sauce without a proper table and our sashimi tasted bland.
Castle & Cape in West Okinawa
Up north we drove along the western coast of Okinawa and reached Zakimi Castle Ruin. It was an impressive site with a majestic 360 degrees view of woods and ocean from its 3-story tall castle top. We also loved the beautiful greenery surrounding the castle.
Cape Zanpa, a cape set on a rugged and rocky surface that faced the deep blue East China Sea, was a short drive away. Ladies, please leave your heels at home!
There's also a lighthouse nearby but it was under restoration work.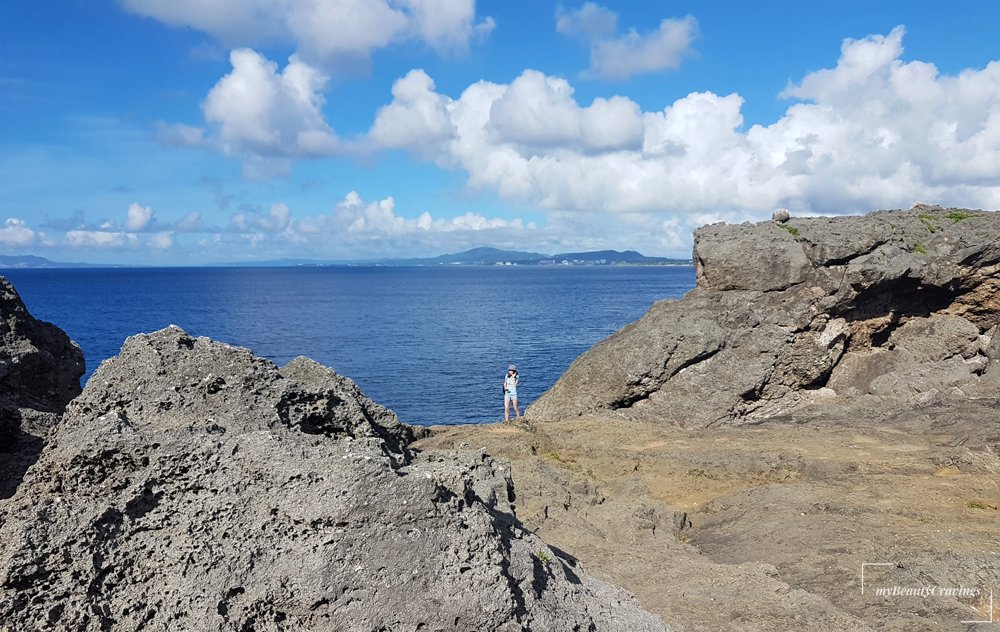 At 5pm, we reached Cape Maeda. This was our second snorkeling experience in Okinawa but considered our first in terms of snorkeling by a cape (vs a beach). There were many fishes here and we enjoyed our evening snorkeling session. My partner also swam by himself to the famous blue cave without joining a tour. He reported that much of the cave was above water level due to low tide (i.e. not great).
> MUST-READ: How to Snorkel at Cape Maeda and Blue Cave without joining a tour?
While he was exploring the cave, I had plenty of time admiring Cape Maeda from various vantage points, including one from a viewing tower.
If we had woken up early, the next destination should be Cape Manzamo. Unfortunately, we had to give it a miss because the sun was setting. That's okay, we thought we would visit it again on other days.
Aeon Rycom was a convenient stop point for dinner and shopping. We thoroughly enjoyed our beef bowl set, margarita pizza and ramen ordered from a food court located on the third floor. I dedicated all my time to Beauty Shopping within Aeon Mall and didn't venture to other shops. Ah…me and my obsession dedication.
Read Day 3 Travelogue:
---
DAY 4: SHIFT BASE TO NORTH OKINAWA (NAHA TO NAGO)
On Day 4 of our Okinawa Itinerary, we checked out of our hotel in Naha and traveled to Aeon Naha in search of locker facilities and breakfast. Most outlets had yet to open and so we settled for a simple breakfast at the food court.
As locker at Aeon Naha was more expensive (¥500) than what we were prepared to pay, we traveled further to Okinawa Outlet Mall Ashibinaa. Lockers here were cheap and large and charged only ¥100 per use. Ironically, we ended up not using its lockers because this mall came with sheltered parking. We left our luggage in the car.
I almost bought an Agnes B bag priced at SGD50. I thought I could revisit it on my last day in Okinawa to seal the deal but was hit by a typhoon. There goes my chance of acquiring an S$50 branded bag.
After killing enough time, we embarked on our cross-island drive from Naha to Nago. Nago, located in North Okinawa would be our base for the next few nights.
We could have driven along a normal road for two hours to reach Nago, but decided that the ¥980 expressway toll fee was worth spending if it could trim one hour off driving time.
Arriving in Nago, the Northern City of Okinawa
We met up with our friendly Airbnb host and checked into the spacious Seven Residence Yabu in Nago, but left almost immediately to make it to our pre-booked Orion Beer Tour. It was a quick 20-minute tour around the brewery and I left feeling slightly drunk after downing two mugs of free Orion beer within 20 minutes. We were reminded constantly to keep to the given time as I believe we needed to make way for the next group of tourists?
There were many 24-hour supermarkets in Nago and we spent our night shopping at MaxValu, Makeman, Aeon Nago and some random shops along the road.
Read Day 4 Travelogue:
---
UPDATE: Okinawa Itinerary (Part 2) is ready. Check out how we spent Day 5 to Day 9 in Okinawa! Don't forget to download the Free Printable Okinawa Itinerary which gives you one-click access to destination tips, locations and logistics info.
Okay, my butt is getting numb from sitting for too long writing this. Let me come back with Okinawa Itinerary Part 2 in my next post. Stay tuned and have a sweet day ahead! Don't forget to exercise and eat well. :)
If you like to get notified of newly-published beauty reviews and travel stories, just click the button below to subscribe. I'll even give you some free and exclusive stuff. See you there!
SUBSCRIBE
(This post was first published on 8 Aug 2018 and last updated in Nov 2019)
This post may contain affiliate links, meaning I earn a commission if you make a purchase, at no cost to you. Read my full disclosure for more info.
(Visited 25,380 time, 7 visit today)