Hey guys, guess you all know by now how much I love Taiwan. It's been a while since I returned from my fourth trip to Taiwan earlier this year and I'm ready to share with you my 9 Days Taiwan Itinerary around Taichung. 
This trip was made possible, all thanks to my personal chauffeur (hee hee!), an affordable rental car and our reliable pocket WiFi. With this great combination, we hiked up a mountain, visited the most popular lake in Taiwan, admired the best sunset view I've had in my life and sampled an enormous variety of mouth-watering Taiwanese street food.
Read on and see how we explored the touristy Sun Moon Lake, Cingjing, Hehuanshan and Taichung in our trademarked non-touristy way.
---
Why We Rented a Car in Taichung, Taiwan? 
While Taipei is well connected by buses, MRT and train, it's a little harder to explore Taichung using public transport.
Yes, Taichung city offers free bus services within a 10km radius. However, services can be infrequent and time-consuming. Furthermore, many tourist attractions lie outside of Taichung city, towards the inner/central part of Taiwan, which is definitely more than 10km away.
Therefore, self-driving made sense to us. But should we rent a car right at Taoyuan Airport or cut down expenses by renting a car only when we have arrived in Taichung City and are ready to venture out of it? 
>> MUST-READ: Part 2 of our Central Taiwan Itinerary
Pick Up Rental Car at Airport or in Taichung? 
We pondered long and hard and decided to get our rental car right at Taiwan Taoyuan Airport and have it for the entire duration of our trip.
Why so?
First of all, we can cut down public transport costs between Taoyuan Airport and Taichung City. Also, it'll make life easier because getting from Airport to Taichung City is not as straightforward as we might think. Below shows two ways to get from Taoyuan Airport to Taichung by public transport.
Getting from Taoyuan Airport to Taichung by Public Transport
Option #1 (by HSR)
Start at Taoyuan Airport
> Take MRT (20mins / TW$25) OR Shuttle Bus #706 (25mins / TW$30)
> Take high-speed rail at Taoyuan HSR Station (40mins/ TW$540)
> Reach Taichung HSR Station
> Take Taxi to Taichung Hotel (15 mins / around TW$250) OR Walk to Xinwuri Train Station (3mins), take train to Taichung Train Station (15 mins / TW$15) and Walk/Bus/Taxi to Taichung Hotel
Total Cost: approx. TW$600-$800 per pax one-way
Total Duration: 2+ hours
Option #2 (by Bus)
Start at Taoyuan Airport
> Take Long Distance Bus, e.g. #1861 (2.5hrs / TW$255)
> Walk/Bus/Taxi to Taichung Hotel
Total Cost: TW$300+ per pax one-way
Total Duration: 2.5 hours
Don't forget, you'll be lugging your luggage around while making these transfers. Having a car definitely helps shave off inconveniences and public transport costs. Another benefit of self-driving is how it allowed us to explore attractions located along the way, between Taoyuan Airport and Taichung.
INFO: In Taiwan, drivers sit on the left seat and drives on the right side of the road. Choose self-drive only if you are comfortable driving overseas and able to switch comfortably between left and right-hand drive. It'll also be easier to drive in Taiwan if you understand and can read Chinese.
---
9 Days Central Taiwan Itinerary: Our Traveling Profile 
We traveled as a couple during New Year 2019. As usual, we did it on free and easy. The only thing we'd pre-booked were the rental car and our pocket WiFi. Both are highly-recommended by the way!
If you are new here, you can read more about my travelling style and philosophy. Without any further ado, let's begin with Day 1 in Central Taiwan.
---
DAY 1: HELLO TAIWAN. LET'S DRIVE TO TAICHUNG
Good morning, Taiwan! We took an overnight Cathay flight and reached Taoyuan Airport at 9am on the eve of New Year 2019.
The first thing we did was to collect our pre-booked Taiwan 4G Pocket WiFi. It was a swift and easy affair. Highly recommended as you can see why from my 5-star review.
While I was collecting the WiFi, my partner was a short distance away, at another counter collecting our prebooked rental car. This car which we have booked at a cheap rate for 8 days will bring us to off-the-beat places in Taiwan.
INFO: We had booked our rental car from Klook – check out my car rental review including pros and cons.
Our end destination was Taichung, which is about a 2 hours drive south of Taoyuan Airport. Along the way, we stopped by a popular local stall (三義三十年豆花) in Sanyi for lunch. This place is known for its Peanut Soya Beancurd, as well as Hakka dishes which seemed to be a common cuisine in this part of Taiwan.
Next, we made our way to Remains of Longteng Bridge. That was a bad decision because the mountain road was badly jammed due to road construction work and the influx of holiday domestic travelers.
I still recall how our car spent an hour crawling towards Longteng bridge when it was right before our eyes, like just a few hundred metres away. I could reach there so much quicker by walking but couldn't abandon our car along the single-lane rural road without further worsening the jam. 
TIP: Be prepared for massive crowds if you visit Taiwan attractions during public holidays. Domestic travelling seemed really popular here.
After we managed to escape from the jam, we drove past Zhongshe Seaflower, Lihpao Discover Land and Huludun Park. The initial plan was to stop by to visit some of these attractions. However, both of us were battling hard with the zzz monster. In the end, I couldn't take it and fell asleep leaving the poor driver alone to suffer from the side effect of the red-eye flight.
Finally, after another hour of drive, we reached Tempus Taichung Hotel, checked in and took a quick nap. Feeling recharged, we made our way to the touristy and renowned Feng Chia Night Market.
Feng Chia Night Market was packed to the brim with holiday-makers. At some stretches, we couldn't even move and I guess domestic travelling must have been at its peak. 
Street food is supposed to be affordable and it is. All thanks to the wide-ranging food variety, we spent more than TW$1000 at Feng Chia Night Market.
Map Location for Day 1 Central Taiwan Itinerary
Taoyuan Airport >> Pick Up 4G Pocket WiFI >> Pick Up Rental Car >> Sanyi Dessert Shop >> Longteng Bridge >> Check-in Tempus Taichung Hotel >> Feng Chia Night Market
---
DAY 2: VISIT ATTRACTIONS AROUND PULI TOWN
A good way to force ourselves to wake up early is to choose a hotel that comes with free breakfast. Yes, how could we miss a 5-star hotel breakfast since we hardly stay in one? LOL! You can read this post to find out what made us book an expensive hotel.
After breakfast, we idled, surfed net and just took it easy. It was New Year's Day 2019! :)
We only left at noon because we had to, and made our way out of Taichung. The first stop was at Jinlongshan (金龍山). We visited all three Pavilions which are located a short distance from one another.
The next stop at King Garden would surely delight ladies and kids. This attraction located at Puli town offers lovely photo opportunities. You'll see giant chessboard, a castle-themed building and lots of cute photo props. There's no admission fee because I think they want to draw you here to visit their souvenir shop and restaurant. :)
By 4pm, we finally reached our final destination.
Hello, Sun Moon Lake. This is a place we didn't want to go, but added in the last minute because we allocated too many days for our Central Taiwan trip. We dislike overly-touristy places and Sun Moon Lake seemed like one based on research. The photos of it also didn't seem spectacularly beautiful as compared to other lakes we've seen, e.g. Lake Toya in Hokkaido and Lake Pukaki in New Zealand. 
I'm glad that we allocated one day at Sun Moon Lake as it was quite an enjoyable experience – we'd intentionally avoided the touristy spots such as Shuishe Pier.
The first thing we did after reaching Sun Moon Lake was to check into Hu Yue Lakeview Hotel. It is located at the southern part of the lake, near Ita Thao Pier. Will write a review on this hotel soon, but if I'm too slow, let me say it here that it's a great choice and I highly recommend it especially if you need free parking.
After a short rest, we drove to Ci En Pagoda and managed to catch an amazing sunset view of Sun Moon Lake for free. Best of all, there were very few people around.
There aren't a lot of things to do at night in Sun Moon Lake. Even at 6pm, most of the street vendors have closed for the day. We bought a grilled sausage and mushroom bun and strolled to Yidashao Wharf. Everything was pitch dark. It felt like 10pm at 6pm+.
Hence, we decided to call it a day and retreat back to our hotel for a wonderful soak in the standalone bath tub. :)
Map Location for Day 2 Central Taiwan Itinerary
Check in Tempus Taichung Hotel >> Jinlongshan >> King Garden >> Sun Moon Lake >> Check-in Hu Yue Lakeview Hotel >> Ci En Pagoda >> Ita Thao Shopping District >> Yidashao Wharf
---
DAY 3: EXPLORE SUN MOON LAKE & CINGJING
The best way to start a day is to enjoy breakfast with a view. Hu Yue Lakeview Hotel sure knows how to delight its guests by reserving a great spot to serve its breakfast.
We checked out of Hu Yue Lakeview Hotel and started our real sightseeing tour of Sun Moon Lake. The first stop was at Nine Frogs Stack. How many frogs you see that day would determine how high the water level is. We saw four froggies that day.
TIP: If you are not driving, you can take a loop bus to explore some of these places in Sun Moon Lake. The frequency of buses ranges from 20 to 50 minutes. See bus timing here. Alternatively, you can also take a Sun Moon Lake Day Tour which offers pick-up and drop-off from Taichung city. 
Next, we moved on to Wenwu Temple and climbed down 366 steps at Year of Steps just to see which well-known figures were born on the same birth date as us.
The final attraction at Sun Moon Lake was at Xiangshan Visitor Centre. It's a modern architecture offering a few reflective pools and a nice cafe by the lake.
Just a short walk away was a lovely park by the bicycle trail (向山落羽松). This is one of the most photogenic spots in Sun Moon Lake. Took countless photos including the first photo of this post.
Where do we go for lunch?
We made a wrong decision to have our lunch at Shuishe Pier and were put off by how touristy the place was. Even before we could get off the car, we were approached by two touters asking us if we wanted to buy ferry tickets.
After passing by lots of touristy-looking restaurants and souvenir shops, we decided that, "Hey, let's just have our lunch in peace at 7-11 convenience store.
TIP: 7-11 in Taiwan or Japan won't pale in comparison to a fast-food restaurant. You'll see lots of food options on the shelves. At the branch located at Shuishe Pier, the cashier heat up our food and directed us to the 2nd floor where we could sit down and enjoy our meals.
Our final destination was Cingjing, a popular highland where people mostly visit to feed sheep and enjoy great mountain views. We parked at Mist Plaza and made our way to Sky Walk.
Unfortunately, we were denied entry at 4.30pm because they'd stopped selling tickets. Apparently, if you have purchased the tickets earlier, you can still enter the Sky Walk since it officially closes at 5.30pm.
We then reversed our track to Carton King and shopped at the restaurant cum souvenir shop that sells things made out of cardboard.
Transport Option: Those who prefer not to drive can get to Cingjing Farm and Sun Moon Lake by this shared transfer.
Now, what else can we do in Cingjing at night? Nothing much to be honest. We returned to Mist Plaza, had our MOS Burger dinner, bought some drinks and snacks from 7-11 and checked into our B&B for the next two nights, at Guanghu Siji Minsu B&B (觀湖四季).
Map Location for Day 3 Central Taiwan Itinerary
Check out Hu Yue Lakeview Hotel >> Nine Frogs Stack >> Wenwu Temple >> Year of Steps >> Xiangshan Visitor Centre >> Lovely Park near Xiangshan >> Shuishe Pier >> Arrived in CINGJING >> Mist Plaza >> Sky Walk (South Entrance) >> Carton King >> Check-in Guanghu Siji Minsu B&B 
---
DAY 4: A RAINY DAY AT HEHUANSHAN & CINGJING
Today, our aim was to visit Hehuanshan and hike up a few of its peaks. Hence, we woke up early, enjoyed our free B&B breakfast and set off for the mountain drive.
TIP: Most people would go for sunrise tour at Hehuanshan. We wanted to avoid the tourists and tour buses and hence chose to travel there after sunrise. Traffic was smooth! 
Shortly into the drive, it started drizzling. By the time we reached Hehuanshan an hour later, the weather was still bad with on-off rain (mostly on). There was no view to speak of that day. Can't see anything except white clouds or mist.
We parked our car outside 3158 Cafe and waited for an hour, mostly surfing net in the car and hoping that the weather would improve. We were even willing to consider hiking up lower peaks such as Jianshan Peak instead of the Main or East Peak. Unfortunately, the drizzle persisted in on-off fashion giving us zero opportunity to do anything at Hehuanshan.
TIP: All thanks to our reliable 4G Pocket WiFi, we were sufficiently entertained even when trapped in the car at Hehuanshan. Check out my full review including pros and cons.
Reluctantly, we gave up the idea of hiking and drove off. Luckily we didn't proceed with any hike as the rain got worse shortly after we made our way down the mountain. The visibility then was reduced to 5 to 10 metres.
By noon, we were back at Cingjing or specifically Green Green Grassland's carpark. The foggy situation didn't improve even at a lower altitude. With no views to speak of, it didn't make sense to enter the farm as admission fee applies.
What else could we do on a rainy and foggy day at Cingjing? 
Honestly, nothing. Because Cingjing is known for its great mountain view (and sheep).
Dying to do something, we forced ourselves to do the Sky Walk even though the view was just "white fog". Not much harm as admission was cheap (TW$50). And we did see some non-touristy sheep. LOL!
The walk from the south entrance ended at a touristy food court, located near Green Green Grassland. We ordered some simple Taiwan dishes from one of the aggressive vendors. Luckily, food was not as awful as its online reputation.
It was only 3pm and we were already back at our B&B. Argh! Cingjing can be a really boring place if the weather is no good. 
But I'll have to thank the bad weather because it allowed me to witness probably the best sunset view I've ever had in my life, right at my very own B&B Balcony.
>> MUST-READ: Things to do in Central Taiwan (Part 2)
This sunset concludes today's activities because all I did after that was to work on my blog. 
Map Location for Day 4 Central Taiwan Itinerary
Hehuanshan 3158 Cafe >> Green Green Grassland >> Sky Walk >> Cingjng Food Court >> Best Sunset View at B&B
Okay, let's take a break for now because we have 5 more days to go. Stay tuned to Part 2 Central Taiwan Itinerary where I'll show you our successful revisit of Hehuanshan and Cingjing Farm. I'll also be exploring Taichung and Taoyuan.
If you like to get notified of newly-published beauty reviews and travel stories, just click the button below to subscribe. You'll also get access to all my exclusive stuff. See you there!
SUBSCRIBE
---
Related Post:
Pin This!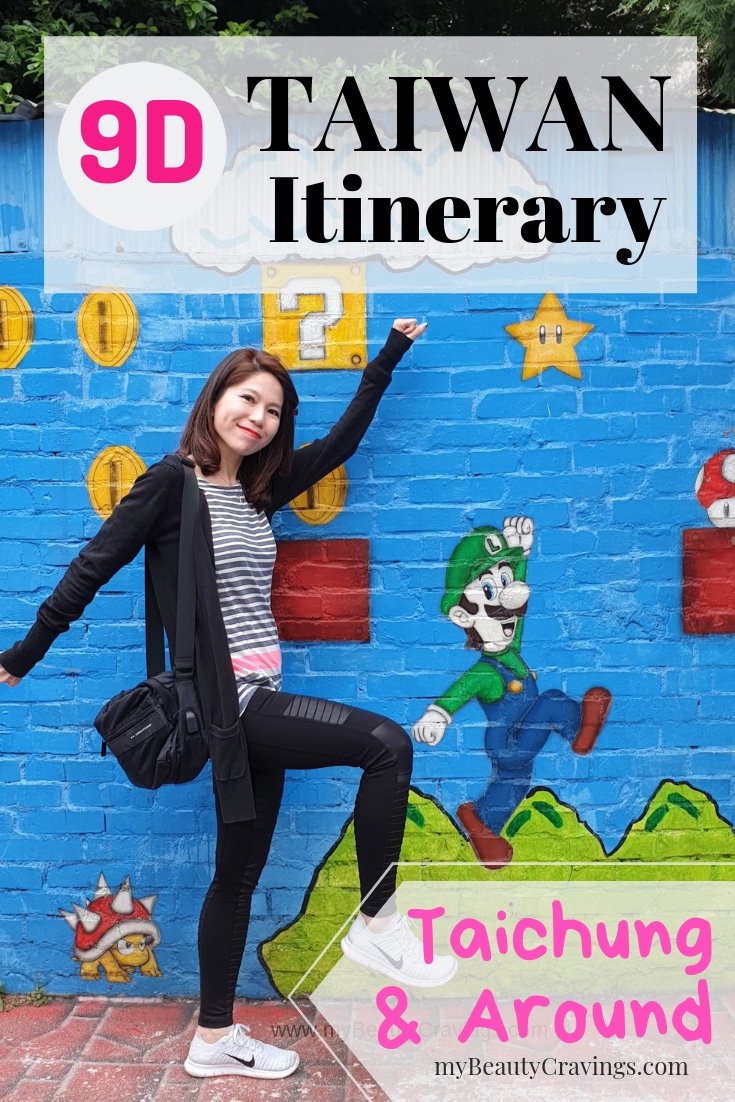 This post may contain affiliate links, meaning I earn a commission if you make a purchase, at no cost to you. Read my full disclosure for more info.
(Visited 6,332 time, 1 visit today)