Amari Johor Bahru Hotel is one of the few hotels I would consider staying as a solo female traveler in Johor Bahru. Being close to amenities and the Singapore-Malaysia border, I could get everything I need without having to expose my vulnerability or walk excessively on deserted pedestrian walkways.
If this hotel is good for solo female traveler, you bet it would be even better for families or couples! Read on and I'll share with you the pros and cons of my experience at this 5-star hotel in Johor Bahru, Malaysia.
---
Location: Safe Walking Distance to Shopping Malls & Immigration
Among the many accommodations I've stayed in Johor, Amari Johor Bahru is currently the only one I would consider staying alone, if I am without my own private transport.
Located just a street away from Komtar JBCC Mall (that's connected to City Square, and which in turn is linked to CIQ immigration), I could get my food, shopping and entertainment fix without having to take any hired or public transport.
Similarly, I could walk to and fro the Singapore-Malaysia custom easily while staying in the safe confine of popular malls. There's no need to walk along the streets for prolonged periods.
Real Stories: Now, if you didn't know, pedestrian walking isn't as common in Johor Bahru as compared to Singapore. I'm playing it safe because of the deep imprints left from past reported incidents (e.g. 1, 2, 3).

Even on crowded streets, incidents can happen. Many years ago, one of my Malaysian SIA batch mates turned up in class with large and superficial (but deep) cuts all over her body. She also had a sprained and bandaged elbow. She told us that while walking along the Singapore-Johor causeway, a pillion on a moving motorcycle grabbed her shoulder bag, causing her to fall and be dragged on the road for a while.
Easy Access to Lots of Amenities
Now, even if I choose to stay within Amari building, I can still get food from a handful of restaurants such as Toast Box, Morganfield and a chinese steamboat restaurant.
Feeling hungry at night? No worries. There's a 7-eleven store located just a few steps from the entrance of Amari hotel (Level 1).
INFO: Amari hotel is located in a cluster of blocks that are linked to one another, such as the Suasana Residential and Zenith Lifestyle Centre.
No Free Parking
Unfortunately, parking at Amari Johor Bahru Hotel is not free even for hotel guests. This is a deviation from the norm as far as Johor is concerned, but it's understandable as this hotel is located within a very dense and populated area.
Furthermore, the parking fee of rm10 for unlimited per day entry seems cheap and reasonable (unlike those in Japan).
TIP: After you park your car, take a lift to Level 6 where the Reception of Amari JB Hotel is located.
---
Efficient & Early Check-in at Amari JB
We arrived 3 hours before the official check-in time of 3pm and was happy to be given an early check-in. The staff who attended to us was polite and efficient. Things were explained clearly, such as the additional rm10 tourism tax and the rm10 parking fee.
She then swapped our paper parking ticket to a plastic card that would allow us to exit and enter the carpark for free. This plastic parking card would need to be exchanged back upon check-out.
We were allocated a room on the 10th floor. Let's go up and take a look at the room! :)
---
First Impression: Room At Amari Johor Bahru Hotel
The room we booked at Amari Johor Bahru Hotel is a Superior King. We loved the room right from the moment we stepped in as it was new, clean, posh and very well-designed.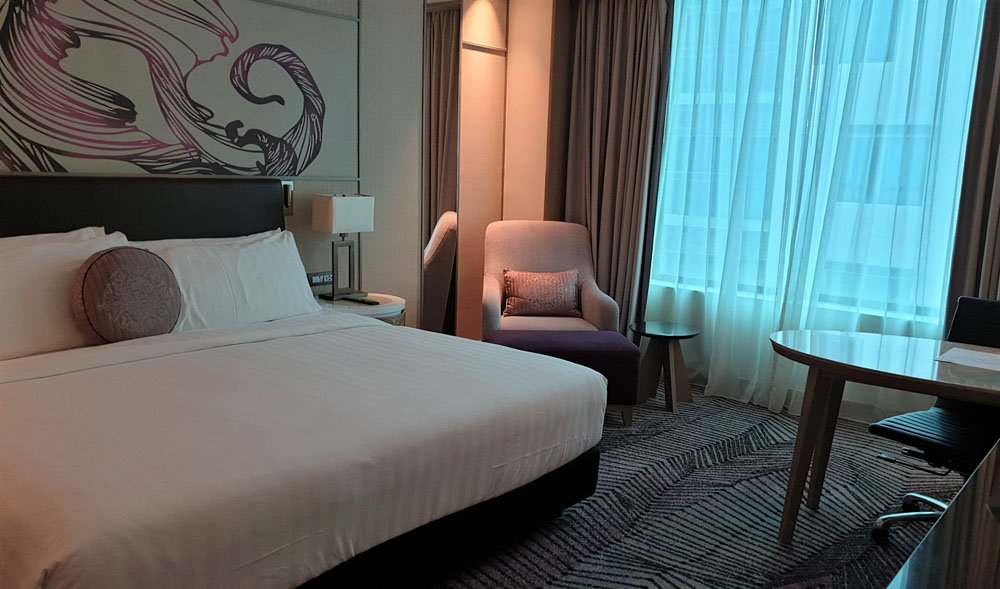 There's no doubt about this being a 5-star hotel as I couldn't find any fault with its design. The spacious 32m² room holds a large king-sized bed, a granite-top desk and a relaxing chaise lounge.
All the drawers and cabinets were of fine quality, and some with intricate designs. I also find the 2-way access wardrobe very convenient as we could reach our stuff from either side of the cabinet, i.e. from the bedside or near bathroom entrance. Love it!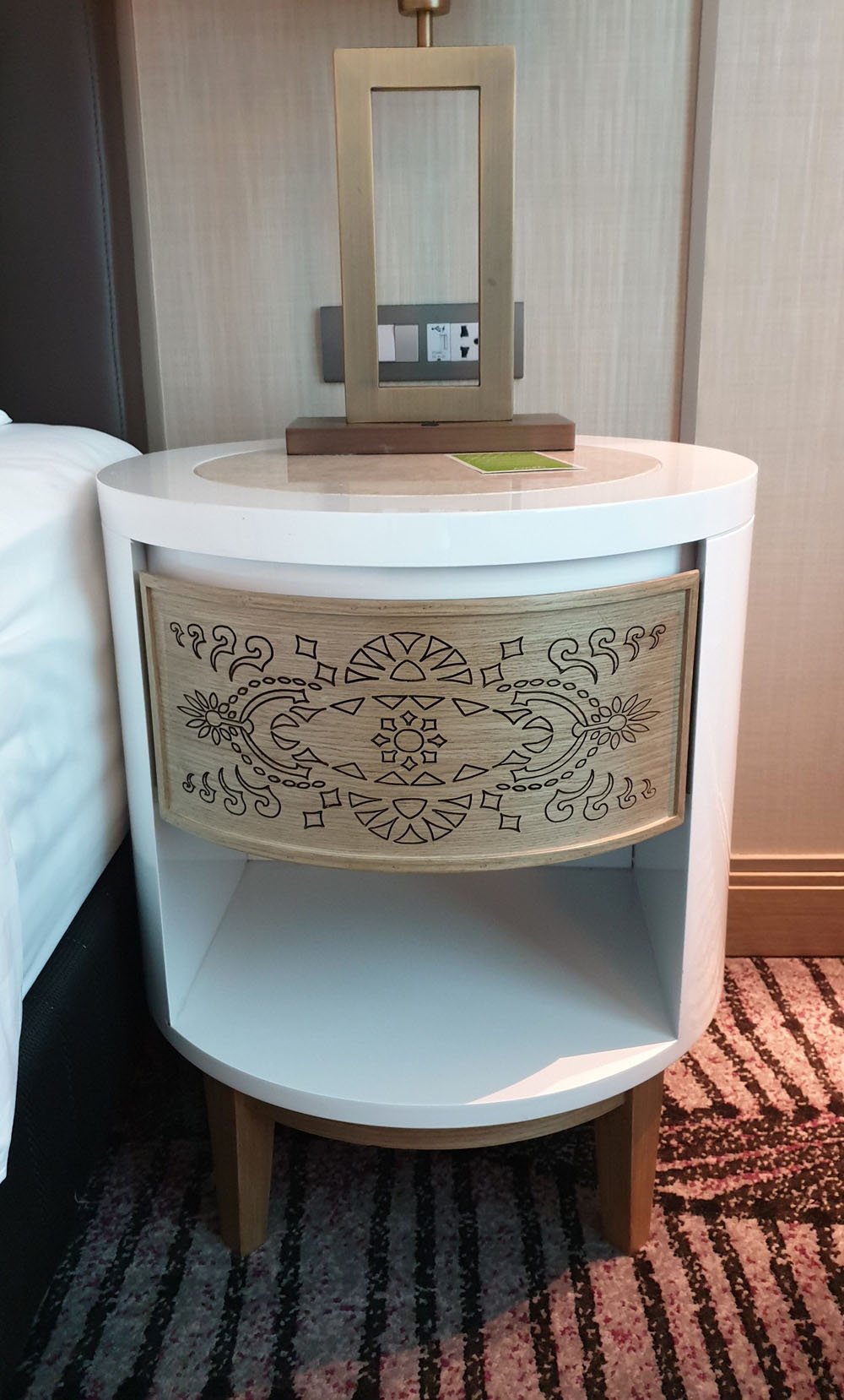 Plush Toilet
The bathroom at Amari Johor Bahru was also well-designed with fine bathroom accessories and finishing.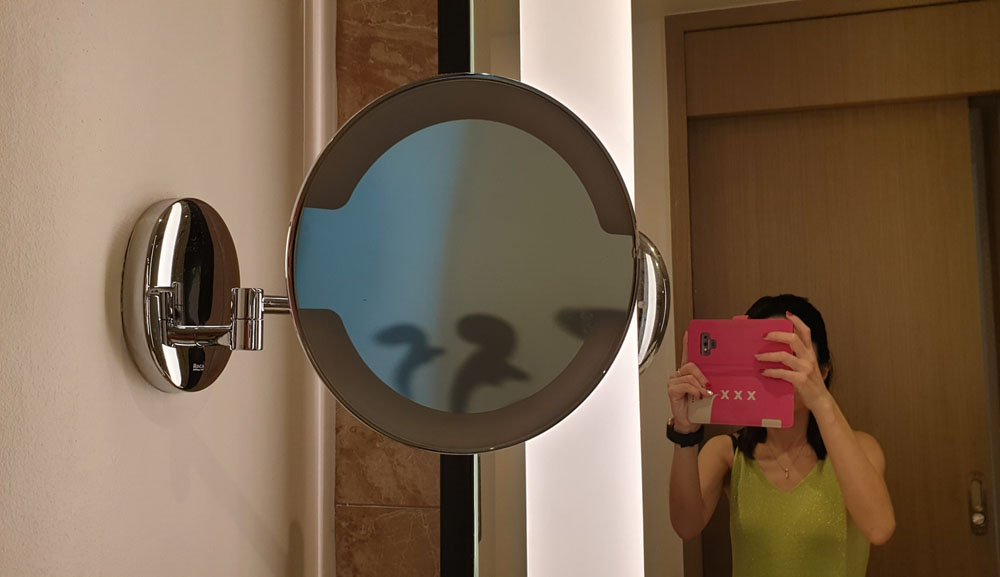 On the right was the spacious shower area that came with a rain shower and a recessed wall to hold the toiletries. Water pressure was good and temperature-control easy.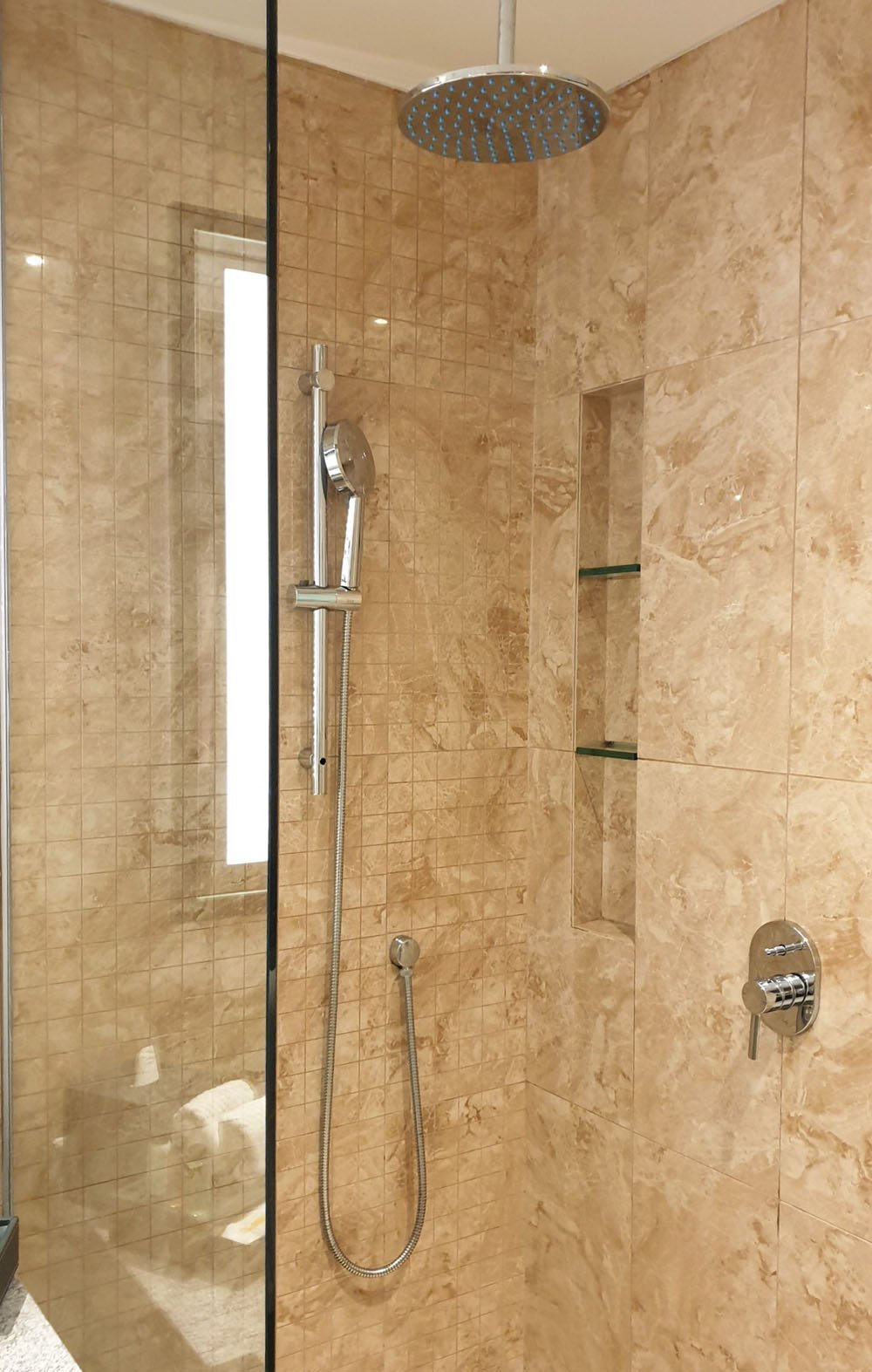 The basin was equally stylish and functional as it was large enough to prevent spillage and kept the stuff on the vanity top dry and clean, e.g. cosmetic bag. I was also happy when I found a spot with the right height to hang my toiletry bag, unlike my experience at Capri by Fraser, Johor Bahru.
Toilet users who love water-cleansing can make good use of the bidet by the toilet bowl. And don't you just love the white and trendy flush buttons?
Dream list: I've always wondered if the Japan-style washlet would one day become a norm in Malaysia (though I'm not sure if there's any cultural implications). Then the floors in shopping malls and public toilets would stay dry?

We often bring our 80+ years old elderly into Johor. One challenge she faces all the time is wet toilet floor. She was afraid that she would slip and fall.
Room Amenities of "Superior King"
The "Superior King" room at Amari Johor Bahru Hotel comes with the usual complimentary items such as tea and coffee, toiletries, bottled water and slippers.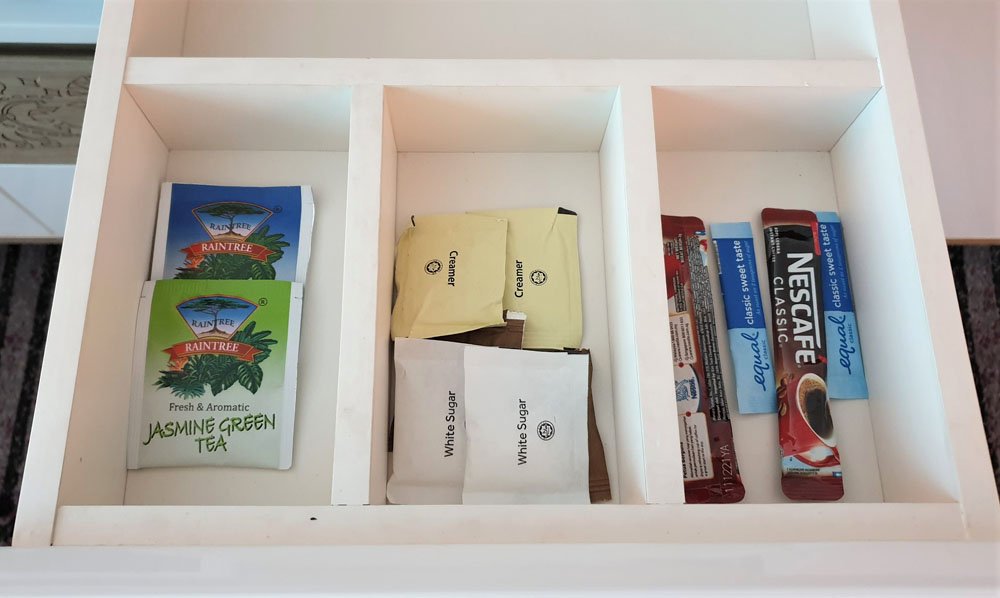 On top of that, you'll also get a kettle, fridge, hair dryer, decent-sized TV and an easy-to-use electronic safe. A rare inclusion was a presentable ice bucket sitting within one of the TV shelves.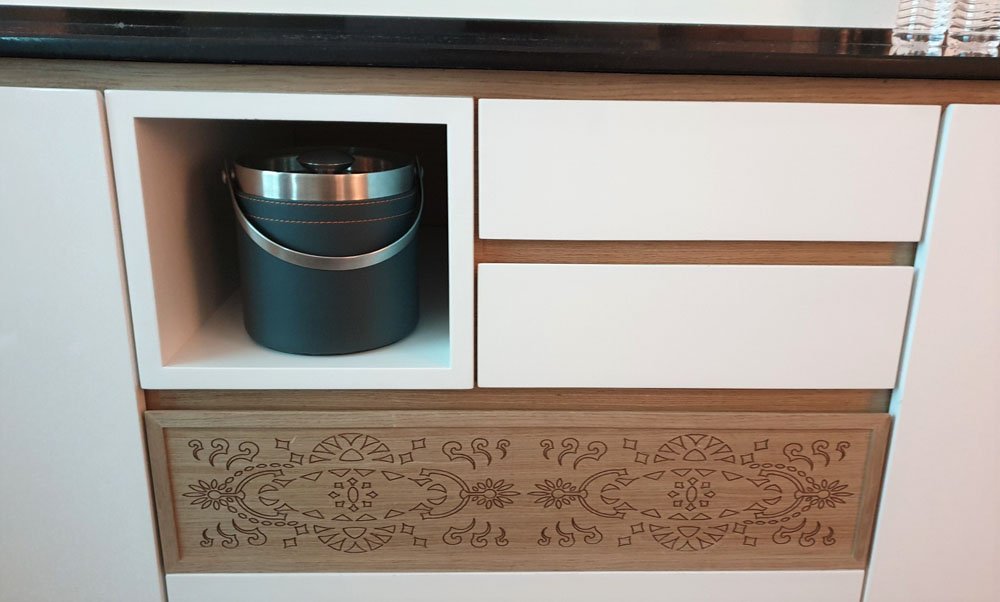 As with most hotels in Malaysia, Amari JB also provides an iron and ironing board.
In terms of TV channels, there are enough English channels to keep one entertained.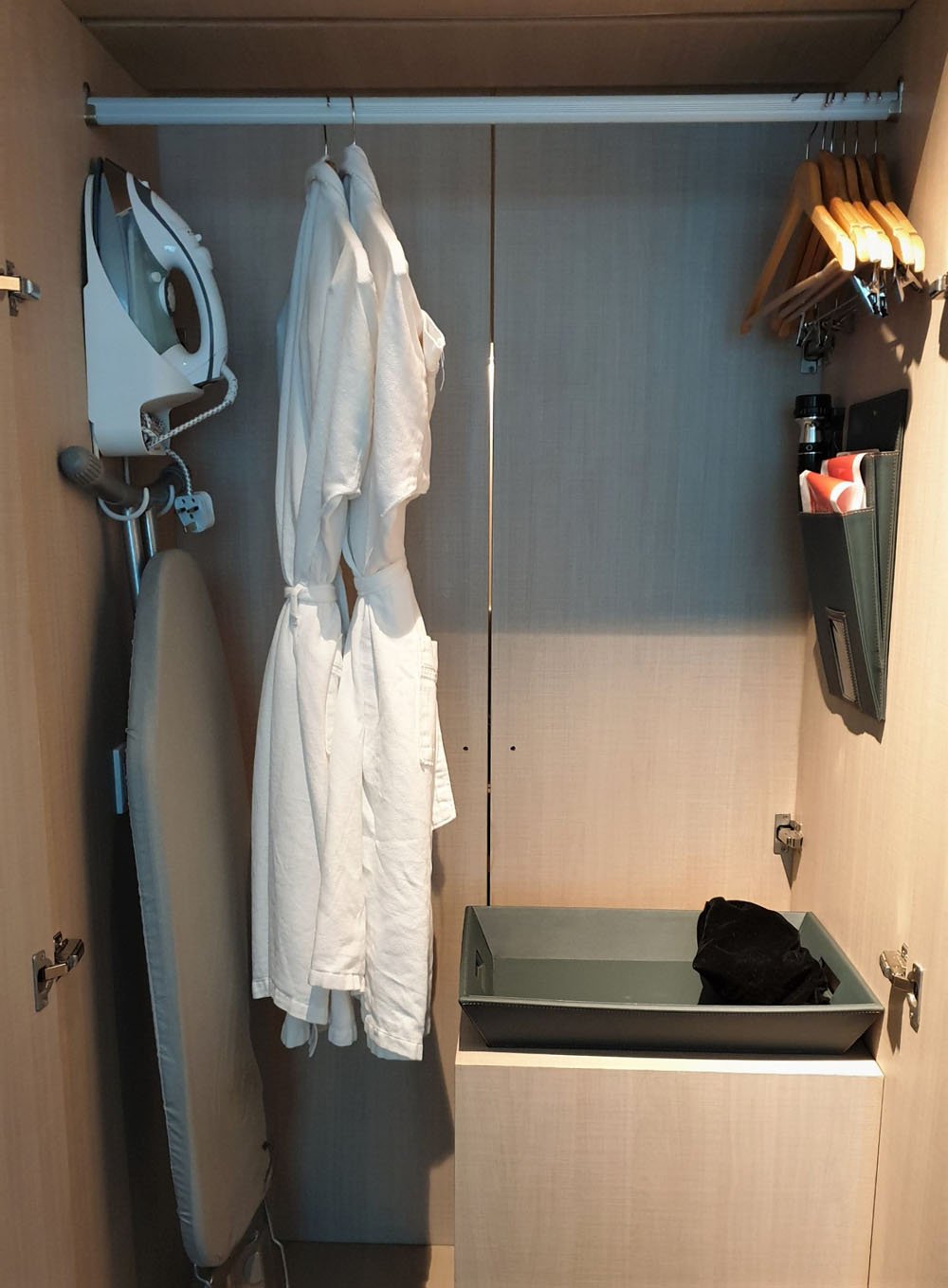 Housekeeping at Amari Johor Bahru Hotel
Normally, I would refrain from walking around bare-footed on hotels' carpeted floor. But the room at Amari Johor Bahru felt clean enough for me to do so.
Generally speaking, I think the housekeepers did fairly well in prepping the room – definitely better as compared to Capri by Fraser Johor Bahru.
MUST-READ: A rejuvenating getaway at Capri by Fraser Johor Bahru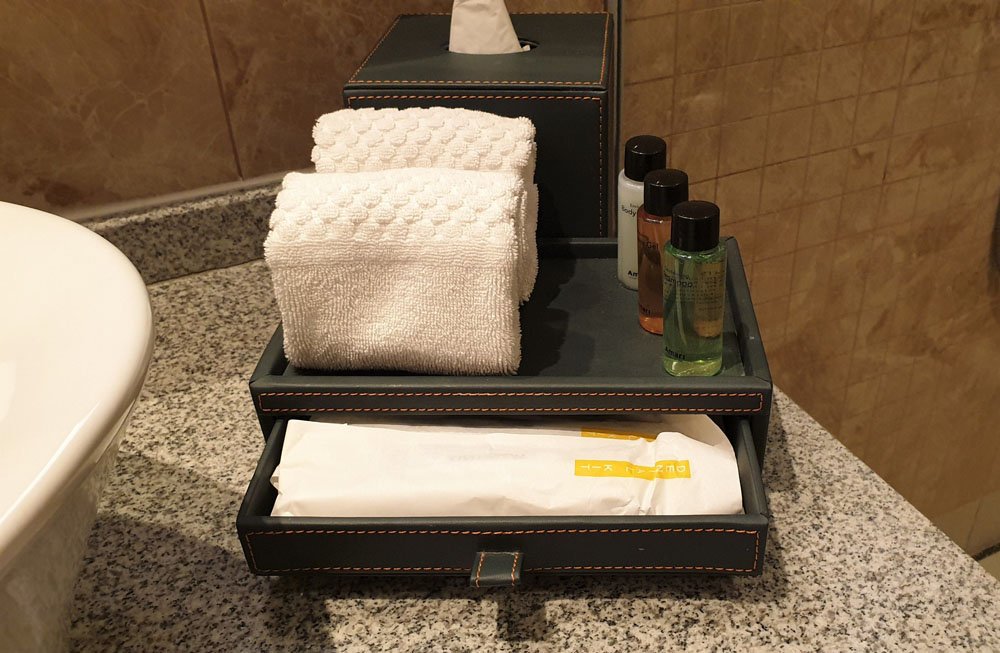 I did however noticed much later that one of the toiletry packs was opened and partially-used. To be fair, it wasn't easily noticeable as the pack was stuffed right into the back of the vanity drawer. And the housekeeper could have missed it.
But, to be perfect, Amari can probably train its housekeepers to fully "unload" the stuff before replenishment.
RELATED: You won't believe what I found in Grand Belllo Hotel JBCC
---
The View at Amari JB Hotel
Staying at such a central location has its drawback. We didn't get a good view at Amari JB Hotel, which is rare in the context of hotels in Johor Bahru or Malaysia in general (except the cluttered portion of KL).
It didn't bother us because we went in with our eyes opened. Yep, can't have the best of both worlds, can we? This time around, we chose to sacrifice great views in exchange for a superb location. No regrets as the convenience at Amari Johor Bahru can't be beat!
But if you prefer a hotel with unblocked view and which is still quite central, check out Trove Hotel.
>> RELATED: What I think of Trove Hotel after staying for 2 Nights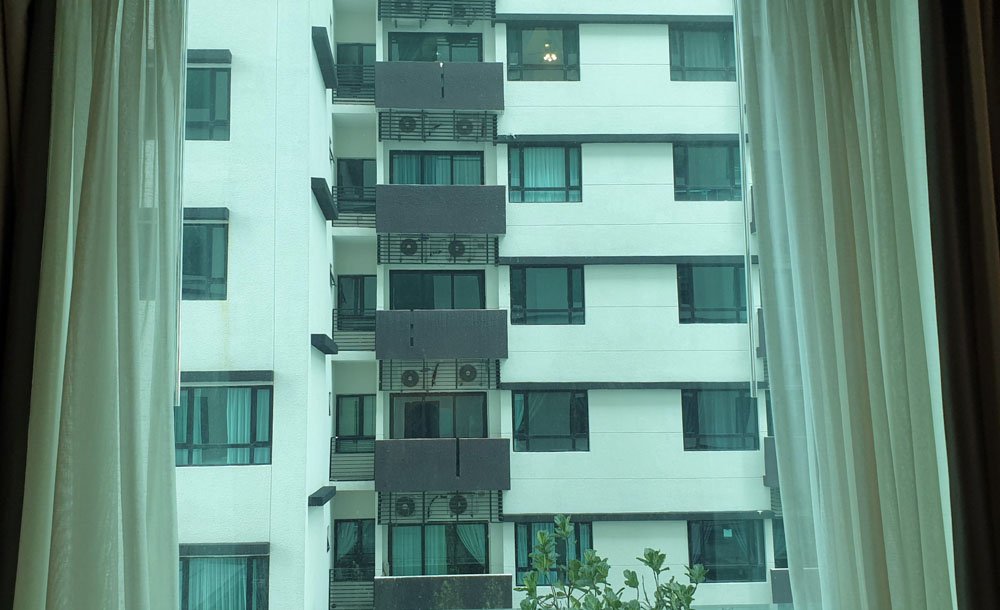 ---
Recreational Facility At Amari Johor Bahru Hotel
After resting in the room for a while, we decided it was time for recreation! Let's explore what Amari Johor Bahru Hotel has to offer in this aspect.
Swimming Pool at Amari JB Hotel
The swimming pool was small and sandwiched between two buildings. As such, the water was cold even in the afternoon as it probably didn't receive a lot of sunlight.
Nevertheless, the pool was able to offer a decent lap swimming session as there weren't many people at the time of our visit (2.30pm).
My "Private" Gym Session
While the man was having a swim, I was working out at the gym which is located next to the pool. In fact, I could see my partner while I sweat it out on the elliptical trainer.
Similar to the pool, the gym was small but came with a good variety of equipment and machine for a balanced workout. I did some weights, sit-ups and cardio exercises and was lucky to have the gym all to myself throughout the hour-long session.
Bring your own water
I was however bothered by the drinking water that came in the form of a water dispenser with plastic cups placed on the side. The "unused cups" were placed upside down while the used ones were supposed to be placed on a tray at a lower tier. But I saw both used and unused cups placed together, probably by ill-informed users.
And how do we know if any users accidentally place a used car in an "unused" position? For info, the period when I was there was at the peak of the Wuhan virus (late Jan 2020).
Therefore, even though I was very thirsty, I didn't allow myself to drink the water there. Perhaps, sealed bottled water would be a better option?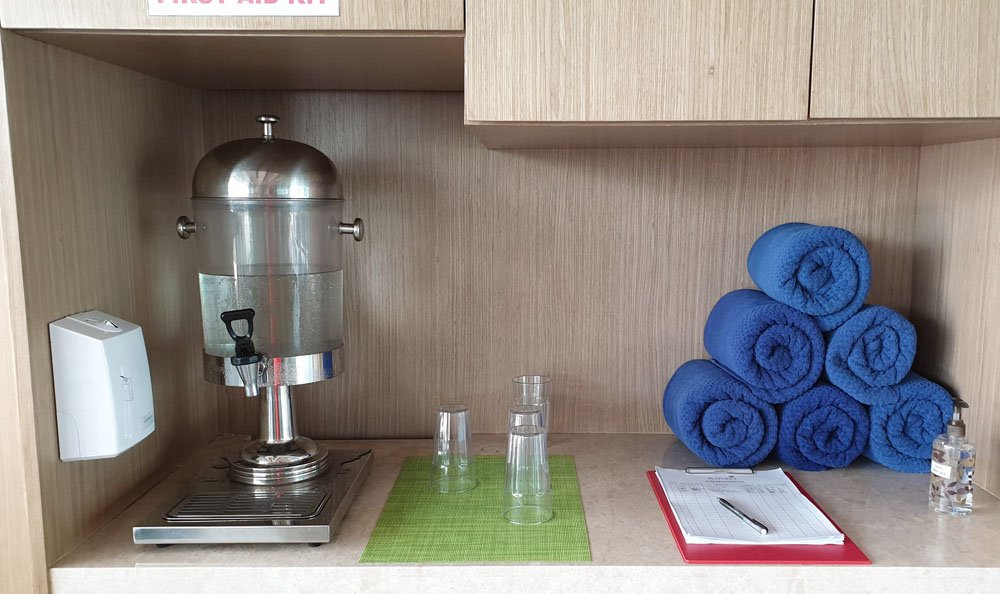 Bring your music player
Another thing I noted was the Malay music playing in the background. When we revisited the gym again at close to midnight, it was still playing native music. As such, we believe this could be the default music language of choice at Amari JB hotel.
You may consider bringing along your own music player if you have a strong preference over music choice or language.
---
Shopping, Food & Entertainment
I've shared earlier how strategic the location of Amari JB hotel is. In fact, it was so convenient that we didn't even touch our car during our stay.
After the exercise, we walked over to Komtar JBCC by crossing a small road. The shopping mall is linked to yet another even more popular mall in Johor Bahru – City Square. We had our dinner there, did some shopping and thought of catching a movie.
But since the movie we were interested in would screen in 2 hours' time, we thought we would return to the room for a rest. That's the beauty of staying near a shopping mall. Unfortunately, once we got back, the inertia set in and we didn't want to move. LOL!
The man did eventually visit the gym at close to midnight (gym opens 24 hours) while I surfed the net, snacked non-stop and chilled with a cup of Tealive bubble tea. Life is good! :)
---
Second Impression: Amari Johor Bahru Hotel
Our first impression of Amari Johor Bahru hotel was great, if not excellent! As with most things in life, our impressions shifted a little after actual usage of the room. Let's see what they are!
Very Soft Pillows
Both of us thought the pillows at Amari JB hotel were too soft. Two pillows each were given, with one being firmer than the other. But both are the kind that would sink in with pressure until they loose their "springiness" (i.e. non-cushy) and become somewhat flattened.
However, pillow preference is a subjective matter. Therefore, some of you may love such "moldable" pillows.
WiFi wasn't Super-Fast
There was surprisingly noticeable lag during page loads when I surfed net using my laptop. Though the WiFi speed wasn't super-fast, it wasn't slow to the point of causing frustration. So don't worry. Just that I was expecting a 5-star hotel to offer 5-star speed.
Ok, I'm being very fussy right now. LOL!
TV Resolution
Not sure if this is a room-specific issue. The resolution in our room wasn't super clear. If a high-clarity TV is rated a 10/10, Amari hotel or the TV in our room was a 7.5/10.
Though not 100% clear, we had no problem enjoying a show. Just that, it wasn't a 5-star experience.
Very Cold Room
This point is likely a room-specific issue as I didn't see anyone talking about it in the reviews. As you see, the room that I was in was super duper cold. Even after adjusting the temperature to 27 degree Celsius, the display still showed the actual temperature at 21 degree celsius.
We waited from afternoon till about 8pm for the temperature to find its way to the temperature we'd set, but it didn't happen. I was shivering while working on my desktop, and couldn't change out of my long jeans and cardigan.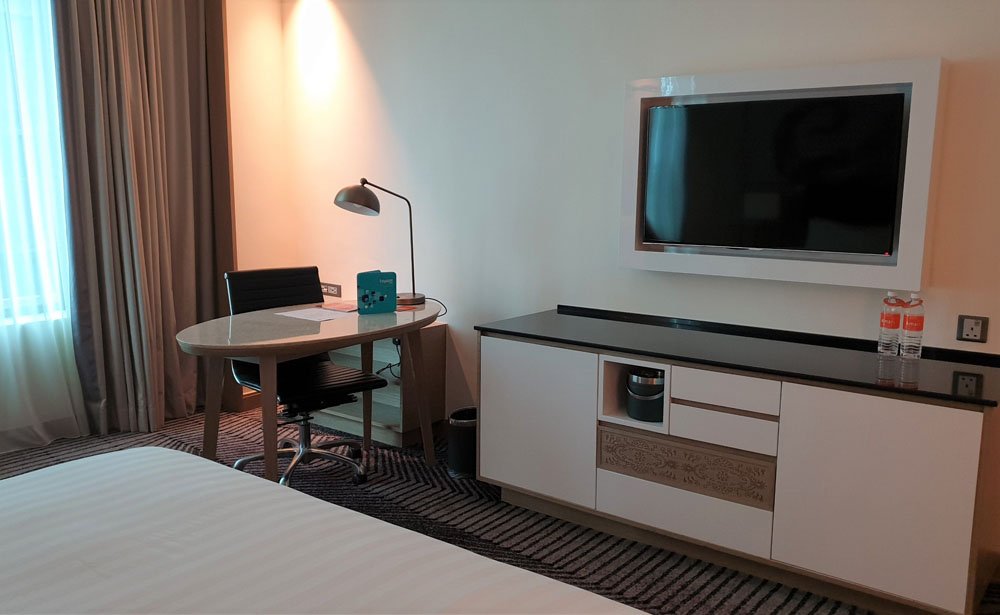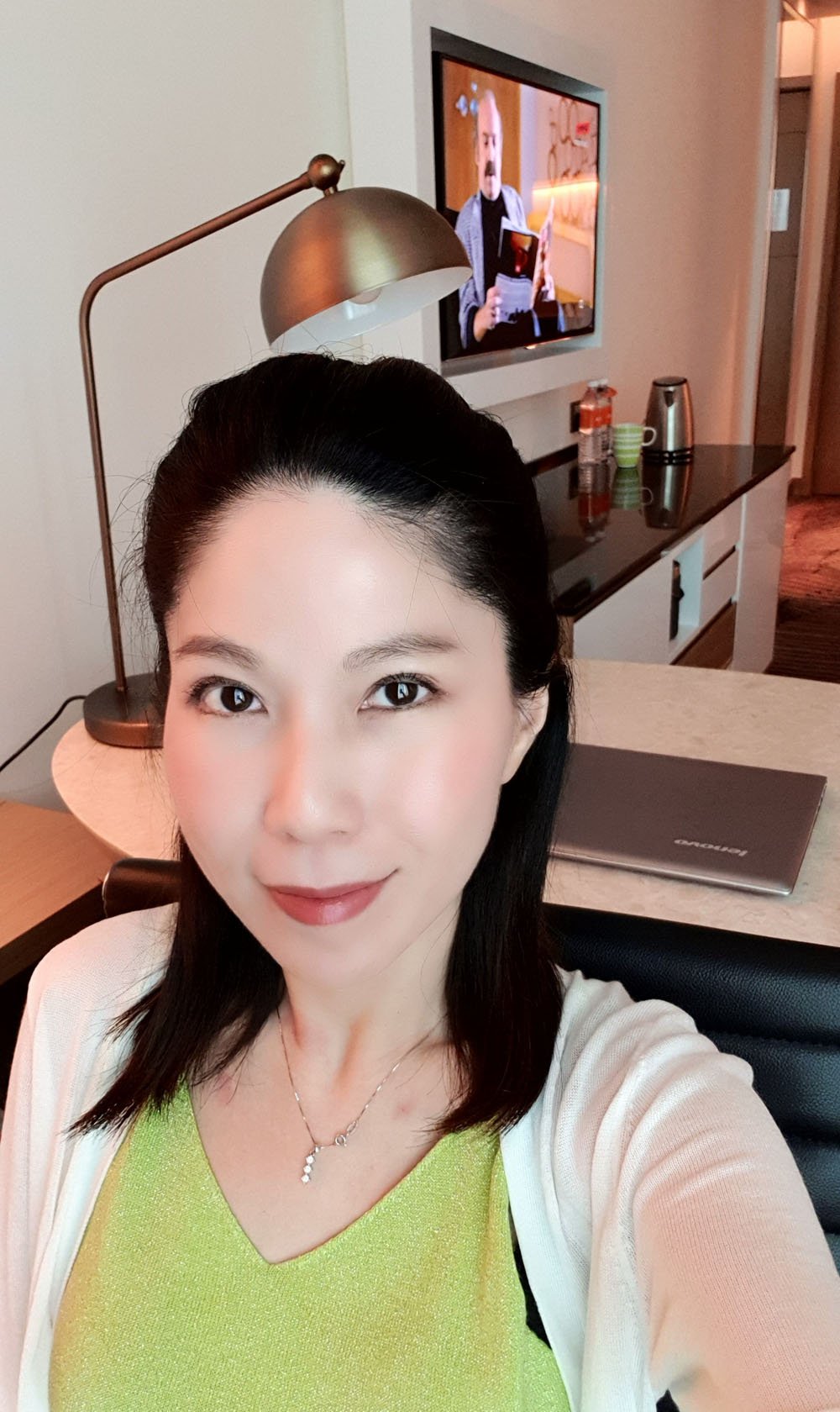 Reluctantly, I called up the reception for assistance. An engineer came up quickly within 5 minutes and examined the aircon vent. He did some repair and told me the temperature should increase gradually.
Unfortunately, the temperature did increase, but by only 1 degree celsius. So it's a 22 degree celsius environment for a 27 degree setting. This was too cold for skinny-me to bear. As such, I stopped my work (the granite desk surface felt like a fridge), jumped into the bed and covered myself underneath the thick blanket.
I was kind of stuck in bed for the rest of the night. But as I've mentioned, this could be a room-specific issue. If I wanted to, I could have gotten the engineer to come up again and I'm sure the hotel would do its best to make me comfortable. But I chose not to do anything since it's only a one night stay lah!
Congested Traffic Near Hotel
When checking in and out of the hotel, we found ourselves having to navigate through slow and heavy traffic. Since we arrived and left during lull periods (weekday afternoon), the slow traffic eased quickly and didn't result in any traffic jams.
You may want to time your entry and exit if you decide to drive there.
---
Price Of Room At Amari Johor Bahru Hotel
The price of a 5-star hotel in Johor Bahru is definitely higher than the average room rate in the southern Malaysian city.
We found a good rate at about S$80 nett without breakfast (excluding parking and tourism tax). However, we noted that Amari JB hotel is generally priced at S$100+ per night.
Find out the latest price here. Try to book your hotel stay early to avoid last minute bump-up of rates.
---
In Summary: Pros Vs Cons
What's Good?
Fantastic location: Walkable to shopping malls and immigration (CIQ)
May be a safer option for solo travelers as compared to other hotels
Relatively new hotel (opened in 2017)
Early check-in allowed (subject to room availability)
Spacious room (32m²)
Well-designed interior with fine finishing
What's Not Great?
No free parking (rm10 per night)
Congested traffic if you drive
Price reflects 5-star status
No unblocked view in the room
Pool & gym were small but functional
Pillows were too soft for us (subjective)
---
Recommendation
Amari Johor Bahru is a great choice for those who want to be in safe walking distance to shopping malls and the Singapore-Malaysia immigration border. Over here, you get access to everything you need for a great staycation without having to walk far.
If your idea of a great vacation is shopping, good food and entertainment, you'll love Amari JB. Even though this hotel charges additional parking fee, the amount is not more than a plate of Char Kway Teow in Singapore.
However, those who prefer a room with great views or spacious recreational facilities may have to look elsewhere, perhaps at hotels located further away from the bustling City Square/immigration area.
All in all, I love the posh furnishing and strategic location, and would definitely consider staying at Amari Johor Bahru Hotel again. Rating: 4/5
Hotel Info:
Location: Johor Bahru, Malaysia (see map)
Price We Paid: S$80 per night (view current price)
Month of Travel: January (Chinese New Year Period)
Free Packing Checklist: Download
Pin This!
This post may contain affiliate links, meaning I earn a commission if you make a purchase, at no cost to you. Read my full disclosure for more info.
(Visited 3,293 time, 4 visit today)