Thanks to Amelia's Homemade Carrot Cake, I've had an enjoyable Hong Kong style lunch with my family without having to step out of home. 
If you love the comfort and convenience of dining at home, but like to skip the hassle of cooking a delectable meal from scratch, check out this Singapore food delivery option offered by home-based business owner, Ms Amelia Teh. 
---
What's Special about Amelia's Homemade Carrot Cake?
Other than being produced in small quantity to achieve consistent quality, Amelia's Homemade Carrot Cake is packed full of ingredients. You'll see a generous sprinkle of Chinese sausage (Lup Cheong), dried shrimp and dried shiitake mushrooms. 
Texture-wise, it differs from the typical carrot cake you have at hawker centres as the radish is intentionally grated more coarsely to offer more bite and visual delights.
Look at the photo below – don't they look delicious even when they were sitting within humble-looking plastic containers? 
On top of the mouth-watering presentation, I also appreciate how Amelia's Carrot Cake is free from added MSG, preservatives and artificial colouring. As compared to readily-cooked food that you get from the supermarket, this is likely to be a healthier choice. 
Each box comes generously filled with 700g of carrot cake that is enough to serve 2 to 3 pax. Here's a cross-sectional view to let you see how much carrot cake you get. It's heavy, okay! :)
Flavour-wise, there are two to choose from – Classic Carrot Cake ($10) or Pumpkin Carrot Cake ($13).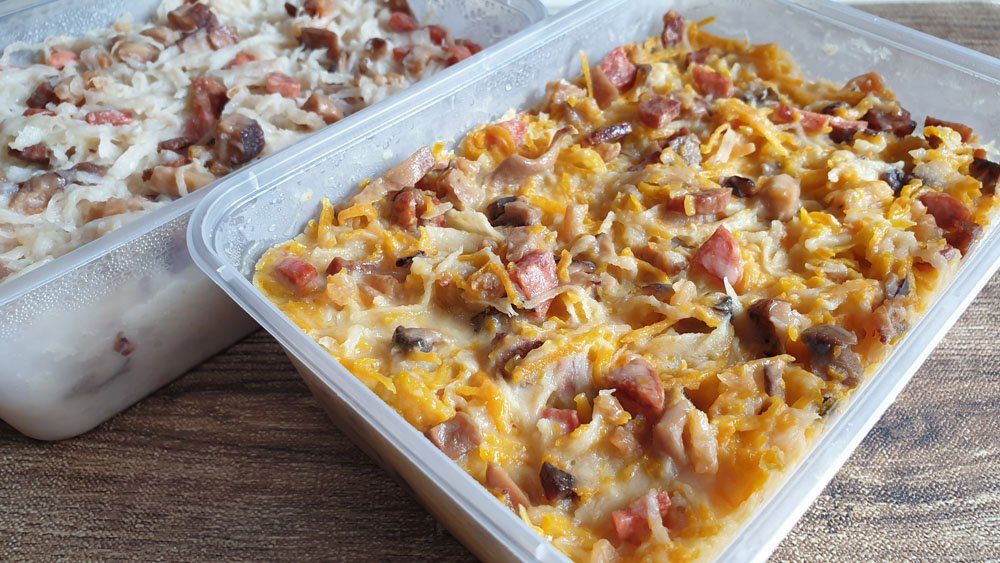 ---
Which tastes better: Classic or Pumpkin Carrot Cake?
I enjoyed both, as the flavour was just right – not too bland or salty. But if I have to choose one, I would go for Classic Carrot Cake. The radish strips seemed longer and come in more distinct strands which offered greater textural satisfaction. 
MOM'S TIP: Add water to the pan if you prefer softer version of carrot cake. 
Mom, otherwise known as the cook, preferred the Pumpkin Carrot Cake. She thought it was more flavourful and loved the light hint of sweetness that came from the Halloween fruit.
Oh, she also commented that the carrot cakes tasted like Hong Kong style dim sum before I told her it was indeed HK style as shared by Amelia. Mom also asked if I could order more in future. 
Sure mom! Anything for you.  
---
Who would love Amelia's Homemade Carrot Cake?
I think this dish works great for those who love local delights (me!!!) and enjoy the convenience of having savoury oriental options in the comfort of the home.
Know anyone who has the habit of eating supper? Amelia's Carrot Cake should appeal to them too as this is a snack that can be stored in the freezer for up to two weeks and readily prepared at any time of the day, including during ungodly hours. :)
Who else may enjoy this ingredient-packed carrot cake? I think most guests would like it, but if you intend to invite elderly to your home, this is definitely a dish to consider as it is flavourful and easy to bite and ingest.
How to Prepare Amelia's Carrot Cake? 
Cut the carrot cake into 2-cm thick slices and pan-fry till golden brown or steam them. I've tried the pan-fried version, which was crisp and appetizing.
For the remaining portion, I may attempt the easiest cooking method (aka lazy cooking) by microwaving the carrot cake. I'll let you know if it tastes good. #keepingfingerscrossed :)
Update: I've just tried the microwaved carrot cake (sorry, Amelia). So happy to report that it was equally fragrant and tasty – yum! Though it has less crisp and golden hue, I thought it is a less heaty version that works great as a quick breakfast!

All it took was 1 minute*, using the microwave's instant cook button. When microwaving, remember to cover the carrot cake with a lid. I'd cut the carrot cake into finer slices (1-cm) to reduce heating time. 

*Note: The carrot cake was taken out of the fridge, not freezer.
How to Order? 
You can order Amelia's Homemade Carrot Cake via Whatsapp at +65 9451 9040. 
Delivery fee of $5 is waived for orders of 5 boxes or more. Go ahead and enjoy a flavourful meal while supporting local business like what I'm doing by sharing this review. :)  
---
In view of the current economic climate, myBeautyCravings will be extending support to selected small local businesses, subject to available resources. Please join us in supporting local businesses during this challenging period.
#SupportSmallBusiness #SupportLocal #mBCsupportSG
This post may contain affiliate links, meaning I earn a commission if you make a purchase, at no cost to you. Read my full disclosure for more info.
---
That's all to today's sharing. If you like to get notified to more of such honest reviews, click the button below to subscribe. You'll also get free and exclusive stuff as a subscriber. See you soon!
SUBSCRIBE
(Visited 859 time, 1 visit today)