Ba Na Hills is a must-visit destination on most tourists' map when they visit Da Nang, Vietnam. Other than the Instagram-worthy giant palms that hold the Golden Bridge, what else can you do at Ba Na Hills?
How long should you spend there? And is the pricey admission worth the experience?  
Let me share my experience visiting Ba Na Hills in July this year, as part of my 10-day trip to Da Nang. For a better story flow, you may want to check out a summary of what we did in those 10 fun-filled days in Da Nang: 
Done that already? Now, let's zoom into our Day 7 experience at Ba Na Hills (Da Nang).
---
How to go to Ba Na Hills?
(11am: Pick up from Hilton Da Nang)
We were staying near the riverside (City Centre) of Da Nang, or specifically at Hilton Da Nang Hotel on Day 7 of our trip.
How do you get to Ba Na Hills from Da Nang? You can consider either:
Taking a Grab Car
You can click on the hyperlinks to see the price and options for each. We chose option 2, i.e. to pre-book driver to Ba Na Hills because it was cheaper than Grab as at time of our visit – about S$32 round-trip per car.
As a couple, we thought it was a good deal as a private car is faster than shuttle service. But you can also take a look at the shuttle/ticket bundled deal as it seems to be the cheapest option.
In any case, our driver which we pre-booked one day in advance arrived at our hotel at 11am. 
Took a Buggy from Ba Na Hills Bus
(11.35am – Dropped off by driver at Buggy Station)
Within 35 minutes of car ride, we were dropped off at Ba Na Hills or specifically at "Free Buggy Car Stop" area. There, we rook a free buggy ride to the cable car station. 
Upon entering the cable car station, we strolled through a Memory Garden and a mock-up Hoi An town, before finding our way to the ticket counter.
>> MUST-READ: How we spent a day in Hoi An, Da Nang
Do remember to request for a map of Ba Na Hills at the ticketing counter, as it proved to be really useful when we wondered in the big big Ba Na Hills.
The map will look something like this – a foldable piece of course! :)
Getting Admission Ticket to Ba Na Hills
We were lucky to have bought Ba Na Hills Admission Ticket online earlier as it made entry into the park quick and easy. I also recall that the online ticket was cheaper.
All we needed to do was to scan the barcode (via our phone) at the cable entrance (Hoi An Station) and we could enter the gate instantly. No time wasted on queue or payment.
Admission Price: Check out online ticket of Ba Na Hills as it was cheaper than its official price of 850,000 VND (as at time of writing).  
---
Breathtaking Cable Car Ride to Ba Na Hills (Marseille Station)
(11.45am: Taking cable car ride)
What an amazing view we had on our way up to Marseille Station. The 20-minute ride up to Ba Na Hills was a worthy experience on its own.
You can probably guess how busy we were taking photos and soaking in the magnificent view of rolling mountains and sea.
Getting around Ba Na Hills: The cable car network comprises 5 routes, in addition to funicular rides (mini railway train). Hence, there are many ways to visit the theme park.

Do request for a map at the ticket counter – it would help you navigate the huge theme park more easily. Otherwise, you can also read this post thoroughly as I've hyperlinked most of the attractions to Google Map. 
Unfortunately, we were misled by online resources to think that Ba Na Hills would be cool (24 °C) and suffered a bit when actual temperature hovered around 31 °C at the top. That was in July when normal temperature at foothill was around 33 to 34 °C. 
Temperature Tip: Put on removable layers in case the temperature at Ba Na Hills is hotter than indicated on its official website.
---
Things to do around Golden Bridge, Da Nang
(12pm: Reached Marseille Station near Golden Bridge)
Arriving at Marseille Station, we had a delightful time at Heaven Garden where you can admire huge body parts made out of stone.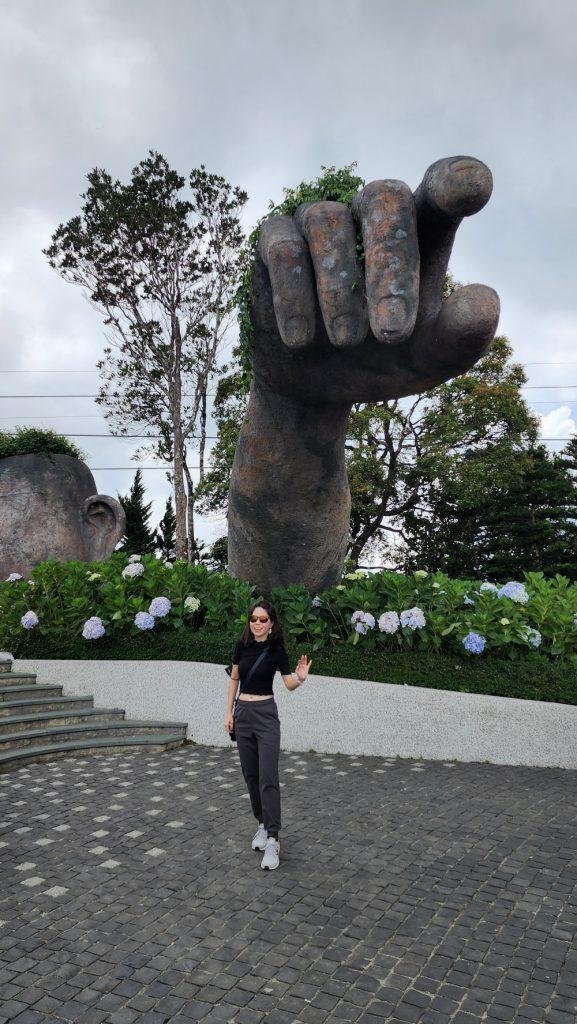 Nearby were Le Jardin D'Armour and the Golden Bridge, with the latter being the key highlight of today's trip.
As expected, the Golden Bridge was darn crowded and almost impossible for one to have a solo photo taken in it. Nevertheless, it was still an unique experience just walking along the Golden Bridge with the humongous stony hands in close view. 
Instagram or not, I think Golden Bridge is worth seeing in person, despite the pricey admission fee. Kudos to Vietnam team for designing the striking architecture on top of a mountain.
After savouring the "bridge" we walked towards Le Jardin Station wanting to take a Funicular ride (mini train). Sadly, it was not operating that day. 
If you have the time, do make your way to Debay Wine Cellar to explore the 100-metre deep underground cellar or enjoy some wines. Nearby is Chua Ling Ung where you can see a giant buddha statue, as well as Le Jardin D'Armour which is an attraction with 9 gardens. 
Did you know? There are only two furnicular rides at Ba Na Hills. The other one is lcoated near the French Village (running from Mystery Well Station to Dragon Den Station). 
We then made our way to nearby Bordeux Station and took a cable ride to Lourve Station. This will bring us to the French Village. 
---
French Village at Ba Na Hills 
(2pm) 
Stepping out of Lourve Station, I was taken in by the medieval architectures – castles, cathedrals, market squares and all. Gosh, I was impressed and stood still just admiring the architectures that brought me back into the ancient world. 
I felt like a character of the medieval era – a hobbit, elf or cleric. This reminds me of the "Dungeons and Dragons" computer games I used to play in my younger days. :)
Not enough time at Ba Na Hills
Realising then that there were still so much to explore, we texted our driver to postpone the pick-up time from 5pm to 6pm, giving us 6 full hours at Ba Na Hills. Still, it felt like a rush especially when time has to be catered for the commute up and down Ba Na Hills.
TIP: You may want to visit Ba Na Hills earlier than we did, i.e. if you like a more relaxing itinerary. Maybe 8 hours there would be great? For info, the operating hours is 8am to 5pm as indicated on its official website. 
Attractions at French Village
Some of the places to visit at French Village include Helios Waterfall, Union Square and Forever Square. Helios Waterfall stood out with its grandeur of golden statues of god lining both sides of a stairway cum fountain. 
God Statues: You can see Helios, Apollo, Bacchus, Venus, Athena and 15 other gods at Helios Waterfall.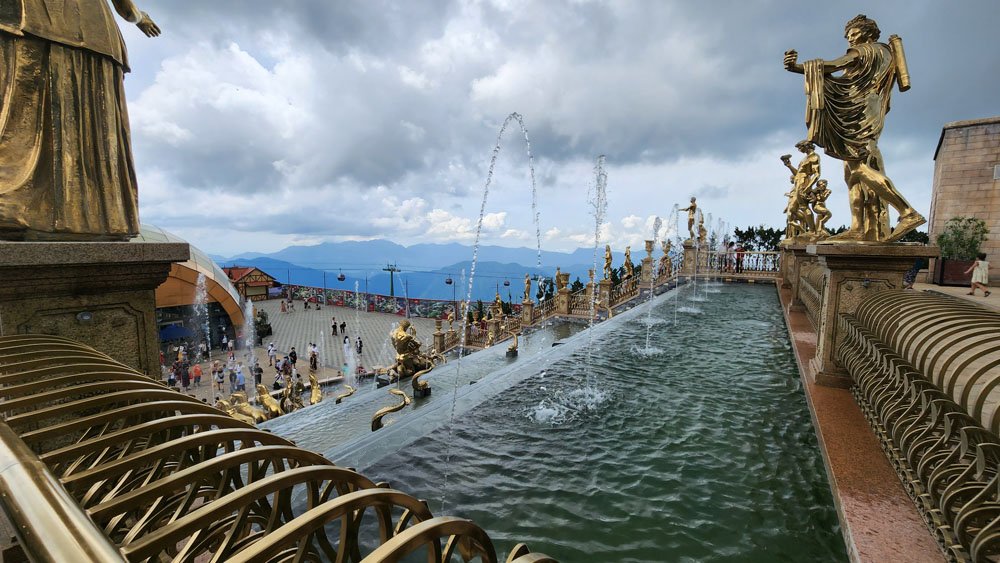 There were also live performances and music to get you into the mood of traditional dance and fun.
And that's me taking photo with a giant beer lover, right outside Beer Plaza. I understood that it's a buffet restaurant with 1 litre of beer thrown into the package.
Buffet TIP: Other than Beer Plaza, other buffet restaurants include Arapang, Taiga and Little Tokyo.
Strolling by, we passed by a few hotels at the French Village, designed with similar "ancient" architectures, such as De Lyon, De Toulouse and Mercure French Village. I reckon it would be fun staying a day or two within such "ancient" buildings at Ba Na Hills. 
Unfortunately, Solar Castle, Volcano Peak and Lunar Castle located in the southern part of French Village were closed during our visit. But in anyway, we didn't exactly have much time to explore these places too. 
Fantasy Park for Free & Unlimited Indoor Fun!
Those with kids would definitely not want to miss the Fantasy Park, which is really an indoor 3-storey theme park. Everything inside – rides, arcade games and all – is free or included in the admission.
I played the Giant drop as well as some virtual reality rides. However, the arcade games were occupied all the time and we didn't get our hands on them.
Sadly, it was super stuffy and hot within Fantasy Park when we were there in July, making it a rather uncomfortable experience. I honestly wondered if aircon was turned on at all.
Of course, our wrong outfit meant for 24 °C probably made things worse.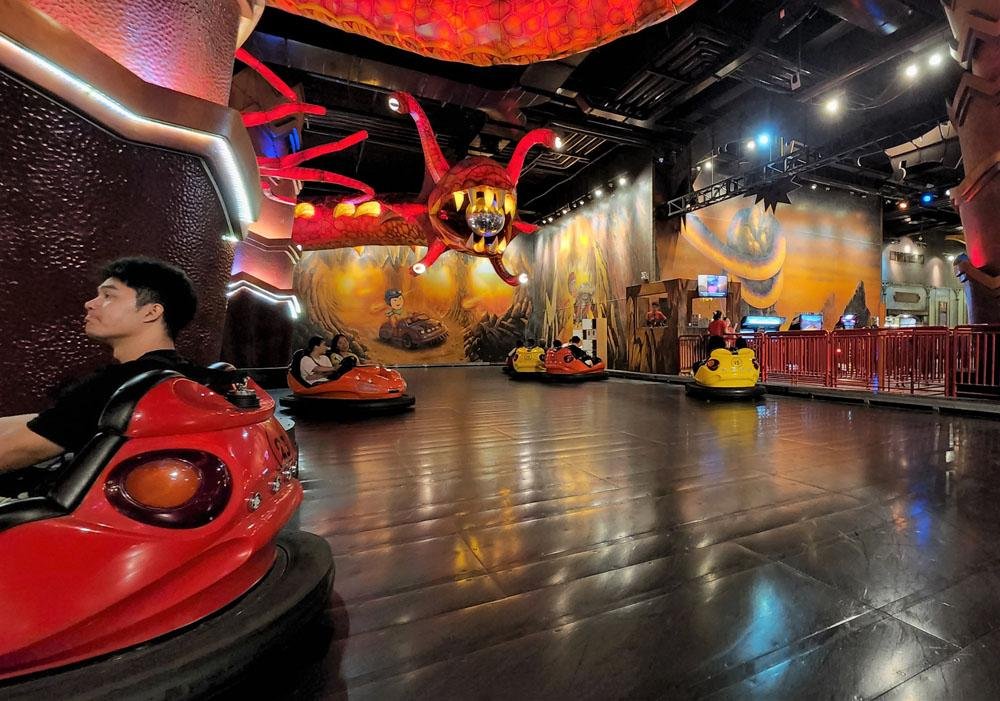 Alpine Coaster Rides at Ba Na Hills
Near the Fantasy Park are two outdoor alpine coaster rides. The queue was long and we managed to get onto one of them after queuing for about 20 minutes.
It was fun and not too scary – definitely suitable for kids. :)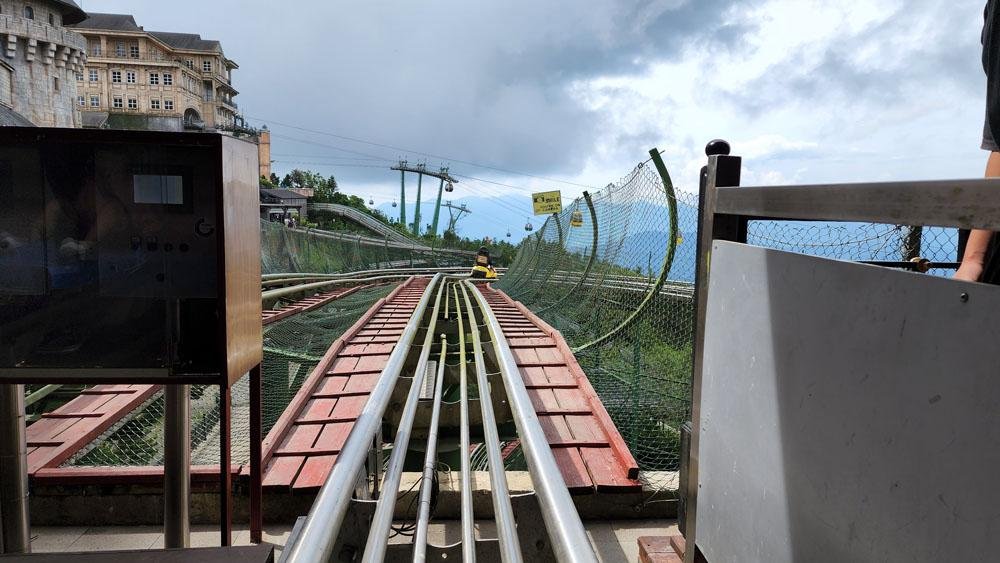 Food at Ba Na Hills
There are many eating places within French Village. If you love buffet, there's an admission bundle that comes with buffet lunch.
For us, we had too much hotel buffets and decided not to over-indulge. Check out our mango sticky rice from the Thai Market. 
Nice photo props at Ba Na Hills
The trip at Ba Na Hills was coming to an end and we happily posed with some life-sized props located within the market square. Unfortunately, things took a sharp turn and we were posed with some real challenges.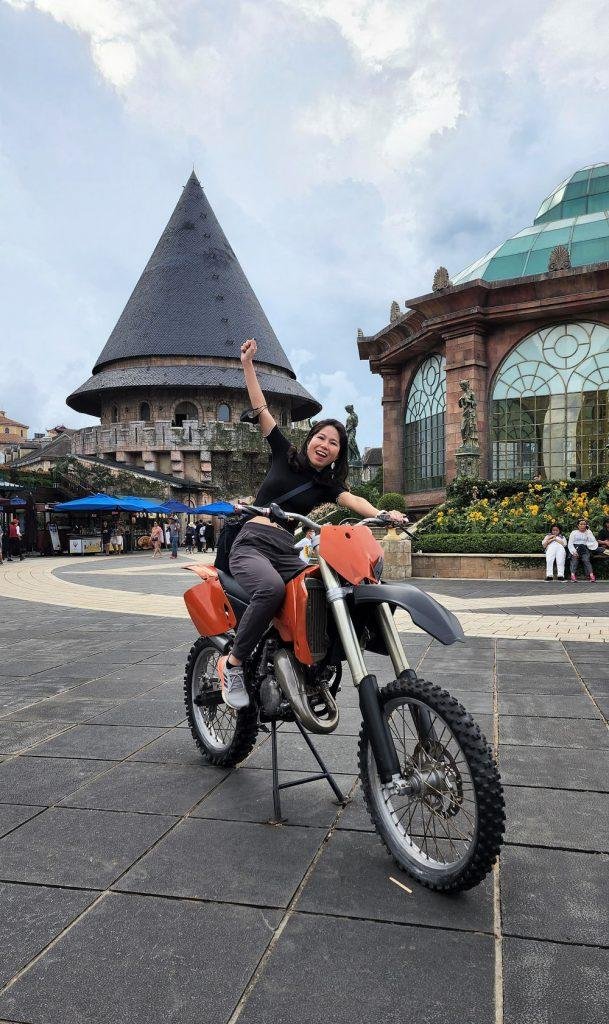 ---
Oh no! We were late for our driver pick-up
As you see, it started raining at 5pm, when we were about to make our way down to the driver pick-up area. The cable car stopped operating due to bad weather and we were stranded at the French Village. 
Look at this massive queue! We stood in the queue for over an hour not knowing when the cable car would resume operation. The wait would have definitely been longer if they didn't give tourists priority over their staff. 
So, when the cable started operations, we were allowed to cut queue.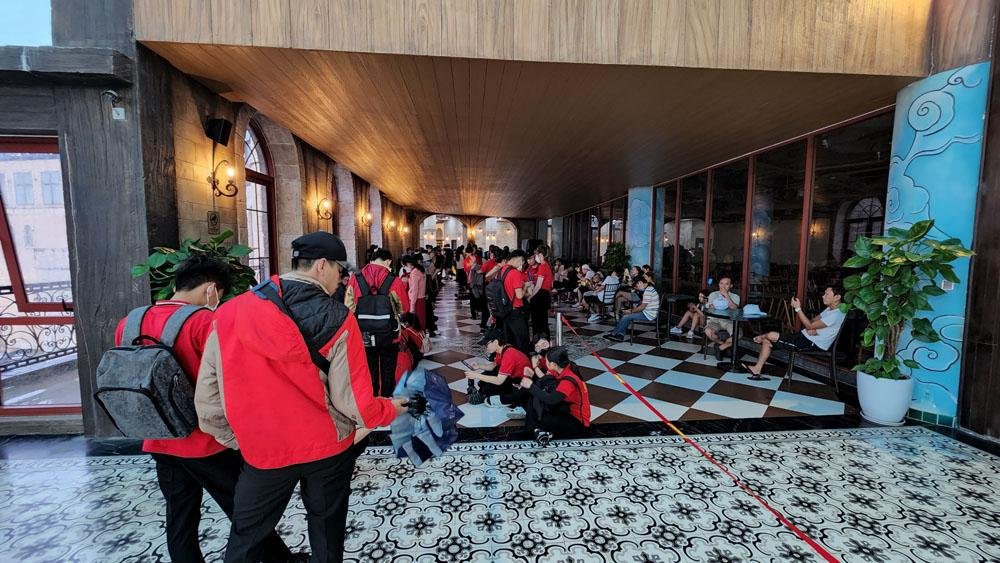 Worried that we would not get to foothill and our driver on time, we texted the operator to keep them updated of the situation. Luckily, the driver waited for us till around 6.20pm and we didn't have to incur additional transport cost.
Phew! By 7pm, we were finally back at the city centre. What an end to an otherwise beautiful day. All in all, do consider giving yourself some buffer and dedicate at least 6 to 8 hours at Ba Na Hills. That would make your trip more relaxing and enjoyable. 
---
Why you shouldn't get evening ticket to Ba Na Hills
As at time of our visit (summer), we could choose either a full day or late afternoon ticket. Of course, the latter was a lot cheaper. But if you ever get to have those options, I would advise against the half-day ticket.
That recommendation was not made without basis. Because if the weather turns bad, you would be stuck in a building and won't have enough buffer to enjoy the extensive resort.  
Also, everything without bright sunlight would appear dull and gloomy. 
---
Alright, that's all I have for you today. Hope you've found this post useful when planning a trip to Ba Na Hills or Da Nang. Remember to read the summary of our 10-day itinerary:
Adieus for now! Connect with me if you like to get notified of more travel posts! 
SUBSCRIBE
This post may contain affiliate links, meaning I earn a commission if you make a purchase, at no cost to you. Read my full disclosure for more info.
(Visited 352 time, 11 visit today)