Planning a relaxing staycation to kill the travel bug? Wherever you choose to go, you can now do it for less! I'm happy to share that Booking.com has a new promo and is offering an attractive discount of at least 15% off stays happening between now and Jan 2021.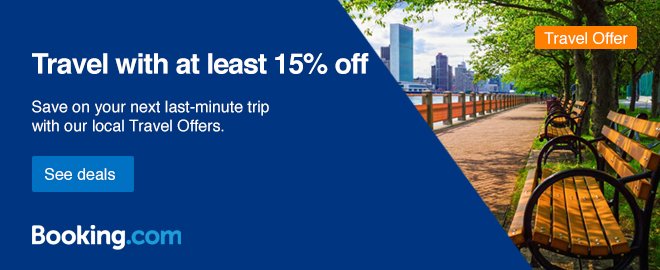 ---
Attractive Offers at Booking.com (Stay Promo)
Not sure which hotel to stay in? Click here and Booking.com will show you the available accommodation offers based on where you'll be or like to be in your next getaway.
Special Accommodation Offer: Get at least 15% off your next hotel booking at Booking.com
Yes, most of us can't travel out of our country's border yet due to Covid-19. But we have ways to simulate a travel experience, such as exploring our own backyard. 
But, can domestic travel offer enriching experience?
To be honest, I envy those who live in a large country as domestic travel would still present so much fun! I've had the chance to travel one round of Australia by car, and that adventure gave me two months of unforgettable memories.
I recall meeting up with some locals then who told me that they hadn't seen Australia as much as I had as a tourist. So the key takeaway is to continue to travel and acquire new experiences even if you can't travel outside of your country's border. Because there's just so much to see and explore in this world.
In fact, domestic travel or staycation can be equally enjoyable, if not more so because it's:
Easier to plan
Cheaper
More relaxing 
Possible to plan around your work schedule
How about Singapore? Isn't it too small? 
Yes, we can't deny that domestic travel isn't really a thing in Singapore due to the tiny size of our island. But sometimes, staying in a new environment for a few days can offer a great getaway and help reset the stress and tiredness we've acquired from our daily and often mundane life.
So, we'll learn to make-do and still have fun in our little red dot while waiting for the coronavirus vaccine to be ready. :) Personally, I would love to start off by staying around Marina Bay Sands, Clifford Pier and Sentosa as these places offer scenic and relaxing ambiance! 
RELATED READINGS:
---
Book now when room prices are low
Now that accommodation prices have dropped significantly, it's worth considering making advanced bookings for your year-end holidays. Parents can also start planning for the September school break that's coming up in a blink of an eye. 
Because when sentiments improve (which it will), so will prices. That's just demand-supply economic theory.
So, do take a look at the available hotel offers especially if you intend to "staycay" during popular dates. I wish you luck in finding an accommodation that you love and one that comes at a super irresistible price. :)
---
Stay safe, stay healthy and most importantly, stay adaptable! Let's choose happiness over helplessness by allowing ourselves to adapt to the new normal. Happy weekend from Singapore!
And don't forget to check out other great promo codes and deals I have for you.
Pin This! 
This post may contain affiliate links, meaning I earn a commission if you make a purchase, at no cost to you. Read my full disclosure for more info.
(Visited 799 time, 1 visit today)