Need ideas on where to stay in Osaka? Today, I'll show you 7 budget-friendly hotels in Osaka (& around). These are hotels I've personally stayed in and are priced between S$80 to S$130 nett per night for 2 pax* (as at time of my booking). Hotels in Japan are known to be small and expensive. Hence, this price range is considered relatively cheap in Japan.
Other than being affordable, the hotels shown in this list are located within walking distance to popular subway stations and this makes exploration via public transport easy.
*Did you know? In Japan, it is common for hotel to charge based on the number of guest(s). So, please choose the correct number of pax during booking to avoid potential dispute at the hotel. 
In this post, I'll share a brief review of each hotel, including pros and cons, and marked the good ones with three asterisks (***). I'll also show you my original list of shortlisted hotels per visited city for your consideration. Some of these hotels weren't selected because they were fully-booked by the time I was ready to commit. :)
Without any further ado, let us dive right in and explore these budget-friendly hotels in Osaka and around.
> MUST READ: 15 Days Osaka Itinerary: What to do in Osaka & Around
---
Budget-Friendly Hotels in Osaka
1. Ookini Ota-Road Apartment
Ookini Ota-Road Apartment was the first hotel that we stayed in when we landed in Osaka. It is located within 5 minutes' walk from Namba Station, which is the station that links directly to Kansai International Airport. You'll find this hotel in Osaka surrounded by eateries, malls, game shops and probably lots of maid cafes too (we saw "maids" distributing flyers along the street).
> MUST-READ: How to get from Osaka Kansai Airport to City Centre?
From the hotel, you can walk to a few tourists destinations such as Osaka Den Den Town, Kuromom Ichiba Market, Nambayasaka Shrine and Sennichimae Doguyasuji Shotengai.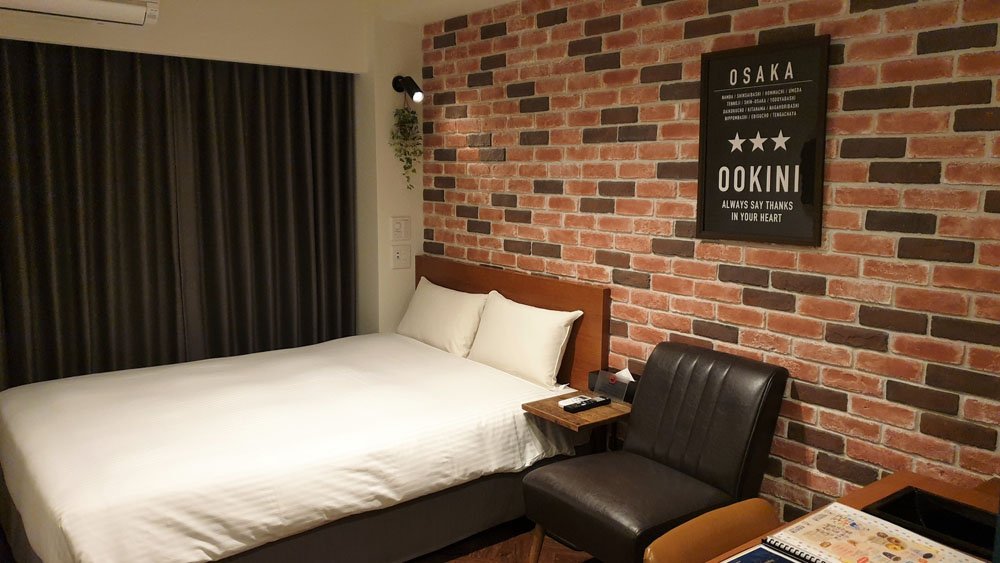 Ookini Ota-Road Apartment stood out with its self-check-in feature, spacious room size and homely room decor. Did I mention that the toilet is spacious (although the shower cubicle isn't) and you get a free portable WiFi device during your stay?
Unfortunately, our experience was marred by inconsiderate guests. Our neighbors who came as a large family booked three other rooms on the same level and left their doors opened. They chatted loudly in their "family suite" till 4am and disrupted our sleep. :(
Another thing to note. There's no reception staff at Ookini Ota-Road Apartment. If you need luggage storage service, you'll have to think of alternatives.
Essential Hotel Info
Review Rating: 4.5 (if we didn't meet extremely inconsiderate neighbors)
How much per night? See latest price
Location: See Map 
Other Recommended Budget-Friendly Hotels in Osaka (Namba Station) 
As promised, here're the other shortlisted hotels in Osaka (around Namba Station) plucked from my original travel research list:
---
2. Osaka Tokyu REI Hotel***
The other place we stayed in Osaka is around the Osaka and Umeda Stations. This area is rich in local vibe and bustling with activities. I highly recommend this area if you are undecided on where to stay in Osaka.
Over here, we stayed in Osaka Tokyu REI Hotel and its' location cannot be more perfect, being walkable to Osaka/Umeda Stations and surrounded by too many F&B, shops, bars and malls.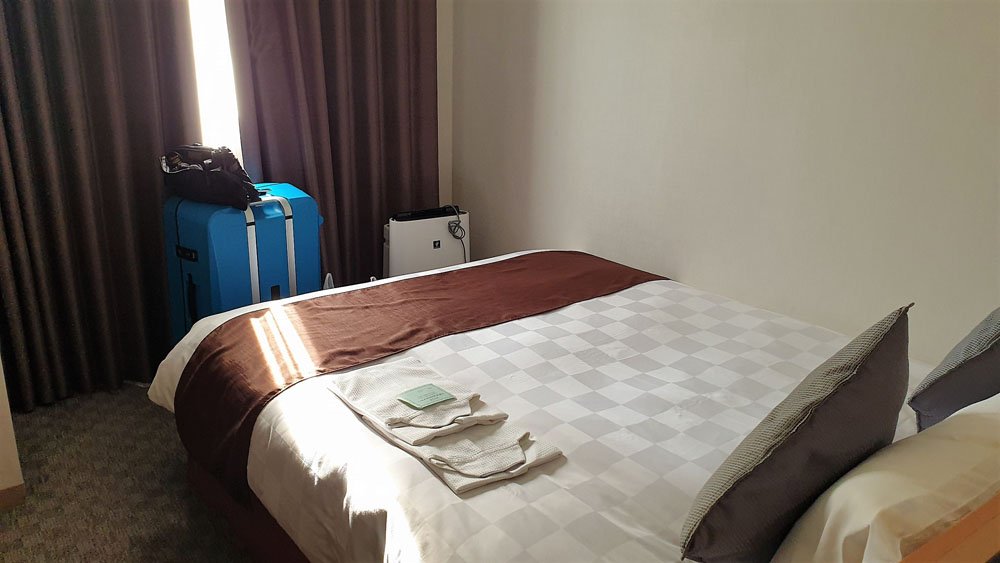 You can literally stay here a few days without taking public transport and still shop till you drop. Tired of shopping? There are nearby tourist attractions such as Umeda Sky Building and HEP Five Ferris Wheels.
Getting between airport and Osaka Tokyu REI Hotel is easy as you can make use of the Airport Limousine Bus which I LOVE. Did I mention you'll also get access to a Portable WiFi Device during your stay?
> RELATED: Review of Osaka Airport Limousine Bus 
The room was clean and functional, but on the smaller size just like many hotels in Japan. The receptionists could speak English and was efficient and friendly. We also made good use of its luggage storage service after checking out as our flight was in the evening.
Other Recommended Affordable Hotels in Osaka (Osaka/Umeda Stations) 
Here're the other hotels around Osaka and Umeda Stations that I'd shortlisted based on similar price range.
---
Budget-Friendly Hotels in Kobe
3. Kobe Sannomiya Tokyu REI Hotel
In our 15-day Osaka Trip, Kobe Sannomiya Tokyu REI Hotel is the hotel located nearest to the train station. After alighting from Sannomiya Station, we literally took just a few steps to get to our hotel in Kobe.
Being this near to Sannomiya Station – a hub that serves multiple railway networks – makes travelling fast and convenient as we could get to attractions located in all directions. Another advantage is of course the access to numerous food and shopping options.
READ 15 Days Osaka Itinerary: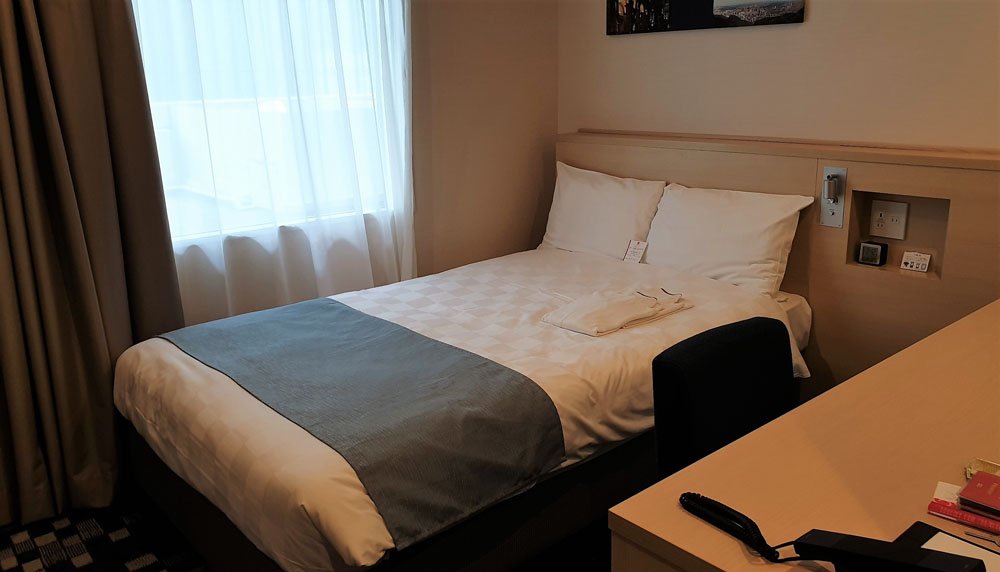 As with most hotels in Japan, Kobe Sannomiya Tokyo REI Hotel is on the smaller side, but clean and functional. I love the free and generous DHC toiletries that included among other things cleansing oil, hair serum, toner etc. However, the bed (double room with small double bed) was the smallest we've had in our 15-day Osaka Trip. I think it's a super single.
You may want to read further on how to choose a hotel in Japan. Although I've written the guide for Okinawa, most of the points apply to Osaka as well as they pertain to the Japanese culture.
Other Shortlisted Hotels near Kobe-Sannomiya Station
Check out these budget-friendly hotels near Kobe Sannomiya Station.
---
4. Hotel Crown Palais Kobe***
We had the most luxurious stay in terms of spaciousness at Hotel Crown Palais Kobe. The rooms here are larger than many of the newer hotels in Japan (of similar price range). We must be lucky because the reception gave us a free upgrade and made our already "large" 18m² room even larger (to 26m²).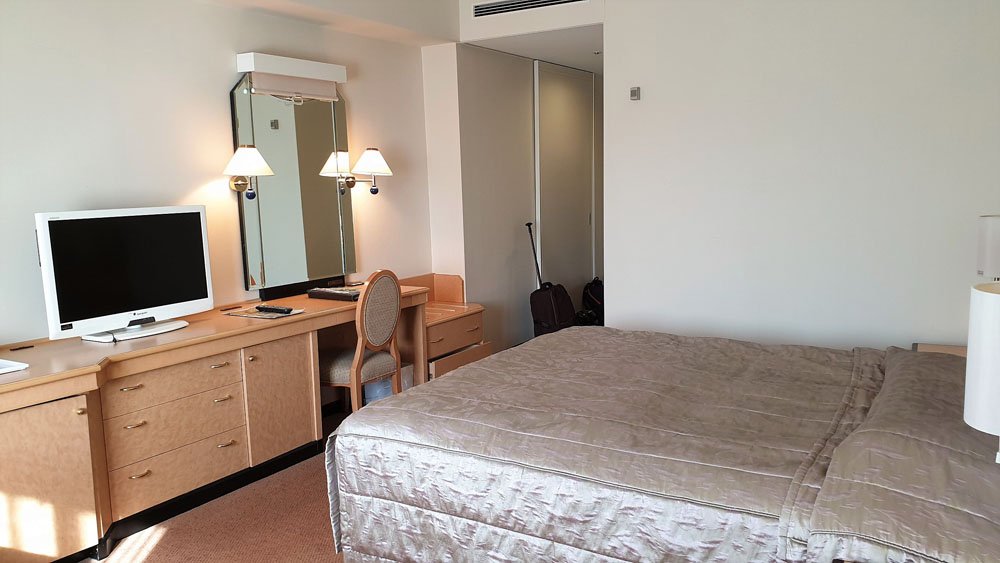 That was the first time after 10 days when we could move around and not stand in each other's way, and open our luggage fully in a proper area. What a well-needed respite!
Located within walking distance to Kobe Station, Hotel Crown Palais Kobe was a great base to explore the Harborland area which  comprises a few malls and some tourist attractions such as Mosaic Ferris Wheel, Kobe Cruise Concerto, Kobe Port Tower and Kobe Earthquake Memorial Park.
In terms of interior decors, Hotel Crown Palais Kobe could do with some updating although we would gladly trade older design for a "huge" room space in Japan.
Other Recommended Budget-Friendly Hotels near Kobe Station
See other shortlisted hotels near Kobe Station.
---
Hotel I've Stayed in Okayama
5. Hotel Maira
As you can tell from our 15-day Osaka & Around Itinerary, we drove out of Osaka and ventured to lesser-visited places, with the first being Okayama. There, we stayed at Hotel Maira and enjoyed close access to Okayama Station and the shopping malls around it.
TIP: Half of our trip was made via a rental car which was useful in helping us visit beautiful places off the beaten path, such as Okayama, Tottori and Yonago.
Hotel Maira pampers its guests by providing complimentary drinks and ice cream all-day long. You'll also get simple breakfast every morning (tasty bread) for free.
Though this hotel in Okayama comes with lots of freebies, its' dated in-room decors and old furniture need some refreshing.
Other Recommended Budget-Friendly Hotels near Okayama Station
Check out other shortlisted hotels around Okayama Station.
---
Affordable Hotels in Sakaiminato
6. Sakaiminato Onyado Nono Natural Hot Spring***
Sakaiminato Onyado Nono Natural Hot Spring is located the furthest from Osaka (like 4 hours drive away) as compared to other hotels we've stayed in, but was my favorite hotel of the trip. We were there to visit a cute and spooky Manga theme town and to hike up Mount Daisen. Both turned out to be the key highlights of our trip.
What I love about this hotel is the Japanese room concept that's blended with modern touches. Everything was new, clean and spacious and the room view was the best among our 15-day trip in Japan.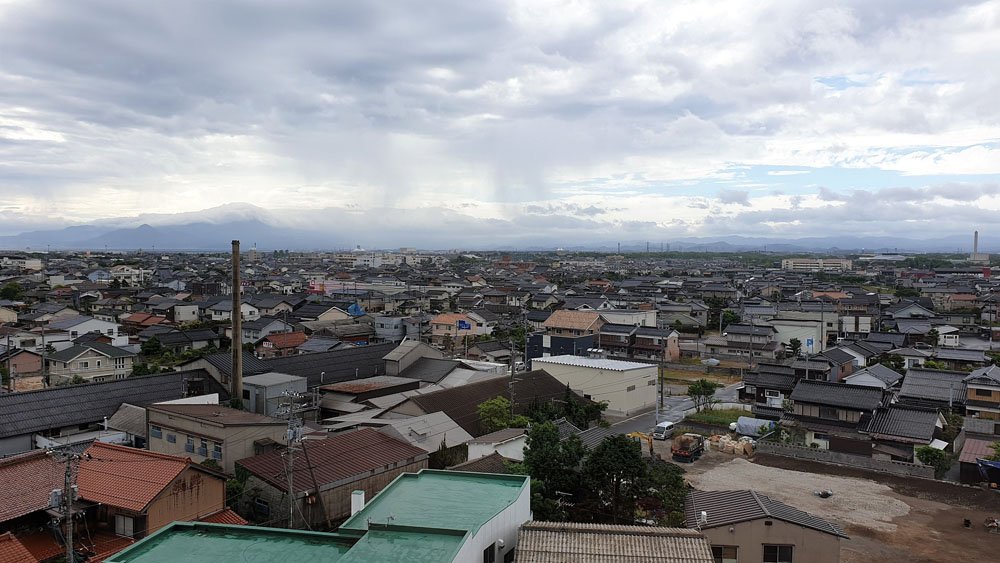 We also got to enjoy onsen (hot spring) and a free and super yummy bowl of Ramen every night.
Other Recommended Budget-Friendly Hotels in Sakaiminato
Here're other affordable hotels in Yonago:
---
Affordable Hotels in Tottori
7. Tottori City Hotel
Tottori City Hotel was our base for two nights where we explored Tottori Sand Dunes and Uradome Coast. This hotel is a typical business hotel in Japan and the staff could speak basic English.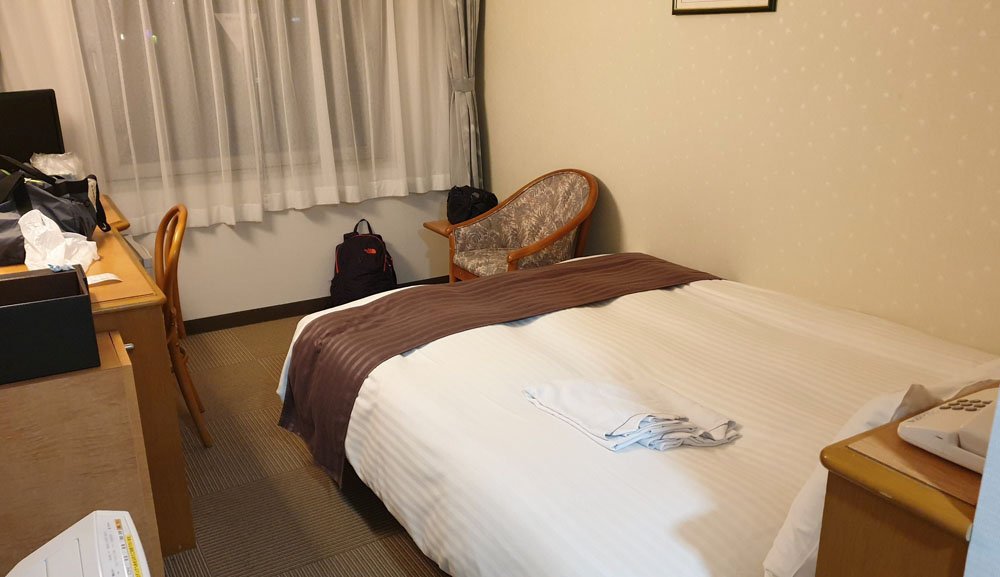 It was a comfortable stay as the bed was big by Japanese standard and the room was clean and relatively quiet. However, the in-room decors were dated and the steep toilet step-up would pose a challenge to elderly.
Other Recommended Affordable Hotels near Tottori Station
Here're the other hotels around Tottori that I'd shortlisted based on the same price range.
And this concludes my quick review of the hotels we've stayed in during our 15-day trip in Osaka and around. Hope you've found it useful. Here are some useful info to guide your travel planning.
I'll be back to share more travel tips and honest beauty reviews. Stay tuned and stay connected by clicking the button below and I'll keep you posted whenever new posts are published.
You can also get exclusive access to my free gifts. See you soon!
This post may contain affiliate links, meaning I earn a commission if you make a purchase, at no cost to you. Read my full disclosure for more info.
(Visited 564 time, 1 visit today)