Where to stay in JB for a short getaway? How about Capri by Fraser Johor Bahru, a hotel that I recently stayed in and highly recommend. The bed was so comfortable it totally knocked me out. So plush and cushy, okay? Before I get all excited and rave on non-stop, let us get the review going.
I'll tell it like a story based on chronological order of our experience and include all pros and cons of Capri by Frasers, JB. Read through it and see if this hotel meets your needs.
Staycation? I view a stay in Johor (a state in Malaysia) as a staycation simply because it's so near and easily reachable from Singapore.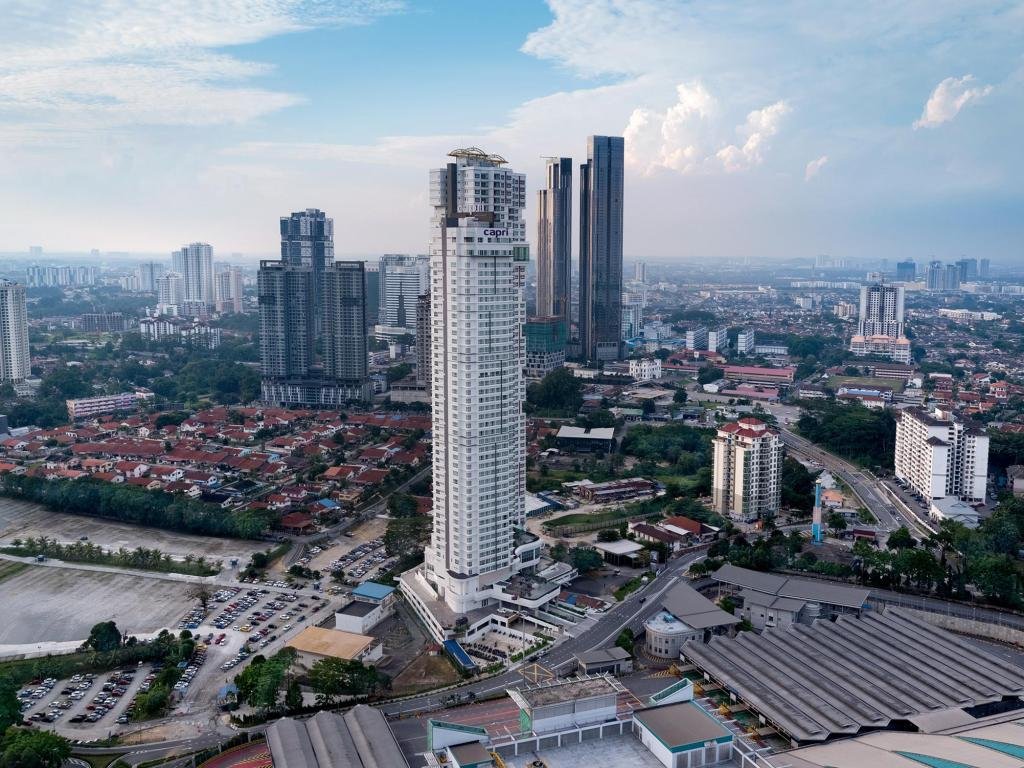 ---
Great Location: Near Singapore, Malls and CIQ
To avoid the expected traffic jam across the Singapore-Malaysia border, we went into Johor Bahru a few days before Christmas for our staycation. Traffic was as smooth as butter. :)
After getting through the immigration, I was shocked that we arrived at the hotel so soon. I knew Capri by Fraser, Johor Bahru was located near to Singapore. But I didn't expect the actual journey to feel this short. Before I had time to keep my passport, we were driving into the carpark of the hotel.
In fact, Capri by Fraser, JB is so near to the custom you can actually walk there or to the nearby malls such as City Square, Komtar JBCC and R&F Mall.
TIP: For safety reasons, do stay vigilant when you walk by the road. Carry a cross body bag and have the bag facing away from the road. If you carry a backpack, hang it in front of your body like you are hugging a baby. No matter how short the journey is, it's better to play it safe as pedestrian-walking isn't as common in Johor Bahru as in Singapore.
If you prefer not to walk (we didn't), the hotel provides free shuttle service to bring you to various shopping malls, including those we've mentioned as well as KSL Mall and Mid Valley Megamall. Check out the timetable below.
MUST-READ: 25 things to buy in Malaysia from a Singaporean's perspective
Free Parking at the Hotel
Most hotels in Johor Bahru offer free parking. But not all hotels provide sheltered and secured parking. Capri by Fraser JB does and we felt safe leaving our car in the premises.
Upon entering the gantry, you'll see a sign stating a rm10 parking fee. Don't worry about it as you can get the parking coupon validated at the hotel lobby to offset the fee. Do this just before leaving the hotel premises.
TIP: Please only park at designated lots marked for hotel guests. There will be clear signage guiding you to the lots. You may not want to park at other "general" lots as we saw a car kenna wheel-clamped.
---
Check-in at the Modern & Plush Lobby
Getting from the carpark to the hotel lobby was quick and easy – just take a couple of steps, enter the lift and you would have reached the hotel lobby area.
There, we were welcomed by the newness of the hotel and modern decors comprising a mix of wooden-striped walls and opulent marbled counters. That certainly made a very good first impression of the 4-star hotel.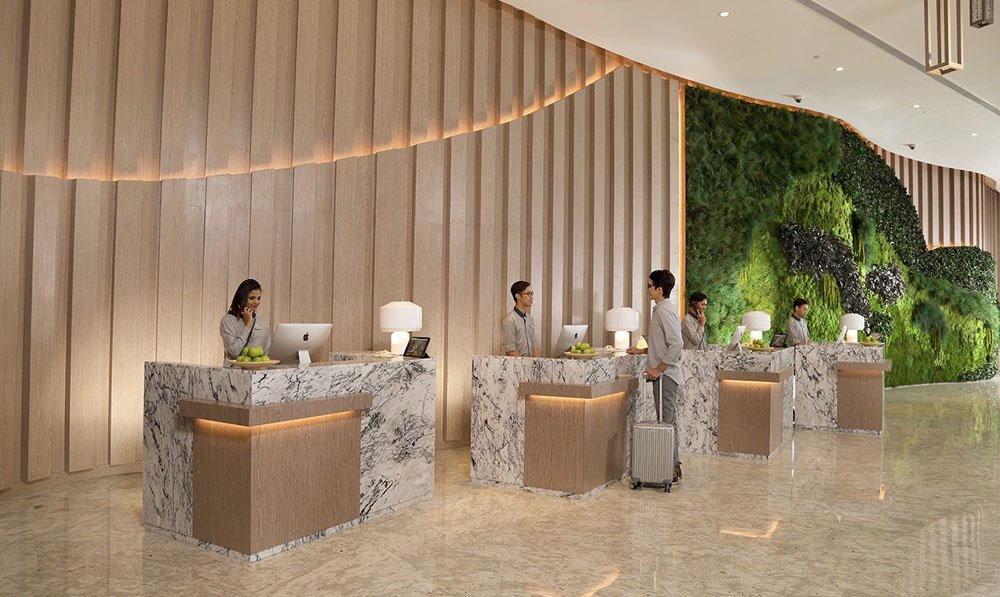 Although we'd arrived a few hours before the 3pm check-in time, the staff attended to us and allowed us to check in immediately. This was similar to our experience at Capri by Fraser, Kuala Lumpur. I believe this hotel chain makes a deliberate effort to allow her guests to check in early if the room is available.
Don't take this kind gesture for granted as I've experienced hotels that asked all early-arriving guests to come back later without even making an effort to see if there were available rooms. One memorable experience was at Mandarin Plaza in Cebu.
TIP: All hotels in Malaysia would collect extra rm10 per room per day on top of what has been paid via online booking.
Another thing I noted was how the staff at Capri took note of my online request made weeks ago and gave me a high-floor unit on the 21st floor.
---
First Impression: Room at Capri by Fraser, Johor Bahru
The "Studio Deluxe King" room that we booked was clean and of a good size, at 38 m². It wasn't the largest Capri room we've stayed in, but was bigger than most hotel rooms in Johor Bahru.
Room Interior & Decor
Entering the room instantly brought a smile to my face. I love how airy the room was, with natural light coming through its full-height window. And who doesn't love an unblocked view?
Similar to the hotel lobby, the room has a contemporary design and is decorated with light-colored carpentry work, simple lines and earthy tones.
I quickly claimed territory of the circular desk located by the window, while my man plunged himself into the gray sofa/day bed. Luckily, we love different things and never fight for the same territory within a hotel room. LOL!
In front of the king-sized bed was a HD TV that plays an excellent range of English TV channels such as HBO movies.
RELATED: Why I would choose Amari Johor Bahru Hotel as a solo female traveler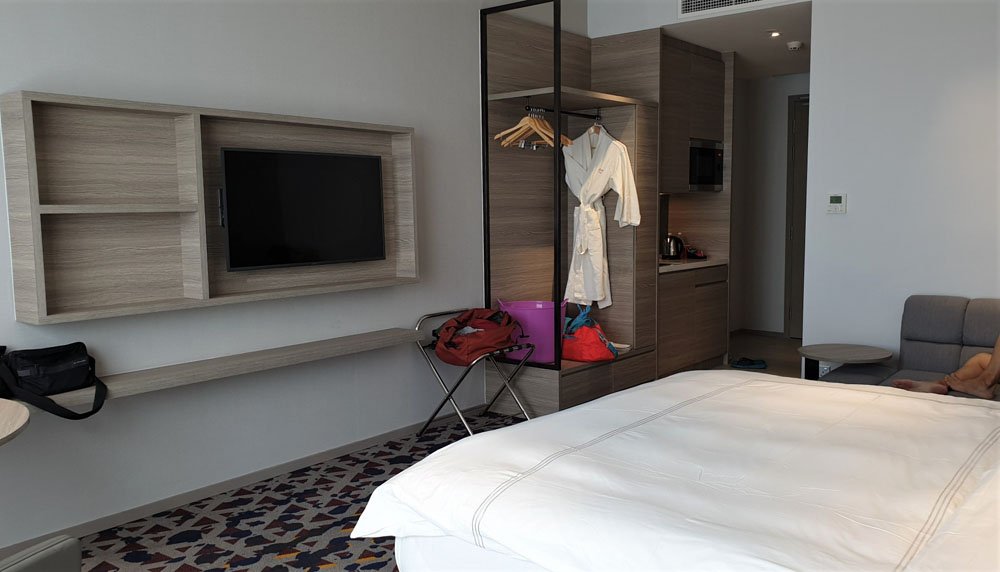 Amenities of Studio Deluxe King (Capri by Fraser, JB)
Let's walk around and explore the room further.
The Studio Deluxe King room is equipped with a semi-kitchen that includes a sink, microwave, fridge, kettle and simple cutlery.
You'll also get coffee and tea. Being a caffeine-addict, I was disappointed that the tea provided was a herbal camomile tea. It's quite rare not to have caffeinated tea offered in a hotel room. Luckily, I'd bought my own tea to the hotel. :)
Next, we opened some cabinets and drawers and found an iron, ironing board, torch and a safe big enough to hold my 15″ laptop. We were also happy to see a good quality in-room slippers, laundry basket and bathrobes.
Toilet of Studio Deluxe King (Capri by Fraser, JB)
In contrast with the main room, the toilet has a darker color theme which exudes class and sophistication. It isn't big, but is well-designed and furnished with an elongated basin, reflective mosaic walls, rain shower and a spacious shower cubicle.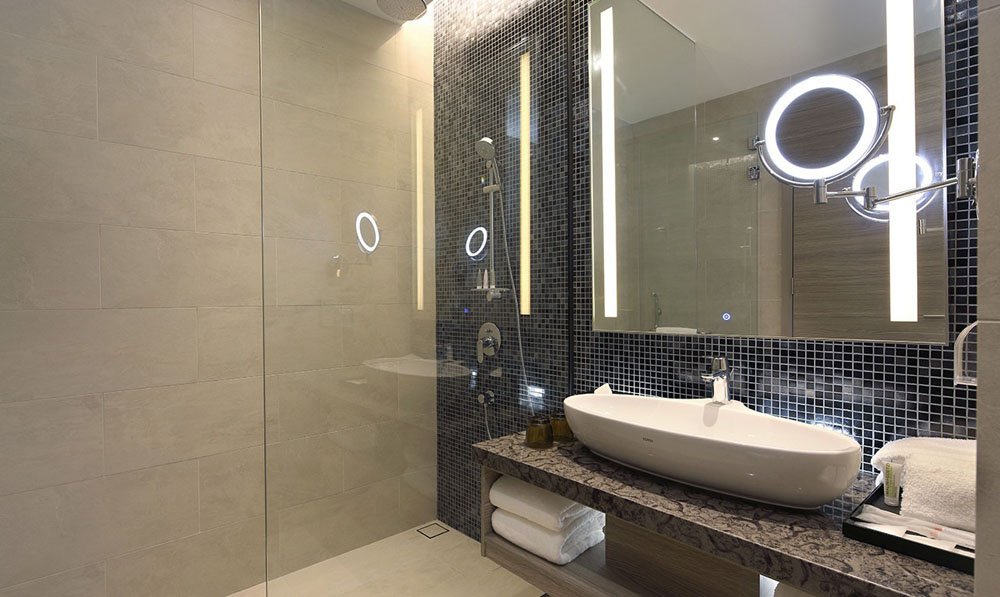 I love the powerful hair dryer and how it can be left plugged-in after use as the electrical socket has waterproof protection. The vanity area also comes with a mirror piece equipped with rim light. This supposedly makes it easier to put on makeup or take a good selfie.
We also have a digital bathroom scale, thick towels and common toiletries. It's good that the body wash, shampoo and conditioner were offered via wall dispenser instead of mini bottles. This is a good step towards reducing waste and plastic.
Done with the room tour and first impression, let's enjoy the recreational facilities offered by the hotel.
---
Recreational Facility at Capri by Fraser, Johor Bahru
Our "Private" Gym in the Afternoon
After a short rest, we decided to get some workout done. The gym was located on the first floor and was airy, clean and of a decent size. It's not large, but has enough modern machines to provide a casual blend of cardio and strength workout.
During our hour-long visit in the afternoon, we didn't see anyone there and had the gym all to ourselves. Maybe, that's why we weren't bothered by the size of the gym as it definitely felt big enough for two persons. :)
INFO: The gym offers towel and chilled bottled water.
Swimming Pool at Capri by Fraser, Johor Bahru
Next, we visited the swimming pool that was also located on the first floor. You can get a good tan there, but the pool was too small for serious swimmer. There was a family and a couple there and it already felt too crowded to do a proper lap.
The man had a quick tan by the pool while I left to explore other facilities in the hotel.
Other Recreational Activities
Within the toilet located near the gym/pool, you can enjoy a steam bath. The toilet comes with pin-activated lockers, for you to deposit your stuff while you enjoy a good pore-cleansing steaming session.
You can also play video games in the laundry room. Laundry fees are as follows if you ever need to wash your clothes here:
---
Second Impression: Capri by Fraser, Johor Bahru
The first impression of Capri by Fraser, Johor Bahru was a great one. However, we have additional thoughts after actual 'use' of the room and hotel.
Housekeeping has room for improvement
While the room was clean, we noted a missing tea spoon and an emptied dispenser for body wash.
The coffee creamer was also unusable as it was solidified and stuck to the paper sachet. The man also noted some yellow stains on the bedsheet. I don't think it's dirty, but probably stains that couldn't be washed off.
These housekeeping lapses are minor and can be easily rectified with a phone call.
Related: You won't belive what I've found in Grand Belllo Hotel JBCC
Minor Design Imperfection
Though I love the interior decor, I couldn't find a good spot to apply my makeup. The bathroom was too dim and the rim-light mirror was too glaring (imagine applying mascara with the light shining into your eyes).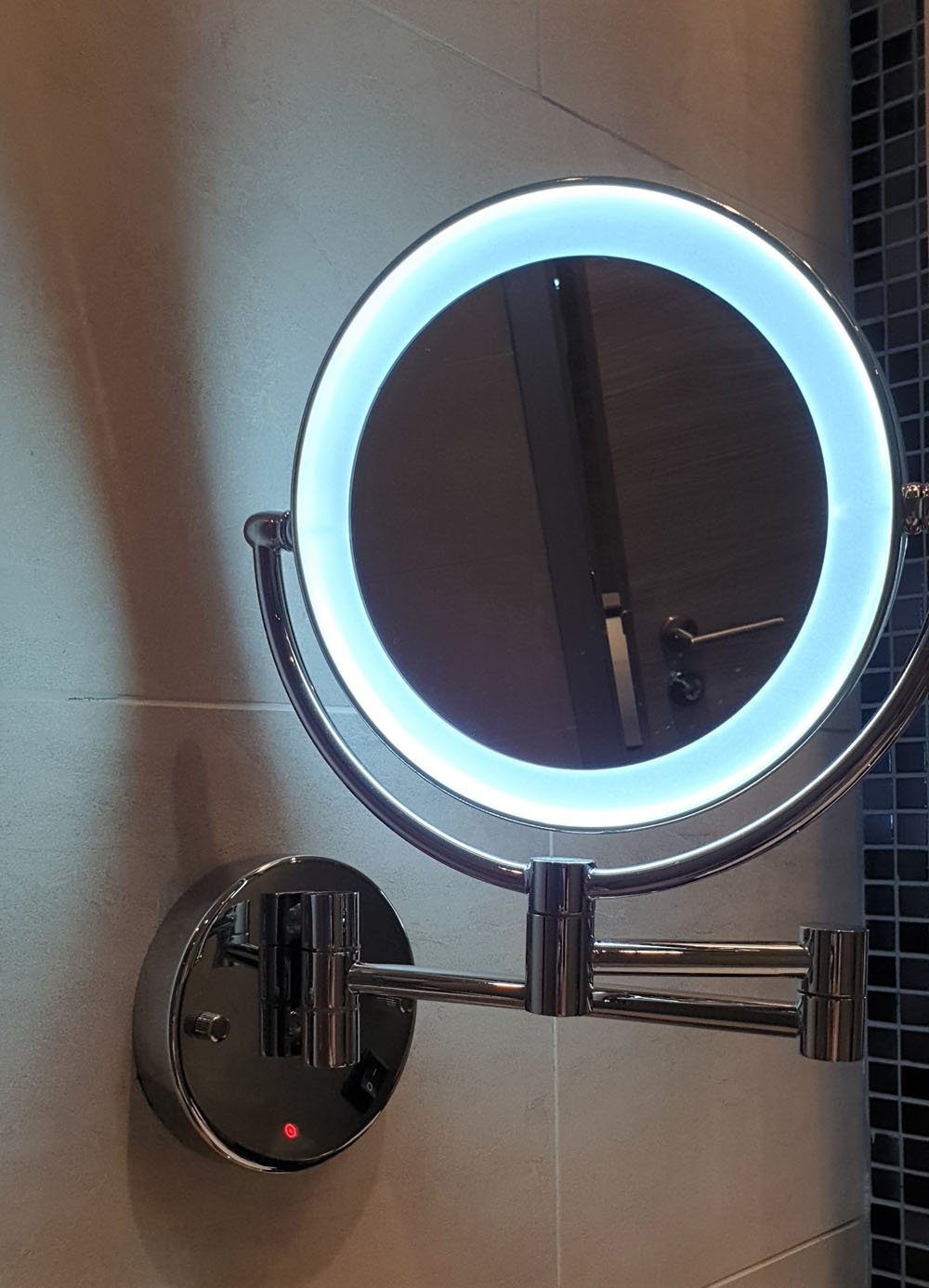 The small vanity top at the basin also didn't allow me to place my beauty lotions and makeup stuff, without worrying that they would get wet. The above two issues could have been solved if there was a mirror near the window. But, there wasn't any.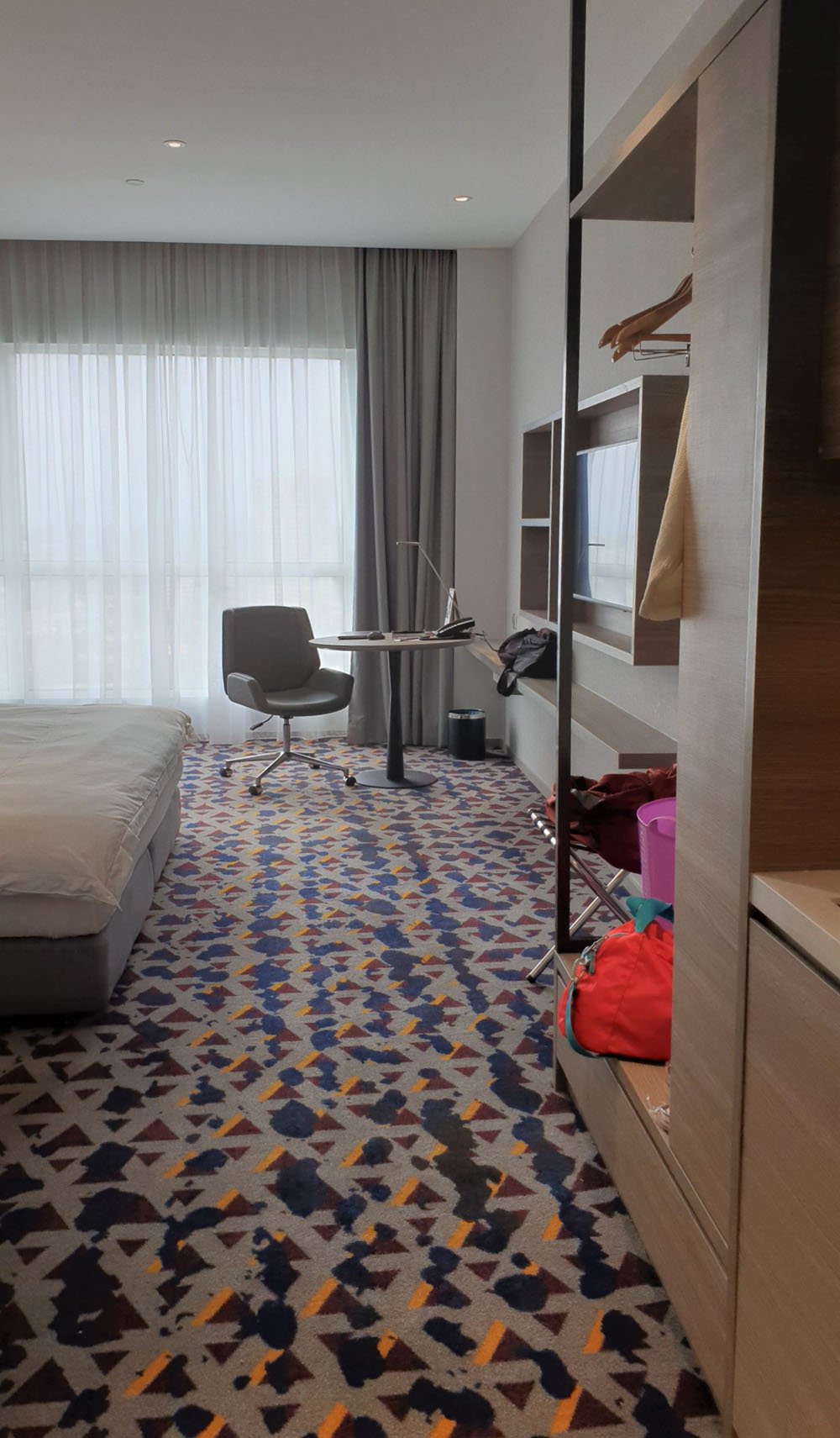 Another inconvenience was the lack of hooks. There was only one behind the door which would be used to hang the towels. As such, I had to hang my toiletry bag on the door knob, which made me squat every time I needed to get my stuff. Maybe it's not such a bad thing afterall? :)
And the most painful inconvenience to me was the wobbly circular desk. I couldn't type without having my tea threatening to spill out, and I felt dizzy after a while. I tried sticking paper underneath at various angles, but it didn't work. It seemed like the central pillar was longer than the circular plate used to support the table.
In the end, I gave up which was good as it forced me to sleep early. This hotel really does its' best to promote good health. LOL!
Monitor the Traffic
Staying near to Singapore is good, but there's a trade off. If you frequent Malaysia frequently, you would know that roads near the custom are often caught in heavy traffic. Therefore, if you decide to stay at Capri by Fraser JB, you may want to avoid peak causeway-crossing hours/days.
We didn't face any jams because we avoided the peak periods when leaving or returning to our hotel. You can use Google map to find out live traffic condition before making plans.
---
Price of Room at Capri by Fraser, Johor Bahru
Book early and you can get a room at Capri by Fraser for just $60+ (without breakfast). Otherwise, the price can go up to above S$100.
Check out the latest rate here.
---
In Summary: Pros vs Cons
What's Good?
Great location: Near Singapore, CIQ and malls
Free shuttle service and secured parking
New and modern hotel
Early check-in allowed (subject to room availability)
Spacious room at a good price
Brightly-lit room with unblocked views
Modern decor with great room amenities
Super comfortable bed
Nice gym with modern machines
What's Not Great?
Minor lapses in housekeeping
Slight imperfection in room design
Small swimming pool
Congested traffic during peak border-crossing hours/days
---
Recommendation
Despite the minor imperfections, I thought Capri by Fraser, Johor Bahru offered me the best stay among many hotels I've stayed in JB. It's the first hotel that made it hard for me to get out of bed because of how comfortable the bed was. I felt fully rejuvenated after just a one-night stay.
Other things I like about the hotel include the modern layout, spacious room, unblocked views and airy gym. This is definitely a great hotel for a short getaway, especially for those coming from Singapore. Just remember to monitor the traffic and avoid peak border-crossing hours if you drive. Rating: 4/5
This post may contain affiliate links, meaning I earn a commission if you make a purchase, at no cost to you. Read my full disclosure for more info.
Hotel Info:
Location: Johor Bahru, Malaysia (see map)
Price We Paid: S$60+ per night (view current price)
Month of Travel: December
Mode of Transport: Self-drive
Free Packing Checklist: Download
Pin This!
(Visited 2,157 time, 1 visit today)