Wondering where to stay in Kuala Lumpur for a fun and relaxing getaway? How about Capri by Fraser Kuala Lumpur? This hotel offers the largest room and most complete entertainment facilities among the four hotels we've stayed in during our KL getaway.
We'd deliberately placed Capri by Fraser KL on our last day because we wanted to "save the best for last".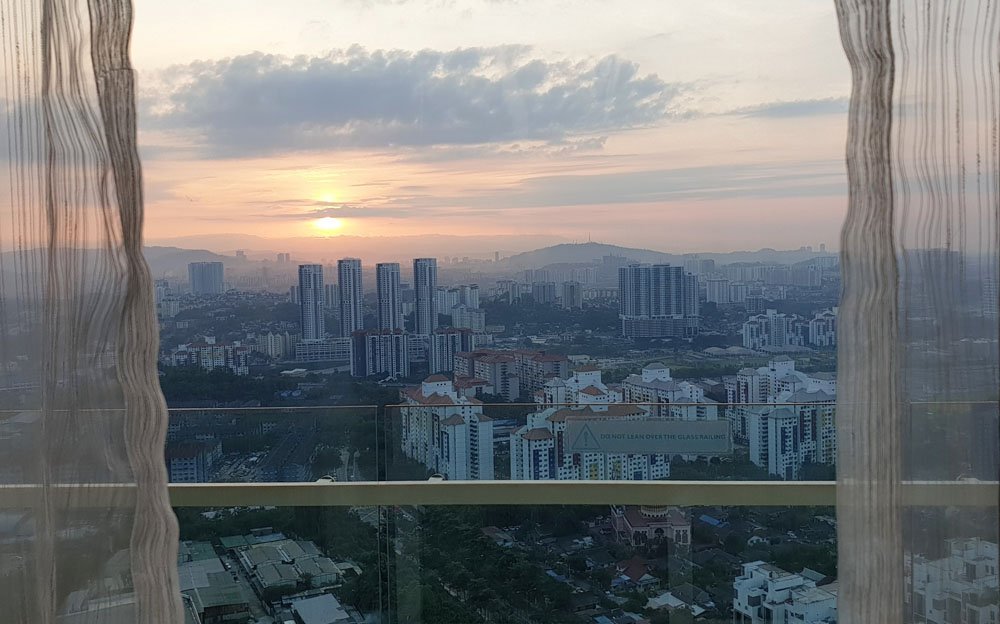 "Oh wow! Why didn't we choose to stay here for a few more days," my partner asked when we stepped into the room.
Yes, the unit gave us such a great first impression we honestly felt one day was too short to enjoy all the good things that came with it.
Will our first impression change? Is it as good as its marketing photos show? Let's find out as I'll be sharing all the pros and cons of Capri by Fraser Kuala Lumpur.
---
Our Selection Criteria for Hotels in Kuala Lumpur
Kuala Lumpur is no stranger to us. Staying near to the city, we have visited it several times. Therefore, the main purpose of this visit was not so much to visit KL's touristy sights. Our main priority was to find a place to rest, chill and enjoy the hotels' facilities.
This was our last night in Kuala Lumpur and we wanted to get ourselves "emotionally" ready to go home. LOL! :) In other words, we wanted to relax and be pampered.
So, in a nutshell, our hotel selection criteria were:
Free parking
Superb hotel facilities
Be near a shopping mall (in case we feel bored)
Capri by Fraser, Kuala Lumpur met all three criteria on paper. Let's examine further and see how it fares in terms of actual experience. We'll begin with the pros. 
---
What's Good about Capri by Fraser Kuala Lumpur? 
1. Friendly & Efficient Check-in
Unlike our experience at Concorde Hotel Kuala Lumpur, there was no waiting or queuing at Capri by Fraser, Kuala Lumpur. We were served immediately upon arrival.
Whether this was due to lower guest counts at the off-central location or a good staff-to-guest ratio, the outcome is a great experience for the guests. This is all that matters!
Having drove here straight after checking out of Sunway Velocity Hotel KL, we found ourselves at the lobby of Capri by Fraser KL an hour earlier than the official check-in time. The service-oriented reception staff processed our check-in swiftly and offered an early check-in before we could even ask for it.
Wonderful! By now, I could already feel the priority Capri by Fraser places on great customer experience.
Updated: A year later, we stayed in Capri by Fraser, Johor Bahru and was able to check in 3 hours earlier without having to request for it. Check out the review here.
I was also super delighted to be given a room on the 25th floor. Great! The staff here do pay attention to requests made by guests even if the requests were made via third party portal, a few weeks ago.
TIP: If you need internet connection in Malaysia and are coming from KL Airport, this affordable 4G SIM Card offers good value. For just S$7+, you'll get 15GB of data for 7 days and can make calls in Malaysia.
2. You'll get a Super Big Room at Capri by Fraser KL
Nope. We didn't book ourselves a hotel room even though we thought we did. This 60m² studio deluxe is a fully-equipped apartment in disguise.
It came with a good-sized kitchen, dining table, too-much storage space and an open-concept toilet that is as large as the size of a HDB room in Singapore. For info, this deluxe studio room that we'd booked was the smallest room type offered by Capri by Fraser KL. They have bigger ones. :)
Make a guess how much we paid for this spacious unit? Jump over the next section to find out.
3. Affordably-Priced For Its Generous Size
The big room that we got costs just S$82 nett (no breakfast option). Hello! I can't even get a 12m² room in Japan for this price. Japan gets a special mention here because I'm nursing a big headache trying to book hotels for my upcoming Osaka trip. Tiny and expensive is all I can say.
Related: 7 Budget-Friendly hotels we stayed in during our Osaka trip
Let's forget about my pain and focus on hotel pricing in Malaysia. Frankly speaking, you can get a wide selection of hotels at this price point in Kuala Lumpur. So there probably isn't much to shout about.
However, you are unlikely to get a room as large as this one at S$80. ;)
4. A Modern Decor with Great Room Amenities
One of the things that'd drawn me to Capri by Fraser, Kuala Lumpur was its modern decor adorned with a vibrant splash of colors. Turquoise, orange and pale oak brown – these are my favorite colors by the way.
Modern Design
In terms of furnishing, the room comes with a generous desk space, a height-adjustable chair to boost ergonomics and a dining table to ensure a comfortable dining experience.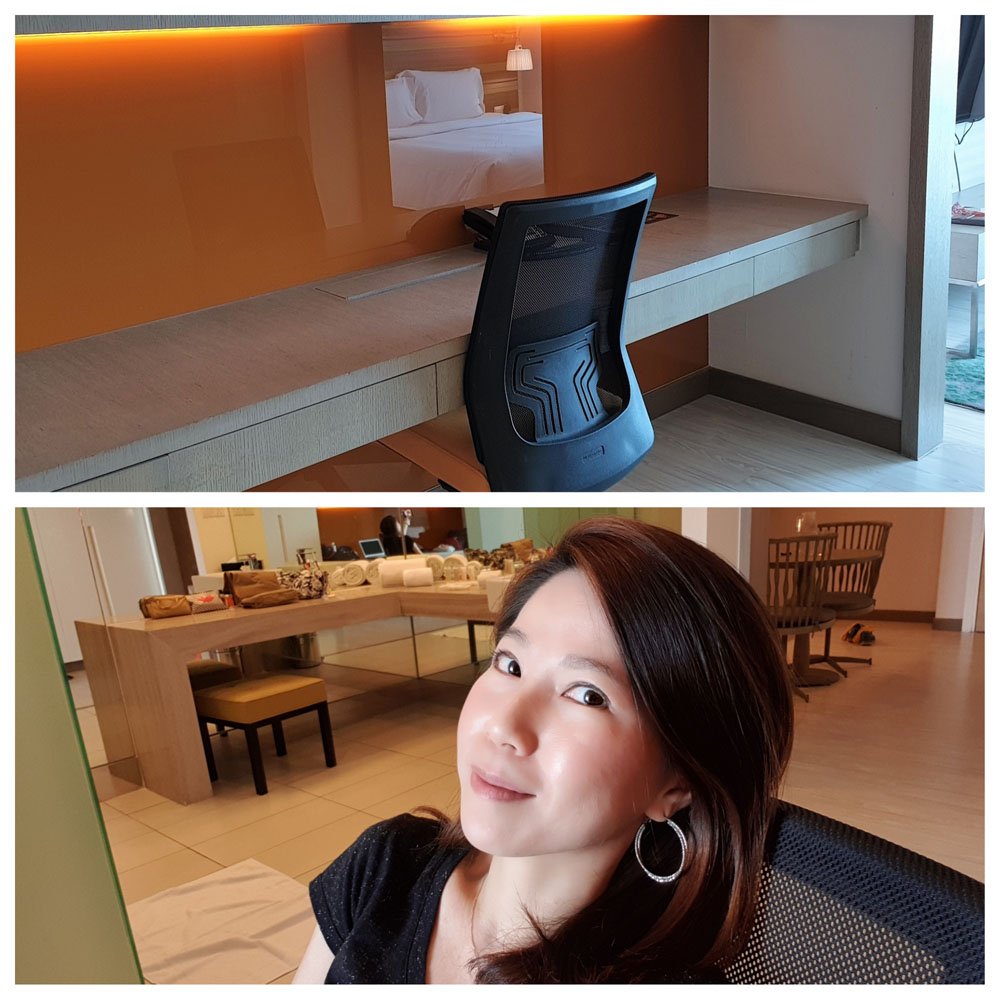 The large vanity and dressing area has so many mirrors I couldn't help taking some vain shots. This is so not me, okay. I mean, just look at my amateurish pose. Ha ha!
Oh wait, the unit also has so much storage space that I couldn't remember which cabinet and drawer contained what. And I found myself opening the cabinet doors repeatedly. Okay, I really shouldn't be complaining. This is a happy problem, isn't it? :)
Another thing I love about the room is its wooden floor. Floor like this, as compared to carpets, is easier to maintain. That explains why I dared to walk around barefooted.
Great Room Amenities
Other than good aesthetics, you'll also be pampered with ample room amenities. We have the usual stuff such as toiletries, tea and coffee, kettle, slippers, hairdryer and safe. The not-too common extras include a weighing scale, umbrella, iron, ironing board, induction cooker, microwave, cutlery and bathrobes.
One thing to note, the tea given were gourmet ones from the US – by Harney & Sons.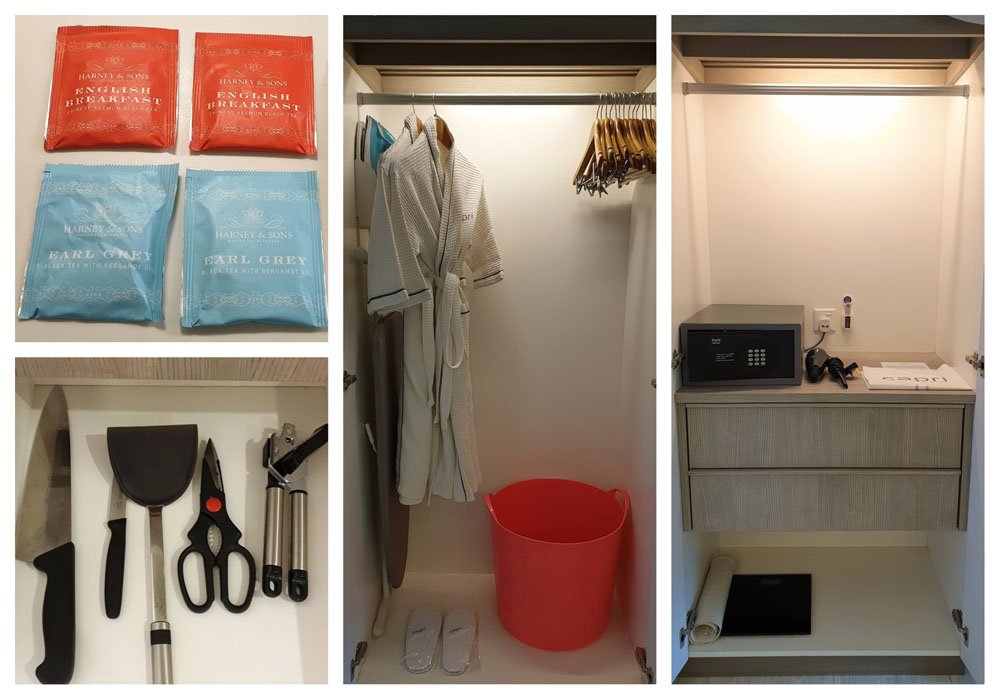 5. Spectacular Unblocked View
Among the four hotels we've stayed in Kuala Lumpur in Feb 2019, Capri by Fraser Kuala Lumpur was the only one that truly offered an unblocked view. You can leave your curtains undrawn and not be afraid of prying eyes.
Okay, what I really wanted to say is that you can walk around naked. Aargh…I finally said it. Hee (tired of being so prim and proper all the time).
I remember waking up to a lovely sunrise view, right from my bed. Even though I wanted to go back to la la land, I couldn't because I was bewitched by the golden rising sun.
6. Impressive Infinity Pool & Gazebo Jacuzzi
The infinity pool at Capri by Fraser KL was the highlight of this hotel. Although many hotels in KL offer infinity pools, some of them are too small to swim in. I thought some of them were there for the sake of being there, like to check off some boxes without really thinking about true functionality.
Not for Capri by Fraser, KL.
We enjoyed our afternoon swim in its decent-sized infinity pool which came with a commanding view of the city. I also appreciate that the temperature of the water was warm enough for easy entry.
Not all pools are easy to enter. Some of them don't receive enough sunlight and can be so cold you wouldn't even want to soak your feet in (e.g. Impiana Hotel, Johor Bahru).
TIP: In Malaysia, I tend to skip bikini because most locals cover up and I thought it's good to blend in.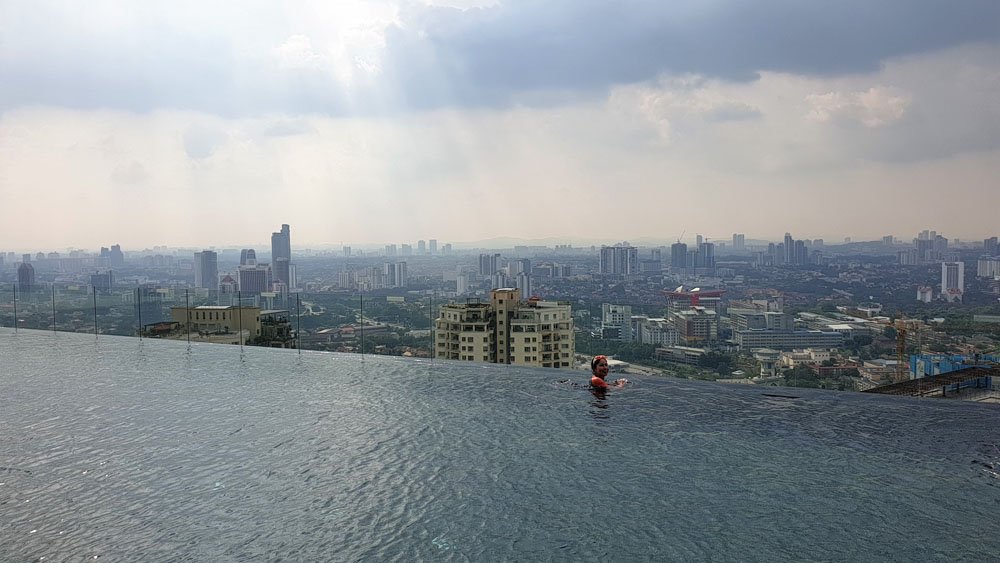 Rooftop Private Jacuzzi
Other than the awesome infinity pool, Capri by Fraser Kuala Lumpur Hotel also boasts a row of Gazebo Jacuzzi. These are private jacuzzi units sitting on the 33rd floor. Enter the private pool, press the jet button and you'll get to enjoy an intimate and exclusive jacuzzi session.
You can even draw the curtain for extra privacy.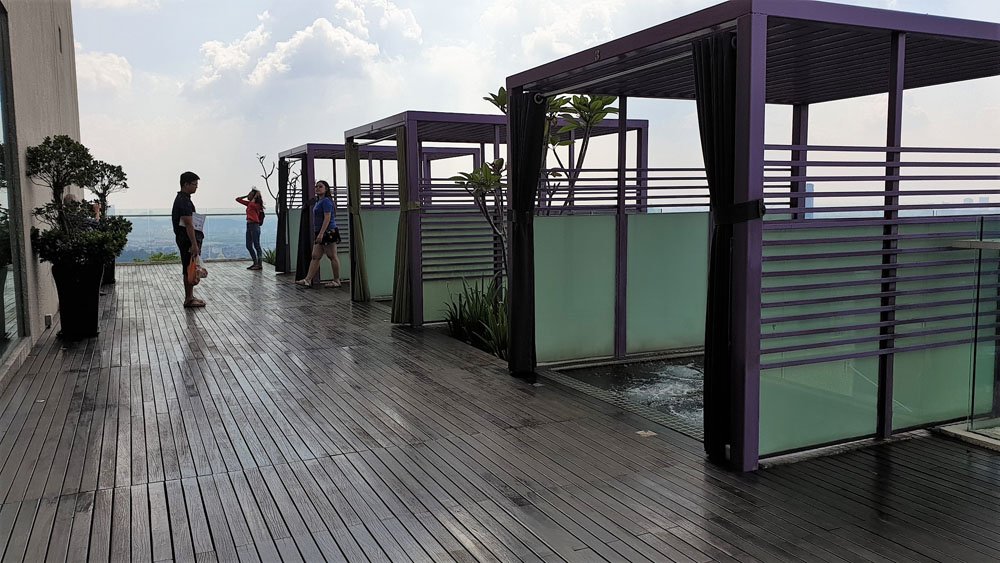 Below shows the "behind the scene" shot. You can see our orange towels hanging from the top, and all our stuff strewn at the edge of the jacuzzi pool. :) #RealLife
I am always conservative with the use of filters and avoid excessive editing because I want you to see the real thing. Moral of the story – don't trust photos you see on instagram. Don't let them influence your decision to visit a place. They can be so heavily edited that green becomes pink, and pink becomes blue.
Always double check the real photos against Google Map or street view. You don't want to be disappointed after traveling all the way to the destination.
7. Large Gym & Ample Entertainment Options
The gym at Capri by Fraser KL must be the best gym we've seen during this trip. It was well-equipped, modern and offers a superb view. Unfortunately, we didn't get to use it as our stay was too short.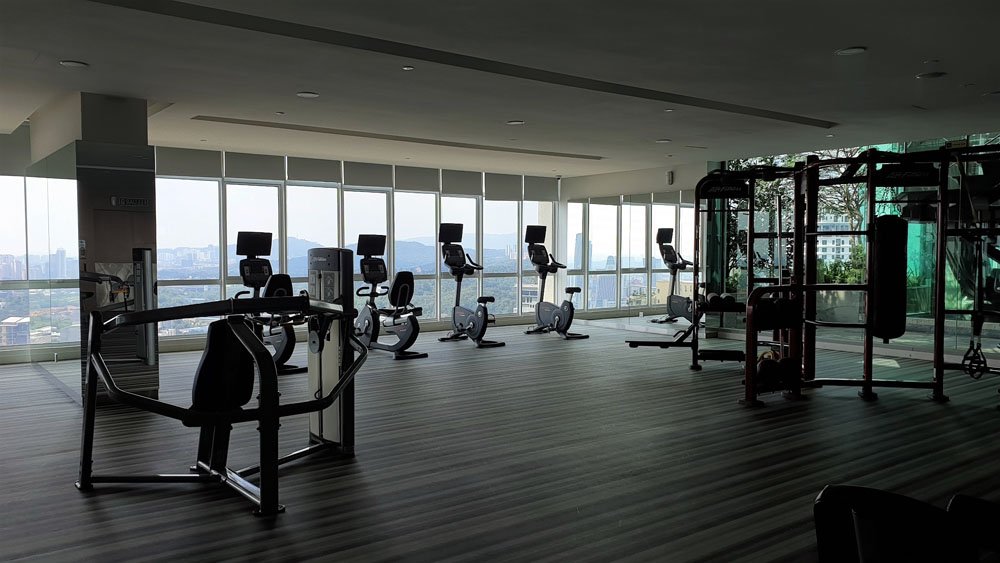 Need more entertainment options? Capri by Fraser Kuala Lumpur also offers a lounge, a yoga room that doubles up as a table tennis room, a kids' play area and steam bath and sauna.
There'll be enough things to occupy your time even if you choose not to step out of the hotel.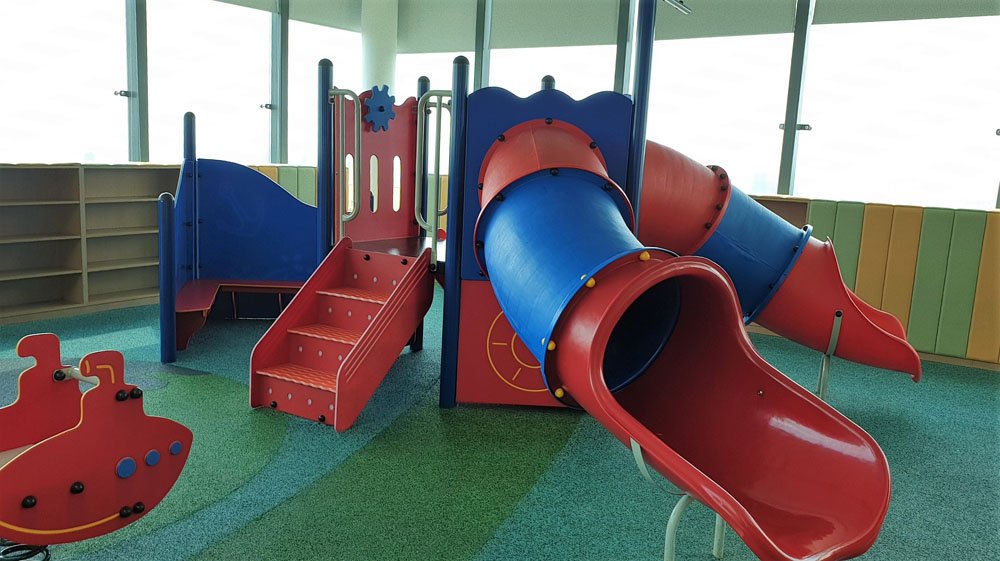 8. Near to a Gigantic Mall – Mid Valley Megamall
I'm not kidding. Mid Valley Megamall is so huge you can get lost in it. You'll probably need a few days to fully explore this mall that has over 400 retailers.
Mid Valley Megamall is only a short drive from Capri by Fraser, Kuala Lumpur . We took a grab and it cost just rm6 to get there. Hello! That's S$2. Can't even buy a packet of Chicken Rice in Singapore with that.
TIP: Don't be the last to leave Mid Mega Valley Mall. We shopped till late night and literally saw the grab fee jumped from rm7 to rm15 within minutes.
9. Free Parking & Shuttle Service 
Most hotels located within the touristy areas (e.g. Bukit Bintang and KLCC) don't come with free parking. That's why we chose Capri by Fraser KL. It offers free parking and is good for guests who drive.
How about guests who don't drive? Worry not. Capri by Fraser offers shuttle service to bring you to a few destinations including the nearest train station (Universiti LRT) and key shopping malls (e.g. Mid Valley Megamall, KLCC and Pavilion). Sadly, the service is one-way and ends early.
TIP: You can refer to this KL MRT Map to plan your travel in Kuala Lumpur
We didn't make use of the shuttle service because traveling by Grab is cheap in Malaysia. Yes, we left our car in the hotel and took public transport during the entire 7-day trip. That's the quickest way to learn how to navigate the country via public transport.
---
What's Bad about Capri by Fraser, Kuala Lumpur? 
1. Where to Hang my Wet Clothes & Towels?
While Capri by Fraser came with lots of storage space, I couldn't find a place to hang my wet linens, such as towels or hand-washed clothes (e.g. swimwear). This is also one of the few hotels where I couldn't find a decent place to hang my toiletry bag.
Even the two hooks within the shower cubicle were too high for me to reach. Ah…anyone has growth pills to offer?
2. A Truly Open-Concept Toilet
This shouldn't be listed as a con because we went in with our eyes open and honestly were in love with the open-concept toilet. However, I thought I should let you know that both the shower and toilet cubicles have no locking mechanism.
It wasn't a concern to us, but if you are travelling as a family, you may want to take note of this.
3. Second Impression Reveals Minor Design Imperfections
After staying for a few hours, we started noticing things that brought us back to earth. :)
Some interior finishings weren't exquisitely executed (e.g. open pipe under the basin). And the shower cubicles feel like a public pool toilet – I didn't find it aesthetically pretty.
The carpet near the bed was slightly stained. And the kitchen was dim because it was deep inside the room and away from natural source of light.
Turning on or off the light sources was also a little of a hassle as it involves too many switches. And lastly, when I sat at the work desk area, I felt like I was sitting in a corridor and disconnected from the bedroom (and my partner).
Okay, I'm just being finicky. Everything's good! These are all minor stuff. :)
4. Less Connected to Tourist Spots
As compared to other hotels we've stayed in in KL, Capri by Fraser is the least connected to the touristy spots. The only worthy attraction that we know of (around the area) is Mid Valley Megamall.
Getting out on your own via public transport may also pose a challenge. Assuming you can get to the LRT via the free shuttle, you'll need to do some train transfers to get to the popular spots. Even the nearest mall, Mid Valley Megamall, isn't directly connected to the train line located nearest to the hotel, i.e. Kelana Jaya Line (Universiti LRT Station).
Of course, you can depend on the hotels' free shuttle service if you are able to meet the timing. And not to forget, Grab is cheap in Malaysia.
Oh wait. Talking about connectivity, there is actually a mall next to Capri by Fraser KL. It's called Nexus Bangsar South. You can get some dining options there, although we left the 'mall' feeling a little underwhelmed, especially after having come from Sunway Velocity Mall.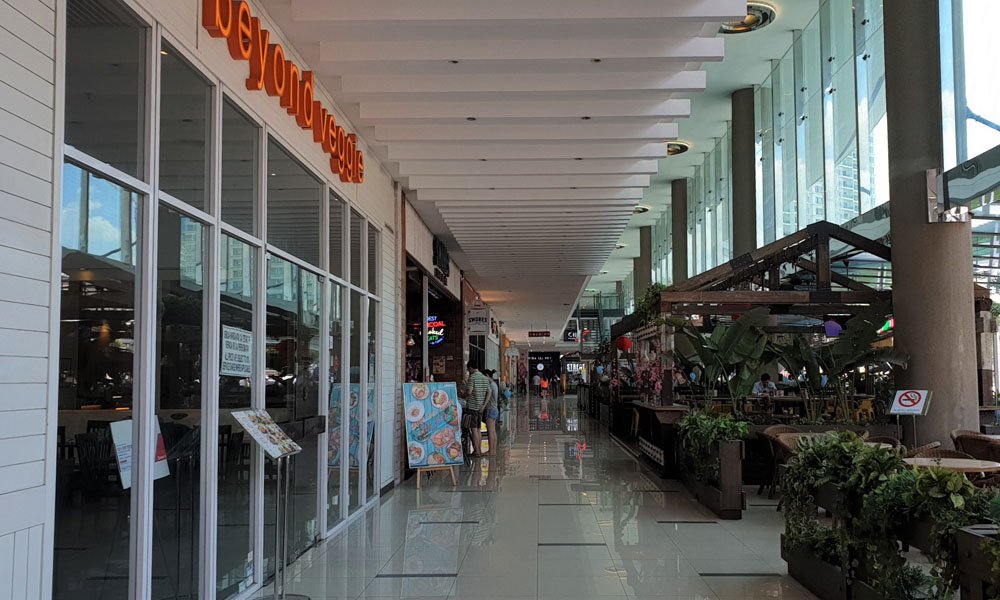 ---
Recommendations
We enjoyed our stay at Capri by Fraser Kuala Lumpur and wished we had allocated one more day to better enjoy the cool hotel facilities. If you have the same motivation as us, that is, you just want a place to chill and relax or perhaps shop at the nearby Mid Valley Megamall, then Capri by Fraser KL would make a great choice.
It's definitely a great option for a couple staycation. Rating: 4.5/5.
Hotel Info:
Location: Kuala Lumpur, Malaysia (see map)
Price We Paid: S$80+ per night (view current price)
Month of Travel: February (Chinese New Year Period)
Mode of Transport: Self-drive and Grab
Free Packing Checklist: Download
Does this sound like a hotel that you would love to stay in? Do you have any good KL hotel to recommend?Please stay tuned as I'll be back with more KL hotel reviews and travel tips. Connect with me if you like to get notified of my latest and 100% honest reviews – just click the button below! See you.
SUBSCRIBE
(This post was first published in April 2019).
This post may contain affiliate links, meaning I earn a commission if you make a purchase, at no cost to you. Read my full disclosure for more info.
Pin This for Later!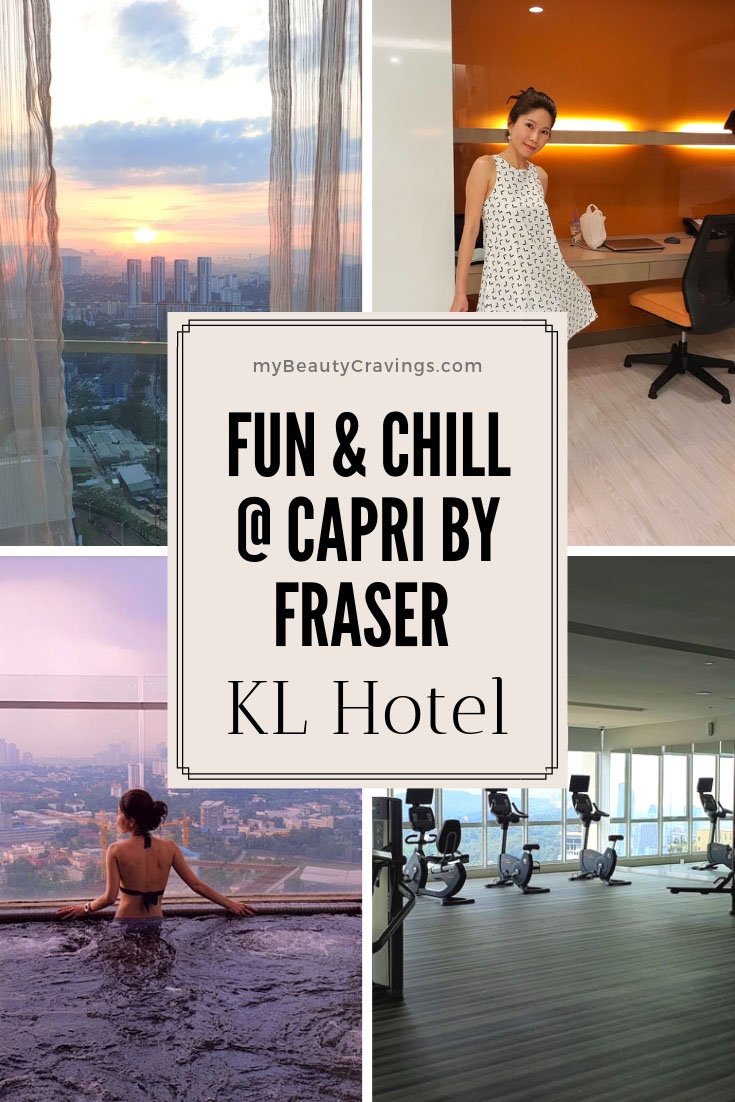 (Visited 1,351 time, 1 visit today)