Cezanne Gel Eyeliner is the first gel eyeliner I've gotten from Japan. I was hopeful that I would love it when I saw how smudge-proof it was at the store, but sadly I don't after using it for the first time.
Let's take a look at its pros and cons and why this Japan-made eyeliner failed to impress.
---
My Love for Gel Eyeliner Began in 2012
I recall how ultra-impressed I was when testing a navy blue Clio Gel Liner at a Watsons store in 2012. That was the first time that I experienced an eyeliner that didn't smudge at all with rubbing action.
Since then, gel eyeliners have been my staple and I own countless of them in varying colors, mostly from Clio and Bourjois. I love how easy it is to apply and how long-lasting they are.
In my recent Osaka trip, I caught sight of Cezanne Gel Eyeliner and grabbed two without any hesitation. Let's find out why this is not going into my Japan Must-Buy List.
---
More about Cezanne Gel Eyeliner
Cezanne is a brand from Japan that offers prettily-packaged cosmetics at affordable prices. Among the five eyeliners Cezanne carries, the one we are reviewing today – Cezanne Gel Eyeliner – is a twist-up eyeliner that is said to "produce thick and beautiful color".
This gel eyeliner is also said to be "soft and smooth" on the skin, and resistant against sweat, tear and rubbing. Apparently, you can use this as an eyeshadow by blurring out the line before it dries.
And lastly, Cezanne Gel Eyeliner is fragrance- and alcohol-free, and suitable for sensitive eyelids. Using Google translate, this eyeliner seems to contain hyaluronic acid, collagen and retinol. 
Sounds good thus far? Let's find out how these marketing promises measure up against actual performance. We'll begin with the pros.
---
What's Good about Cezanne Gel Eyeliner?
1. It's Rub-proof & Waterproof
I'd actually tested it at the drugstore in Osaka and found Cezanne Gel Eyeliner to be rub-proof (that's why I bought two). Back in Singapore, I ran another test – rub under running water – and found the eyeliner to be water-proof too.
Did you know? A smudge-proof eyeliner would do well on a non-oily canvas. This means that if you use a rich eye cream or apply oily foundation over your eyelid, any smudge-resistant eyeliner would smudge. 
2. No need to Sharpen – It's Hassle-free!
Cezanne Gel Eyeliner comes in a mechanical twist-up pencil that is hassle-free and requires no sharpener. This is the kind of eyeliner I would bring when travelling. 
3. Great if you want a Natural, Barely-there Makeup
Do you need a gel liner that is so natural you wouldn't mind using it in your home clothes or at the gym? Well, Cezanne Gel Eyeliner is one such eyeliner.
I actually find the weak pigment to be more of a flaw, but reckon that someone may find it useful since it's rare to find an eyeliner that could produce such an ultra-natural effect.
In fact, what you see in the image below took multiple back and forth strokes to create enough color for the camera. Perhaps, the effect of Cezanne Gel Eyeliner resembles that of powder eyeshadow, except that this is more smudge-proof.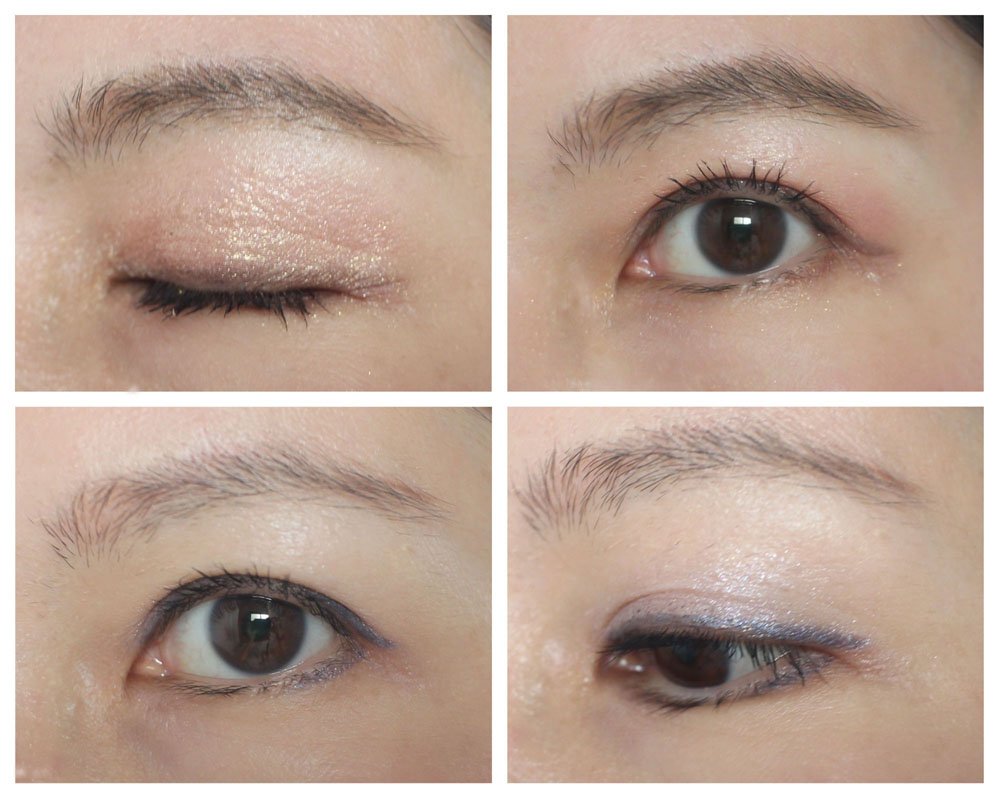 4. Easy to Achieve a Wing Tip
As the pencil tip is fine, it is easy to create a wing tip effortlessly. However, do note that we are talking about a semi-translucent wing-tip. :)
5. An Affordable Eyeliner
I've gotten Cezanne Gel Eyeliner for ¥540 (after tax refund) in Japan. This works out to just S$7 based on today's forex as compared to the $14 it is selling for in Singapore.
You can find out the latest online price HERE.
---
What's Not Good about Cezanne Gel Eyeliner?
1. Weak Pigment
This must be the first eyeliner I've tried that looks like it's opacity has been altered down to 30%. With the high translucency, you don't get a distinct line on your eyelids, though it does help to make the eye appear bigger.
The photo below shows you the swatch of brown (#30) and navy blue (#40) using a single stroke. 
2. One Stroke Won't Work
Due to the fine tip and weak pigment, you'll need multiple strokes to get enough color on the eyelids. Still, the color would reach a maximum of just 60 to 70% opacity, which is strange for an eyeliner.
On my second use, I broke 4mm of the product, probably because I twisted out too much, applied too much strength or gave it too many strokes.
Although the product is smooth enough to glide along the eyelids, I wouldn't say it's buttery-smooth like those from Clio and Bourjois.
3. Limited Colors
It was easy for me to decide on the colors because there weren't a lot to choose from.
On its official website, you'll see only two colors. If I recall correctly, there were 3 or max 5 colors in the Osaka drugstore I was shopping at. 
4. Low Quantity
Cezanne Gel Eyeliner probably wouldn't last me very long since it comes with only 0.1g of product, as compared to industry norm of 0.5g to 1.2g.
Look at the image below – the brown eyeliner shows the maximum product it has in the tube. 
---
Recommendation
I'll be honest. I don't love Cezanne Gel Eyeliner because I expect an eyeliner to produce enough pigment in one stroke. Not five. Still, I can see myself emptying it and I cannot discount that it does make the eyes look bigger in a natural way. :)
Those who just got into makeup or who normally don't wear makeup but like to start doing so may find Cezanne Gel Eyeliner as a good transition eyeliner. If you are expecting guests at home, this barely-there eyeliner could prove useful too. Rating: 3/5  
To find out the latest price on Amazon, click HERE
---
Do you enjoy such honest reviews? If you like to get notified of my new posts, just click the button below to subscribe. You'll also get access to member-exclusives gifts. See you there!
This post may contain affiliate links. Read my full disclosure for more info.
Pin This!
(Visited 177 time, 1 visit today)