I can't believe that I haven't reviewed a single eye shadow here. Let's change that today and talk about Cezanne Two Color Eye Shadow? Finally, there is one eye shadow that gives me enough motivation to write about it.
Now, do you want to know why I hardly review eye shadows?
It's not that I don't use them. In fact, I'm quite reliant on eye shadows (and eyeliners and foundation). Just that I don't have a lot to say about eye shadows because I think it's hard to get the formula wrong. Even affordable brands such as Etude and TheFaceShop can offer amazing quality for eye shadows.
There's another reason why I don't talk about eye shadows. Well, they come and go so quickly that I wonder if it's worth the effort. Writing a review is a lot of work and I need to invest my time properly. :) Okay, I'm keeping my fingers crossed that Cezanne Two Color Eye Shadow will continue selling for a while since I got it like 8 months ago. Oops!
---
Tell Me More About Cezanne Two Color Eye Shadow 
Cezanne offers four types of eye shadows at the moment. The one being reviewed today is a duo-color palette. This Lamé series is said to create an elegant, sophisticated and gorgeous look.
It's not lame, okay? It's Lamé. :) The full name of the product we are reviewing is Cezanne Two Color Eye Shadow Lamé Series. A quick online check shows that Lamé refers to "an ornamental fabric in which metallic threads are woven with silk…" Okay, so pronounce with me – "La Mei". :)
Cezanne further described this eye shadow as one that's ideal for those who want to "add drama to their eyes". Apparently, one obvious marketing tagline of this eye shadow is "Elegant and gorgeous glitter for mature ladies."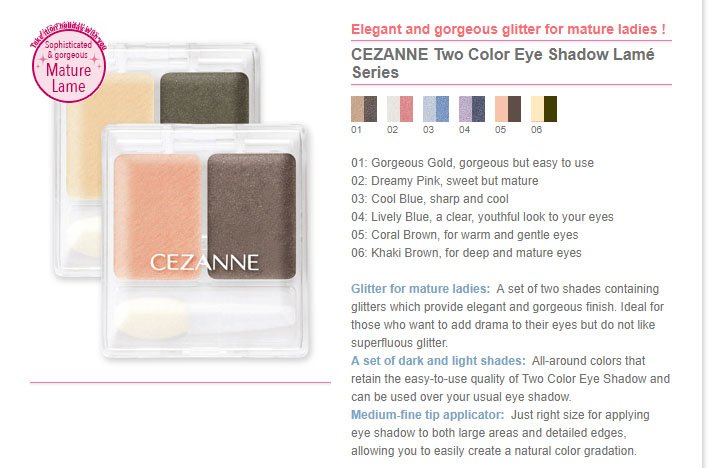 Hey! Why did Cezanne explicitly mention this product as one meant for mature ladies?
I highly suspect this to be a translation error. :) Perhaps, they meant an eye shadow that exudes elegance and sophistication for dignified ladies? Okay Okay. Maybe they are right because what I've just described seems to be qualities typically associated with mature ladies. Ha Ha!
But wait. If you are youthful and fun-loving, trust me that this eye shadow will suit you equally well. I'll show you the swatch in a while and you can then judge for yourself. Frankly, I thought it made me more youthful-looking leh!
Let me run through quickly on what's great about Cezanne eye shadow.
---
What's Great about Cezanne Two Color Eye Shadow? 
1. Wide-Enough Color Spectrum to Suit Everyone 
These days, blue eye shadow isn't as easy to come by. I'm so glad that Cezanne comes with one and which is the one I bought.
Color #03 comes with a pair of blues – a pastel shimmery blue and a more obvious sky blue shade.
If you are not into blue, don't worry as Cezanne Two Color Eye Shadow also comes with five other colors. These range from earthy tones to pink and violet. You can check out the full range of colors here (or scroll back to an earlier image).
Here's my Personal Love Story about Blue Eye Shadow
Blue eye shadow isn't as popular as it once was and I have the suspicion it's due to Korean Drama or Korean makeup brands. :) All of a sudden, almost everyone is in love with neutral or warm tones, which unfortunately were never my favorites.
Since my teens, I've been loving blue eye shadows, especially shimmery baby blue. And this came with lots of color experimentation. I thought frosty blue (and iridescent pearl) works the best for my cool skin tone. This love lasted till today. Even though I'm now more open to warm tones such as peach and orange, my love for blue eye shadow never waned. :)
The number of blue eye shadows I have at any given moment far exceeds those of other shades, simply because I couldn't resist buying them whenever I see one.
Now, talking about blue eye shadow, did you know that each Singapore Girl (SIA stewardess) would be prescribed to wear either blue, brown or violet eye shadows? A skin tone analysis would be done during training to assess what would look best for that particular lady. Even lip and nail colors are prescribed too. Nothing is random for this popular airline to stay on the top! :)
> MUST-READ: Cezanne UV Silk Face Powder is going into my Japan Must-Buy List
What's my makeup color chart as an SIA Stewardess?
During my short stint at the airline eons ago, I was told to wear blue (thank god!). Unfortunately, the uniform color was such that whichever eye shadow colors that were prescribed, they would have to go with bold red lipstick. I was prescribed a bright cherry-red lip color which I found it hard to get used to. When I'm free, I'll dig out some photos to show you.
SIA has in recent years toned down the hue slightly. 
Luckily, I no longer need to wear this overly-glam look. I often pair blue eye shadow with either nude, light pink or peach color lipstick. With that, I can even visit a hawker centre or market without attracting too much (any) attention.
If SIA can make their girls wear blue eye shadow since 1972, I too can and will continue to support my smurfie look. :)
2. Balanced Pigmentation
The color goes on easily and evenly. One swipe and you get an obvious layer of color on your lids. Personally, I don't like overly-pigmented eye shadows that can look harsh and glaring.
I'm glad that Cezanne Duo Eye shadow isn't like that. You get the color on your lids without looking over the top. It's an eye shadow that's easy to use and blend. I think it'll work well for beginners.
3. Shimmery Finish with A Soft Glitter
Based on color #03 (Cool Blue), the lighter shade has a shimmery finish. If you examine closely, you can also notice a light sprinkle of fine glitters.
The darker blue tone, on the other hand is less shimmery. In fact, I'd thought it was matte until I did a swatch for the purpose of this review.
Such a combination works great on the lid because the frosted pale blue when applied over the entire lid can make the eye pop, while the darker blue can add dimensions when applied to the outer corners of the eyes. 
Extra Makeup Info – I'm wearing the following in the photo above:
4. Long Wearing 
Even after 8 hours, the color remained obvious. The light-blue shimmery base was almost perfect while the darker blue didn't hold up as well (maybe a color drop-off of 30%?).
But all in all, you'll still look good because the shimmery base is there to offer a lasting color.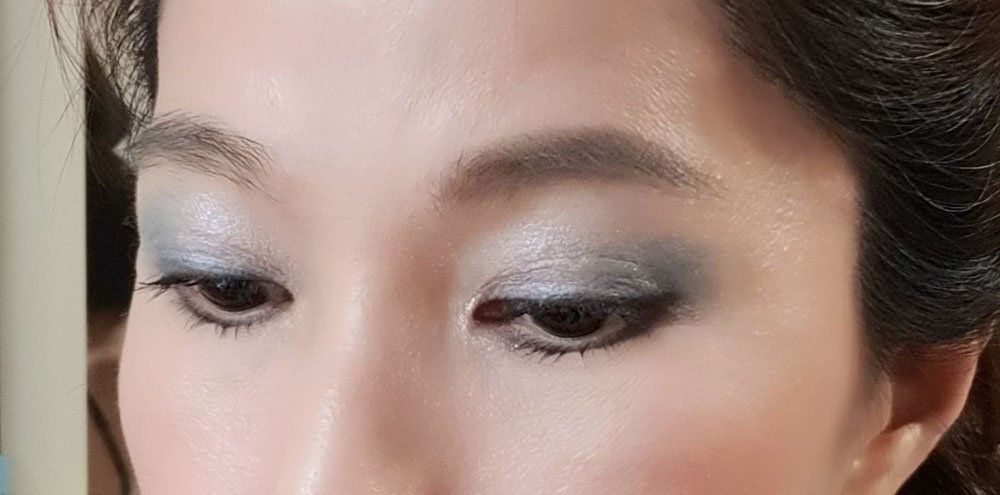 5. It's Affordable!
You won't believe how much I paid for this eye shadow in Japan. Got it at just 380 yen (after tax rebate).
That's US$3.50. :) Go check the latest price at Amazon and Ebay. 
6. Compact Packaging & Travel-Friendly
The eye shadow comes in a lightweight and no-frill packaging, making it very easy to travel with.
It also comes with a sponge applicator which I didn't use until a few days ago to review it. I'm impressed that after 8 months, the sponge hasn't disintegrate like lots of free applicators out there. Also, the applicator works sufficiently well if you prefer to travel light and skip those large makeup brushes.
> RELATED: Cezanne Natural Cheek N Blusher | Another Cheap Japan Makeup that Works!
---
What's Bad about Cezanne Two Color Eye Shadow?
1. Cheap-looking Packaging
Yes, I have mentioned that Cezanne Eyeshadow comes in a no-frill packaging. It's definitely not one that you'll want to show off to people. But it's okay with me. I don't really care about those things, as long as the product works well.
Also, for this price, we can't complain much, can we? I think it's really great bang for the buck.
2. Personal Preference for More Glittery Sparkle 
If given the choice, I would have loved my eye shadow to be more sparkly, like those glittery ones from Etude Jewel series and The Face Shop. But that's just a personal preference. So, all's good! :)
---
Recommendation
Cezanne Two Color Eye Shadow is definitely worth the buy. The color pairs well, applies easily, looks good and last well. If you don't mind a cheap-looking plastic case for your eye shadow, then you would likely love this eye shadow. This is definitely going into my Japan Must-buy list. Rating: 4.5/5
View latest price on: Amazon | Ebay
---
Love more of such honest reviews? Please feel free to connect with me if you like to receive more useful and honest reviews. Just click the button below to subscribe and you'll also get access to all my exclusive contents. Chat soon! 
SUBSCRIBE
Pin This!
This post may contain affiliate links, meaning I earn a commission if you make a purchase, at no cost to you. Read my full disclosure for more info.
(Visited 597 time, 1 visit today)