Finally, I've waited long enough for my chin to recover and for the swells to subside totally. Let me share with you the end result of Chin Filler Augmentation by Cutis Medical Laser Clinics. To recap, I've only had chin filler treatment, and not the 2-in-1 package that includes jaw botox. Take this as a chance to see the pure effect of chin filler. Those who do not have bulky jaw muscle may not need jaw botox at all.
Without any further ado, let me share a chronological account of my experience, starting from Day 2. If you've missed Part 1 – The Consultation and Part 2 – The Injection at Cutis Medical Laser Clinics, it is recommended that you check them out before moving on to Part 3.
---
Recovery Photos: Chin Filler Treatment
Day 2 (Chin Filler Treatment at Cutis Medical Laser Clinics)
By Day 2, the sore sensation had subsided greatly. No pain was felt when eating or talking. If there was any discomfort, it was a slight tenderness, 30% of the soreness felt on Day 1.
In terms of visibility, the bruise was a tad more obvious than Day 1, but hardly noticeable to others. As you can see, the bruise wasn't that bad when I'm not pushing my chin outwards for photo-taking. The normal chin-down position hid the bruise quite well. I could still go out and face the public without any makeup on.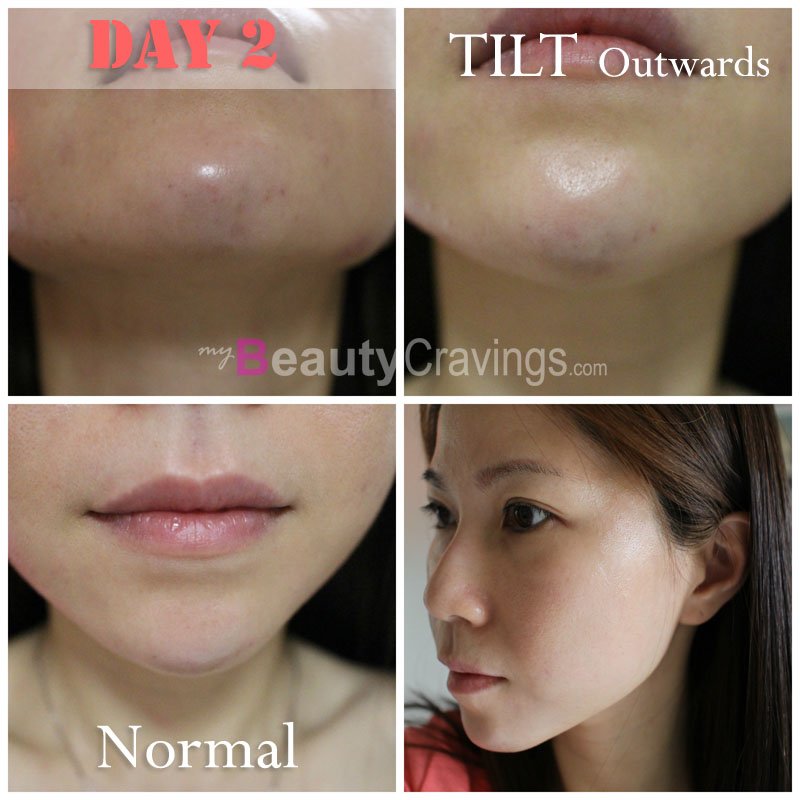 The chin felt stiff and the bruise looked hard and swollen, if you examine closely.
Day 3  
The soreness was gone, unless I exert pressure on it, such as pressing against the bruise or resting my chin on my hand.
The bruise took on a dark-bluish tint and was hardly noticeable when I looked straight. 
I felt comfortable facing the public without wearing any makeup or concealer. Also, none of my family members noticed that I had anything done to my chin. If you are not comfortable, a sheer foundation can easily hide the bruise (see photo on the right).
In terms of firmness, the chin felt softer (by 70%) and looked more natural.
Day 4 (After Chin Filler Treatment) 
The bruise spread and took on a slightly reddish-yellow tint. There was no pain at all by Day 4. I even squeezed a new pimple on my chin, without realizing that this could possibly alter the shape of the extended chin. Luckily, no damage was done.
I cannot emphasize enough that the bruise was not noticeable if you walk like a normal person without sticking your chin out, like me in the left photo. Both photos above were taken with zero makeup on.  As you can see, the pimple looks more obvious than the bruise (right photo)
The chin now felt 100% soft and natural. It felt like my own skin, my own chin.
Day 5  
The bruise had faded a lot. It was more yellow than red. I could touch my chin or rest my chin on my hand without feeling any pain.
Day 6 to 9
The bruise was hardly visible even in photos from day 6 onwards. By day 9, there was no trace of any bruises.
---
Final Results
Here's the result after 14 days, when all swellings were gone.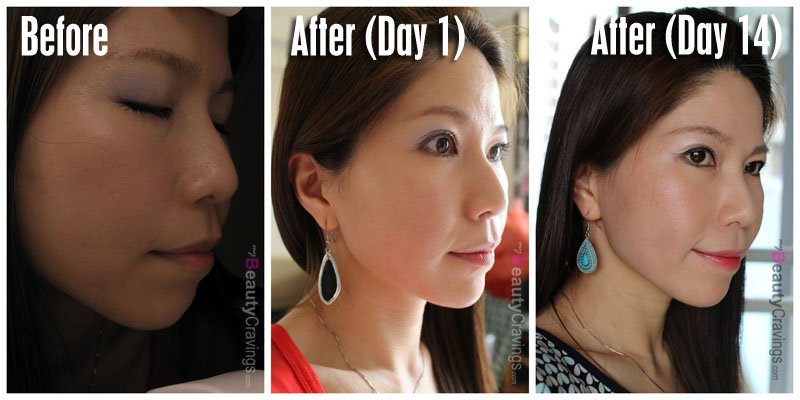 Based on the side profile, the chin protrudes less on Day 14 vs Day 1. Still, I can see that the chin is fuller as compared to the Before photo.
The front profile shows very subtle change for both Day 1 and Day 14 as compared to Before. In line with the rule of one-third, I had earlier been advised that I did not need much length to be added to my chin.
The end result is a chin that's slightly sharper and extended.  
---
Chin Filler Precautions
I've gotten hold of the Restylane instruction sheet, which includes a full list of warnings and precautions that the "injecter" should bear in mind.
Example
Do not inject travascularly. Injection into blood vessels could potentially lead to vascular occlusion

Do not use in patients with bleeding disorders

Special caution should be exercised when treating areas with limited collateral circulation
The list goes on and on.
I do not fully understand the warnings and neither am I in the position to explain them to you. I just want to bring across the message that it is very important that you let someone certified perform this treatment on you. Please don't let any uncertified person ruin your face – see how this victim had suffered.
---
Dos and Don'ts
Here's some dos and don'ts that were brought to my attention:
Pre-Treatment
Avoid taking Fish Oil, John's Wort, high doses of Vitamin E supplements, aspirin and other non-steroidal anti-inflammatory medications.

(Non-Official) My own experience suggests that it would be better to do it after a meal, so that your chin has some time to rest after treatment.
Post-Treatment
Avoid touching the treated area within 24 hours

Avoid sunbathing and hot activities until redness and swelling disappear

Avoid exercise and alcohol for 6 hours following the treatment
---
Would I do it again?
I had zero desire for Chin Augmentation since chin has never been my problem area. Now the desire has definitely shifted up a notch. Not a burning desire yet, but definitely something I'll think about considering how pain-free and low-risk this procedure is.
A potential hole in my pocket, yes? Sometimes, it's better not to try new things, huh?
Should you do it?
If you have always been comfortable in the way you look, just like how I was with my chin, then this may not be necessary. However, if you feel that your appearance can be balanced and improved significantly with a chin augmentation and have even thought of going under the knife, then I'll say, "Why not give chin filler some thoughts before you take the full plunge?"
A real cut involves serious downtime and swelling and would be harder to undo, while a filler allows you to confirm your desire and the shape before going permanent. 
Did you know?

Other than correcting chin proportions, chin filler can also minimize the appearance of a double chin.
What if you are unsure?
If you have always been thinking about getting your chin fixed, but are unsure if it'll suit you, I would recommend that you make a consultation appointment with Dr Sylvia Ramirez from Cutis Medical Laser Clinics. I heard that she would not agree to treating customers who are unsuitable for this treatment. 
As with all cosmetic procedure, be it a surgery or a minimally-invasive procedure, there are always risks involved. So do your due diligence in research and ensure that you find an experienced doctor to perform the procedure.
---
The Price
Chin Filler by Cutis Medical Laser Clinics is normally listed at $1,000 per syringe (of Restylane Perlane). For the month of Nov/Dec 2014, the treatment is available at $850 per syringe. Just quote 'myBeautyCravings'. 
Cutis Medical Laser Clinics
Love what you've read? If you like to get notified of my new posts, you can click the button below to subscribe, or connect with me through facebook or instagram. See you there.
---
Don't miss these:
Part 1 – Chin Filler | The Consultation and Facial Analysis
Part 2 – Chin Filler | The Injection 
Part 3 – Chin Filler | The Recovery
This post may contain affiliate links, meaning I earn a commission if you make a purchase, at no cost to you. Read my full disclosure for more info.
(Visited 8,645 time, 1 visit today)