A while ago, I received a luxuriously-packaged beauty press kit from Clinical Skin, a brand hailed from USA that is said to include cutting-edge science in its skincare formula.
Let me show you the 3 products that I received. But please be warned first that the price is pretty premium, with most products priced above USD100 per bottle. 
---
Skincare from Clinical Skin (Made in USA)
1. Clinical Skin Polypeptide Firming Serum
Now, I might as well scare you off with the priciest item of the lot. Clinical Skin Polypeptide Firming Serum that comes with a hefty price tag of USD250 contains 4 peptides, antioxidants, ceramides and hyaluronic acid. It's said to leave the skin feeling firmer and plump.
Furthermore, the formula also includes vitamins C and E and minerals such as copper and zinc which would help improve wrinkles and fine lines. 
Application Direction
Similar to most serum, apply it after cleansing day and night. Then follow up with moisturiser. 
First Impression of Clinical Skin Firming Serum
The whitish serum feels light-weight and very comfortable on the skin. There's no greasiness or stickiness once fully absorbed, and the skin feels like bare skin but without the tightness.
It's also friendly to my pimple-prone skin. Not a single zit from using this firming serum.
Though I've yet to witness the firming or hydrating effect of the serum, I am hopeful the good ingredients in Clinical Skin Polypeptide Firming Serum would protect my natural skin barrier. 
I love the heavy and sturdy dropper-style bottle and the generous quantity of 50ml. However, I thought Clinical Skin's packaging (box and all) was a little excessive.
The heavy and bulky boxes definitely elevated the products' luxurious feel, but would generate more waste. Thankfully, Clinical Skin's packaging is made from recyclable ingredients. 
Next, let's take a look at the second product – the 20% vitamin C serum.
2. Clinical Skin Vitamin C Pro-Collagen Serum 
Clinical Skin's 20% vitamin C serum comes with 30ml of product which is the market average. Priced at USD120, it is not the priciest Vitamin C serum in the market (priciest one is this), but it is definitely not cheap.
What a vitamin C serum is said to do is to make the skin more radiant and evenly-toned, while combating the signs of aging.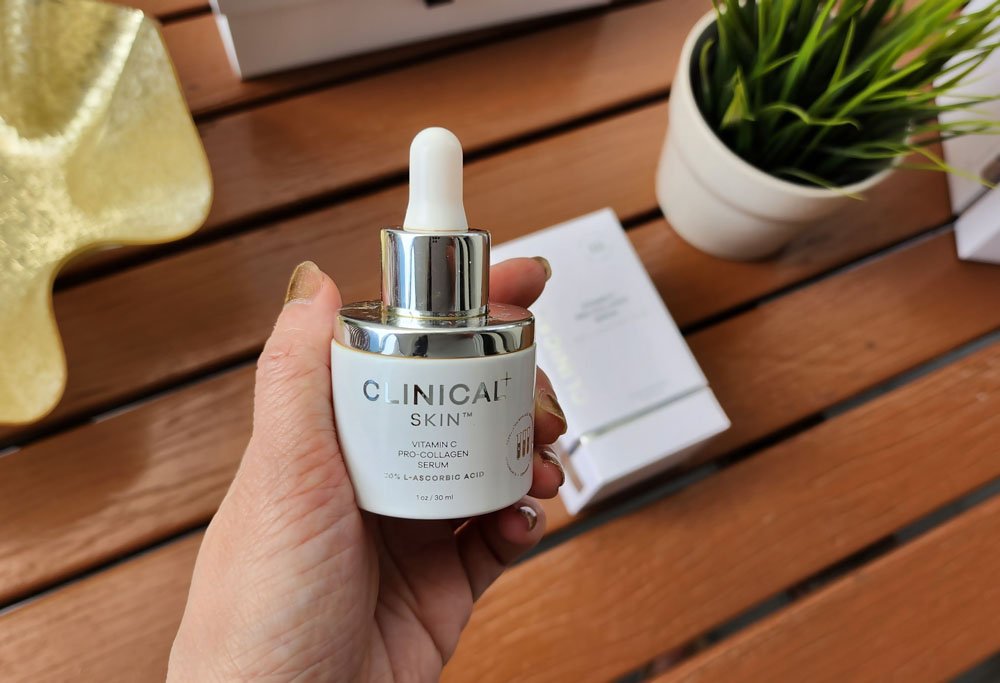 Application Direction
While the box says to apply 7 to 10 drops onto clean dry skin of face, neck and decollete, I find that 3 to 4 drops are sufficient for me. 
First Impression
I've only just started using Clinical Skin Vitamin C serum, and so it's a bit premature to tell if it works. But what I can say is that I like its ingredient (Ascorbic Acid).
I also like its texture which feels more moisturising (oilier) and feels somewhat similar to Obagi (Japan version). 
However, I noticed the yellowish serum seeping out through the trimming of the bottle. I'd at first thought it was a beautiful yellow-lined packaging design, but then noticed that it was actually real serum leaking out.
I quickly put the bottle into the fridge for fear of the vulnerable serum oxidising prematurely. 
The leakage was confirmed later when I saw yellow stains on the box during photo-taking. Hope the packaging can be improved to preserve the freshness and content of the serum.
3. Petrissage Massage Beauty Roller
This is the first beauty roller that I own and I like how it rolls and massages nicely over the face, even on difficult areas such as nose, inner corner of eyes and the temples.
Unfortunately, I find that I don't use it as frequently as I should because I was too lazy to wash it before (and after) application. Still, it is something I'm happy to own and I'll work towards being more diligent as the massage feels really soothing and helps to ease any mental and physical tiredness. 
Priced at USD75, the beauty roller feels heavy and of good quality. It's my favourite product among the 3 within the press kit.
Do note however that you need to pair it with a moisturising cream in order for the device to roll well without friction. 
---
Overall Thoughts on Clinical Skin from USA
I love the premium packaging and heavy feel of the bottles, and do look forward to using the luxuriously-packaged Clinical Skin products every day.
In fact, I think I would deplete the firming polypeptide serum very soon considering how religiously I've been applying it day and night. The beauty roller is also a great device to own, considering how it can offer a cheap and easy way to relax at home.
But would I buy these products? Well, the products are priced above my comfort zone. But not to worry, I'll work harder in my day job and strive towards higher salary, k? :)
---
And that's all I have from Clinical Skin – you can read up more about the brand here. If you have tried its products, do drop a note to share your experience. For me, I'll continue to use these products and hope to see greater skin in time to come.
Love more of such product intro and brand review? Click the button below to subscribe. 
This post may contain affiliate links, meaning I earn a commission if you make a purchase, at no cost to you. Read my full disclosure for more info.
SUBSCRIBE
(Visited 265 time, 1 visit today)