Clio Superproof Brush Liner has successfully converted me into a liquid liner lover. This is a big deal because I'd stayed away from liquid eyeliner for decades.
The last time I'd used it was probably when I was still in my teens as I recalled liquid eyeliner being very difficult to use.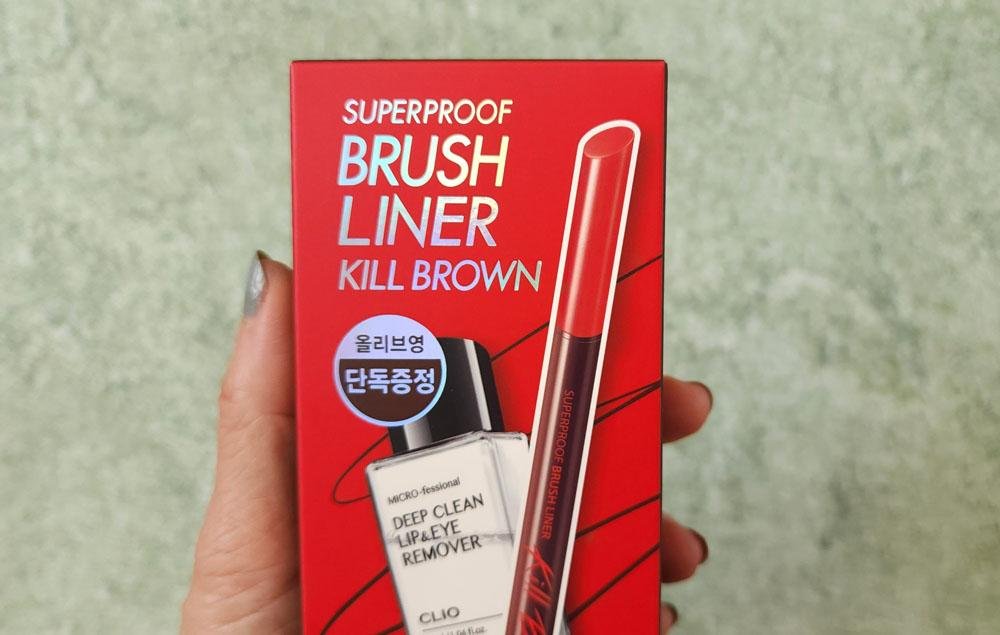 Other than the need to have a steady hand, I also recalled having to wait for the liquid to dry before I could blink. The brush of the liner also tended to dry up prematurely, causing a teenager's hard-earned tuition money to vaporize quicker than it should.
But one day in recent times, I saw Clio eyeliners going at a steep discount and couldn't resist the deal. From the moment I decided to take the plunge, there was no turning back. Buying Clio Superproof Brush Liner turned out to be one of the best "makeup" decisions I've made!
---
Tell me more about Clio Superproof Brush Liner
Those who are into K-beauty would know that Clio is a brand from Korea. In fact, it was one of the first (or first) to come up with a smudge-proof Gel Liner, which I absolutely loved and had reviewed it here.
As for liquid liner, Clio carries a few types – from Waterproof, Smudge-proof to Thin eyeliners, most of which are available in either Pen or Brush tips. 
What's the difference between Brush and Pen eyeliners?
Clio's brush liner is made of well…brush…and is more malleable. Take a look at the comparison image below and you can see that the brush liner can bend more evenly than a pen liner.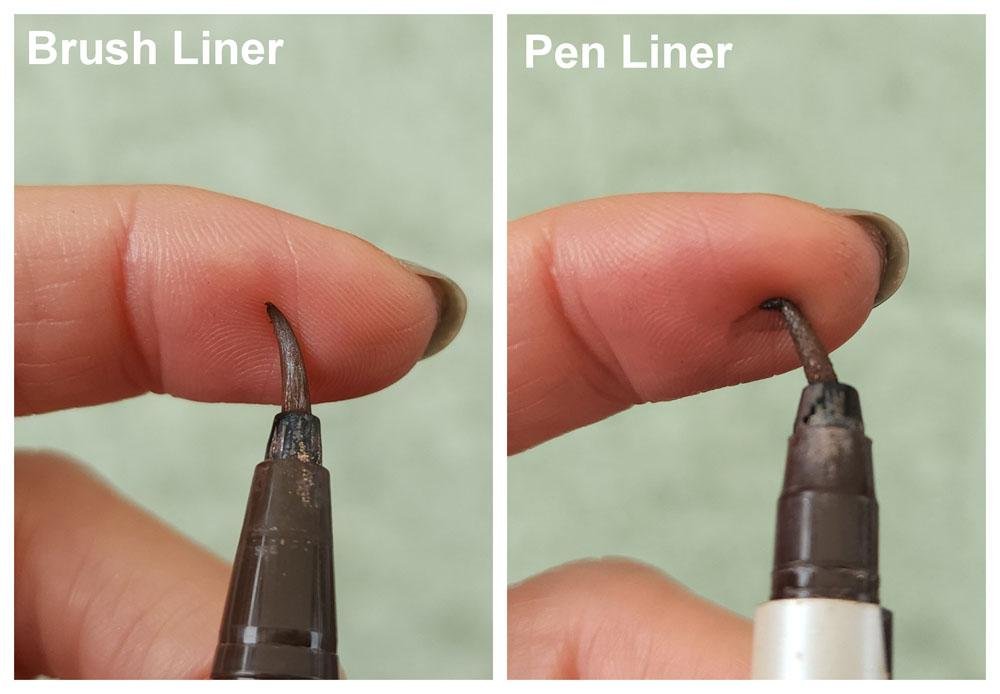 In practice, I find that I can easily taper the stroke with a brush liner, i.e. I can make the ends really fine. But the pen liner wins by offering more colours to choose from – 4 as compared to 2 from the brush variant.
Today's Review is on Clio Superproof Brush Liner
What we are reviewing today is Clio Superproof Brush Liner. It is said to be smudge proof and is available in either brown or black colour.
Without any further ado, let's check out 4 great things about this Korean eyeliner that brought me back into the arms of liquid eyeliner.
---
4 things I love about Clio Superproof Brush Liner
1. Ease of application
Unlike my experience many decades ago, Clio Superproof liner was so easy to apply. Drawing a nice line over the lid isn't difficult at all. 
Just need to place the brush horizontally against the inner lash line and gently move outwards to complete the line. I was a liquid-liner noob and could achieve a nice winged look (aka cat-eye look) effortlessly.  
2. Can achieve a more polished look 
Yes, a liquid eyeliner can normally achieve a more defined and polished look than a pencil liner. I tend to reserve Clio Superproof Liner on days when I wanted to look less casual and more pretty. :)
Due to its defined line, I only use it on my upper lash line. I prefer a more smudge look on the bottom lid and would reach out for pencil liners instead, such as Majolica Majorca Jeweling Pencil.
>> RELATED: Majolica Majorca Pencil smudges easily. But that's what I like about it!
3. Is it really superproof? 
Clio Superproof is very smudge-proof! It would stay exactly the same till the end of the day. However, do note that this is not a waterproof liner. 
If you like a waterproof liner, Clio has another range meant to be used under wet condition (click here to view). 
4. Check out this "brown" colour 
I bought the brown colour and love it! It's not as harsh as a black liner, but yet intense enough to look all well made-up. 
Another eyeliner that I love for its colour is Clinique Quickliner for Eyes Intense. You can check out the review and view its colour via the link below. 
>> RELATED: 5 reasons why you'll love Clinique Quickliner as much as I do.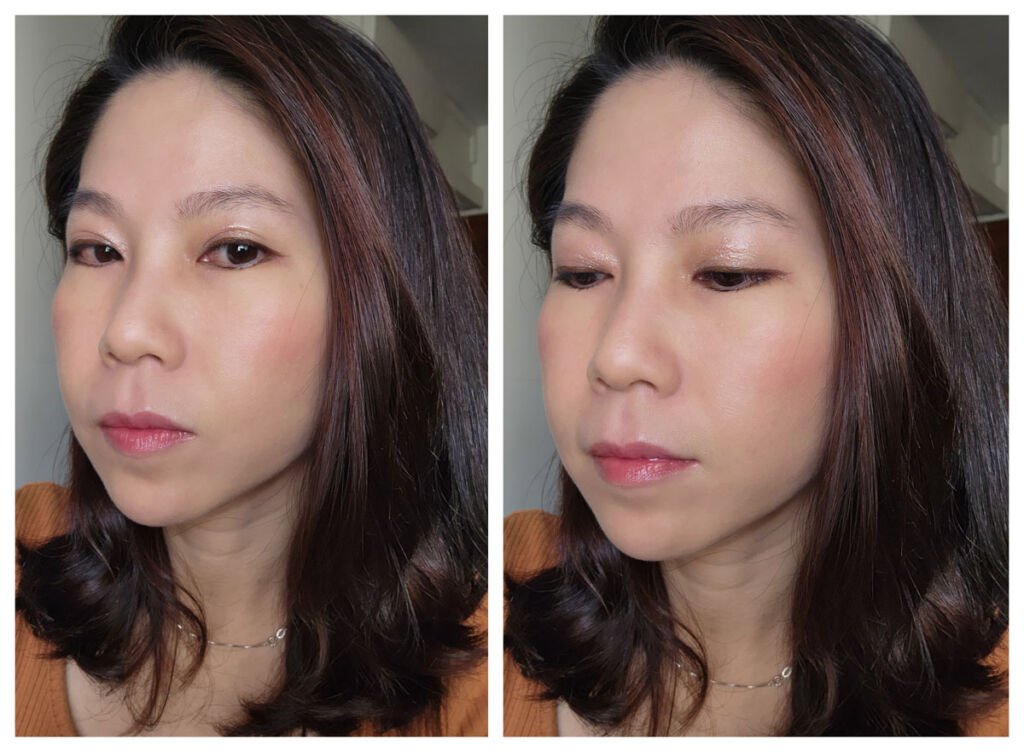 ---
What's not great about Clio Superproof Brush Liner
1. Not cheap
Clio Superproof Liner is not cheap. As a mass market brand that is available in drugstores, this eyeliner is retailing at about S$27. That's pretty close to price from premium brands (e.g. those with counter service).
2. Depletes faster than pencil liner
It is within expectation that a liquid liner wouldn't last as long as a pencil liner. However, I am actually not bothered by this fact as I thought its longevity is much better than my previous experience as a teenager.
I'm happy with its longevity, which is enough to last me for at least half a year. However, do note that I don't use Clio Superproof eyeliner daily (only on days when I want to look polished). Another thing to note is that even though I don't use it daily, it doesn't dry up prematurely.  
TIP: Before use, turn the tip down (with cap on) and shake 2-3 times. 
Coming back to the topic of longevity, I actually thought pencil liners last too long, LOL! So long that most of my pencil liners are expired.
3. Can I suggest a redesign of Clio's packaging? 
Now, did you know that you have to store Clio Superproof Brush Liner with the red tip facing down? This would allow the liquid to flow to the brush tip.
I didn't know and was storing it the other way round as I wanted the red cap to be visible from the top, so as to distinguish it from other eyeliners. 
Even after I knew the proper storage instruction, I would still instinctively place the red tip "face-up" which somewhat affected my usage of the liner especially towards the end of its lifespan. The brush tip would become drier than it should be. 
Hope Clio can consider redesigning it, provided it gathers (maybe from survey) that many people are commiting the same mistake as I do. :)
---
Recommendation: Should you buy Clio Superproof Brush Liner?
Oh, I absolutely love Clio Superproof Brush Liner and have repurchased it. The price is a little prohibitive, but I thought it was essential to have it in my makeup arsenal. 
If you like an eyeliner that can last the entire day and offer you a defined and polished look, Clio Superproof liner is worth a try. Based on online reviews, I believe the pen liner variant is as good especially if one prefers a wider selection of colours.
Now, maybe liquid eyeliners from other brands are equally good – I will make it a point to try other brands. But until I've found a good one, Clio Superproof liner would be the one that I would fall back on.
Clio has totally converted me into a liquid eyeliner lover and I know I will always have one in my makeup arsenal. Thanks, Clio! Rating: 5/5. 
---
Love honest reviews? If you like to get notified of newly-published beauty reviews and travel stories, just click the button below to subscribe or connect with me through Facebook. See you!
This post may contain affiliate links, meaning I earn a commission if you make a purchase, at no cost to you. Read my full disclosure for more info.
SUBSCRIBE
(Visited 645 time, 1 visit today)