Feeling worried and panicky over the Coronavirus pandemic? Since late January 2020, all of us have been living a very different life – a disrupted one – all thanks to Covid-19. Although I have been quiet on this topic over here, my instagram stories are filled with my live opinions, which I couldn't resist sharing.   
Two months after the outbreak, a second wave of panic swept through Singapore and that prompted me to work on this post, which would summarize how the events unfolded in Singapore (and the world). Let me walk you through the events, including what I've shared on my Instagram stories during each stage of the development.
In case you don't make it to the last paragraph, please remember one thing – stop travelling for the time being if you can. 
> MUST-READ: Singapore is now in partial lockdown! What happened? 
---
Coronavirus in Singapore: How it happened? 
1. 23 Jan 2020: Outbreak Declared
I made my first post on Covid-19 (then known as the "Wuhan Virus") on the eve of Chinese New Year. 
A day before – on 23 Jan 2020 – China finally made it clear on the severity of Coronavirus and took a bold step to lock down Wuhan City. No one in that city with a population of 11 million people could enter or leave.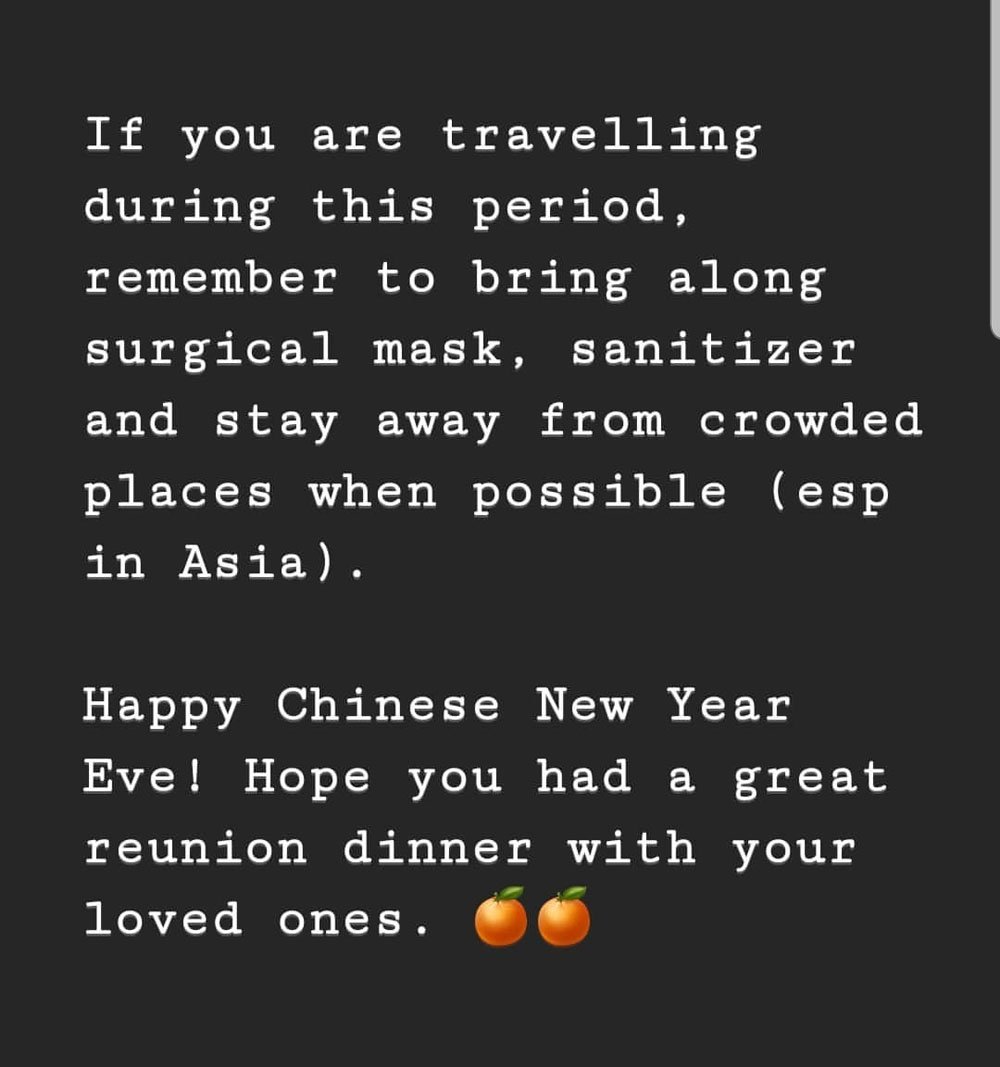 First Coronavirus Infection in Singapore
23 January was also the day the first covid-19 case was detected in Singapore. 
Since most cases in the first few weeks were imported from China, we carried on our life as usual in Singapore. People weren't overly-concerned and our daily life weren't affected by much, except to refrain from travelling to China.
2. Late Jan: Drugstore Items Hoarded in Singapore
I was having a staycation in Johor in late January. When I returned, I was surprised to see that all surgical masks in Singapore were sold out. I only had 4 pieces left from my personal "stockpile", and activated one when I needed to pick someone up from the airport.
Then, I recalled an article that I'd read a few days ago. Someone who was interviewed by a local media said, "We shouldn't be selfish and hoard masks. I've only sent a few boxes of masks to my family and relatives in China."
Indeed, the situation was quite acute in China, and they definitely needed the masks more than we did at that point in time. I believe the person who was interviewed wasn't the only foreigner who sent home boxes of masks to their loved ones.
Singaporeans probably also started stocking up masks during the same period, and this resulted in a huge demand-supply gap. 
In Singapore, we only use masks when feeling unwell
Although I wasn't able to replenish any masks, I still have 2 pieces left as of today (20 Mar 2020).
That's because in Singapore, we only use a mask if we are unwell. As such, millions of masks can be saved daily and put to better use in places that need them more, such as in the hospitals.
What else were sold out in Singapore? 
On top of masks, I'd read that hand sanitizers, alcohol swipes and thermometers also ran out during this period.
Coincidentally, my dad who was hospitalized for Pneumonia in Aug 2019 (he had a foreign object in his lung then) started developing a mild cough. To isolate the cause, I went out in search of a thermometer, but couldn't find any islandwide.
All were sold out.
In the end, my brother had to personally send over his personal thermometer to my parents.
3. Observations (Feb): Change in Social Behavior
On a social front, I noticed some behavioral changes in Singapore since February 2020. Here's what I've posted on my instagram stories then:
Were People's Mood Affected by Coronavirus (in February)? 
I did a poll on IG story and asked the readers if their mood was affected by Wuhan Virus (now known as Covid-19). That was just two weeks after the coronavirus outbreak, in early Feburary.
Most said they weren't affected.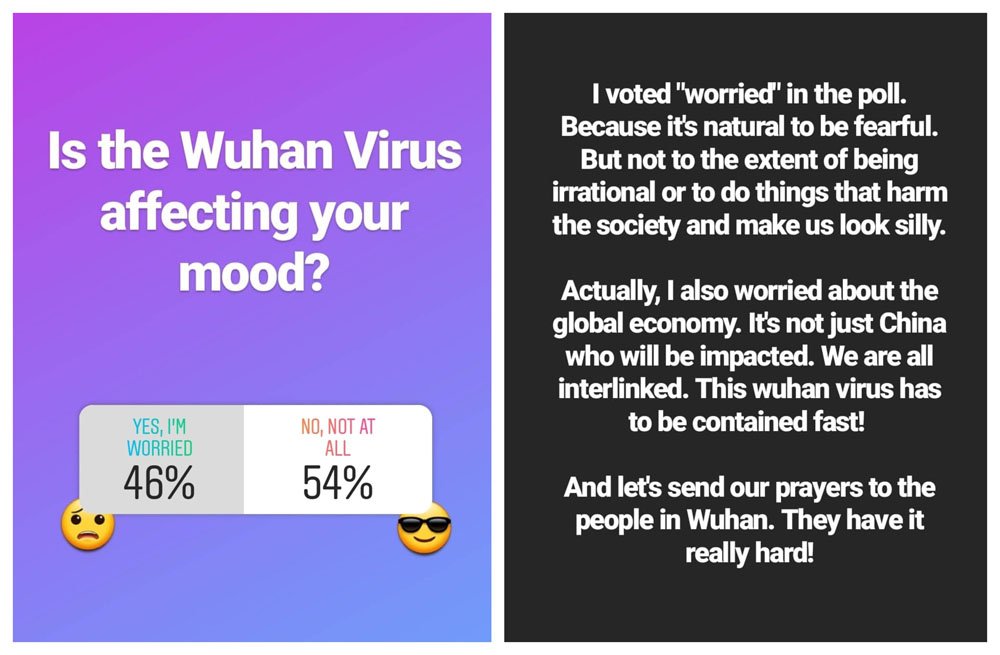 But I was. 
I wrote about how I was worried about what this could do to the global economy. Supply chains, human flows, businesses and the global economy could be affected. Business could fold and people could lose their jobs.
Unfortunately, that came true a month later, in March 2020. And it was worse than what I'd expected as I never thought covid-19 would evolve into a pandemic.
4. Early Feb: Grocery Snatched Off Shelves in Singapore
On 7 Feb, Singapore raised Dorscon Level to Orange. DORSCON stands for Disease Outbreak Response System Condition.
Orange, the second-highest level means that the disease is severe and can spread easily. At this level, a stricter set of responses would be put in place, such as implementing temperature screening and quarantine. 
At the time when DORSCON Orange was activated, there were only 33 confirmed infections in Singapore and these include the imported ones. However, people in Singapore panicked and started offloading daily essentials from supermarkets.
The widespread fake news and rumors floating about didn't help either to alleviate the hoarding behaviour. 
Deeply Repelled by Hoarding Behavior
To be blunt, I was and am still disgusted over hoarding as I see it as a self-harming and selfish behaviour. It only takes one group of people to wipe clean the shelves to trigger a domino country-wide panic. 
Even those who weren't selfish would be forced to take action if they want to "survive". Then the fake news of supply shortage would become a fact due to self-fulfilling prophecy.
I recalled that at that point in time, my household was left with 3 rolls of toilet paper. We didn't panic as toilet paper never ranked the same as food and water in our dictionary. There are many ways to keep the ass clean, fragrant and shiny! :) 
I tried to do my part, no matter how small it was, to guide behavior and ease panic. And was happy to see a few highly-influential sites such as SGAG and SGBusleh doing the same. 
Stocks Replenished in Singapore, but Prices Increased
With Government's assurance and warehouse footage showing ample supplies, Singapore residents finally stopped hoarding within a week. 
The goods were back on shelves, but I noted that most prices were higher (at least in the initial week). This is one reason why I said hoarding is a self-destructive behaviour. Not only does it give suppliers the reason to raise price, it can also result in major inconvenience and dysfunction of the community.
For instance, I read that a mother couldn't find milk for her baby because another person probably bought a year's worth of powder. Another person who was diabetic couldn't find alcohol swipes for his daily insulin injection because someone bought loads of it to "sanitize" table.  
I hope you agree with me that these are selfish behaviours that can harm the society.
5. Mid-Feb 2020: Calm restored in Singapore
In the next two weeks, calm returned as I hardly noticed anyone wearing masks.
Supermarkets were fully stocked up, and the number of cases in Singapore were well under control. Most new infection cases could be linked to existing clusters, and we felt safe in our community.
During this time, Singapore together with Hong Kong and Taiwan were often cited as role models in terms of how we responded to the Coronavirus threat.
Confidence in Singapore's Response to Covid-19
Even though we were ranked as the country with the second-most infections for the first month, I was not worried. Because, I understand the way Singapore works – transparent, well-prepared, organised and effective.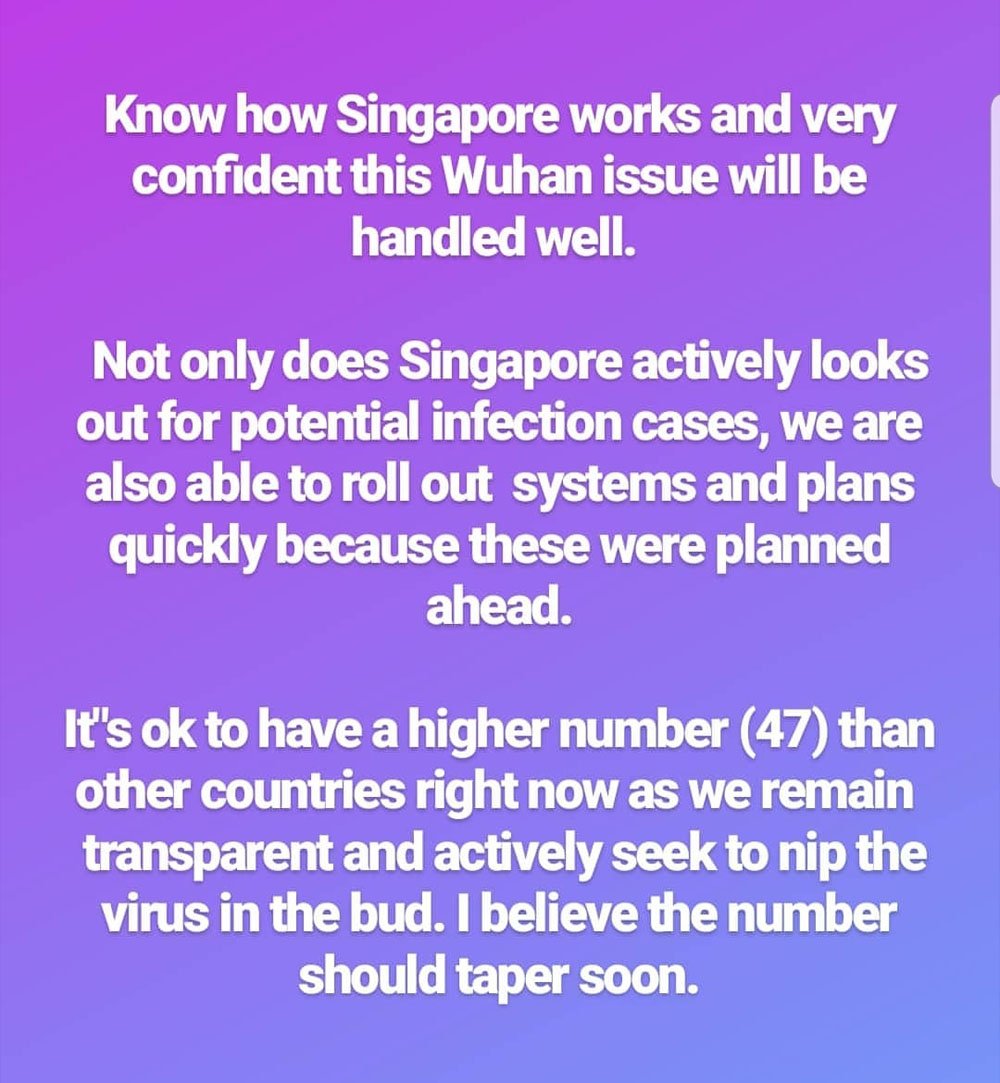 When we went all out to find "infected cases" through very thorough contact tracing (including tapping on police's investigative skills and technology), we were bound to see higher numbers. Ranking high on the infection list didn't matter as long as we know our community is truly safe.
In fact, the high number during the initial outbreak may just mean that we were more effective (and serious) in our response. 
Update (20 March): We are now ranked 33th, while many countries which initially reported low or zero cases have moved up the rank.
Majority would proceed with travel plans (as of Feb 2020)
I did a poll then and asked the readers whether they would cancel their travel plans. Majority said no. 
As for me, I was keeping my options open to see how things would evolve. Although I was actively researching and making hotel bookings for my trip in March/April, I made sure I chose the "free-to-cancel" options (I did cancel the trip eventually). 
Did Singaporeans stop outdoor activities, such as jogging?
The covid-19 outbreak did not stop Singaporeans from staying active. Because the information we relied on told us the virus transmits by way of droplets, not air.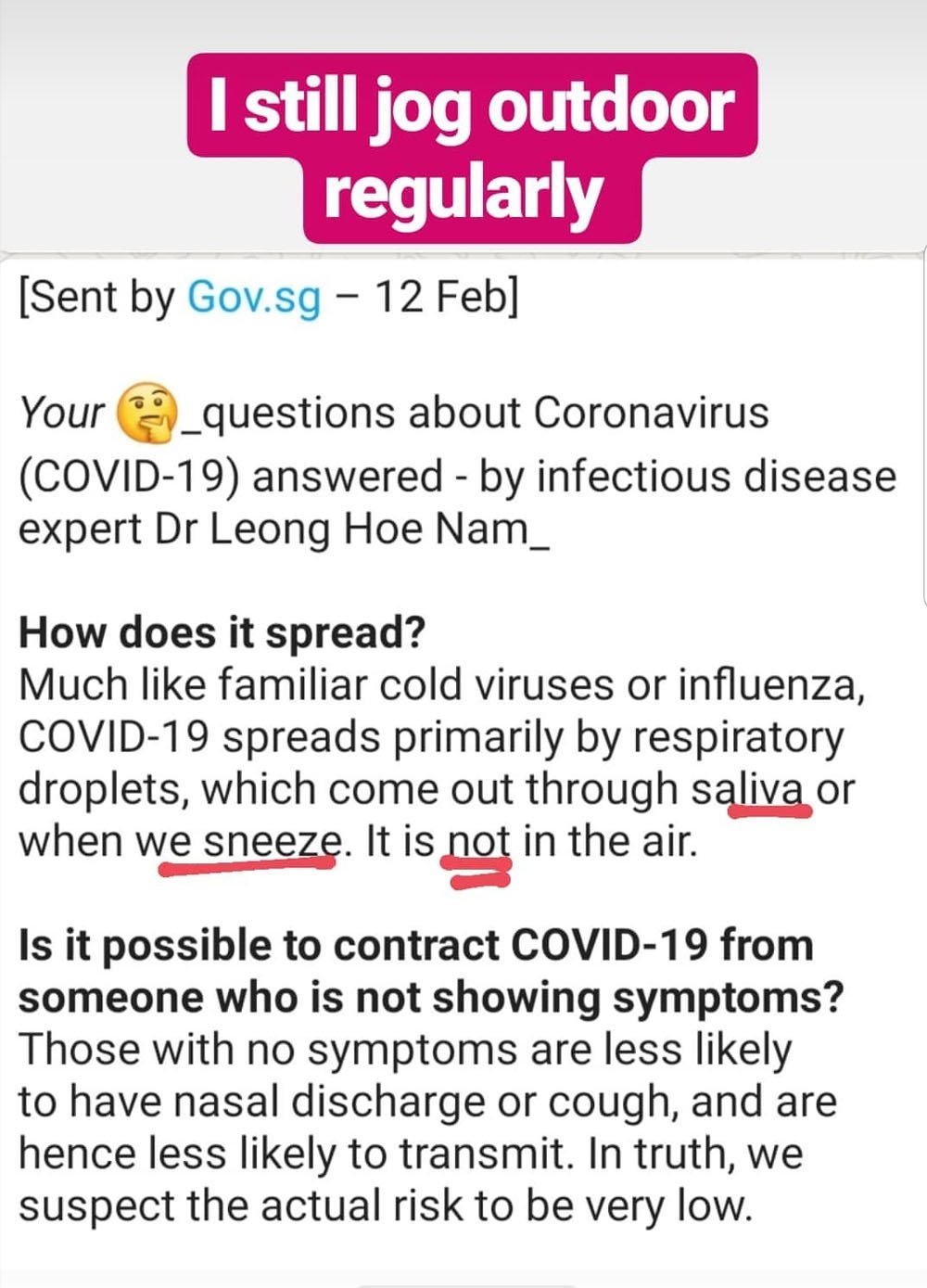 A few days ago, a new study suggests that the coronavirus could stay in the air for several hours. But it also says that the virus is unlikely to spread in this way outside of health care settings.
Hence, I will continue to jog outdoor until I'm advised not to. Do note that this applies to Singapore's context where we generally feel safe in our community. 
> RELATED: 30 Days Slim & Fit Challenge (March – April 2020)
6. Late Feb: New Virus Hotspots in Korea, Iran & Italy
In late February, China was stablising, seeing fewer new infection cases each day.
Just as we thought life would return to normal soon, new hot spots started sprouting quickly in Korea, Iran and Italy. A few hundreds (and then thousands) of new infections were detected each day.
In spite of that, people in Singapore remained calm as their lives were not significantly impacted.
7. Early Mar 2020: Worsening of Outbreak in Europe
A few weeks later, Korea started seeing results from its aggressive and effective containment efforts. However, the situation in Iran and Italy continued to worsen. 
Worse still, other European countries started seeing a huge surge in infection cases. 
At home in Singapore, we were still not significantly impacted by the developments. I even saw sanitizers and masks returning back onto the shelves.
> RELATED: Covid-19 has truly divided us – not referring to social distancing
8. Mid-Mar: Surge in Coronavirus Infections in US
Based on online comments that I'd seen on US portals as early as in February, such as this one, I am not surprised of the current surge in coronavirus infections in the United States. 
The majority or at least half of those who commented thought of the virus as just another flu. Some said the media was overreacting and sensationalizing things. Those who tried to correct their views didn't succeed.
There was also a political element to the discourse, which I believe you guys know what I'm talking about. Sadly, I felt that the leader had not guided the citizens in the right direction during the most critical period. It was all about him, his trump-bump and him winning the next election.
Top US Travel Blogger was infected 
Two weeks ago, I received an email from a top US travel blogger (whom I've subscribed to). The general message was his belief that it was okay to travel as long as one practises proper hygiene and choose the right travel destinations. I later learnt that he was infected with coronavirus. 
In his latest update, he shared about his difficulties in getting himself tested in the US, which you can read about over here. The blogger has since informed his email subscribers to limit or stop travelling.
It is a good thing to hear about the changed sentiment in the US.
9. March 2020: Majority of infections in Singapore were imported
In the past one week, Singapore saw a surge in cases with majority being imported infections. Every day for the past one week, we are seeing record high number.
For instance, out of the 47 new cases yesterday (18 Mar), 70% were infected overseas. Most of them came from Europe, US, Indonesia, Philippines, Thailand and Malaysia.
I wrote the following IG posts then as I was upset that our efforts were being undone by neighbours who weren't serious in containing the coronavirus. Some had apparently visited hospitals in their home country before arriving in Singapore. 
Didn't their hospital pick up the infection?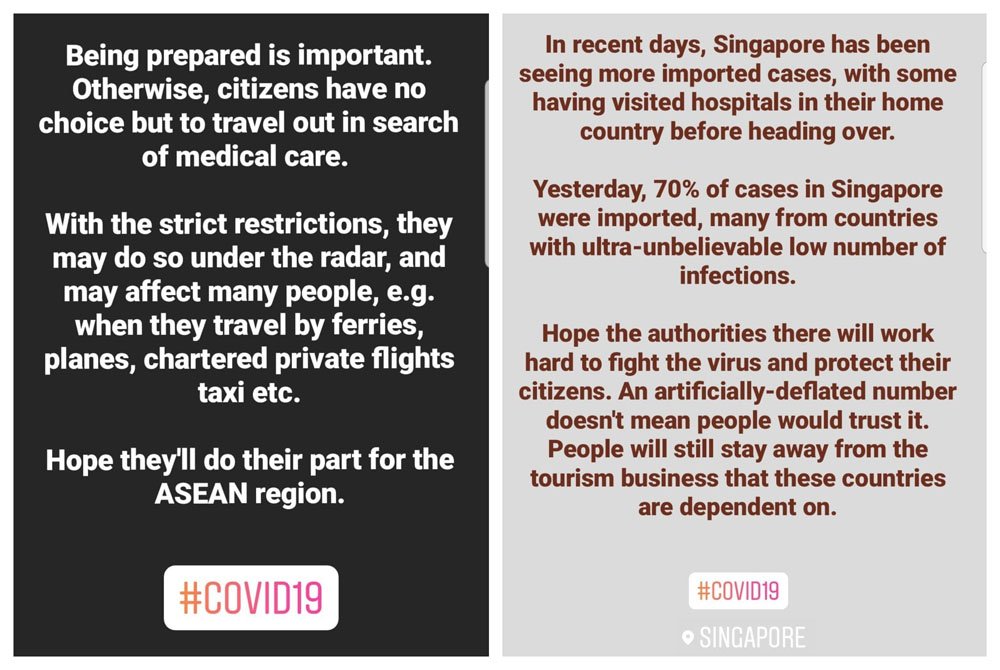 Strict border control imposed by Singapore (includes ASEAN)
A few days later (16 March), Singapore imposed strict border control which to my surprise, included those from ASEAN countries. Even our closest neighbour, Malaysia is included if they enter Singapore by air.
During this period, Malaysia experienced a big surge in infection cases due to a religious event held in Kuala Lumpur. 
This was an unexpected development as the official infection numbers in ASEAN was very low (we were the highest). As guessed by most, the low numbers may be due to a lack of testing. Therefore, when they enter Singapore, we picked it up because we did the testing.
I believe the main reason for imposing strict border control was to stop the influx of infected cases coming over to Singapore, some of which were to seek medical treatment. As at time of writing, Singapore has yet to report any death. This low death rate may have propelled some to head over for medical treatment.
No Death Rate in Singapore? We have constantly been advised by the authority that death is inevitable. As much as we try our best to keep patients alive, we can't defy science. So, it may just be a matter of time.
Pissed off with leaders of one country
While I genuinely believe most ASEAN countries didn't intentionally hide figures, I was rather pissed off with one country which reported the first infection only months into the outbreak.
The cavalier attitude from the ministers who gave vague and non-scientific information and advice has probably caused the situation to worsen. For instance, the Bali authority wasn't aware that the first coronavirus death originated from its island. They weren't informed because the ministry thought people would panic if they get too much information.
But shouldn't people get a little nervous so that they can do what is needed to protect themselves?
If Bali authority didn't know, how do they initiate the disinfecting of hotels or places the first victim had been to, or quarantine people she'd come into contact with? 
People were also told that a herbal drink may ward off the covid-19 virus. Who advised that? Read it HERE. 
I think such statements or non-disclosure of information could mislead the citizens and tourists, and give them a false sense of security. In fact, many Chinese had mentioned earlier that they wanted to stay in Bali instead of returning to China.
Update: In recent days, Indonesia was finally seen as being more serious in its containment effort. I hope it's not too late, and wish them success.
10. Mid-March: Second Wave of Panic in Singapore
One day after Singapore issued strict border control from its neighbors, Malaysia announced that it would be locked down for two weeks. No one can enter or leave Malaysia.
This, while drastic, may help flatten the coronavirus curve quickly. I wish them success and hope everyone can follow the order so that the lock-down would be effective and wouldn't be extended. Being locked-down for too long can affect a country's economy and indirectly impact job security. 
Mini-Hoarding of Supermarket Essentials
In Singapore, this unprecedented move created a second wave of panic. With a significant portion of our daily essentials coming from Malaysia, Singapore residents were concerned if they could get their food and supplies.
Even when the Government assured them that we have enough to last us through the lock-down period, or Malaysia's assurance that flow of goods won't be affected, Singapore residents could be seem piling up goods from the supermarkets. 
Thankfully, the hoarding behavior was less intense as the first wave as we didn't see crazy trolleys filled with mountains of instant noodles, rice, biscuits and toilet rolls.
Observation: I saw many domestic helpers carrying toilet rolls and wonder if their owners felt too ashamed to be seen doing the hoarding and hence sent their representatives to make several rounds.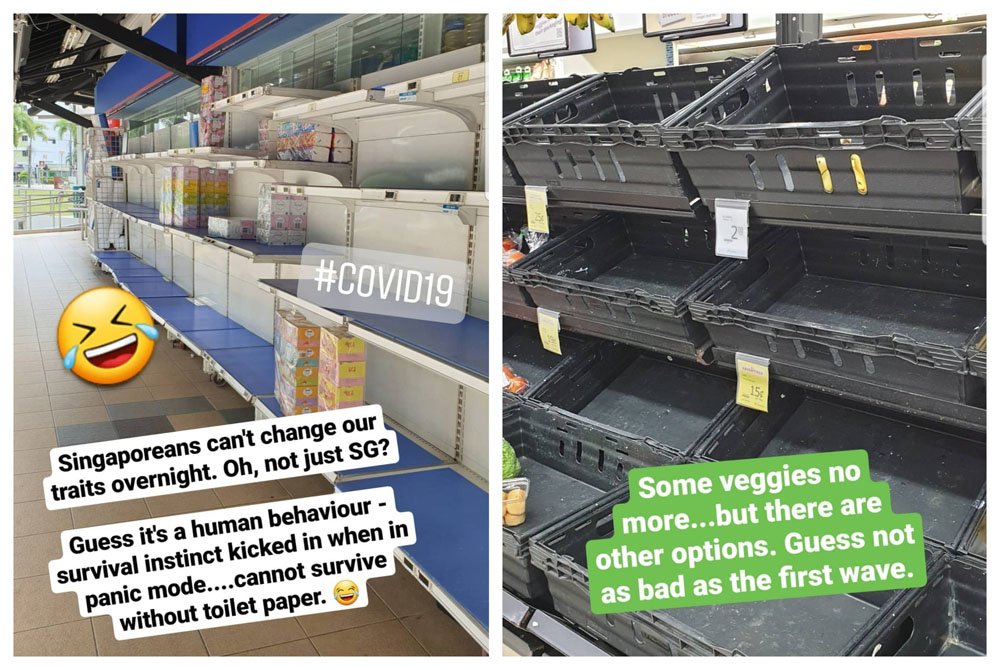 Growing Fear, but Live Life as Normal
In Singapore, people still carry on life as usual, but the mood feels heavier right now. Although most still do not wear masks (as recommended), I see a higher percentage who do, compared to a week ago.
But nothing was affected, other than travel and big-group gathering. People go to work (some remotely), attend school, exercise, shop and dine. As long as we hang around within the non-touristy areas, we generally felt safe.
Even though I'm often a contrarian, I haven't been to the airport for close to two months, which says a lot about the current mood in Singapore.
11. Latest Development: Singapore urging overseas students to return
Due to the worsening situation in the West, the Singapore authority issued an advisory on 17 March 2020 to encourage Singaporean students who are studying overseas to return. As such, we have been told to expect more imported cases in spite of the strict border control. 
It's good to hear how the Singapore government leaves no one behind! 
> UPDATE: Here's what happened to Singapore in April 2020 – we entered a lockdown
---
How to Keep Coronavirus at Bay?
The situation is still evolving, or should I say, worsening. And WHO has advised that the next hot spot could be South East Asia. It's no doubt a very difficult period for almost everyone.
Let's stay positive and do our part to keep this virus at bay by doing the following: 
Practise good personal hygiene
Refrain from travelling
Stay home if unwell
For countries under lock-down, stay home so that the lock-down would be effective (and not extended)
Get your news from reliable sources
Do not spread unverified news
Don't hoard! 
---
Why am I still posting travel articles? 
I will continue to share both beauty and travel articles over here. Please do not take this as an encouragement for you to travel. If it's unclear, please do not travel! 
The travel articles that I would continue to post are my travelogues and backlog diaries. These are contents I like to build into my archive so that they get picked up by Google when people are able to or in the mood to travel again.
You can also treat the travelogues as entertainment pieces to kill your boredom, in case you are stuck at home. 
Thank you for reading, and I wish everyone the best of health. Let's get through this together!
(This post was published on 20 March 2020)
Pin This!
This post may contain affiliate links, meaning I earn a commission if you make a purchase, at no cost to you. Read my full disclosure for more info.
(Visited 136 time, 1 visit today)