Welcome to a new travelogue! This post will kick-start our 2-Week Osaka Trip where we spent Day 1 making our way from Singapore to Osaka, and then spent the rest of the night checking out Dotonbori.
Enjoy our Japan story which will include lots of tips! If you just like a quick glimpse of our 15-day Osaka itinerary, check out the summary posts below:
READ:
Without any further ado, let us begin from when we were at Singapore Changi Airport, about to board our flight to Osaka.
---
Day 1: From Singapore to Osaka 
The reason why we decided to visit Japan again so soon after our Okinawa trip was because of a great deal we spotted off Scoot airline's website.
During the time of our booking, Scoot airline was plagued by numerous negative news, mostly related to disruptions. This might be the reason why ultra-attractive promotions were offered to boost demand.
We paid just S$260/pax for a round trip ticket from Singapore to Osaka, and this includes top-ups for baggage and meals. Not only was this a direct flight on a big airplane, the departure timing was also very favorable, at 10.20am. Yep, it's not the red-eye flight typically associated with cheap tickets from budget airlines.
With a lovely departure timing, we could dilly dally at the airport, enjoy a relaxing breakfast and shop at the DFS shops.
Breakfast at Singapore Airport 
I'm not sure about you. But for all of our trips, we would never miss a chance to dine at the Singapore airport before flying off. It sets the vacation mood right and not to forget, Singapore Changi Airport is quite an awesome place to be in. There's a reason why it's ranked as the world's best airport for years. 
So, what's for breakfast today?
We chose a bright and airy spot within the transit area and enjoyed Curry Bee Hoon and Teh C (rice vermicelli and milk tea) from Curry Times while watching planes land and take off. A cool dining experience, isn't it?
My meal cost just S$6 per pax. Who says dining at the airport has to be expensive?
Experience On Board Scoot Flight (Singapore to Osaka)
(10.20am, GMT: +8)
Soon, it was time to board our flight to Osaka. Despite the negatives news surrounding Scoot airline, our flight departed and arrived on time with no hiccups, except for a less-than-satisfactory meal. 
I've a separate post written on my experience on board Scoot Airline TR804 (SIN-KIX). Check it out if you are considering using this airline to get to Osaka!
> READ: Review of Scoot Airline from Singapore to Osaka (Direct flight TR804)
6 Hours Later: Arrived at Osaka Kansai Airport
(5.30pm, GMT: +9)
By the time we landed at Kansai International Airport after a 6 hours flight, it was already 5.30pm local time (see airport location). 
TIP: Osaka's GMT is +9. Set your clock 1 hour faster if you are coming from Singapore. 
From there, we had to take an airport shuttle to reach the main terminal, join a long (but efficient) queue to clear the immigration before collecting our luggage.
We emerged at the arrival hall of Kansai International Airport at 6.15pm. Not great as this meant our commute to Osaka City Centre would coincide with the peak hours office crowd.
Luckily, we'd pre-booked an express train ride to Osaka city which would make peak hours travelling a lot easier.
Note: We arrived in Osaka on a Monday.
---
A Comfortable Journey from Kansai Airport to Osaka City 
(6.15pm)
At the arrival hall of Kansai International Airport (T1), we collected the various Japan transport tickets that we had pre-booked online which included the following:
The first ticket that we utilized was YOKOSO Osaka Ticket, which is a bundle ticket comprising of an express train ride to the city, a one-day unlimited subway/bus transport pass and discounts to many tourist attractions in Osaka.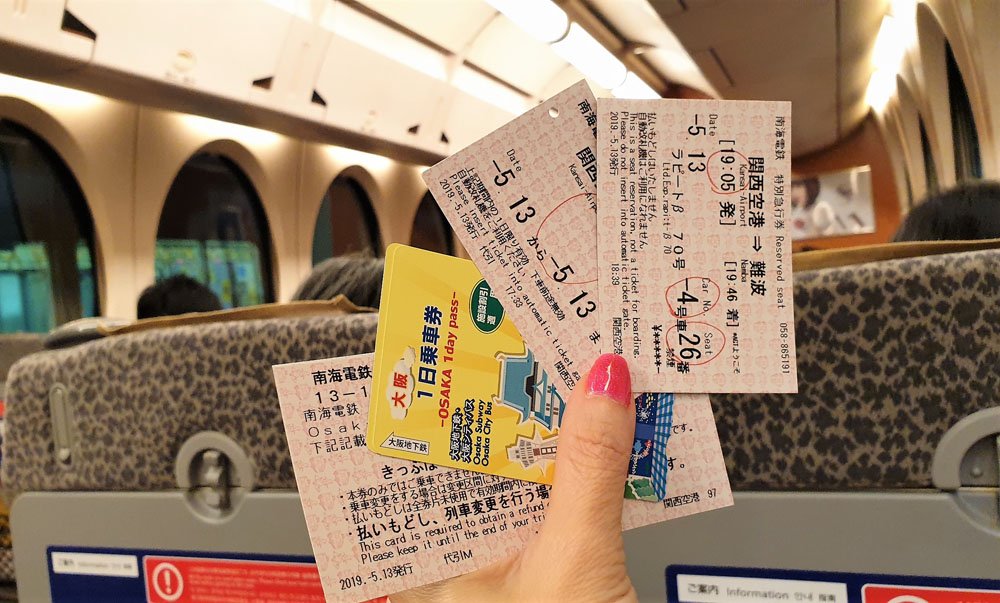 You can check out my review of YOKOSO Osaka Ticket in which I've included information on how to collect the ticket and find your way to Kansai-Airport Station. I highly recommend this transport pass because of the great value it offers. The free one-day transport pass alone helped us saved lots of money on Day 2.
Alternatively, you can also consider an Airport Limousine Bus which works great if you are travelling with elderly and kids. However, do note that it doesn't come with any free subway transport. I used it during my return trip to the airport and was happy with the hassle-free experience. Here's a review of my Airport Limousine Bus experience.
TIP: How to save more money? Check out Osaka Amazing Pass that gives you entry to over 50 attractions in Osaka. To top it off, you also get unlimited subway rides using this pass.
Guaranteed Plush Seat on a Rapid Train
(7pm)
Even though we traveled during peak commuting hours, the ride was comfortable all thanks to the Rapi:t Airport Express which offered us guaranteed seats (see location of Airport Train Station) .
The seat was so spacious and comfortable that I wouldn't mind if the journey lasted longer than the 40 minutes it took to get us from Kansai International Airport to Osaka City Centre.
TIP: If you only need an express train ride without the bundles that YOKOSO Pass comes with, check out Rapi:t Airport Express. 
---
Getting from Namba Station to Our Hotel in Osaka
(7.45pm)
We'd intentionally booked a hotel that is within walking distance to Namba Station. By right, it would take just 5 minutes to walk to Ookini Ota-Road Apartment. However, since we were lugging heavy luggage and this was our first attempt navigating through the complex train station, we took slightly longer. 
TIP: There are at least three Namba stations around, each of them serving different train networks. The Nankai-Namba station that we alighted (from airport) was the southernmost station. Other stations such as Osaka-Namba and JR-Namba are located about 200 metres away. 
Did you know that we ended up in the middle of a departmental store when we came out of an elevator taken from the train platform? LOL!
Checking into Ookini Ota-Road Apartment in Osaka
(8pm)
Checking into our hotel in Osaka – Ookini Ota-Road Apartment – was a quick and effortless affair, all thanks to the clear self-check in instructions given days before arrival. 
We love the room which is considered spacious in Japan. At less than S$100, we couldn't ask for more, especially when it also comes with a free pocket WiFi. Here's a short review of my experience at Ookini Ota-Road Apartment.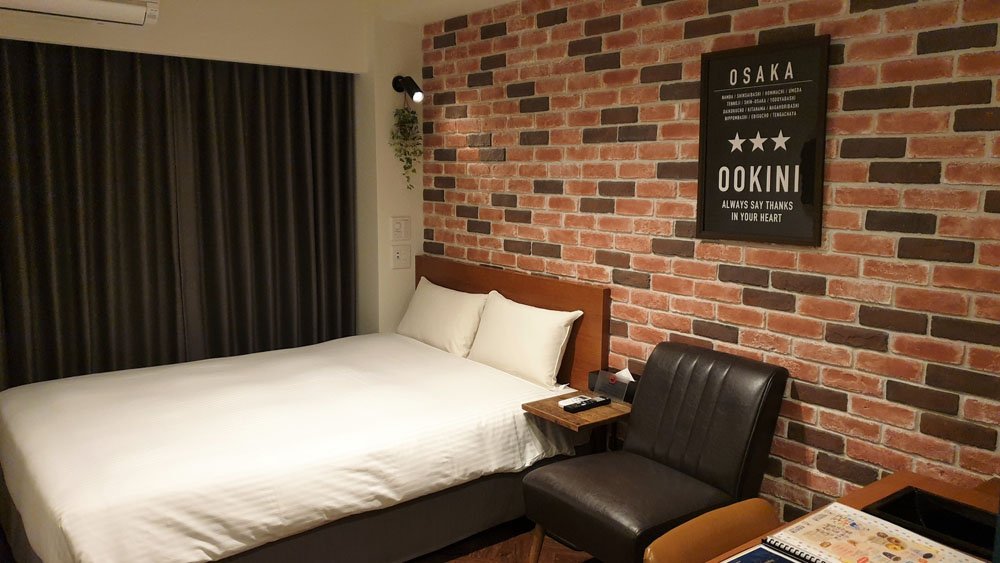 ---
A Short Stroll from Ookini Hotel to Dotonbori
(8.30pm)
After resting for half an hour, we set off to explore places in Osaka that were still opened. Actually, our choice was limited as most shopping malls in Osaka close by 9pm.
Dotonbori seemed to be the only place we could venture to at this hour. No problem, we hereby dedicate our first night in Osaka to Dotonbori. A 15 minutes stroll would get us there. 
Along the way, we passed by Nankai-Namba train station before entering a sheltered walkway cum mall known as Ebisu Bashi-Suji Shopping Street (view location & shopping map). This street extends from Takashimaya Osaka all the way to Ebisu Bridge (Glico Man), making our journey to Dotonbori interesting.
There were many tourists as well as commuters who seemed to be making their way home after a routine day at work. Sadly, we couldn't do any serious shopping as time was not on our side – we had to get to Dotonbori before the food stalls and restaurants closed for the day.
Finally, we'd arrived at the famous Dotonbori (see location). What a vibrant place it was! 
I have so much to show you about our night itinerary at Dotonbori – will continue in part 2 of this post. Stay tuned! Don't forget to click the button below to subscribe to newly-published honest reviews. As a subscriber, you'll get access to free and exclusive stuff. See you soon!
SUBSCRIBE
---
Related Posts:
Pin This!
(Visited 337 time, 1 visit today)