It's time for my regular VI Precision Peel again. Let me share with you a day-by-day account of the peeling experience. Hopefully, this can help you understand the timeline of events, and plan your days better. That is, if you decide to try it too.
Why VI Precision Peel?
As written in my earlier post on superficial Lactic acid peel, there are different reasons why people do a chemical peel.  Chemical peel can be used for concerns such as fine lines, scars, pigmentations and enlarged pores. My main motivation of having VI Peel is to rejuvenate my skin and to minimize my pores. 
So, what is VI Peel?

 
To put it across succinctly, VI peel is a medium-strength peel that can effectively reach a deeper layer of the skin than superficial peels.  When your new skin is reborn after about 7 days, you will see a marked improvement to your skin texture. You will look more radiant and less dull in just one application. But scars, wrinkles or pigmentation problems will require a series of treatment.
VI peel gained its popularity when many famous celebrities were reportedly using it. VI peel differentiates itself from other medium peel (e.g. TCA) as a painless peel that is suitable for all skin tones, and requires no preconditioning. You can find loads of information on what VI peel is all about. So I shan't bore you with the details.
---
Day 1 – The Adventure Begins: VI Precision Peel
I visited my favorite clinic, Cutis Medical Laser Clinic, which is located at downtown Orchard Road – yes, this is the most famous shopping belt in Singapore.
This would be my fifth peel  – I'd previously done the regular VI Peel thrice in year 2013. And this year, I moved on to VI Precision Peel, which is 25% stronger than the regular VI peel.
Based on my first attempt with precision peel early this year, I found it to be more effective in fading hyper-pigmentation than the regular one. I was also pleasantly surprised to discover for myself that precision didn't give me more pain or peeling. This is contrary to the online reviews I had read, and I'd worried for nothing.  Maybe I'm less sensitive to chemical?
Prepartion of VI Precision Peel
This used to be done by the doctor personally. However, Dr Sylvia Ramirez must have been assured by now that my skin can take the peel quite well. Or maybe her friendly aesthetician is now well-trained enough to perform solo. 
Fan, the aesthetician, applied some Vaseline along the sensitive areas, such as corner of nose, lip line and lash line. She then degrease my face with acetone, before handing over a handheld-fan which I use to get rid of the awful "polish remover" smell. The fan was also supposed to minimize any discomfort arising from the application of the acid.  
---
Applying VI Precision Peel
Fan applied three layers of the VI Precision peel on my face. I kept asking her why there wasn't any pain at all. I absolutely felt nothing.
I might have felt slight tingling during my first few attempts with VI peel. But on that day, it was unbelievably painless. I'm still scratching my head.
Pain Level = 0/5
She then wiped my face with a post-peel towelette containing retinoic acid and vitamin C. Once she was done, I looked into the mirror. My oh my, I looked yellow or sallow, and I smelled real bad. The chemical smells like well…maybe something close to perm solution or formaldehyde. 
Ok. I could have exaggerated. I did not attract any weird looks from passersby. I just didn't like how my skin looked haggard due to the yellowish acid that was applied on my face, and the odour I carried. 
---
One Hour Later
Here's how I looked like an hour later. The solution was still on my face. I was supposed to leave it on for five hours.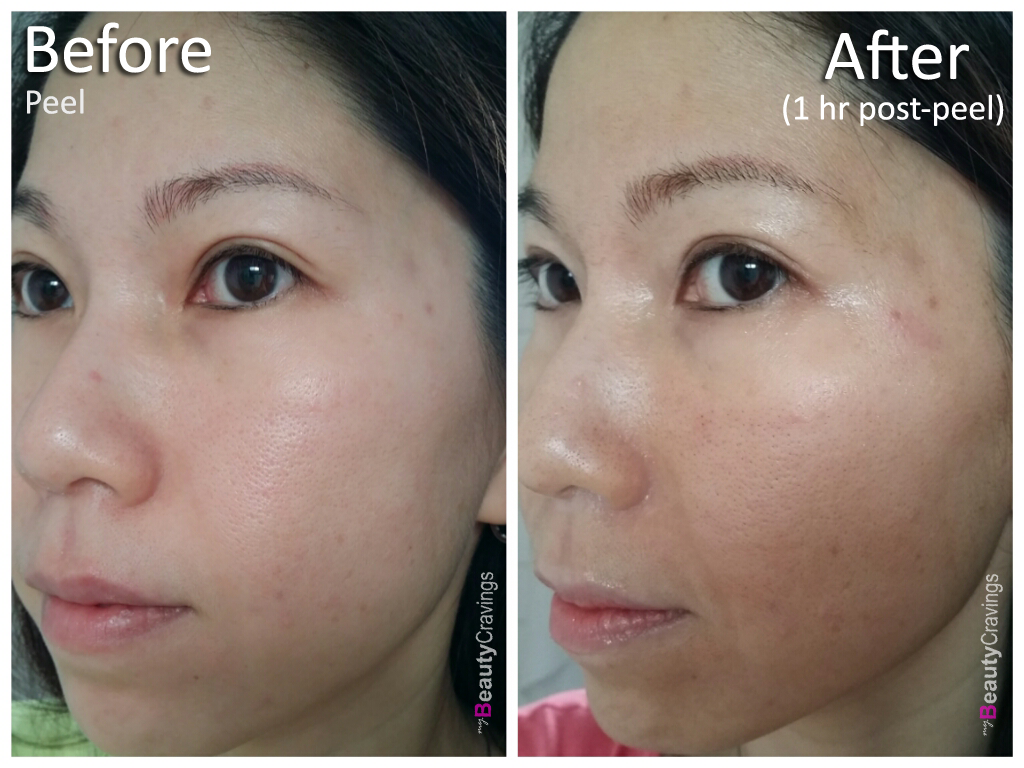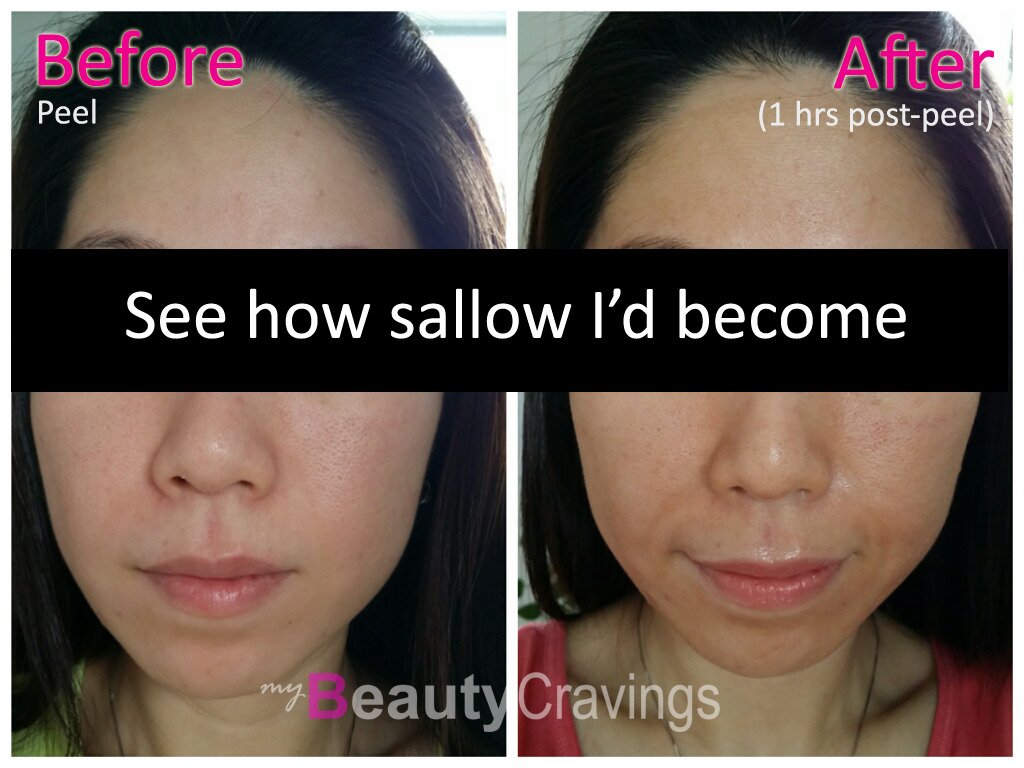 You can still see the left-over vaseline on my lip lines. And somehow, this liquid made my nasalabial folds more prominent.  
---
Five Hours Later
My face started feeling slightly itchy at exactly the 5 hours mark.
Itch Level = 1/5
After washing off the acid, my face felt warm. Glancing into the mirror, I saw a lobster staring  back at me.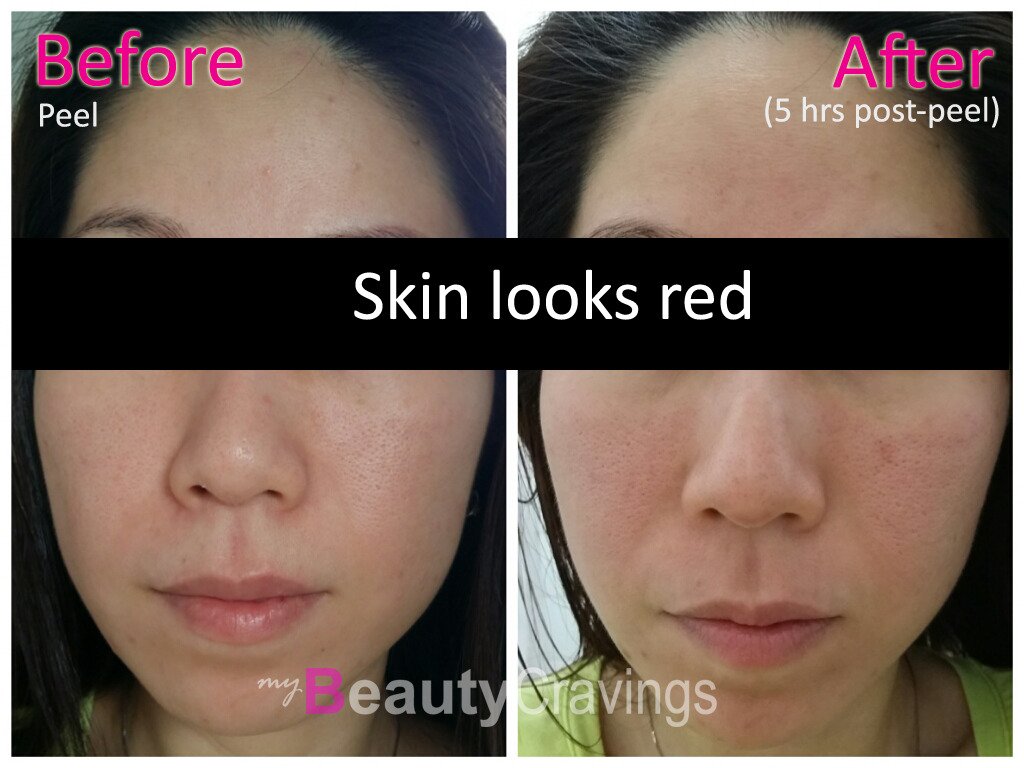 ---
The VI Precision Peel Kit
The treatment came with a take-home kit containing:
Post Peel Protectant

VI Peel Towelette (2 pcs)

SPF55 Sun Protection

Hydrocortisone

Loratadine 10mg tablet (3 pcs)

Day-by-Day instructions
---
One Hour Before Bedtime
An hour before bedtime, I cleansed my face and dried it thoroughly. Then I used one of the towelette and rubbed it vigorously over my face.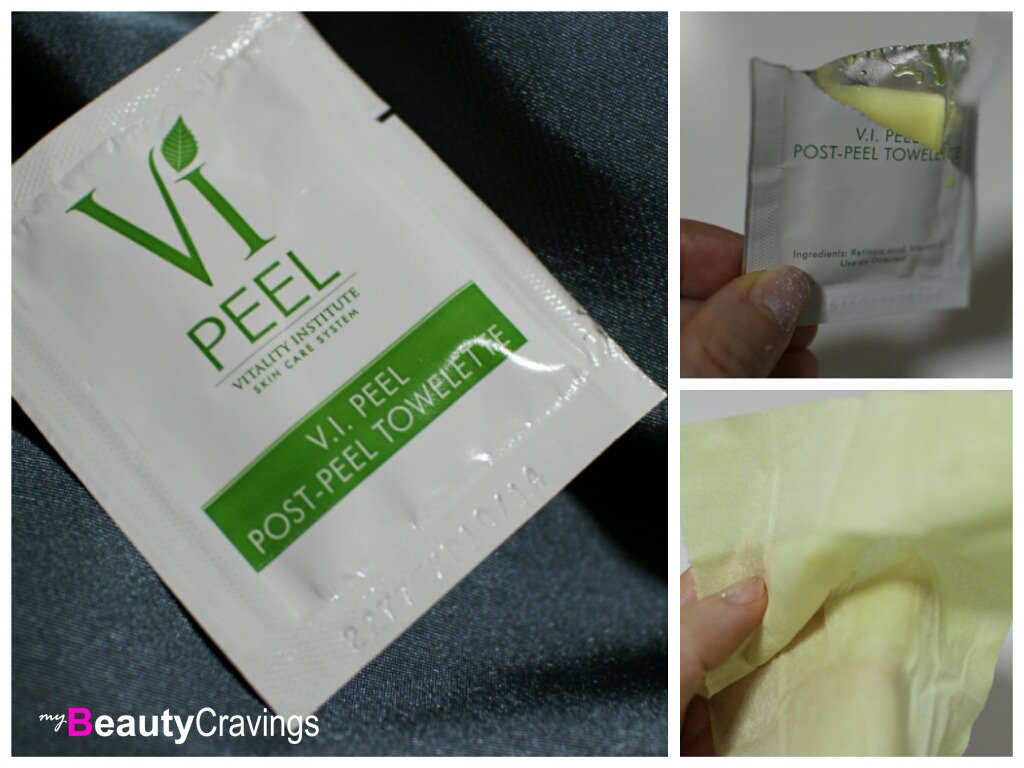 From then onwards, my face started to feel warm like how one feels after a sun-tanning session.
I was told that there wasn't a need to use the post peel protectant on Day 1, unless I felt unbearable itch or discomfort. If that happens, the sequence of usage on a need-basis would be:
> Post-Peel Protectant
>  Hydrocortisone
> Tablet 
---
That's all I have to share on Day 1's experience with VI Precision Peel.

Love honest beauty reviews? If you like to get notified of my new posts, you can click the button below to subscribe, or connect with me through facebook or instagram. See you there.
Don't miss these:
Day 2 – VI Precision Peel | Life as per normal!
Day 3 – VI Precision Peel | Major peeling begins
Day 4 – VI Precision Peel | Extreme dryness
Day 5 – VI Precision Peel | Don't even think of leaving the house today!
Day 6 – VI Precision Peel | A day of freedom
Overall Review – VI Precision Peel | Results are out
This post may contain affiliate links, meaning I earn a commission if you make a purchase, at no cost to you. Read my full disclosure for more info.
(Visited 8,683 time, 1 visit today)