Hey Peeps, 
How have you been? I've been really busy lately, working on something extremely important. I was shopping diligently everyday and "working overtime" a few days before Black Friday all the way till Cyber Monday (and Tuesday in Singapore GMT: +8). :)
In fact, I was up till 5am on Cyber Monday trying to finalize my USA orders :) It seems to me that Cyber Monday deals were more attractive than Black Friday. Why so? Because I was "forced" to give in to my shopping impulse when the price dropped further on Cyber Monday.
Thought I'll share with you some of the things I've bought, or had intended to buy. If you recall, I did come up with a wish list (and recommended things to buy). This post will show you what I've gotten in 2019 and the price paid. Here we go! 
---
Things I bought this Festive Season
1. Fitbit Versa 2 Health Tracker
I was still sitting on the fence on Black Friday, thinking that my Fitbit Charge 2 was still working fine and met most of my needs. But on Cyber Monday, I couldn't resist the temptation anymore when Fitbit Versa 2 dropped to an all-time low price of just USD129 (it was USD149 on Black Friday).
For info, this price is almost half of Singapore's recommended retail price (RRP: S$318). It's also USD70 off the RRP in the United States. And so, I gave in and ordered a pink Fitbit Versa 2 (petal/copper rose) off Amazon.com.
What a great deal! Can't wait for it to be delivered!
MUST-READ: Things to buy from Amazon that are cheaper
Seems like now I have to shop for more Fitbit accessories such as colored straps and screen protector. Oh, I also need to look for bluetooth sports earphones as Fitbit Versa 2 can hold over 300 songs.
Great! I love it when I have things to buy! That makes life more interesting. :) 
2. Harney & Sons Tea
On top of my Fitbit purchase, I also ordered Harney & Sons Tea off Amazon.com. The two flavors I've ordered are Paris and Chocolate Mint. I've tried Paris in my previous order and love it. Hope Chocolate Mint would be delicious too! :)
For info, Harney & Sons tea come in various forms, such as teabag, premium sachet and loose tea leaves. The one I'm getting are loose tea leaves as they are more premium than a teabag and yet cheaper on a per cup basis. I can also control the strength of my tea depending on my mood.
The only con is the inconvenience when brewing. But you can easily brew loose tea leaves by using convenient tools such as a brewing basket and a tea infuser. Another cheap and good option is Ikea's tea infuser. 
More Tea Flavors at Harney & Sons Official Website
I like getting things from Amazon as it makes delivery a seamless process. However, it does not carry the wide range of tea offered by Harney & Sons. Here's its official website if you like to explore more tea flavors from the US company.
I've previously purchased its Best Sellers Gift Set which include four tea flavors (Earl Grey Supreme, English Breakfast, Hot Cinnamon Spice and Paris).
As you may have guessed, my favorite among the four is Paris tea. And the least favorite is probably Earl Grey Supreme as it's quite different from the Earl Grey flavor I've grown accustomed to.
Anyway, I would likely be doing another round of bulk tea purchase from the website soon. The reason why I bought some from Amazon was to tap on the international shipping fee which I would be paying for Fitbit Versa 2.
It's a combined total of USD8.88 – very auspicious indeed! :)
3. Gel Nail Polish & Accessories
I went on a shopping spree loading up on gel nail polish and accessories even though I haven't even touched my previous haul.
Here are some of the gel nail polish colours I've ordered from Aliexpress.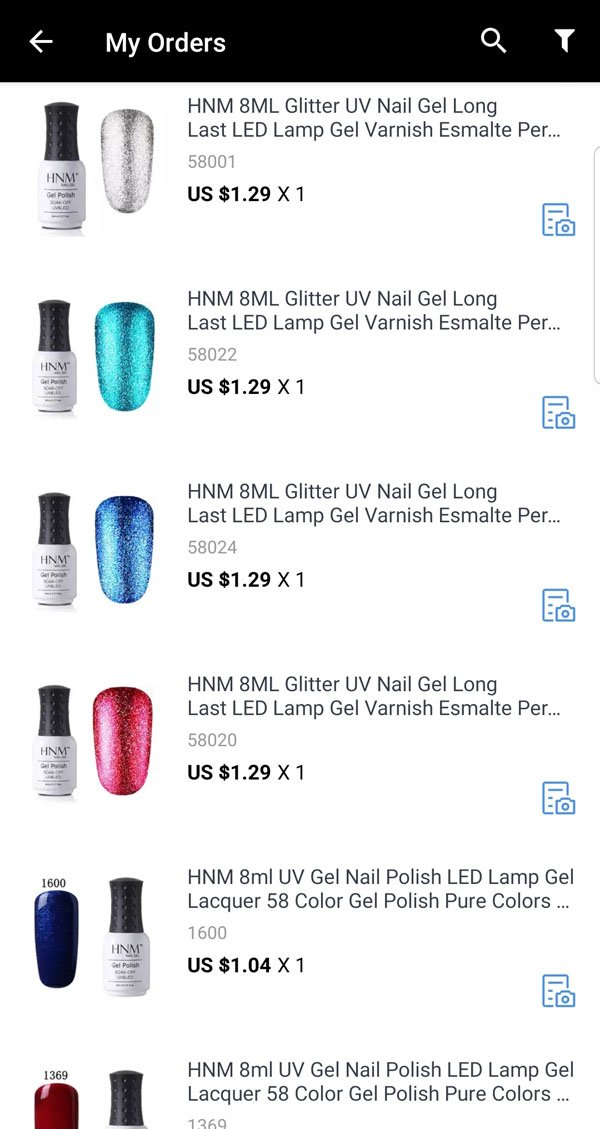 I've also ordered a Tempered Glass Top Coat, which I've never tried before. It's said to be more glossy than a normal top coat. 
And last but not least, I thought it's time to upgrade my LED Nail Lamp and I ordered an 80W SUN X5 Max. Hope it'll reduce the time I take to cure my gel nails – I think it would as compared to my current 36W lamp.
4. Pill Cutter
I've purchased a pill cutter from Aliexpress at just USD0.90, including shipping fee. I seriously wonder how they make money. 
Anyway, I need a pill cutter to cut up my Melatonin pills, which I'm depending on to re-calibrate my bio clock. It was messed up because of this blog as I find it difficult to separate the time spent on work and personal life.
As a quick info, please be careful when following dose instructions by Melatonin retailers. Many sell melatonin at 10mg per tablet. The one I bought was just 3mg per tablet, but it completely knocked me out on my first try. And I remained extremely sleepy until the next evening .
After some research, I realized that the recommended dose for "delayed sleep phase symptom" is between 0.5mg to 5mg. I'm now cutting my 3mg pill into quarters, which makes each dose at just 0.75mg. It works and I've successfully tuned back my bedtime from 5am to 2am within a week. 
I've stopped taking it on consecutive days now as Melatonin has side effects such as grogginess and headache. But it's a great temporary tool to normalize our bio clocks when the need arises.
TIP: You can get melatonin at a lower price HERE than in Singapore. 
5.  Clinique Beauty Haul that I failed to get
I spent the most time on Clinique's USA website but ended up with nothing.
Over a few days (from Black Friday to Cyber Monday), I couldn't view and/or add a particular Holiday Set to my cart. When I did on some rare occasions, some other errors would occur (e.g. items being removed from my shopping cart without any notification).
As I struggled to make things work, many items started getting sold out, including the holiday set. So, I had to give up. :( Apparently, many were facing the same issue based on the comments on Clinique's instagram page.
6. Watsons Deal (in Singapore)
Watson is having a great 12.12 deal as at time of writing with many items up to 50% off. I bought 3 packets of Meiji Amino Collagen at 33% discount. On top of that, there's a further S$18 off any purchase above S$85, plus free delivery for first purchase.
Related: Meiji Collagen Review: Does Collagen Powder really work? 
I think Watsons app and website is one of the more accomplished e-commerce websites in Singapore. Very friendly user interface and frequently updated with promotions. 
---
Wrapping it up
That's all to my 2019 year-end shopping list. I still have a lot more things that I'll be looking to buy (see my wish list) and will add on to this list as and when I get hold of them. 
See, I still have 24 items in one of my shopping carts. Perhaps I would catch the pre-Christmas, Boxing Day and New Year Sales. What a wonderful season to shop! :)
Have you been shopping too? Did you snag any great deals?
That's all I have for you. Let's continue shopping until the end of the year. LOL! Before we part, remember that you can get notified of our new posts by clicking the button below to subscribe. See you in a bit!
This post may contain affiliate links, meaning I earn a commission if you make a purchase, at no cost to you. Read my full disclosure for more info.
Pin This!
(Visited 238 time, 1 visit today)