A year ago around Christmas, I visited my regular aesthetics clinic in Singapore and got hold of a travel kit from Dr. Sylvia Skincare. Comes in a classy beige pouch, the Cutis Travel Kit contains skincare essentials ranging from moisturizer and toner, to even a vitamin C serum.
Unfortunately, I did not get the chance to use the travel kit as the world was suddenly struck by a mega virus. Knowing that it would take a while before we can travel extensively again, I decided to wait no more and started using these travel-sized skincare at home. 
So far, I enjoyed all products within the kit, and fell in love with three of them. Read on to find out more about the products featured in Dr. Sylvia's Cutis Travel Kit.
---
Who is Dr. Sylvia? 
You may ask, "Who is Dr. Sylvia?"
Dr. Sylvia Ramirez is an aesthetic doctor at Cutis Laser Medical Clinics in Singapore, and has been helping women look their best for years. I've personally been visiting the clinic for close to 10 years, mostly for my regular botox session and recently to try out anti-aging treatments such as Ultherapy. 
> RELATED: Botox Review at Cutis Medical Laser Clinics
The main reason why I continue to patronise this clinic after so many years is the professionalism and great customer service displayed by Dr. Sylvia and her team. You can read more about the clinic's philosophy here.
What is Dr. Sylvia Skincare? 
Now that you know more about who Dr. Sylvia is, let's talk about Dr. Sylvia Skincare. This is a line of skincare products developed by Dr. Sylvia and available online at drsylviaskincare.com.
The products are made in US or Canada, and contain "highest quality and concentration of active ingredients that are backed by scientific studies".
"Each product targets skin on a cellular level to ensure maximal benefits for skin recovery, renewal and protection." ~ drsylviaskincare.com 
Ready to take a peep at what's inside Dr. Sylvia Skincare Travel Kit? Scroll on down. 
---
What's inside Dr. Sylvia Skincare Travel Kit? 
Dr. Sylvia Skincare Travel Kit comes with five deluxe-sized skincare products. I'll share a brief review in the same order of how you would use them in your beauty routine. Here we go! 
1. Dr. Sylvia Perfecting Cleanser with Rose Hip Seed (30ml)
I really love the pinkish-translucent cleanser because you don't find many cleanser that's pink in colour. Heh! Aesthetics aside, the Rose Hip Seed Cleanser foams lightly, and I like to believe that it's gentler on dry skin than those that lathers heavily. After washing, my face didn't feel tight or dry.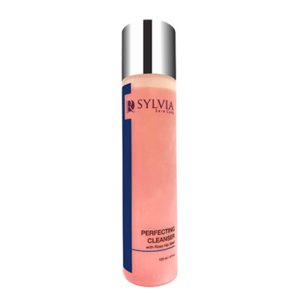 Ingredients-wise, Dr. Sylvia Perfecting Cleanser contains Rose Hip Seed Oil and Seaweed extract, and is rich in Vitamins A and C. It is said to help "cleanse skin while leaving a soft, supple appearance" and "restore a firmer, smoother and more youthful looking appearance."
This feminine-coloured cleanser is suitable for all skin types, including dry and sensitive skin. The travel kit has 30ml of product which should last you a month or two. If you enjoy using it, you can consider getting the full-sized bottle that comes with 120ml of product.
2. Dr. Sylvia Refreshing Toner with Herbal Astringents (30ml)
At my current not-too-young age, I prefer mild skincare that is free of irritants. But since Dr. Sylvia Refreshing Toner was included in the travel kit, I thought I would give it a try even though it contains Witch Hazel.
As long as I layer on with rich moisturiser, my dry skin should be able to cope with this astringent toner, I'd thought. Well, it did! I didn't experience any dry skin patches or irritations.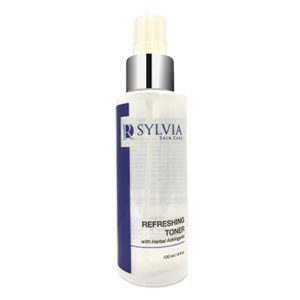 I love the refreshing and watery toner, which is especially useful when used in our perpetually-hot climate. For those with oily skin, this astringent toner should come in very handy in minimising pores and reducing oils and buildup.
The deluxe sample comes with 30ml of product while the full-sized bottle offers 120ml. You can find out more about Dr. Sylvia Refreshing Toner here. 
3. Dr. Sylvia ELASTIfirm® Eye Repair (7.5ml)
Among the five products in Cutis Travel Kit, the one that I emptied first was Dr. Sylvia ELASTIfirm Eye Repair. I actually started using it much earlier as I didn't view it as a travel kit – the quantity at 7.5ml was pretty generous. This is half of what we would normally get in a full-sized eyecare product.
Dr. Sylvia Eye Repair differs from other eye creams I've used as it's lightweight and refreshing, but yet is able to offer lasting moisture. In Singapore's persistent hot climate, ELASTIfirm Eye Repair was a delight to use. I also love the pump bottle which makes application hygienic and convenient.
Most importantly, Dr. Sylvia ELASTIfirm Eye Repair contains Persian Silk Tree Extract that is clinically proven to "protect skin cells by aiding in the fight against glycation." In doing so, it helps tighten and protect the delicate skin around the eye, lifting the lids and restoring a more youthful appearance. You can find out more about this eye serum here.
4. Dr. Sylvia Deep Hydrating Moisturizer (10ml)
Dr. Sylvia Deep Hydrating Moisturizer may look heavy as the liquid is quite thick. However, it dries very quickly such that you wouldn't even feel like you've had anything on your face (but you do). 
This moisturizer contains mainly seaweed extract and Hyaluronic Acid (HA), which are great ingredients to help skin stay hydrated. Since it's free from oil, this product is said to be suitable for those with acne-prone skin. Those who dislike greasy products would likely enjoy using this hydrator.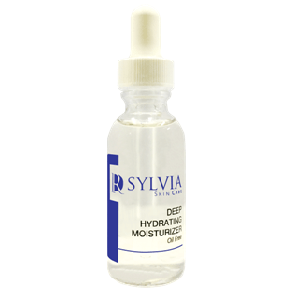 Personally, I thought this water-based product serves more as a serum or gel than as a moisturizer. That's why I would always add a layer of creamy moisturizer over it. 
This travel-sized moisturizer comes with 10ml of product, while the standard size contains 30ml. More product details is available here. 
5. Dr. Sylvia Vitamin C 20% with Ferulic Acid (10ml)
And last but not least….*drum roll please*, here's my favourite among the five – Dr. Sylvia Vitamin C Serum (20%).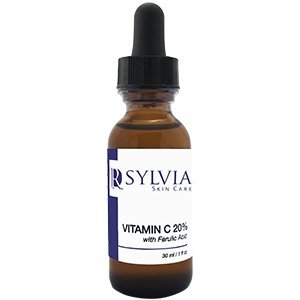 This 20% Vitamin C serum is potent and would be a great tool to brighten skin and fight against oxidation. As I kept this serum sitting in my fridge for too long, the product felt slightly stingy on my first try. After a gentle shake, the Vitamin C serum no longer stung and I've been using it every day.
TIP: Apply 20% Vitamin C serum on freshly cleansed/dry face every morning. Allow serum to dry completely before following up with moisturizer. This may prevent dilution of the strength of vitamin C. 
Texture-wise, its' slipperiness reminds me of Obagi Vitamin C Serum (Japan version). Both products contain Tocopherol (Vitamin E) and both allow me to skip the moisturizer if I wish to. 
This travel kit comes with 10ml of vitamin C serum in a mini pump bottle, while the full-sized bottle has three times the quantity, at 30ml. More product information is available here. 
Ingredients: Purified Water (Aqua), Ethoxydiglycol, L-Ascorbic Acid, Butylene Glycol, Glycerin, Laureth-23, Tocopherol, Ferulic Acid, Panthenol, TEA, Hyaluronic Acid, Sodium PCA, Niacinamide, Phenoxyethanol.
---
Who should get Dr. Sylvia Skincare Travel Kit?
So far, all products from the Dr. Sylvia Skincare Travel Kit were good. I did not get any pimples or milia when using them. Neither did I suffer from dry and irritated skin even though Vitamin C serum is known to be harsh on skin.
In fact, I'm actually quite keen to purchase three of these products – the cleanser, eye repair and Vitamin C serum. This is a good hit rate of 60%. 
Therefore, if you are looking for new skincare products to try, especially those developed by an experienced aesthetic doctor, the Cutis Travel Kit would be a good place to start the sampling process. The travel kit with its elegant pouch also serves as a great Christmas Gift for your dearest loved ones! 
You can either order Dr. Sylvia Skincare online or visit the clinic physical store in Singapore (see address).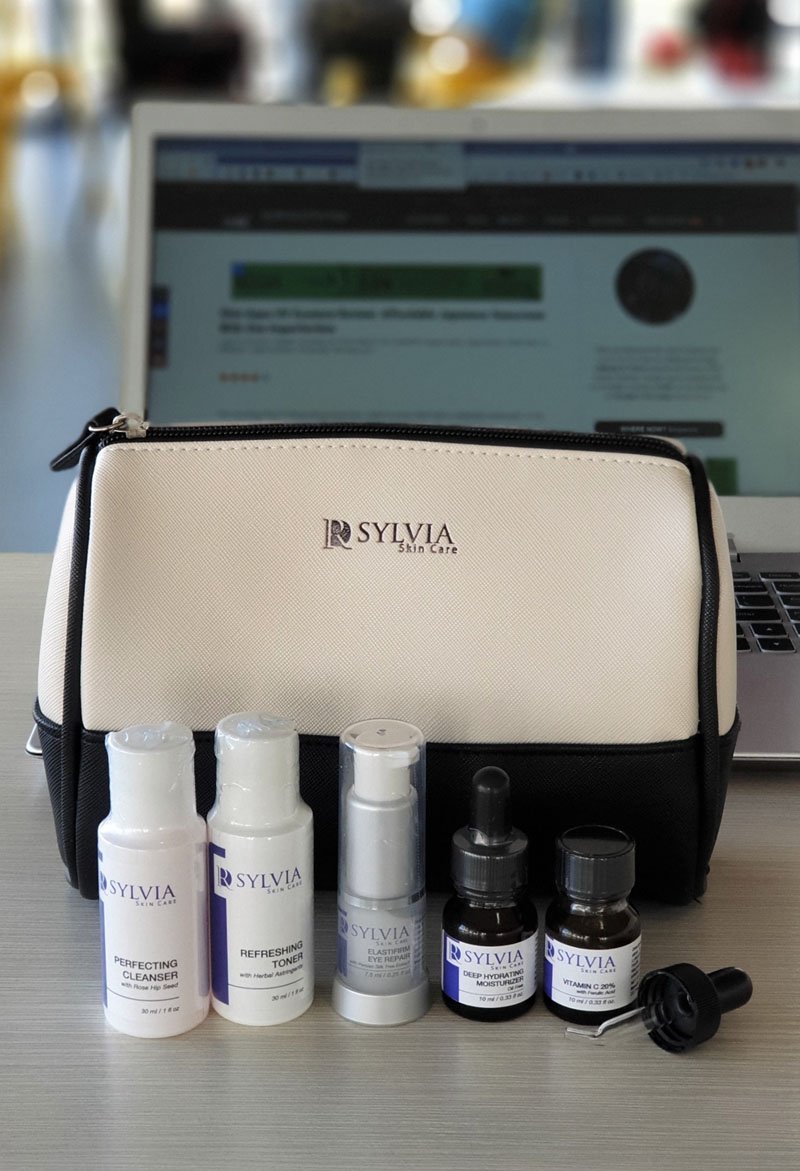 ---
Product was offered a year ago with no obligation to write a review. Cutis Medical Laser Clinics is known to offer Christmas gift to her regular customers. 
---
And that's all I have for you. Stay tuned as I'll be preparing some gift guides soon. If you like to get notified to more of such beauty and lifestyle reviews, click the button below to subscribe. See you soon!
SUBSCRIBE
This post may contain affiliate links, meaning I earn a commission if you make a purchase, at no cost to you. Read my full disclosure for more info.
Pin This!
(Visited 232 time, 1 visit today)