Have you thought of where your next destination would be when you are able to travel again? Taiwan seems to be one of the safest places to visit amidst this Covid-19 pandemic. One way to social distance when travelling is to self-drive instead of joining a bus tour. That happened to be what we did when we rented a car to explore Central Taiwan, which included a drive up Hehuanshan.
In an earlier post, I shared how we hiked up Hehuanshan East Peak. Today, I'll show you the self-drive journey we made from Cingjing to Hehuanshan.
Is it safe to drive up Hehuanshan as a tourist? How narrow is the mountain road?
Are there lots of cars and buses? Is road visibility good? 
I'll address all these questions. Now, you are in luck because you get to see how the road conditions were like in both good and bad weather. That's because we failed in our first attempt to hike the mountain and were forced to drive up Hehuanshan the next day.
---
Journey begins – A Drive up Hehuanshan from Cingjing
Getting to Hehuanshan from Cingjing takes about 50 minutes by car. You'll pass by several lookouts along the way.
About 20 minutes into your drive when you reach Cui Feng Checkpost (see location), the road merges into a single lane that has to be shared by oncoming vehicles.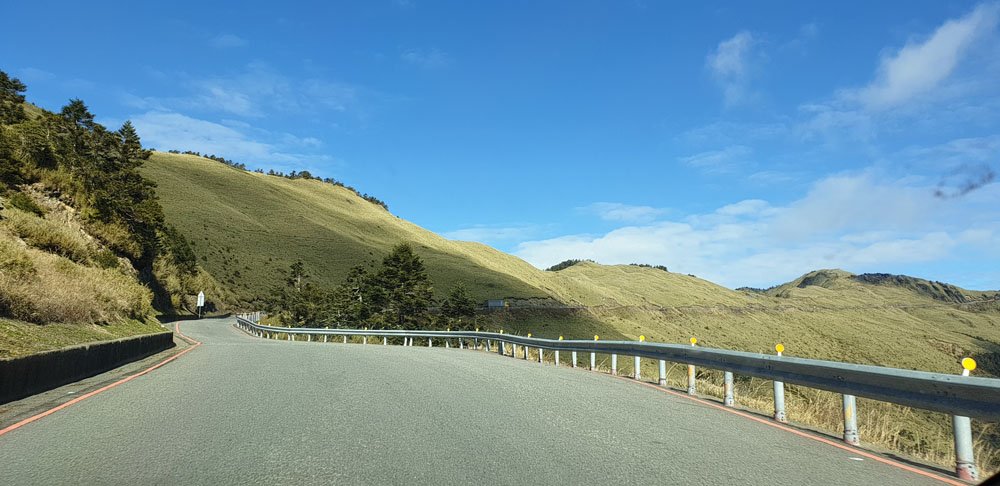 As such, you'll have to exercise extra caution and attentiveness since getting off the road means plunging off the mountain. But, since we went there during lull hours, the traffic was light and we felt relatively calm making the journey.
TIP: When's the lull period? People love to visit Hehuanshan to view the sun rise. Therefore, if you visit later in the morning (after sunrise), you may be able to avoid the hordes of tourists and buses that carry them. 
Now that we have the general information, I'll show you how we drove up the mountain (and down) in chronological order, and what we saw along the way.
We'll begin with the first attempt – the bad weather drive.
---
How it's like driving up Hehuanshan (合歡山) in Bad Weather?
We woke up to a cloudy morning on the day we were supposed to hike Mount Hehuan. After a filling buffet breakfast offered by our accommodation in Cingjing, we walked towards the car.
When we reached the carpark, it started drizzling and made us ponder if we should make the drive. 
> MUST-READ: 9 Days Self-Drive Trip in Central Taiwan
Harboring hope that the weather would improve, we decided to proceed with our drive up Hehuanshan. It was 8.30am on Day 4 of our Central Taiwan adventure.
First Stop – Getting Snacks from 7-11 Store 
(9am)
The first stop along the way was a 7-11 store located by the roadside, near Cingjing (see location). There, we purchased some high calorie items – chocolates, milk tea, tea-leaf eggs & bread – to serve as summit snacks and emergency ration should things go awry.
Then, we continued our north-bound journey towards the mountains. Even though the road has only one lane per direction, the drive was comfortable as traffic was light and road was well-paved.
Halfway through the Journey: Cingjing to Hehuanshan 
(9.15am)
Mid-way through the journey, the roads started to merge into a single lane that has to be shared by vehicles from both directions. Please drive slowly from this point onwards, especially when making bends around the mountain. Bends are synonymous with "blind spots". 
Even though it was drizzling, we didn't feel nervous as there weren't many vehicles on the road. I mean, who would come up during such a cloudy day except crazy tourists like us with limited time in the country. LOL!
TIP: You may want to cater an extra day in Cingjing/Hehuanshan to buffer against bad weather. We had two nights there, one of which was totally without views.
Also, the vehicles we came "face to face" with – which we had to maneuver through the single lane – were driving slowly and safely. There were also pockets of extra road space at specific intervals for us to stop and wait for the oncoming vehicles to pass.
And last but not least, the fog and clouds blocked the views such that we weren't able to tell how high we were up in the mountain. So, that reduced any height phobia one might have. :) Though it could present a false sense of security.
Temperature-wise, it had dropped to 10°C at this point as compared to the 16°C at Cingjing, where we began the drive.
Taroko National Park Boundary Marker
About 10 minutes from the end destination, we passed by the west boundary of Taroko National Park (see location), located next to Kunyang Parking.
In our previous Taiwan trip, we'd visited Taroko Gorge by accessing it from the eastern coast, via Hualien. So this is a part of Taroko National Park that we had never been to.
> MUST-READ: Visiting Taroko Gorge on a rainy day
But since it's raining and there's no view to speak of, we didn't make a stop. Not to worry, I'll show you the view of Kunyang Lookout when I write about the good-weather drive. :)
Wuling Viewing Platform – "Tallest Road in Taiwan"
Next, we arrived at Wuling Viewing Platform (see location). As mentioned in my earlier posts (here and here), this is probably the most touristy part of Hehuanshan.
Being the highest paved road in Taiwan, it's almost obligatory for all tourists to take a photo here. We didn't but would do it tomorrow. If you can't wait, you can check out the view in this post. :)
Destination Reached: Hehuanshan 3158 Cafe
(9.35am)
And finally, we reached our end destination, at 3158 Cafe (see location). This is a place to begin our hike up Hehuanshan East Peak. Unfortunately, we couldn't as it was still drizzling.
At this altitude (3158m), the temperature had plunged to 7°C. It's definitely not a good idea to hike the mountain and get drenched in the middle of nowhere with no shelter. Therefore, we chose to wait it out for the rain to stop. 
First, we explored Cafe 3158, a small cafe cum convenience store. To most tourists, 3158 Cafe would probably be a resting point to get a cup of hot coffee or tea, or to buy some local produce such as lanolin cream. 
I'll elaborate more on the cafe when I share the day by day Taiwan travelogue.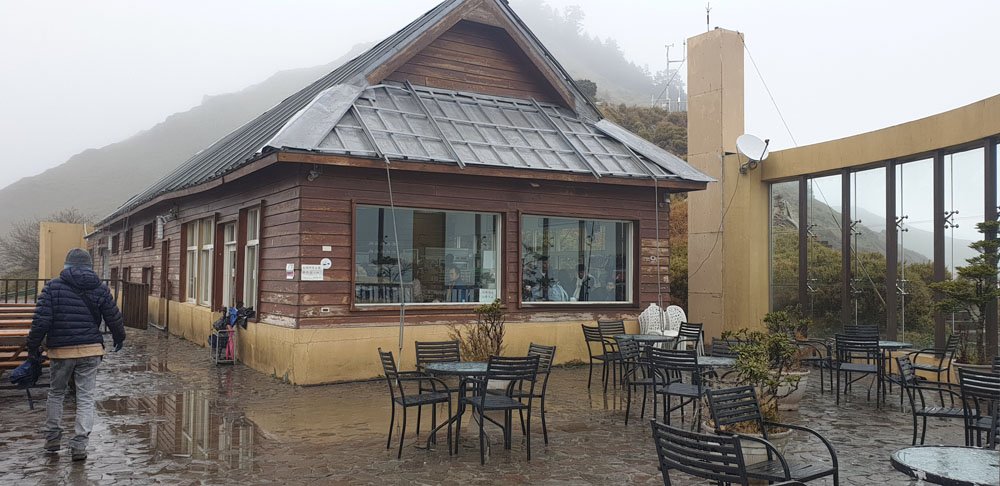 Another Viewing Platform – Hehuanshan Lookout
Since Cafe 3158 was small, we were out of the store in no time. The next thing we did was to cross the road to get to a viewing platform – Hehuanshan Lookout (see location).
Just like Wuling Viewing Platform, the lookouts we've seen so far at Hehuanshan were less than impressive. 
We returned to our car and continued waiting for the rain to stop. Luckily, our reliable Taiwan 4G WiFi made the wait a lot easier as we surfed the net and posted live stories on instagram. 
After one hour, we finally gave up waiting as the rain didn't stop. Instead, it got heavier.
Driving down Mount Hehuan on a rainy day
On the way down, visibility was affected by the rain and kept getting worse, until we couldn't quite see what was ahead of us.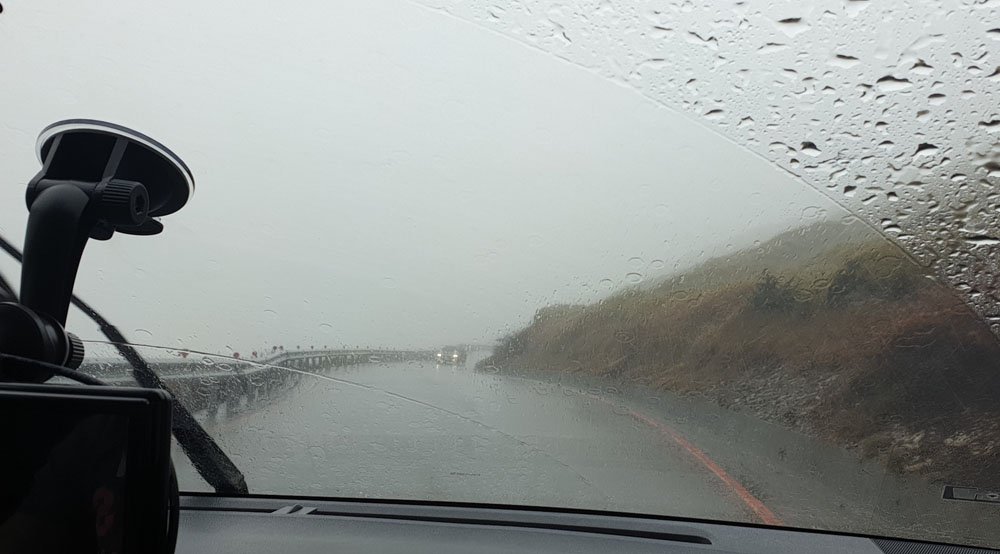 Can you imagine how it's like driving down the mountain, making numerous bends and sharing a single lane with oncoming vehicle, but couldn't see anything beyond 5 metres?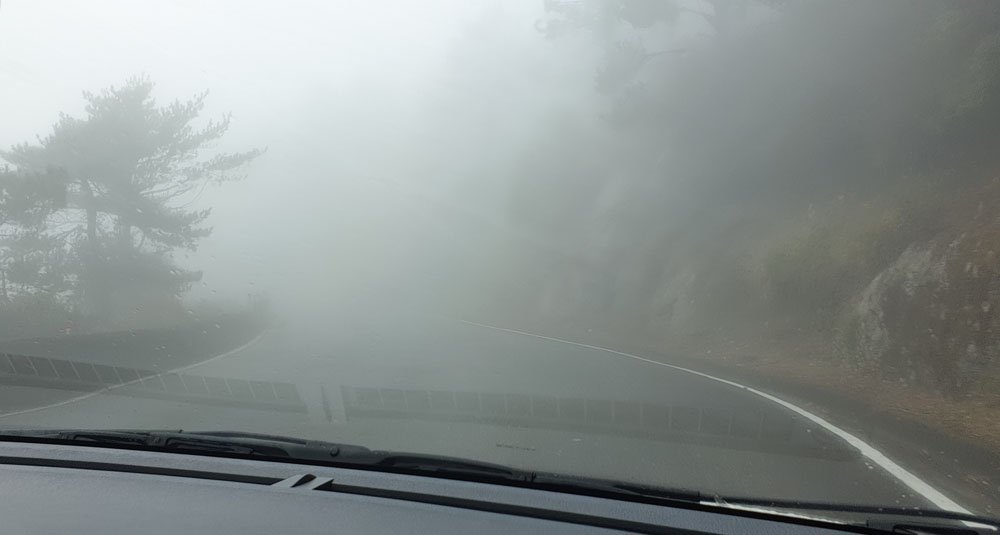 The raindrops on the windscreen definitely made things worse. Therefore, we drove down the mountain slowly. 
My recommendation is to avoid heading to Hehuanshan if the weather is not great. You can get the weather forecast beforehand at this website. 
Check out the short video of us driving down the mountain. This was the only time during the trip when I thought the drive wasn't that safe. Yeah, so do avoid heading to the mountain, if the weather forecast says it'll be foggy or rainy.
---
Part 2 – Good weather drive up Hehuanshan
I wanted to show you in this post our second attempt driving up the mountain when everything was clear, beautiful and scenic. But this post is getting too long. Let me come back with a dedicated post later. Stay tuned, ok?
> MUST-READ: The perfect weather to drive to Hehuanshan as a tourist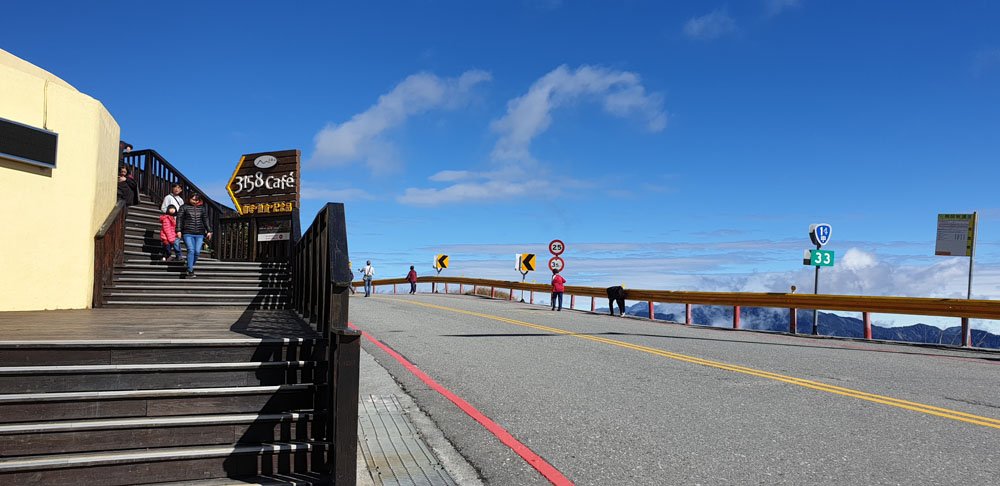 If you like to get notified of newly-published beauty reviews and travel stories, just click the button below to subscribe. You'll also get access to all my exclusive stuff. See you there!
SUBSCRIBE
Related Post:
Pin This!
This post may contain affiliate links, meaning I earn a commission if you make a purchase, at no cost to you. Read my full disclosure for more info.
(Visited 505 time, 1 visit today)