If you like to find out how to rent a scooter in Hualien and enjoy the best-tasting Scallion Pancake (蔥油餅) in town, read on as I'll spill all the tips and info. This post is part 2 of Day 1 Travelogue. So, if you haven't read Part 1 on how we got from Taipei to Hualien, check them out first for better story flow. If you have, read on! ;)
---
Best Scallion Pancake (蔥油餅) in Hualien
(3.30pm)
As you have read from Part 1 of Day 1, we took longer than expected to reach Hualien. By the time we checked in and set off from our Airbnb unit, it was already 3.30pm. As such, we had to scrap our initial plan of making a half-day trip out of Hualien town. Little did we expect that the whole day would be dedicated to commuting and logistics, especially when we'd touched down in Taipei as early as at 6.30am.
TIP:  Don't overplan your Day 1. Take it easy and make it a relaxing day. It's unlikely you can cover much if you are travelling down from Taipei on free and easy.
Since we've had plans to visit Taroko Gorge the next few days, renting a scooter was a must-do for today's itinerary. We thought we should rent a scooter as late in the day as possible to optimize the rental hours (e.g. rent 8pm to 8pm would be better than renting at 3pm to 3pm).
So we dilly-dallied and strolled to a food stall along Fuxing Street, a place marked out by our Airbnb host. It turned out to be the best food savored in Hualien. This scallion pancake (蔥油餅) was found along a small road where many food items were named after a prefix in Chinese, i.e. BOMB. You'll find Bomb-Lemon Tea, Bomb Scallion Pancake etc.
There were a few stalls selling Bomb Scallion Pancake (炸彈蔥油餅) and thanks to our airbnb host, we knew exactly which was the good one. The stall offered the option to add "egg" and "spiciness" and we took up both options (NT30).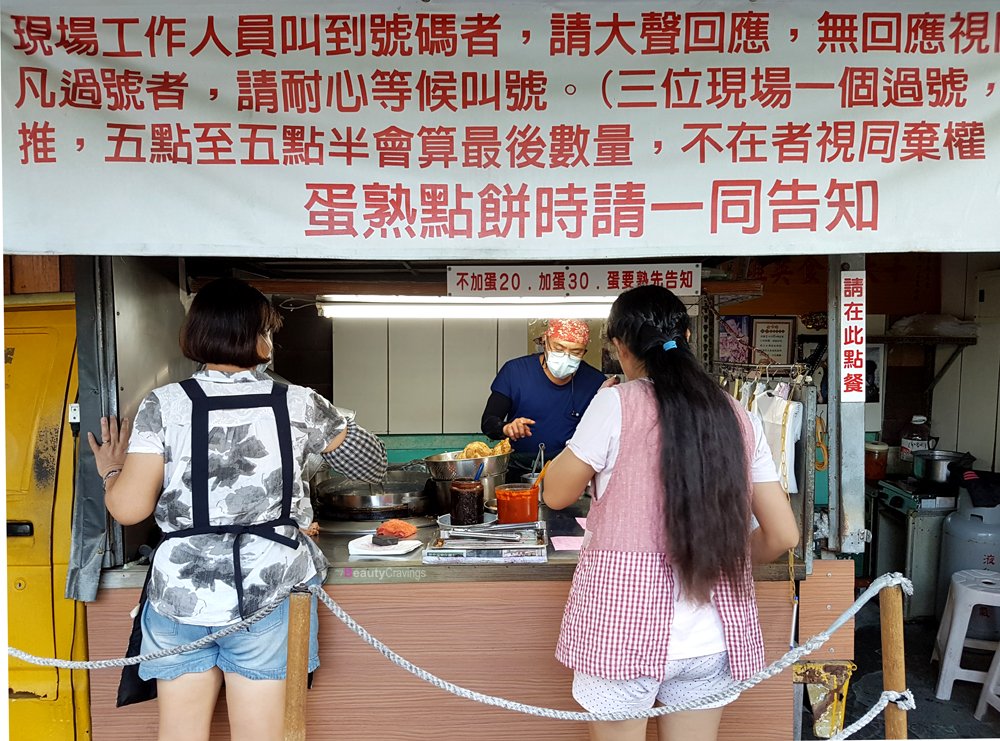 Gosh, I guarantee that once you've taken a first bite, you will order a second one right on the spot. That was exactly what we did.
The Bomb Scallion Pancake (炸彈蔥油餅) was oozing with semi-cooked yolk and served so piping hot, we had to be really patient when biting into the deliciously-flavored bomb. The seasoning powder could be the one that's making this bomb real addictive. It tasted like the seasoned powder of a pack of McDonald's "Shake Shake" fries – only that it was so much tastier because of the unique blend.
After two bombs were gobbled up in record time, we ordered a Bomb Lemon tea from a neighbor stall (NT50).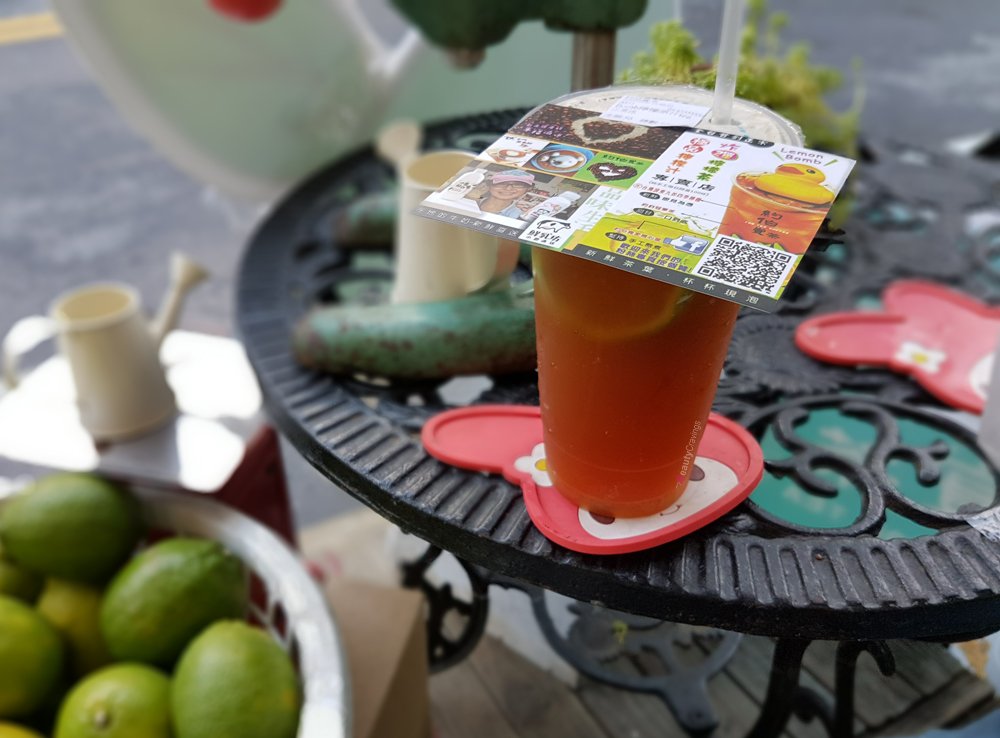 Each cup of lemon tea had an entire lemon in it. How generous! And as you could imagine, it was real juice – sour and refreshing.
That's not a bad start to our Eastern Taiwan trip, yes? Ok, next, let's go rent a scooter.
Location of Hualien Scallion Pancake (蔥油餅)
See map location.
---
How to Rent a Scooter in Hualien?
Was it an ominous start? All of a sudden, the sky turned dark and it started raining. Little did we know then that it was the beginning of a prolonged rain-situation caused by Typhoon Haima that had directly hit Philippines. Taiwan was mildly affected as she suffered the outer-ring effect of the typhoon. But that effect was enough to dampen our trip as we would realize much later.  Ok, I won't spill the beans yet.
As we remained trapped at a building, the initial plan to visit several bike rental shops and checked for best price/quality wasn't possible now. After standing and waiting under the blue shelter (see pic below) for a good 15 minutes, a man whom we'd earlier approached to check on bike prices crossed over the road with an additional umbrella. He asked us to follow him to his shop (梅貴租車行) to take shelter. And we did because he was insistent and we thought it would be rude to decline.
TIP: I've included a map to show you where Mei Gui Car Rental Shop (梅貴租車行) is located. There are many car rental shops around Hualien Train Station. If you are not caught in bad weather like us, I suggest that you shop around and visit those with good reviews.
A young mother, aka lady owner then started random chats with us. I think she was really good in sales as she guided her toddler son to say that I was pretty. I just smiled because I knew this was a prelude to sales talk and indeed, the conversation progressed to bike rental. After a very quick bargaining (coz we are bad bargainers), we agreed to rent their scooter for NTD500 a day.
Seeing how bad the weather condition was, we were hesitant in renting the bike for too many days. The lady owner started assuring us that weather would normally be super super sunny after rainy days like this. We believed her and rented the scooter for 3 days. In the end, it rained almost 24 hours each day for the next few days. Thought I could trust a local. Sigh!
TIP: If weather is no good, it's better to rent a scooter on a per day basis. Don't trust anyone who has vested interest. Or perhaps, a car would be a better choice – read about our car rental experience in our latest 2019 Central Taiwan Trip.
The rental shop wanted to keep our passports as deposits. But we needed to present our passports in order to climb Old Zhuilu Trail in Taroko Gorge. The uncle was very insistent and rejected our offer of a driving license or a photocopy of our passport. It was only after a long negotiation that he finally agreed (with a grumpy face) to receive NTD5000 as deposit. Not only that, we had to travel down and pass them our passports the very next day (after the climb).
Shouldn't they be aware of Special Permit Requirement of Old Zhuilu Trail since they live in Hualien, the nearest town to Taroko Gorge? Hmmm…
Do I recommend Mei Gui Car Rental Shop (梅貴租車行) ? 
The scooter wasn't new, but gave us no mechanical problem. Cleanliness was an issue as the helmet was extremely dirty. I could pluck out 20 strands of hair from each helmet. It was pretty disgusting as you could imagine. We attempted to place a tissue over the contact area, but the tissue couldn't survive for long due to persistent rain.
Safety was also a concern as none of the helmets they owned suited me. They were all very large. No matter how tight I buckled up beneath my chin, the helmet would threaten to shift backwards, especially during a ride when the wind was blowing. It was also a real disappointment that the free raincoats provided as part of the rental deal was full of tiny holes. 
So that's right! I do not recommend Mei Gui Car Rental Shop (梅貴租車行). Please check out others along the same road, behind or in front of Hualien Train Station.
Other Transport Options in Hualien
It is common in Taiwan to hire a car that comes with a driver. If you prefer that than riding a scooter, this Private Car Charter seems well-reviewed online. The more people you have in your group, the better the value. This should appeal to those who prefer not being exposed to the elements (e.g. rain or wind) or driving in foreign land.
Another option is to take a Day Tour by Bus. Although this is not my preferred option due to my travelling style, I think those who prefer a hassle-free trip and who are okay with not doing much hiking or deeper exploration of Taroko Gorge would find this option appealing. As at time of writing, the price seems quite economical.
---
Exhilarating Ride on our Rental Scooter
(6pm)
It was dark, windy and pouring heavily. He hadn't rode a scooter for a very long time (10 years?). And I was practically a novice pillion passenger. It wasn't just an exhilarating ride for me. It was a scary one.
I was afraid of falling off the scooter so much so that I was almost suffocating him with my tight clasp. Hee Hee. And my helmet kept knocking against his whenever he braked. I didn't even know the right way to get on or off the scooter.
The great thing that came out of this trip was how it made me an experienced pillion passenger. A crash course indeed under really unfavorable weather condition. And I didn't even need to hold on to the rider anymore for subsequent trips.
That's all to Part 2 of Day 1. In the next post, I will share our dining experience in Hualien Dongdamen Night Market. For supper, we would also visit a dumpling/bun shop highly recommended by our airbnb host. Stay tuned! 
Like to hear about the fun things I do as a budget-savvy free and easy traveler? Just click the button below to subscribe. I'll even give you some free and exclusive stuff. See you there!
SUBSCRIBE
This post may contain affiliate links, meaning I earn a commission if you make a purchase, at no cost to you. Read my full disclosure for more info.
---
Related Posts:
(Visited 7,074 time, 1 visit today)