This post is so overdue. Imagine some photos were taken about a year ago when I'd wanted to share with you about this favourite eyebrow pencil of mine. Ok, I've been slow, but it's better to be late than never, right (What an excuse! :P)? Now, without any further ado, let me introduce Editor's Favourite Eyebrow Pencil – Lancome Le Crayon Sourcils.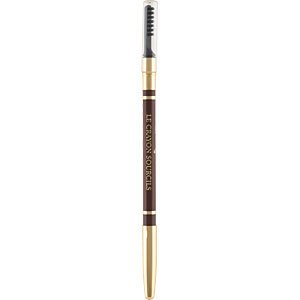 Currently, I have 5 eyebrow pencils resting on my dresser. Lancome Le Crayon Sourcils is the one I would reach out for 90% of the time. Even after using it for a year, my love for it remained strong. This is going into my holy grail list. 
What's Great About Lancome Le Crayon Sourcils? 
1. Super Blendable, Easy to Apply
It is called crayon for a reason. Even if you'd accidentally exerted too much force and drawn a harsh line, do not worry. Just make use of the brush at the opposite end to blend it. It probably takes only a second or a single swipe. That's how blendable it is!  
Furthermore, Lancome Le Crayon Sourcils eyebrow pencil blends well without compromising on the definition of the brow. Put it simply, you still get great outline of the brow. Not a smudgy one.
2. Gives Defined Brows
I'm using the colour #020. This medium brown tone makes my brows stand out, without having them looking harsh. In other words, it enhanced my features while maintaining a natural look.
What I adore about Lancome Le Crayon Sourcils is how highly-pigmented it is, and how easy it is for the colour to go on.
3. Long-lasting Power
Once you have blended Lancome Le Crayon Sourcils, it would stay put until the end of the day. Even rubbing it semi-vigorously doesn't remove its pigments. 
4. Lasts forever
Okay. Maybe not forever. But imagine, I've only used up about 30% of the pencil after one year of intensive use. How cool is that?
I can't help comparing this with Benefit's Instant Brow Pencil. That pencil is a joke to start with, and I'm surprised that it's still selling in the market. Don't ever get it because you'll find that this pencil requires you to sharpen it every other application.
Must-read – Benefit Instant Brow Pencil | A Big Pain in the 'S'
Not only does Benefit Instant Brow Pencil depletes fast, your brow will feel uncomfortable. How should I describe it? It feels like someone put hair wax over your brows. You know, some tight sensation? You can also forget about using it if you want defined brows. Read more about why you should skip Benefit Instant Brow Pencil here.
---
What's Bad? 
Only one point under this category. It's pricey.
But trust me that it's gonna be worth it. Because, the Lancome Le Crayon Sourcils lasts. You probably don't have to replenish an eyebrow pencil for a couple of years.
---
Recommendation
I couldn't recommend this enough. Lancome Le Crayon Sourcils eyebrow pencil is great for both beginners or professionals.  Do give it a try. You know I don't lie. Rating: 5/5
To find out the latest price on Amazon, click HERE. 
---
Love more of such honest reviews? If you like to get notified of my new posts, you can click the button below to subscribe, or connect with me through facebook or instagram. See you there!
This post may contain affiliate links, meaning I earn a commission if you make a purchase, at no cost to you. Read my full disclosure for more info.
(Visited 1,296 time, 2 visit today)