One very important step in a woman's daily beauty regimen is to ensure that whatever that is painted onto the face gets removed completely. Not doing so can have undesirable outcomes, ranging from occasional pimples to a full-fledge acne breakout. However, more often than not, an effective cleanser is also a synonym for being drying to the skin.
Is there a product in the market that can do an amazing job in removing makeup, sebum and impurities and yet do not strip the skin of its natural moisture? 
Shu Uemura Cleansing Oil is the holy grail product that's able to meet the dual-yet-contrasting roles perfectly.
Since its debut nearly 50 years ago, Shu Uemura Cleansing Oil has been a hot favorite and is ranked as the No. 1 makeup remover in many countries, including Japan, Korea, Taiwan and China. With its immense popularity, one bottle is being sold every 7 seconds.  
This is the one I bought a few months ago – a Mika Ninagawa Spring 2014 Collection. It is the Anti/Oxi range, meant for Aging Concern.
And this is the one I'm currently trying to finish so that I can move on to the 'Mika Ninagawa' bottle.
---
3 Reasons for Loving Shu Uemura Cleansing Oil
1.  100% Perfect Cleansing 
Shu Uemura Cleansing Oil removes all makeup and impurities perfectly in one single attempt. No residue. And no need for double cleansing. 
What amazes me further is how the oil brings out clogged sebum from the pores.  When I massage the oil onto my face in circular motion, I would feel minuscule bits of clogged sebum surfacing bit by bit. This, I believe helps keep my breakout-prone combination skin in check.   
Below is a demo of step 2 and step 3.  I normally wouldn't open my eyes when I'm using this. For the purpose of photography, I did. And gosh, it stung. If you could tell, I look frozen in my step 3 photo.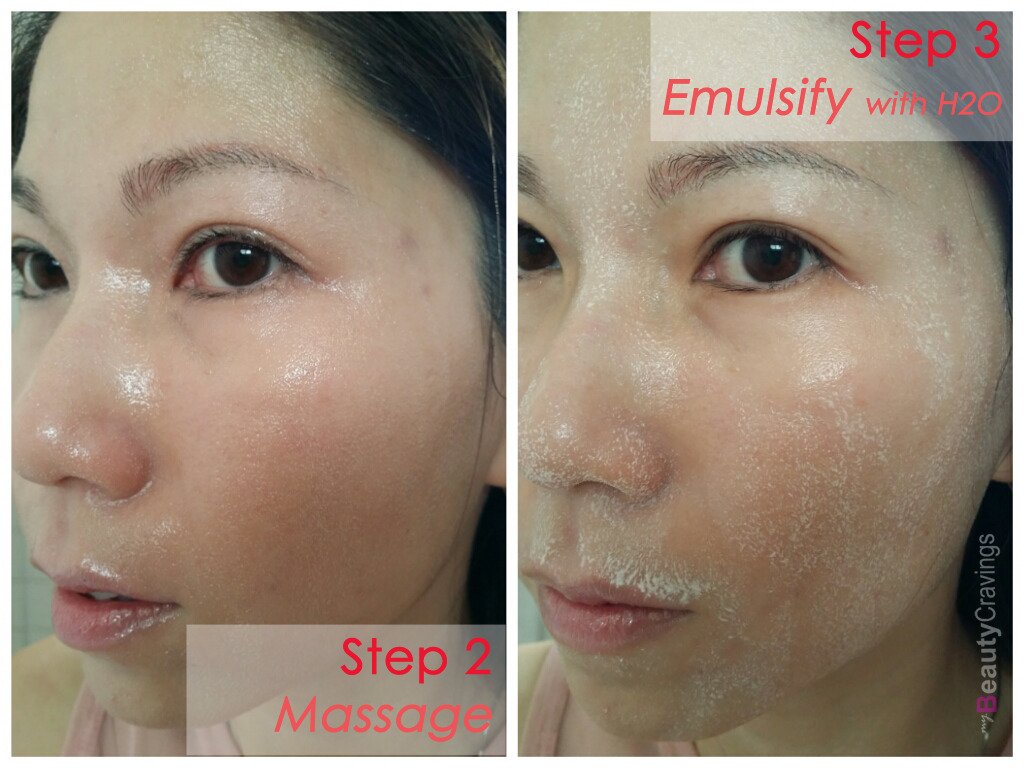 2.  Non-drying 
After cleansing my face with Shu Uemura Cleansing Oil, my face feels really soft and moisturized. Though it's not the waxy squeaky-clean kind of feel typically associated with other types of cleanser, do rest assured that all the impurities are gone. I've tested it and my strongest alcohol-based toner never picks up any left-over makeup.
3.  Save on Facial Cotton 
Unlike milk or cream-based makeup remover, Shu Uemura does not require facial cotton to wipe off the grime and makeup. Just water alone is sufficient to perform an amazingly good cleansing job.  
---
So, What's Bad?  
This thing stings if it gets into your eyes. It normally wouldn't enter your eyes unless you are using it as an eye makeup remover.  I personally prefer to use specialized eye makeup remover, such as Bi-Facil.  
---
TIPS: How to get it Cheap?   
Getting Shu Uemura Cleansing Oil at major cities' DFS shops is a no-brainer. In Singapore's Changi Airport, it costs about SGD86 for a 450ml bottle. Compared to the recommended retail price of $115-$160, that's a lot of savings to be made. Amazon is also currently selling it at 25% discount as at time of writing.
If you are visiting Japan and are wondering if it is any cheaper getting Shu Uemura Cleansing Oil there, I would recommend that you save your luggage space for other Japanese products such as those in my Japan Must-buy list, where you can derive more savings.   
Though it's made in Japan, Shu Uemura cleansing oil costs about the same in Japan or in Singapore (DFS). Furthermore, 450ml is quite heavy to lug back. It may be more worthwhile reserving your space for smaller beauty items such as eye cream, serum or cosmetics that typically do not exceed 30 to 50ml each. 
Should I buy Beauty Products from Japan drug store or Airport DFS?

    
Japan's goods and services tax has recently increased to 8%. Still, shopping for beauty products there is a real delight and enjoyment as things would still be about 30 to 40% cheaper.
For maximum savings, shop for premium brands at the airport before departure. For the cheaper drug-store brands, buy them as you tour as most of these brands are not available at the airport.
That's all I have for you today. Do you enjoy such honest reviews? If you like to get notified of my new posts, just click the button below to subscribe. I'll even give you some free and exclusive stuff. See you there!
This post may contain affiliate links, meaning I earn a commission if you make a purchase, at no cost to you. Read my full disclosure for more info.
(Visited 5,195 time, 1 visit today)