Lancome Teint Miracle Foundation is my No.1 Choice it comes to medium-coverage liquid foundation. I've emptied countless bottles and never failed to stock up from the DFS whenever I travel. Here are the 5 reasons why I love Lancome Teint Miracle Foundation. 
---
5 Reasons for Loving Lancome Teint Miracle!
1.

It gives instant glow and rad

iance

 
Upon application, my face literally brightens up, subtly yet noticeably. Refreshed and radiant in an instant – what else can I ask for?
2.

 

It is super duper natural
Lancome Teint Miracle Foundation gives me perfect coverage without overdoing it.  I was able to hide my pores and pimple marks, yet look natural. People often commented that I have good skin. They didn't know this is all thanks to Lancome Teint Miracle.
I love the way Lancome put it together succinctly, "Sublimely bare, truly flawless."
3.

N

o breakout
Lancome Teint Miracle is non-comedogenic and oil-free. So it is really good for me since I have combination skin, and get occasional break-outs.
4.

I

t does not accentuate fine lines
This product is so smooth that it blends and glides on easily. Its' light-weight formula also meant that it doesn't accentuate my fine lines, especially those around my eyes. While working on this post, I visited Lancome's page and found out why. It is formulated with 40% water, preventing unsightly lines or cracks in makeup.
No wonder!
5.

Get the right amount dispensed with every squeeze
Imagine how much time I can save, especially when I use this every single day. One squeeze is all I need. Furthermore, this comes in a great-looking elegant glass bottle. After going through many of such bottles, I'm still not sick of this product, which is quite rare according to my normal rate of product-switching.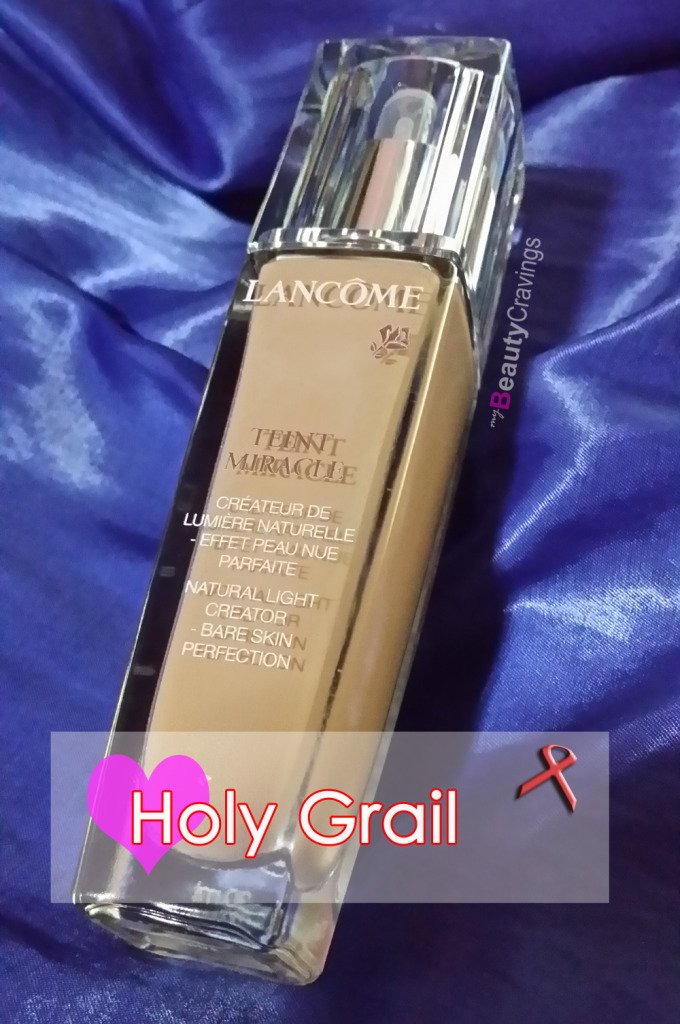 I used to think that European brand beauty products would not be as well-suited for Asian as an Asian beauty brand such as Shiseido. I guess I have been proven wrong. A lot of research must have been put in place by these conglomerates to ensure that the products are customized to suit the local people. In fact, I found this written on the box:

"Shades and texture designed for Asian skin.  Tested on Asian skin under dermatological control"
---
Holy Grail: Lancome Teint Miracle Liquid Foundation
Now, you know why this is a definite "Must-Have" product for me! For someone who has gone through bottles of Lancome Teint Miracle, all right to the last drop, I can confidently proclaim this as my Holy Grail medium-coverage liquid foundation. Rating: 5/5
View latest price on: Amazon | Strawberrynet
---
Love honest beauty reviews? If you like to get notified of my new posts, you can click the button below to subscribe, or connect with me through facebook or instagram. See you there.
This post may contain affiliate links, meaning I earn a commission if you make a purchase, at no cost to you. Read my full disclosure for more info.
(Visited 2,374 time, 1 visit today)