Did you know that cabin air is extremely dry and dehydrating?  If you are getting on an airplane soon or visiting a country with dry climate, you may find this review on Elizabeth Arden Eight Hour Cream Lip Protectant Stick particularly useful. 
While shopping at Changi Airport DFS earlier this year, I made a brisk walk through the cosmetic and skincare segments to see what would interest me.  A trio pack of Elizabeth Arden Eight Hour Cream Lip Protectant Stick caught my eyes. The tinted lip balms in shades of pink and red waved hello to me and I couldn't help adding them to my luggage. 
At $50 for a trio pack comprising one colorless stick and two tinted ones, it proved to be a great buy as I'd enjoyed the use of each and every tube during my 2-week holiday at sunny island of El Nido.
By the way, I'm still loving it right at this very moment (and wearing the nude one while writing this review).
> ALSO SEE: Things to buy in Phuket and Singapore Airport
---
About Elizabeth Arden Eight Hour Cream Lip Protectant Stick
The key ingredients to Elizabeth Arden Eight Hour Cream Lip Protectant Stick are Castor Oil, Lanolin Oil and Vitamin E. As we know, Vitamin E is a great anti-oxidant that can help fight off free radical damage. In layman's term, it helps slow down the aging process. Lanolin oil, another effective ingredient, is known to absorb moisture from the air and lock it in. 
Here's the full ingredient list:
---
What's Good about Elizabeth Arden Lip Protectant Stick?
1. Lasting Moisture
True to her claim, Elizabeth Arden Eight Hour Cream Lip Protectant Stick is one of the best lip balms I've used in a while. I'd put it on before flight takeoff and my lip stayed well-moisturized throughout the night despite the very drying cabin air.  There wasn't a "chap" moment when I felt the need to reapply. So, thumbs up!
And the happy lips appeared more supple and less wrinkly. Oh yes, I vouch that this lip protectant does offer at least 8 hours of moisture.
2. Sheer and Natural Tint
As I was heading to a beach holiday, the tinted sticks proved to be very useful, as they added health colors to my face without making me looked like I was about to attend a gala dinner. The colors were soft, natural-looking and carried a tiny sheen.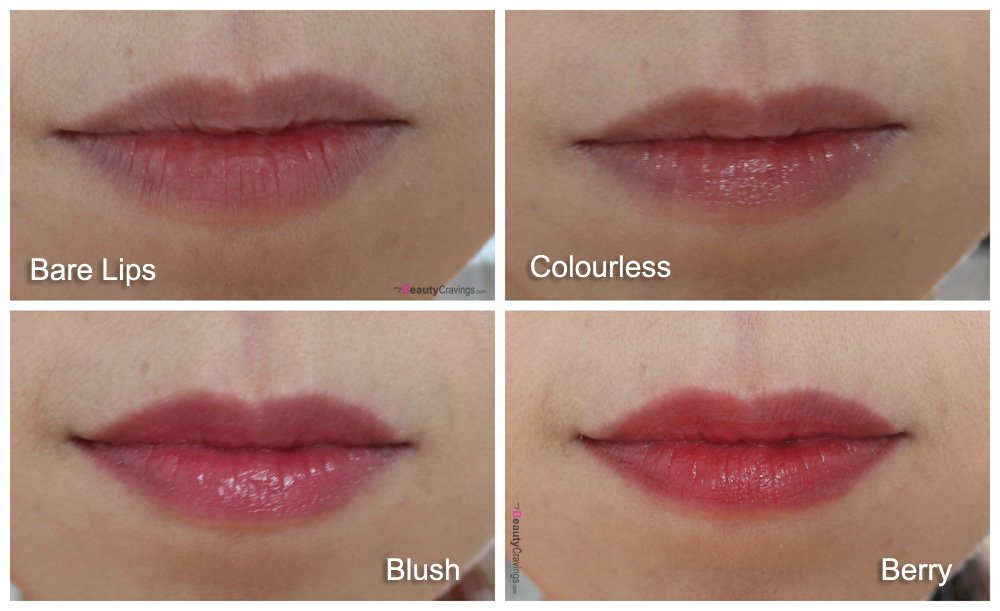 If you ask me which color I love most, I would say "Both". The lighter color 'Blush' adds a soft girly pink while the red tube "Berry" carries a subtle orangey-red tint for more obvious color.
Based on my lipstick buying experience, I tended to avoid pink as I found myself not using them as much either because they were too light, too bright or too dull. Surprisingly, Elizabeth Arden Eight Hour Lip Protectant Stick in "Blush" had the right tone of pink and worked well on my cool skin tone. 
3. Sun Protection of SPF 15
It's great Elizabeth Arden's Protectant Sticks come with SPF 15 as that helped minimize sun damage during my beach holiday in El Nido.
> DON'T MISS: Things to buy in Bangkok & Singapore Airports
4. Great Combo
The three sticks in the trio set was a great combination. None felt like they were excessive.
The colorless one was great during bedtime, while the other two offer color variation during a casual day out. No regrets in getting three products at the same time.
---
What's not Great about Elizabeth Arden Eight Hour Protectant Stick?
1. Waxy Smell
Honestly, I do not know what smell that is or whether 'waxy' is the right word to describe it or could it be "plastic herbal"? Just take note that it's not something you would put in the same category as "smells great". =)
I didn't like the smell, but I could live with it as I only smell it during that two seconds of application. I also take it that the product doesn't contain artificial fragrance, and hence great for sensitive lips.
2. Easy Fading of Colors
As with most tinted lip balm, the color faded after a short while even without taking food or drinks. That doesn't mean the color is totally gone though. Your lips would still look better than before applying the tinted protectant stick.
Here's a demo. The photo on the right shows how color faded after patting the applied area once with fingers.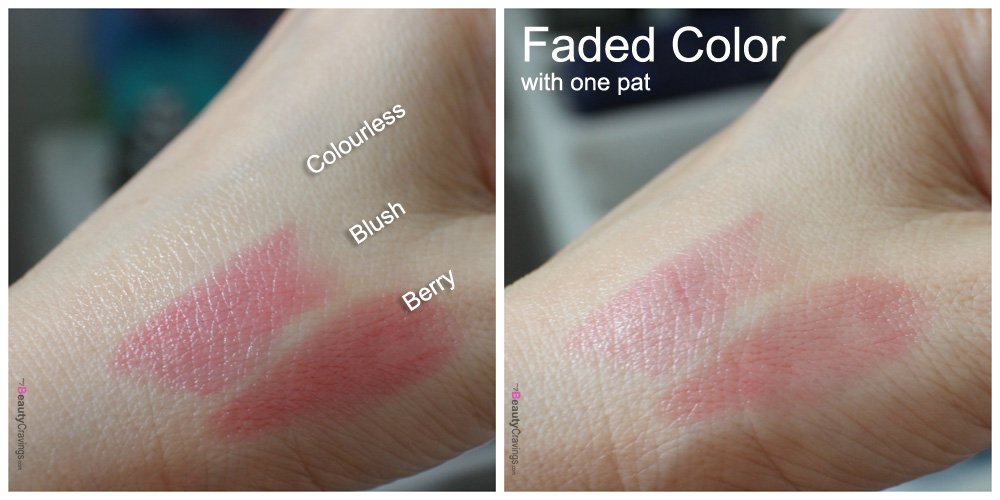 3. Not Cheap
You can easily find tinted lip balm in drug stores at a fraction of this price. So Elizabeth Arden Eight Hour Lip Cream Protectant Stick isn't cheap. Still, I did find that it works far more superior than the mass market brands as the hydration lasted for hours, and I certainly wouldn't mind paying more for healthier lips.
---
Recommendation
Get it! Elizabeth Arden Eight Hour Lip Cream Protectant Stick is worth the price, especially if you are suffering from dry lips or going to suffer from it soon (i.e. going to cold countries). LOL. The colors are great for those who are into sheer lip colors.  Do a smell test before buying to make sure you can take the "fragrance". =)  Rating: 4.5/5
To find out the latest price on Amazon, click HERE
This post may contain affiliate links, meaning I earn a commission if you make a purchase, at no cost to you. Read my full disclosure for more info.
---
Love more of such honest reviews? Just click the button below to subscribe. I'll even give you some free and exclusive stuff. See you there!
SUBSCRIBE
(Visited 8,414 time, 1 visit today)