Looking for a lightweight day cream? Check out today's review on Essano Rosehip Moisturiser, a skincare product from New Zealand which you can also get in Singapore's major drugstore such as Watsons. 
For info, I've been using Essano Rosehip Moisturiser for close to a year. So this is not a first-impression piece. In fact, I may have lost some excitement in the product already. :) But it's a decent product, which I'll elaborate more later.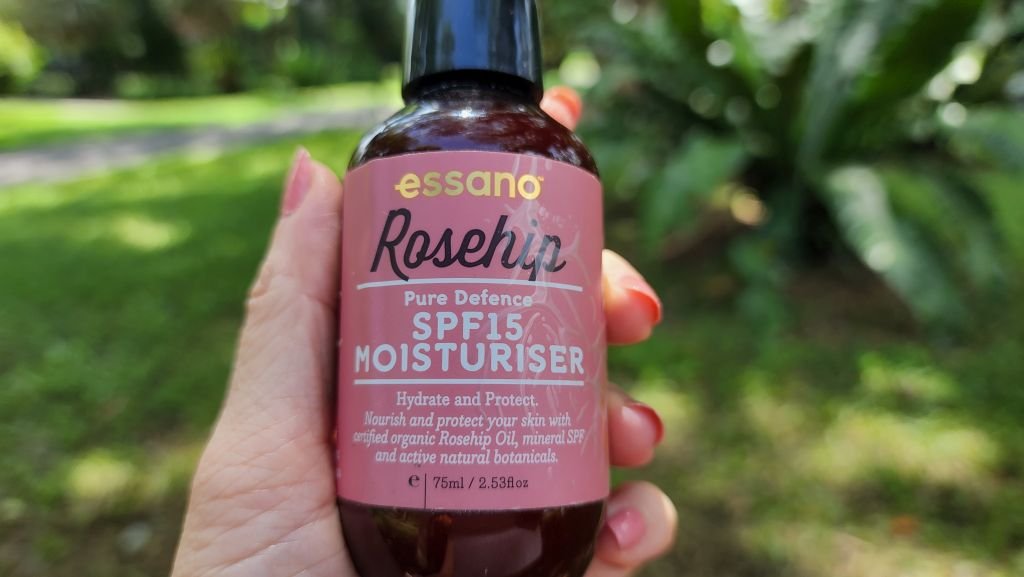 ---
More about Essano Rosehip Pure Defence Moisturiser
I categorised Essano Rosehip Moisturiser as a day cream because it comes with SPF15. Formulated with organic Rosehip oil, Essano is said to be the #1 natural skincare (grocery category) in New Zealand. 
So, what is Rosehip Oil? And what does it do? 
Google teacher told me Rosehip Oil is a good hydrator that can also help brighten the skin. Rich in Vitamin A and E, this oil is said to aid collagen production and reduce inflammation. It can even help reduce scars and fine lines.
Wow. Sounds like a superstar ingredient that a dry and aging face like mine would crave for. But is Essano really as good as it claims to be? Let's find out.
1. Texture of Essano Rosehip Moisturiser
Now, if you are someone who hates heavy stuff on your skin, you'll like Essano Rosehip Moisturiser. The texture is super lightweight and it absorbs fast leaving no stickiness on skin. In fact, I thought it's a little too light for my 40-something dehydrated skin.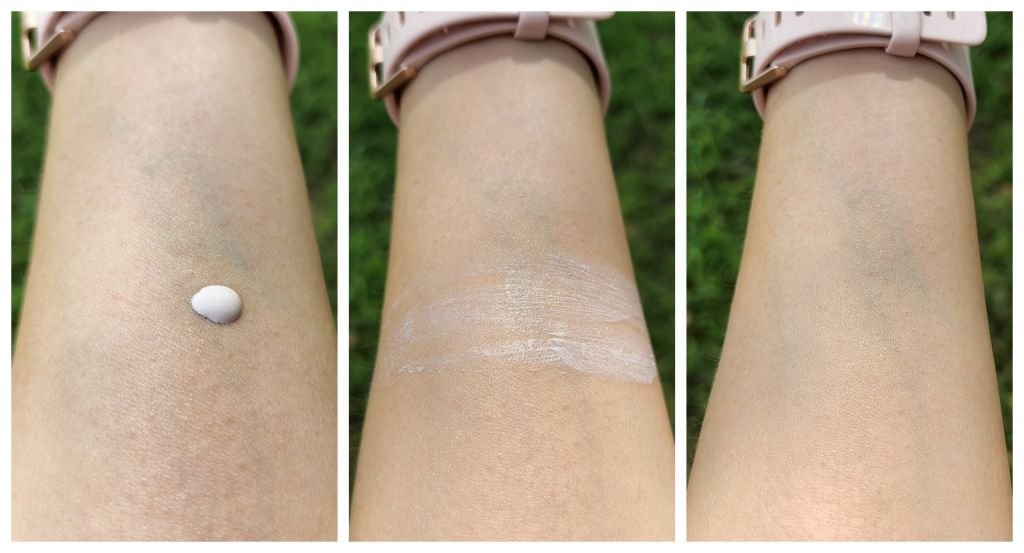 As such, I made it a point to add layers, such as serum first and then sunblock later. Even with multiple layers, the face would still feel comfortable and breathable. 
From the collage above, you can see that the skin remains non-greasy and shine-free after the cream was spread over. 
2. Serves as a Day Cream
It's good that Essano comes with SPF 15 which can protect the skin from UVB protection. However, this factor is considered low in today's beauty world where products normally come with at least SPF30 or SPF50. 
That being said, SPF15 should be able to offer sufficient sun protection if you are going to stay indoor most time of the day – it can block out 93% of UVB ray. But of course, the duration of protection would be lower than those of higher UV factor.
How about UVA rays? Can Essano SPF15 Moisturiser offer such protection that can prevent premature aging?
Although its official website said Essano Rosehip moisturiser can protect against UVA ray, I didn't see such mentions on the product label. I am also not able to tell how good the protection is due to a lack of PA+ rating. For info, the highest PA rating right now is PA++++ (four pluses).
Did you know? PA rating is developed by Japan and hence may not be used in many countries. In the United States, a product that has both UVA and UVB protraction is labelled as "Broad Spectrum". 
3. Suitable for Pimple-prone Skin? 
As most of you know, I break out easily when I use the wrong product. I'm happy to share that Essano Pure Defence Day Cream is safe to use on my pimple-prone skin.
I've not gotten a single zit even though I'm close to depleting the whole bottle. 
4. Essano offers Generous Quantity
For a face moisturiser, Essano SPF15 Moisturiser is unarguably generous, offering 75ml of product when most only offer 30ml or 50ml. 
5. Any anti-aging benefits?
Remember, we've shared earlier about the wonderful things Rosehip Oil can do. Did Essano Rosehip Moisturiser give me those benefits, such as hydrated and brighter skin?
Did my fine lines improve? 
Well. I don't think those benefits were significantly visible in my experience. In fact, I thought my skin remains on the drier side. But that's probably due to my use of Vitamin C serum. 
Now, I do notice brighter skin, but I like to attribute it to this wonder Vitamin C serum that I'm using. 
So, in a nut-shell, I use Essano mainly as a light and basic moisturiser. I think that's all it does for me as far as my naked eyes could tell. 
6. Reasonable Price
In Singapore, Essano Moisturiser is priced at about S$30. I would say that the price is pretty affordable, especially considering the amount of product that you get.  
7. Ease of use 
Dispensing the product is easy via a pump bottle. No need to dig your nail into tub bottle.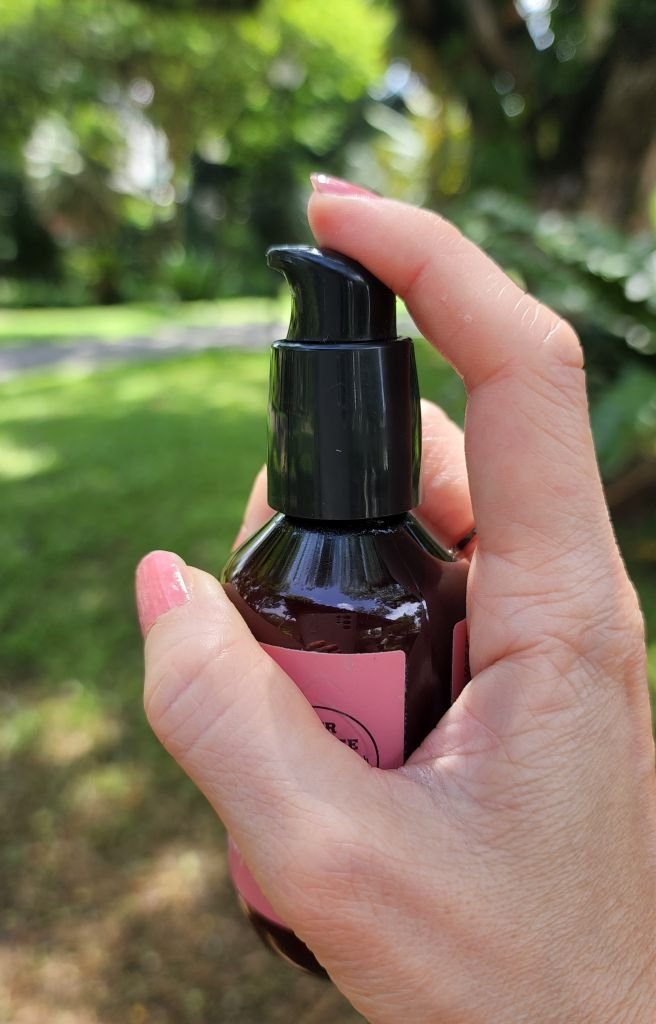 8. Ingredients of Essano Rosehip Moisturiser
Here's the full ingredient list of Essano Day Cream.
I see Aloe Vera, Rosehip Oil and Vitamin E, though the last two were near the back of the list. This means that the quantity isn't a lot as compared to the rest of the ingredients. 
Water (Aqua),Aloe Barbadensis (Aloe Vera) Leaf Juice*, Ethylhexyl Methoxycinnamate, Zinc Oxide, C12-15 Alkyl Benzoate, Cetearyl Alcohol (and) Cetearyl Glucoside, Cetearyl Glucoside (and) Sorbitan Olivate, Caprylic/Capric Triglyceride, Glycerin, Phenoxyethanol (and) Ethylhexylglycerin, Cera Alba, Helianthus Annuus (Sunflower) Seed Oil*, Rosa Canina (Rosehip) Fruit Oil*, Xanthan Gum, Fragrance, Tetrasodium Glutamate Diacetate, Tocopheryl Acetate, Bisabolol, Lactic Acid, CI 77491, CI 77492, CI 77499.
---
Recommendation: Should you buy Essano Rosehip Moisturiser?  
If you are looking for a super lightweight facial moisturiser, Essano Rosehip Pure Defence Moisturiser may work for you. The generous quantity is a plus. And I like how it works on my pimple-prone skin. 
However, this is not a product that I would definitely repurchase because I find it too light for my aging skin. Its claim to provide long-lasting hydration doesn't seem to work on me. In addition, I would also prefer my day cream to come with higher sun protection factor and a visible PA+ rating. 
Still, I think Essano Rosehip Moisturiser is a decent product and may work for someone with oily or normal skin. Rating: 3.5/5*
* For oily skin, it may be a 4/5
---
That's all for today and thanks for reading as always. If you find today's review useful, you can get more useful and honest reviews by subscribing through the button below. See you again! 
This post may contain affiliate links, meaning I earn a commission if you make a purchase, at no cost to you. Read my full disclosure for more info.
SUBSCRIBE
(Visited 72 time, 1 visit today)