Who says you can't get pretty DIY nails at home? I didn't expect to like Etude's Juicy Cocktail Gradation Nails since I've recently had a really bad experience with another Etude nail polish. That "Give Me Chocolate Nails" was total garbage material and please don't get it (mini review below).  
So can you imagine how surprised I was when I saw how pretty Etude Juicy Cocktail Gradation Nails turned out to be? It's probably the best-looking DIY nails I've ever done for myself.
About Etude Juicy Cocktail Gradation Nails
Etude Juicy Cocktail Gradation Nails comes in 6 different colour theme. Each kit contains three bottles of polish belonging to the same colour family.
The bottle within each is tiny, at 4ml as compared with the normal 10ml bottles you get elsewhere. However, if you add them up, it's 12ml of nail polish. Not too bad a deal.
---
How to Apply?
Here's how you would layer the polish – 1) Shimmery polish > 2) Fine glitters > 3) Bronze glitters.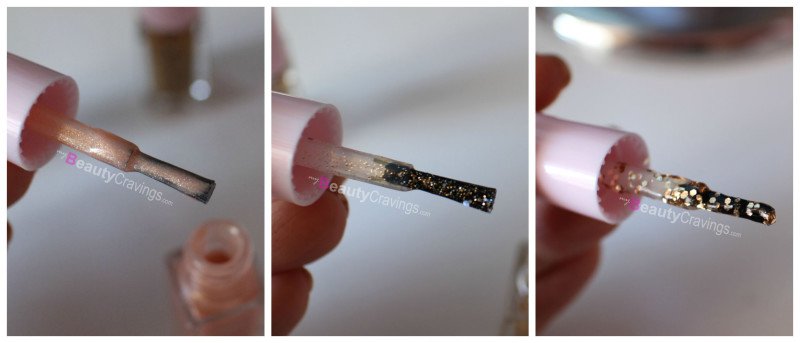 You apply the shimmery polish first, followed by the fine golden glitters over the outer half of your nails. The last layer (large glitters) goes over the outer tip of your nails – think of the white tip of a french manicure. FYI, I have at least 2 layers of each colour before covering them with top coat.
Does the pictorial illustration make it easier to understand?
---
What's Good about Etude Juicy Cocktail Gradation Nails? 
1. First Attempt – So Pretty!
Isn't this pretty, considering it's my first attempt?  I'm sure it'll look even better after a few more tries.
The first colour (shimmery peach) was the easiest to apply. The colour distributed well. However, it became more challenging "manoeuvring" the next 2 colours. Most of the time, your nails will be covered with translucent base more than the glitters. It took multiple swipes and a lot of care to pick up the glitters and get it to stick to the right places. Still, it should take you not more than 10 minutes to complete the manicure.
Despite the extra efforts required, I think the pretty outcome more than compensate for it. Even with mediocre skill, I feel that I have just walked out of a professional nail parlour.
The colour you are seeing here is #5. I am so tempted to buy the other colour series now. In fact, I will definitely buy the other colours the next time I shop.
2. Long-lasting
Etude Juicy Cocktail Gradation Nails is one of the most durable non-gel polish I've tried. Minor chipping that was hardly noticeable started on the 4th day, from the outer edge of the nails. You probably won't notice it unless you scrutinize because the base colour is too close to your nail colour.  
What's good is that you can easily add more glitters to touch up on the nails. As of now (5th day), I haven't found the need to do so yet. I'm expecting this nail colour to last me more than 10 days with minor touch up. 
3. Cheap!
I got it at a special promo for $5, so I'm not sure how much the original retail price was. With a bit of googling, I see that Etude Juicy Cocktail Gradation Nails is being priced at USD7.80 on its official website.
---
Recommendation
You know I don't lie. When I hate a product, I'll say it as it is. When I love one, I'll tell you so. Go get it now because Etude Juicy Cocktail Gradation Nails won't disappoint! And I'm not sure how long the store will carry it (coz it was launched early this year). It's in my Top Review and Holy Grail lists. Rating: 5/5
To find out the latest price on Amazon, click HERE. 
Love more of such honest reviews? If you like to get notified of my new posts, you can click the button below to subscribe. I'll even give you some free and exclusive stuff. See you there!
This post may contain affiliate links, meaning I earn a commission if you make a purchase, at no cost to you. Read my full disclosure for more info.
(Visited 447 time, 1 visit today)