Hey all, I'm so in love with Clinique Quickliner for Eyes Intense and want you to know about it too. This eyeliner that I ordered from clinique.com creates defined lines that won't smudge the entire day. Read on for a list of pros and cons and you may find yourself wanting to bring this home too.
---
More about Clinique Quickliner for Eyes Intense
Clinique offers a few types of eyeliners, such as those in the form of liquid or pencil. The one we are reviewing today – Clinique Quickliner for Eyes Intense – falls under the "automatic pencil" category and is said to offer richly-pigmented colours to the lids.
Now, you may like to know that Clinique has another eyeliner with almost the same name – "Clinique Quickliner for Eyes". The difference is that this other variation doesn't contain the word "Intense", and hence may be a milder version in terms of colour payoff than what we are reviewing today.
Another thing to note is that the Intense Quickliner that I have was received as part of a free gift during Christmas promotion. I notice that it doesn't come with sponge tool on the other end as compared to the actual ones on sale. This did not affect my usage in anyway.
Now, let's find out what's causing me to fall head over heel over this lovely eyeliner.
---
What's Great about Clinique Quickliner for Eyes Intense?
1. Creates defined line that's still natural looking
My long-time readers would know my strong preference for natural-looking makeup. As such, I hardly use liquid eyeliner as the line produced seems a little too artificial for my liking.
Clinique Quickliner Intense offers an excellent alternative. It creates a line that is defined and thick enough to achieve a natural look.
2. So Convenient to Use
Most eye pencil that I have require sharpening. The few that could swivel out automatically didn't fare quite well in performance, such as Cezanne Gel Eyeliner.
I'm so glad I've finally found an automatic eyeliner that works well in most categories. Just twist Clinique Quickliner Intense and the pencil will be lengthened to your desired length. Do however note that once release, you won't be able to retract it. So don't be twist-happy, yeah?
3. Clinique Quickliner for Eyes Intense glides on smoothly
I love how buttery smooth Clinique Quickerliner feels on the lids. It glides on effortlessly and produces a smooth and consistent line throughout.
4. Won't Smudge!
Yes, this eyeliner from Clinique won't smudge. Let the colour set for 60 seconds and you'll be so delighted because the same line that you have drawn in the morning will last through the night. It's amazing!
5. Super in love with "Intense Chocolate" Colour
The colour I've gotten – Intense Chocolate – is such a versatile colour that can be used everyday. I have been using it for all occasions – casual or formal – and I love how it makes my eyes look bigger without any harshness or looking like I have a ton of makeup on.
---
What's not great about Clinique Quickliner for Eyes?
1. Not the cheapest eyeliner in the market
Clinique Quickliner Intense retails at US$20 in the US. This is not expensive, but you can probably find one easily at half the price, especially those made in Korea. Here is its latest price.
Still, I think it's worth the price because of how great a product it is and how often I choose to use it – everyday.
2. May not achieve a fine tip
Unlike a pencil that can be sharpened to create a sharp tip, you may not be able to achieve a fine tip with an automatic pencil. If you desire a fine line especially towards the end, you may struggle a bit. For me, I just habitually use my index nail to smudge the line out to create a finer tail.
---
Should you get Clinique Quickliner for Eyes Intense?
I know I will definitely repurchase this eyeliner, and may even try out its closer cousin, i.e. the one without the word "intense."
I love how this Clinique Quickiner for Eyes Intense stays on the whole day and looks fresh even after many hours. Most importantly, it creates a defined line that is still natural looking. But of course, this would depend on the colour that you choose – chocolate is always a safe colour! So yes, this is going into my Holy Grail list. Rating: 5/5
To find out the latest price on Amazon, click HERE.
---
Love more of such honest reviews? Feel free to connect with me if you like to receive more useful and honest reviews. Just click the button below to subscribe and you'll also get access to all my exclusive contents. Chat soon!
SUBSCRIBE
Pin This!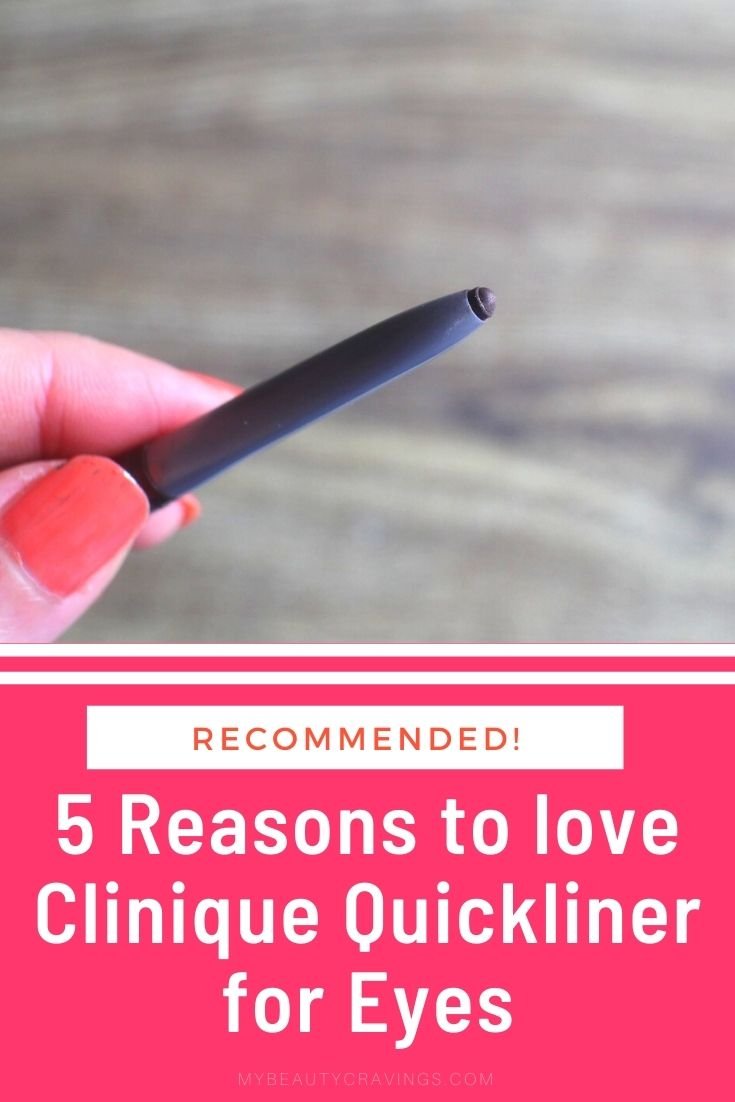 This post may contain affiliate links, meaning I earn a commission if you make a purchase, at no cost to you. Read my full disclosure for more info.
(Visited 1,590 time, 1 visit today)