I've been given the opportunity to try a new anti-aging treatment – FACESTIM – that focuses on firming the skin using both radiofrequency and muscle contraction. Having gone through two treatments thus far, I am keen to share everything you need to know about this treatment that literally gives your face a little workout.
If you like a no-downtime and needle-free treatment that can "lift" your skin, read on to find out what FACESTIM treatment can do for you. 
---
What is FACESTIM treatment? 
While receiving my botox treatment one day, the clinic I've been patronising for more than a decade – Cutis Medical Laser Clinics – asked if I would like to try a new treatment that addresses aging concerns.
Known as FACESTIM, this treatment combines radiofrequency and muscle contractions to lift and rejuvenate the skin. Some benefits that may be achieved include:
Lifted eyebrows
Lifted mid-face
Reduced nasolabial folds
Firmer jawline and neck area
What's unique about this treatment is how it attempts to "exercise" the face. Have you ever seen the skin of a muscular man? Do you notice that the skin looks firm and taut?
I believe that's the intent of FACESTIM when it uses a device to cause the facial muscles to contract. In addition, Radiofrequency generates heat in the deep layer of the skin to stimulate the production of collagen fibres. You can read more about FaceStim treatment here. 
---
Going through FACESTIM Treatment
The aesthetician first cleansed my face before applying a layer of gel over it. This gel would allow a hand-held device to glide over my face easily for the next 40 minutes or so.
1. Start with Radiofrequency 
Segment by segment, the aesthetician rolled the warm device over my face. This was the first half of the treatment when my skin received Radiofrequency (RF). 
I understand that temperature of RF treatment would go above 46°C to stimulate the production of new skin cell, collagen and elastin. Though warm, I felt comfortable throughout the treatment.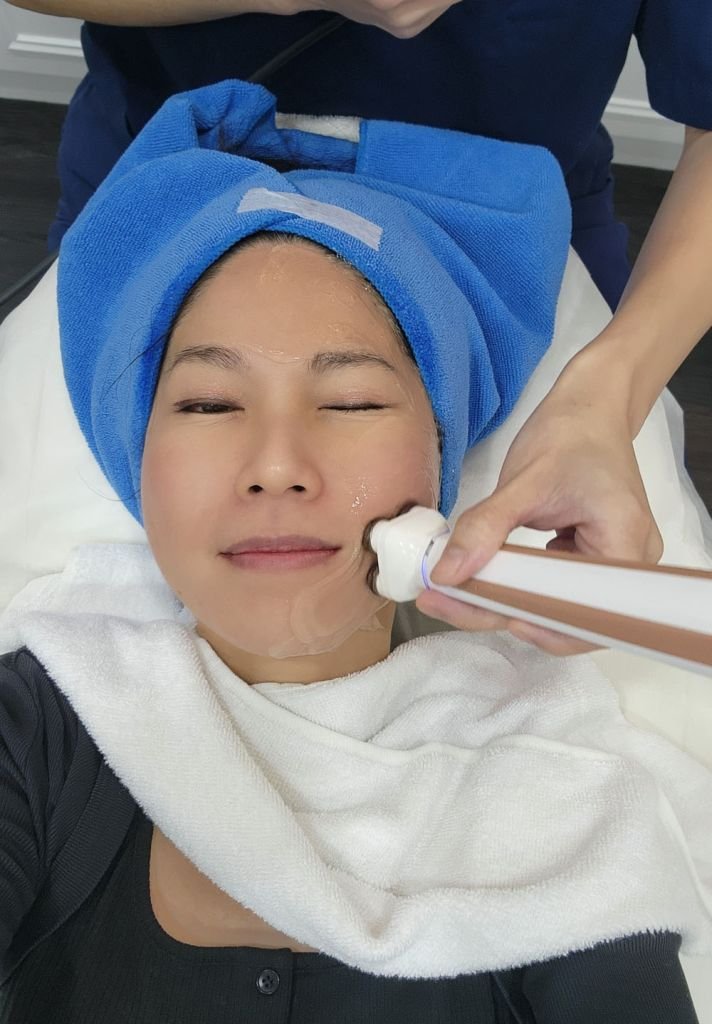 There was only one spot (during second treatment) when I felt that the device was too hot and informed the aesthetician. She then adjusted the temperature accordingly. 
I've read that RF is effective in helping sagging skin regain its shape and feel, and minimise appearance of wrinkles and fine lines. 
2. Next, exercise the face
After the RF treatment comes the second treatment, which was to contract the facial muscles.
When the device was glided over my face, I felt sensation similar to multiple mini-current or tiny pins running through the skin.
It was an unusual sensation, and certain parts of the skin (e.g. near lips) would twitch rhythmically. But there was absolutely no pain or discomfort. In fact, I thought it was like a soothing "mini-current massage" and nearly fell asleep towards the end of the session. 
The entire session lasted about an hour.
---
Frequently Asked Questions (FACESTIM)
1. Any Side Effects or Downtime? 
There was no downtime at all, both in terms of appearance and feel.
I felt like my usual self – no pain, no swelling. Other than a slight pinkiness on my left cheek immediately after the treatment, no one would notice any difference to my skin.
2. How often is FACESTIM Treatment needed? 
Cutis Medical Laser Clinics recommended 3 to 5 treatments, spaced about two weeks apart. Thereafter, maintenance treatment can be performed every 3 to 4 months. 
3. When can we see start seeing results? 
I read that results may be seen from the first treatment. In my personal experience, I noticed younger and firmer skin on Day 2 of first treatment even though I was quite skeptical of this treatment initially.
After Second Treatment
In my second treatment done a week after the first, I noticed tauter skin by Day 2.
By Day 4, I wrote in my beauty diary that the "face continues to look fuller especially the cheek areas. Skin can bounce back more easily when pinched."
By Day 14, my pores appeared visibly smaller. And my skin appeared more radiant, which I was not expecting from such a treatment. Not sure if the brightening effect was indeed a result of FACESTIM treatment or a psychological effect. I'll continue to research and monitor – will update when I have a more definite answer. :)
4. How long can the results last? 
The results is said to last between 6 to 8 months. I've yet to complete the course (pending third treatment) and continue to see improved tautness to the skin one month after my first FACESTIM treatment. 
5. How much does FACESTIM cost? 
Each session cost around $320 as at time of writing. Please enquire latest rate by contacting Cutis Medical Laser Clinics. 
6. Can you combine FACESTIM with other aesthetic treatments? 
You can combine FACESTIM treatment with filler and botox. In fact, it was said that FACESTIM can reduce the amount of fillers needed.
FACESTIM can also be combined with microneedling, ultrasounds and chemical peels. 
---
Conclusion: Does FaceStim Work?  
I was initially skeptical of this treatment because I know we need to exercise regularly in order to keep the muscle/skin taut. Therefore, how can once weekly or fortnightly treatment achieve lasting "firming" results? 
Strangely (in a good way), the actual experience showed me that there was indeed visible improvement even though I've only gone through two treatments. The effect is still visible now that I'm into my fourth week. However, I do expect the need for such treatment to be administered regularly for results to be maintained. In fact, I wouldn't mind replacing monthly facial with FACESTIM treatment.  
Do however manage your expectation especially if you want enhancement in the volume of your face. This would be best achieved with fillers. What FACESTIM can improve is lifting and tautness of the face. In fact, you may even consider combining FACESTIM with filler treatment to achieve the best result. 
---
Hope you've found this info useful in your anti-aging journey. I like to thank Cutis Medical Laser Clinics for providing myBeautyCravings the opportunity to learn and share about a new anti-aging treatment. 
Want to stay connected so that you'll get notified whenever a new post is published? Just click the button below. Thank you for reading and see you soon!
This post may contain affiliate links, meaning I earn a commission if you make a purchase, at no cost to you. Read my full disclosure for more info.
SUBSCRIBE
(Visited 553 time, 2 visit today)