Hi all, have you been ordering food delivery a lot these days? I first published this in May 2020, and it seems like in May 2021, we would be tapping a lot on food delivery service again.
Here's a $8 Foodpanda Credit for new users who make food order of $15 or more. Only 10 users can get this $8 credit through my referral link. So, hurry! 
Now, let me share why Foodpanda is useful even if you are not a fan of food delivery services.
---
What's Foodpanda?
Foodpanda is a very popular food delivery marketplace in Singapore. I'm sure most of you know or have used it because most of my friends have.
But in case you are a late adopter like me or are new to Singapore, Foodpanda – together with players such as Grabfood and Deliveroo – is a platform that allows users to order food online and have it delivered to their preferred location.
Whether it's food from a restaurant, cafe or hawker stall, you can have the food right at the comfort of your home with just a few clicks or swipes of your digital devices.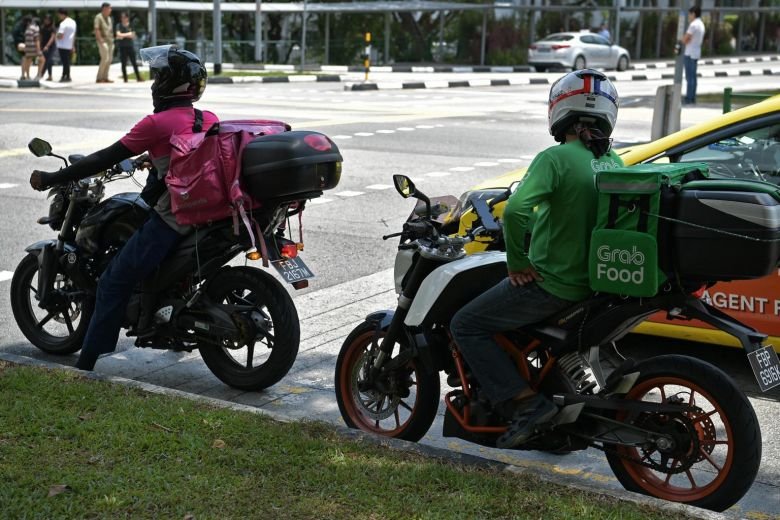 Such a food delivery service has gained quick popularity in recent years. Even though I'm not a frequent user, I've often spotted delivery riders zipping through the streets in their signature green or pink T-shirts and food bags. This goes to show how high the penetration rate is in Singapore, and how much people enjoy the convenience of food delivery.
Now, despite the popularity, I'd never thought of signing up. Even the abundance of frequent promos and discount coupons didn't manage to sway me into action. 
Why I wasn't a fan of Food Delivery Services…initially
There's only one reason why I'd never thought of signing up for food delivery services, and that is – I love to walk.
As a fitness buff, I exercise regularly and make it a point to conquer more than 10,000 steps a day. Food delivery services sound like something that would derail my fitness plans. To put it simply, it didn't fit my lifestyle and goals. Hence, I don't crave for the convenience of food delivery because I'm more crazy over moving my butt!
> RELATED: 30 Days Slim & Fit Challenge
Even after Singapore entered a partial lockdown a month ago (when dine-in is no longer allowed), I'd never thought of signing up for food delivery services. Because we can still go out for essential services, such as buying food. 
Actually, all the more I wanted to go out to get food since that would be one of the few legitimate reasons to step out of home. But I can't deny that the Circuit Breaker did prompt me to explore food delivery apps and see what they offer, in case I feel lazy on some days. 
I started off by exploring Grabfood, but didn't see a good reason to convert. Food prices were generally pricier than what I can get from the store or through the restaurants' apps, e.g. KFC, Pizza and Burger King. 
A month later, I started exploring Foodpanda app out of sheer boredom. That's the moment I realised how Foodpanda can fit into my lifestyle without me sacrificing my fitness goals.
---
How Foodpanda benefits someone who's not interested in food delivery
What prompted me to sign up as a Foodpanda user wasn't the delivery services. Instead, I was drawn by the "Pickup" option, which offers a 20% discount as at time of writing.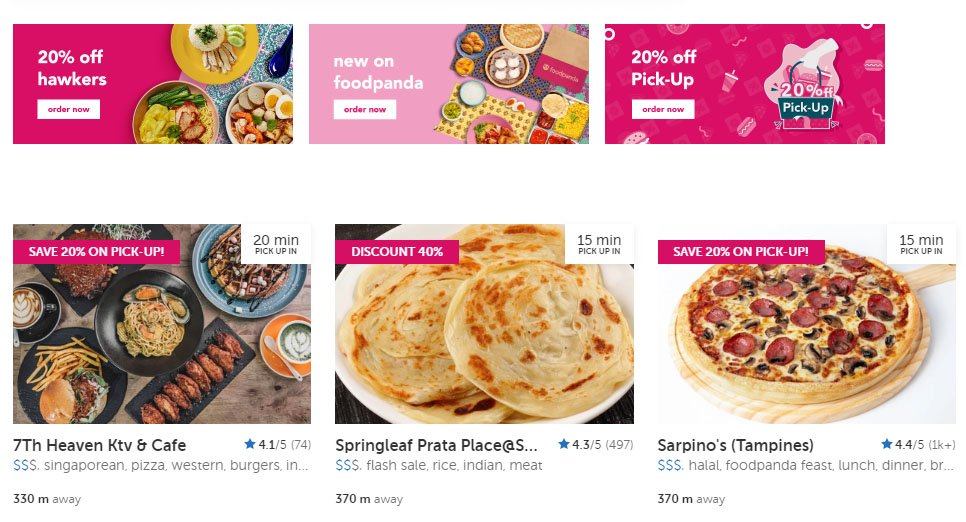 For instance, a MOS Burger originally priced at S$3.55 would cost just S$2.84 if I choose to takeaway. And a Starbucks Frappuccino would cost just $5.52 after the 20% discount. This is real savings as compared to actual retail prices, and makes it a no-brainer to use the app even if I'm not a fan of its delivery service.
Foodpanda Promo Code
If you are keen to sign up as a Foodpanda user, remember to get your $8 free credit. It'll make your first food purchase even tastier. :)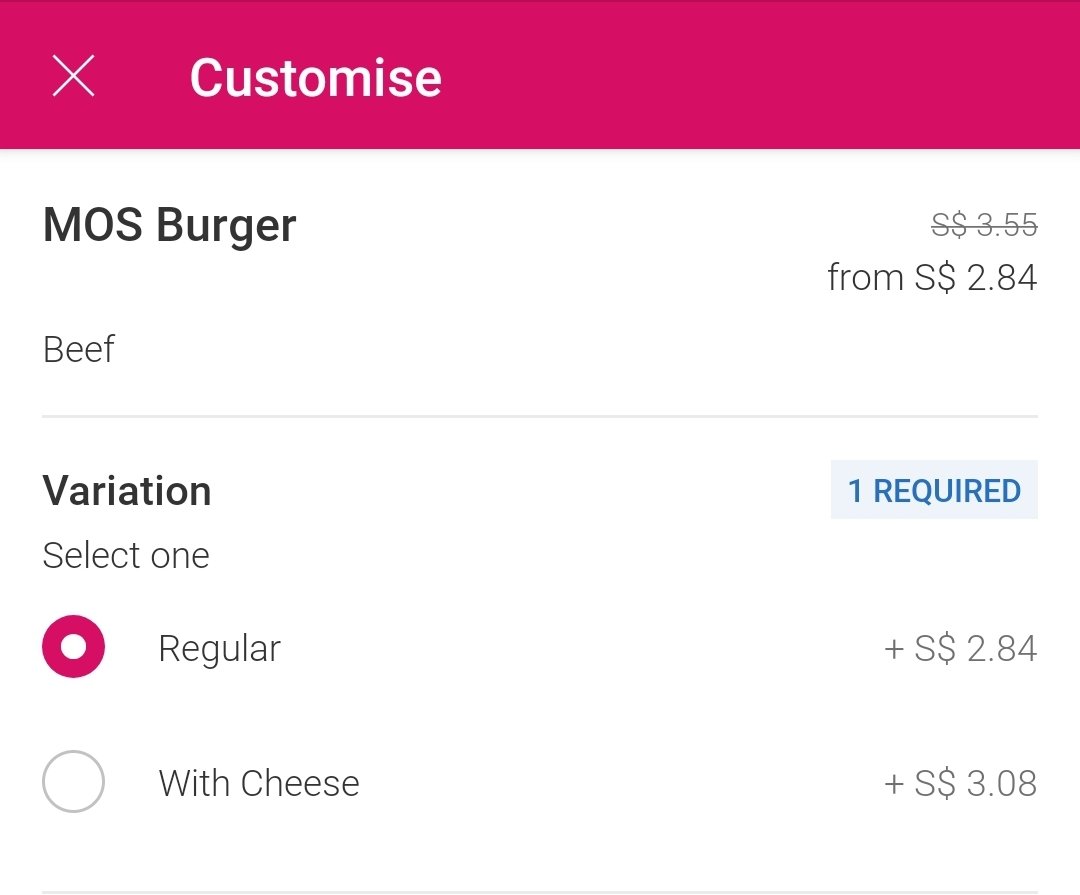 More benefits of using Foodpanda for takeaway orders
Other than saving money, I also appreciate being able to make food decisions at the comfort of my home, choose the preferred collection time and skip the queue when I'm there.
It cuts down waiting time tremendously (am I starting to sound like Donald Trump?)!
This is the kind of convenience that I love more than the delivery service itself. Because I get to clock my daily steps and maintain great fitness and health. :)
Therefore, if you have a lifestyle similar to mine (i.e. you love moving), do consider using Foodpanda app so that you can benefit from cheaper takeaway orders. And don't forget your Foodpanda $8 credit when you make your first order.
---
Recommendations: Who I recommend Foodpanda for 
I used to think that Foodpanda would only benefit those who enjoy food delivery services. So glad to learn that it's not the case.
Even if you prefer to walk and make takeaway orders, you can benefit from the cheaper prices offered by Foodpanda's "Pickup" service (20% off as at time of first publication). Therefore, I wholeheartedly recommend Foodpanda to everyone – whether you like food delivery or prefer takeaway. Rating: 5/5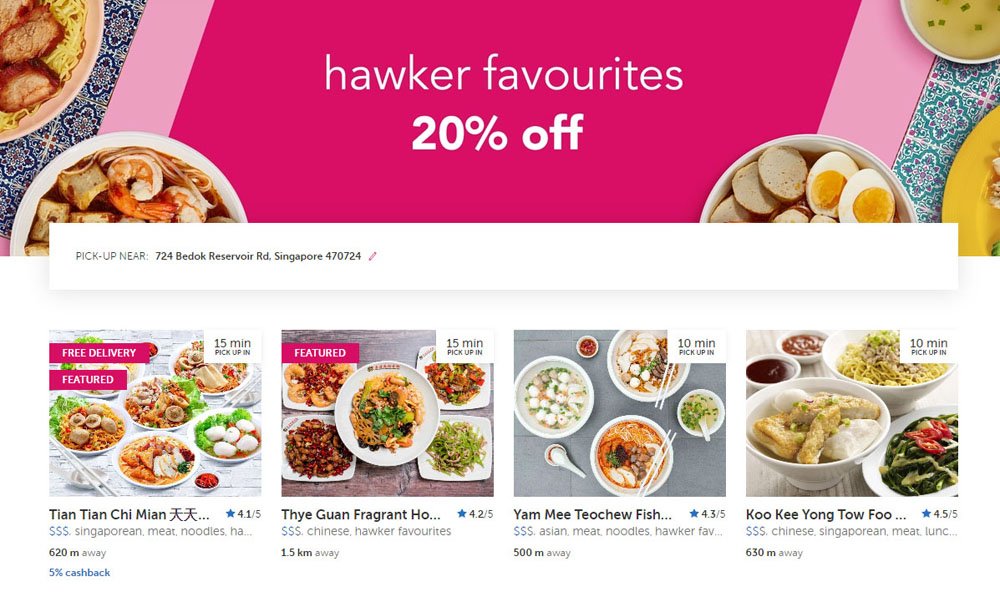 Foodpanda Promo Code:
Remember, don't forget to get your free $8 foodpanda discount which will make your first food purchase so much cheaper. 
Also check out other great promo codes and deals I have for you. Hope you've found this article and the promo code useful. Connect with me if you like to get notified of my latest and 100% honest reviews – just click the button below. See you soon!
SUBSCRIBE
(This post was first published in May 2020 and updated in May 2021.)
This post may contain affiliate links, meaning I earn a commission if you make a purchase, at no cost to you. Read my full disclosure for more info.
(Visited 872 time, 1 visit today)