I hardly ever say this to a hotel and I'm going to say it to Fushin Hotel in Taichung. 
"I miss you!"
In fact, I said that out loud just a few hours after checking out of the 4-star hotel. What made me fall in love with this supposedly old and dated hotel in Taichung, Taiwan? Well, plenty of good stuff and I can't wait to share them with you.
A spoiler here – Fushin Hotel Taichung is not as dated as it appears on booking portals. :)
---
How I Started My Love Relationship with Fushin Hotel Taichung
Read this earlier post and you would know how I was frantically struggling with hotel bookings, because most accommodations shot up by 500% in price during the New Year period. It must be fate that drew us to Fushin Hotel Taichung, which we would normally have skipped due to its oldish interior decor and design. 
But we had limited choice then.
TIP: Avoid travelling to Taiwan during the New Year period unless you want to be there to participate in their count-down events. If so, please book hotels as early as possible.
Fushin Hotel Taichung met most of my hotel criteria – it was cheap, spacious, comes with free parking and located near to the train station.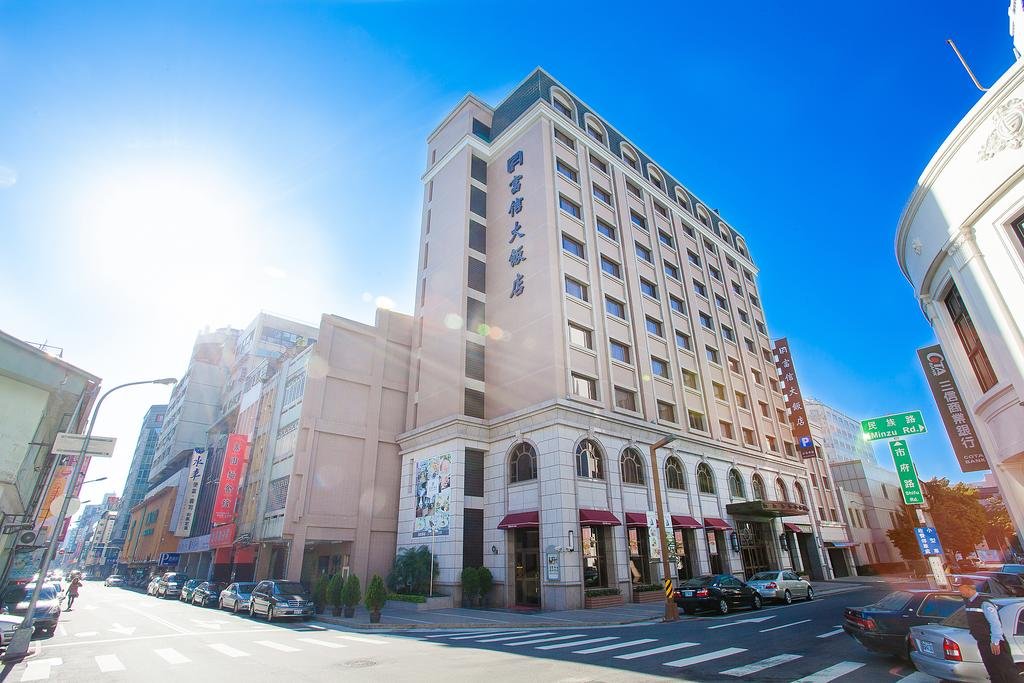 I still remember telling my partner prior to booking, "This hotel is not modern, but it's okay since we won't be in the hotel most of the time."
At the amount we'd paid, I really wasn't expecting much. Thankfully, the experience turned out to outshine even our first-day stay in a 5-star hotel (Tempus Hotel) in Taichung.
Let me summarize for you why I missed Fushin Hotel (actually, I'm still missing it now). We'll start with the pros and end with the cons as usual.
---
Our Hotel Selection Criteria in Taichung, Taiwan
Since we'd booked a car for the entire duration of our Central Taiwan Trip, one of our key criteria was to have free parking in all our accommodations. It is especially so knowing how notoriously expensive parking can be in Taichung city.
TIP: Interested in self-driving in Taiwan? You can read about my cheap and fuss-free car rental experience.
We also wanted to stay near the train station because at the time of our booking (1.5 months in advance), we didn't know if we would be driving for the entire trip. Staying near Taichung train station during the last leg of our trip would allow us to get to HSR (high speed railway) station easily. 
Another criteria was to stay in a place that offers cheap laundry facilities. We knew we would have lots of clothes to wash by Day 5.
After applying all the criteria, Fushin Hotel Taichung came out as one of the best options in the list. Here's why!
---
What's Good about Fushin Hotel, Taichung? 
1. It's so Spacious!
I knew Fushin Hotel was spacious when I booked the Deluxe Double Room A. But it's a different thing when I entered the room and witnessed the real space. At 36 m², I had the luxury to choose where to "base" my 28″ huge luggage.
The bed was super huge too! It looked so much larger than what I thought a king-sized bed looks like. I can easily fit 3 pillows side by side, meaning to say that I can roll around in the bed. LOL!
Although photos of Deluxe Room A showed only a shower cubicle (while room B showed a bath tub), I was surprised to see that my room came with both. Okay, now I'm really confused about the difference between Double Deluxe Room A & B's configurations. :)
2. More Modern than What the Photos Show
I didn't love what I saw in the photos because the toilet looked dated, and the armchairs by the bed looked as if there were from the 80s.
I'm so glad that the real experience was above expectation. As you see, the oldish-looking armchair was gone. In place of it was a modern and comfortable chaise lounge chair.
The toilet also didn't appear as old when you are in it. Actually, it's the same traditional design as above, but somehow it feels better in real. Not sure how or why. Maybe it's the cleanliness, the space or how everything was put together and presented.
3. Comes with a Japanese-Style Toilet
We certainly didn't expect an old traditional hotel to offer a Japanese-style toilet. Hello! You don't even get such toilets in many 5-star hotels.
And mind you, the toilet came with a seat warmer okay? I'm so touched! Ha Ha. It really warms my butt heart.
Why are we so obsessed with a Japanese-style toilet? It's hygienic, no? You can wash your "siblings" every time you use the toilet. It's refreshing too! He He :)
4. Room was Sparkling Clean
The room was not just big, it was sparkling clean….from its floor, vanity area, bed, utensils and more. It's obvious that the housekeepers take pride in their work. 
For an old hotel to achieve this level of cleanliness is commendable. I think Fushin Hotel Taichung deserves a big round of applause.
5. Relatively Unblocked View
As far as Taiwan Cities are concerned, it isn't a given to get a room with unblocked views. I've stayed in a few where the window faced the wall or were a few metres apart from the neighbor's windows.
I was glad that Fushin Hotel, Taichung offered a decent view from the deluxe room I'd stayed in. I could have the curtains drawn apart and walk around without feeling like I was losing my privacy. 
6. Free Parking in a Central Location
Do you know how expensive parking can be in Taichung? There was a day when we spent a few hundred Taiwan dollars just on parking. 
Therefore, to have free parking in a place as centrally-located as Fushin Hotel Taichung is really a value deal.
7. Walking Distance to Train Station
Fushin Hotel Taichung is located closed to the train station. So if you need to travel anywhere by train or even to the HSR station, it would be convenient. However, please note that it still requires about 10 minutes of walk, okay? 
TIP: Taichung Station is not the same as Taichung HSR (High Speed Rail) Station. To get to Taichung HSR Station, you can take a short train ride from Taichung Station.
8. Surrounded by Amenities
Staying in Fushin Hotel Taichung was so convenient. I could walk to a few tourist attractions, including Miyahara Ice Cream and Liuchuan Riverside Walk.
I could also access lots of food options such as Taichung Second Market, Zhongxiao Night Market, Fast-food restaurants, 7-eleven and more.
Getting food here is as easy as ABC. I'm also really delighted to have a Taro dessert shop located just opposite the hotel – yes, I had the dessert every night. LOL!
There's also a Taiwanese breakfast shop nearby that served authentic Taiwanese breakfast. I'll share more food tips in my day-by-day accounts, okay? :)
What's more? I also love the building's facade and how it is located next to a brightly-lit main road. It feels safe to walk around even late at night.
9. So Affordable!
We saw a special promo and got the room at just S$70+ per night (no breakfast). For the space and quality of the room that we have gotten, this is super value for money considering how most hotels of this quality was priced above $200 during new year period.
I hope you get similar deals too – remember to book early okay? :)
10. Free Laundry (Plus Detergent)
Not only does Fushin Hotel Taichung offers free use of washer and dryer, it even came with everything that you may need, such as free detergent, laundry basket and laundry bag. That's such a sweet gesture!
What's even better is how the laundry room can be accessed 24 hours, which means that we didn't need to sacrifice our precious touring time to wash our clothes. We did it after 12am. :)
11. Warm little Touches Everywhere
Fushin Hotel Taichung gave me a good first impression when I saw how the toilet amenities were nicely organized in a presentable container. Although I don't normally use hotel toiletries, I was still impressed when I pulled out the drawer and see the supplies nicely stowed away.
The hairdryer was also neatly placed inside a black pouch, with the unsightly wire hidden away.
12. Professional & Friendly Staff
This "pro" list is running too long…OMG! But I'm not done yet. Bear with me. :)
Another great thing about Fushin Hotel is the quality of its staff. I spoke with four staff during my stay and they were all professional and friendly. I believe they can converse in basic English because when I froze at one point in time, he translated the word "Carpark Token" into English. :)
There was also an occasion when the carpark entrance was closed after late night. I walked to the reception and the friendly staff immediately opened the gate for us. Her friendly demeanor made me feel at ease even though I thought I'd troubled her.
13. Good Soundproofing
You can get a good night sleep in the hotel. We never heard any noise from outside, unlike our bizarre and disturbing experience at this hotel. 
14. Comes with a Lift
Don't expect all accommodations in Taichung (or Taiwan for that matter) to come with a lift, especially those in Feng Chia Night Market area or small-scale hotels & B&Bs.
I'm glad that Fushin Hotel Taichung comes with a spacious, efficient and classy lift which made lugging of my 28″ luggage very easy. 
Realized that this is the only photo of me taken in Fushin Hotel. OMG! As some of you may know, I don't enjoy showing my face on public website. For the sake of my job here, I will do it, albeit sparingly. :) A blog post with no human images is boring, I know.
Okay, I'll remind myself to take more photos of me in hotel rooms, like donning a sleeping gown and sprawling sexily on the luxurious bed. Don't believe I'll do that? Don't try me! :)
---
What's Bad about Fushin Hotel, Taichung? 
1. Shower Cubicle Leaks
Apparently, there's a gap beneath the shower glass door that allows water to seep through to the dry area of the toilet. It isn't a major issue, but can bother those who love a 100% dry toilet – me! Luckily, the housekeeper was able to keep it dry and clean daily. 
2. Overzealous Housekeeping 
There's a button near the door where we could depress to indicate if we needed housekeeping service. As many of you would know, I don't normally request for housekeeping. First of all, I prefer not to have strangers enter the same room where my belongings are. Secondly, I care about the environment and do not need them to change the towels or replenish the toiletries. 
I remember clearly that I'd depressed the button on every occasions (3 nights stay). But my memory could have deteriorated because I always came back to a well-tidied room, which honestly speaking felt darn "shiok" lah (extremely satisfying). LOL! 
3. Location of Laundry Area & Gym
Yes, we have free use of laundry facilities. However, the room was located at the basement, beside the carpark. It was a little scary because I did my laundry after midnight. :) 
The same goes with the gym. It was small and not enticing for use. Similarly, it was also located at the basement, near the laundry room. 
4. Possibly Slow WiFi for Outliers
I'd encountered slow WiFi when I was there at the room on Level 8. The strange thing was how my partner who was just beside me didn't face any issue. Anyway, while writing this review, I scanned through the online reviews and didn't see anyone complaining about slow WiFi. So I could be an outlier or perhaps the problem could have easily been resolved if I'd given the reception a call. :)
But I was too lazy. Because I already had a fast and reliable Taiwan Pocket WiFi on disposal. So I saved myself and the hotel staff the trouble and tapped on my super cool Taiwan Pocket WiFi. :)
5. Not Walkable to Tourist Night Market & Big Malls
Although Fushin Hotel is located near to amenities and the train station, you can't walk to big malls or the popular Feng Chia Night Market. We rented a car, so it wasn't a problem for us to travel to anywhere. 
If you prefer to stay near shopping belts, you can consider staying somewhere near Tempus Hotel, where we stayed on our first night. Another popular area is the Feng Chia area where you can find many budget Airbnb units. Do note that parking is normally not free over there. 
 > Travel Savings: Get $62 off your first Airbnb stay and experience
---
Recommendations
Wow! With a glowing list of 14 pros, you would know why I'm highly recommending Fushin Hotel Taichung (it's not sponsored lah!). Now, if you drive, this is a very good hotel option. It's spacious, clean and surrounded by great amenities. However, if you think you'll be spending time in the gym, then this is not for you.
All in all, I think Fushin Hotel, Taichung offers superb value – I am missing it while writing this review. I normally like to try new experiences, including country, places and accommodations. However, this is one hotel that I would happily stay again. Can we call this my holy grail hotel in Taichung? Rating: 5/5
This concludes the review. I hope this post and other posts on Central Taiwan can help ease your travel planning. I'll be back with more travel reviews and recommendations. Stay tuned! Connect with me if you like to get notified of my latest and 100% honest reviews – just click the button below! See you.
SUBSCRIBE
Pin This!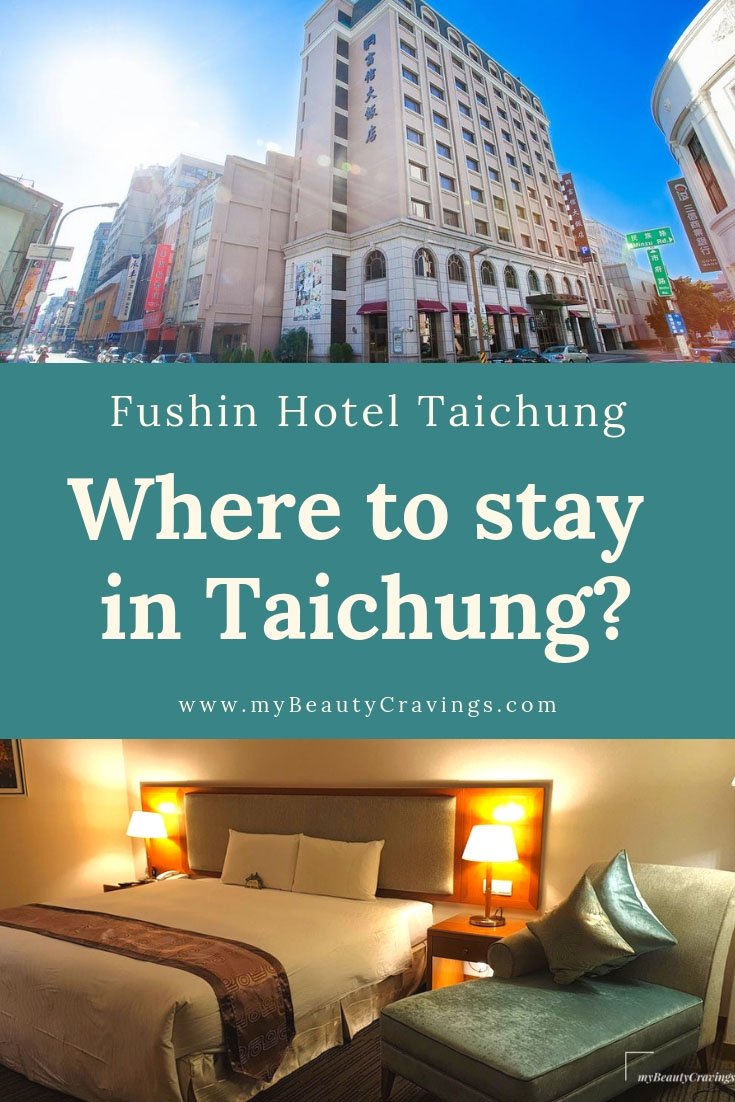 This post may contain affiliate links, meaning I earn a commission if you make a purchase, at no cost to you. Read my full disclosure for more info.
(Visited 540 time, 1 visit today)