I've had Goldwell Kerasilk Smoothing Fluid for a while already, and had attempted using it previously. However, I'd never really understood how it could help my hair. That changed after I've had a perm. Since then, I've been applying this hair serum daily without fail. 
If you have permed hair and want something subtle to manage your curls, check out this review. 
> RELATED: Tried a shoulder length perm. Here's what my colleagues say about my new look!
---
More about Goldwell Kerasilk Smoothing Fluid
Goldwell was founded in Germany in 1948 and specialised in products that catered to hairdressers. In fact, I've gotten hold of this Goldwell Smoothing Fluid from my hairdresser when I did my rebonding half a year ago.  
According to the label, this smoothing fluid is used to tame unmanageable, unruly and frizzy hair. It contains three key ingredients, namely Glyocylic Acid, Modified Keratin and Color Caring Silk, to de-frizz and smoothen the hair's surface. 
Unfortunately, I couldn't tell any difference after using it on my then-straight hair. Maybe my hair wasn't frizzy enough, but I'd at least expected my hair to appear a little glossier, sleeker and flatter.
That didn't happen. So, I kind of just abandoned the smoothing fluid until a month ago when I got a perm job (read about my hair transformation here).
I started testing the various hair products that I have and Goldwell Kerasilk Smoothing Fluid turned out to be the most suitable for my needs. It allowed me to have better-managed hair without feeling or appearing like I've something applied to it. Let me share what's so good about Goldwell Kerasilk Smoothing Fluid when used on permed hair. 
---
What's Good about Goldwell Smoothing Fluid? 
1. Make Curls Look Better Subtly 
Since I do not style or blow-dry my hair, permed hairstyle can sometimes look messy or frizzy. Thanks to Goldwell Smoothing Fluid, my curls appeared more grouped together, but still in a subtle and very natural way. 
The photo below was when I applied two pumps of the smoothing fluid. If you notice, there's a soft sheen that resembles healthy hair, and the curls look better.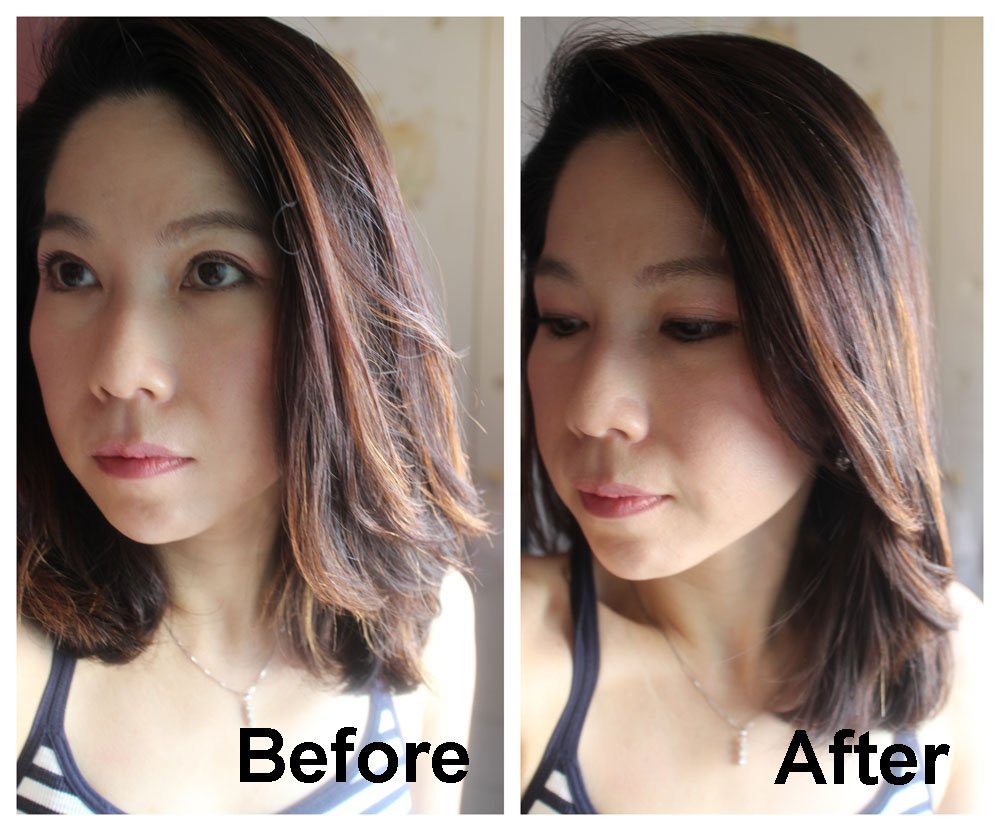 2. Non-greasy and Not Sticky
I don't have the habit of styling my hair, mainly because I don't like having greasy or sticky hair. More than a decade ago, I did a perm and was advised to use a styling wax. OMG, my hands were sticky everyday as I have the habit of touching my hair frequently. LOL!
From then onwards, I've refrained from hair products that require me to wash my hands after touching my hair. And as you know, I've also refrained from permed hairstyles for decades as I didn't want to use any wax ever again. :)
Goldwell Smoothing Fluid and Matomage Hair Arrangement Water are the only few hair products I wouldn't mind applying on my hair regularly. Once applied, these products will not make your hands sticky even if you touch your hair. 
However, do note that during initial application, you will need to wash your hands. But once the product is on your hair, you can touch your hair freely without feeling any stickiness.
3. Easy to Apply
Goldwell Smoothing Fluid is easy to apply. You can do so either on towel-dried or dry hair, or both. I tend to apply it on towel-dried hair, so that my permed hair would dry with better-looking curls.
When I need the sheen and curls to be more pronounced, I can apply the fluid again when the hair is completely dry.
---
What's Not Good? 
1. Don't expect obvious shine or holding power
One of the great things I like about Goldwell Smoothing Fluid is how natural the hair looks. But if you are looking for obvious gloss or curls that would hold extremely well together, this product may not suit your needs.  
2. Not Cheap
Goldwell Smoothing Fluid is not cheap. When I googled, I see that it's normally priced above $30. Here's its latest online price. 
I've gotten it free as part of the Hair Rebonding promotion at the salon. But would I get it if I have to pay the full price?
Well, I may if I cannot get another product that works well on permed hair, but it is likely that I would explore other products first. :)
---
Recommendation 
Goldwell Kerasilk Smoothing Fluid is my go-to hair product and I use it every single night on towel-dried hair. I like how it helps my perms look better the next morning, even if I skip blow-drying or styling. I also love how natural looking my hair looks or feels.
However, this is not a product I would rely on if I have straight hair or want my hair to feel smoother or sleeker.
All in all, I recommend Goldwell Smoothing Fluid to those who have perms and want their curls to look neater in a subtle and natural way.
This post may contain affiliate links, meaning I earn a commission if you make a purchase, at no cost to you. Read my full disclosure for more info.
---
Love honest beauty reviews? If you like to get notified of my new posts, you can click the button below to subscribe. See you there!
SUBSCRIBE
(Visited 55 time, 1 visit today)