Just came back from a staycation at Goodwood Park Hotel. What impressed me the most was the quality of sleep I enjoyed, as well as the swim in the cosy and well-landscaped pool!
Read on and check out pros and cons of staying in this historical landmark building in Orchard Road, Singapore. 
---
Period of Stay – Covid Phase 2 (No dine-out)
So we stayed in Goodwood Park Hotel in during Covid Phase 2 (Jul-Aug) when dine-out was not allowed. How was the experience like when we couldn't use much of the facilities within the hotel? Or the fact that we had to do takeaway for every meal.
Was Goodwood Park Hotel a great choice for staycation? Would it be a good choice for tourists to stay here when they are able to come to Singapore? 
I'll share my recommendation below. But let me first talk a little bit about the location of the hotel. 
---
Location of Goodwood Park Hotel, Singapore
If you are someone who loves shopping, Goodwood Park Hotel makes a great accommodation choice as it's located within Singapore's most popular shopping belt. From the hotel, you'll be within walking distance to countless upmarket malls, such as Isetan Scotts, Tang Plaza, Ion Orchard, Wisma Atria and Takashimaya.
Since we had to do takeaway for all our meals, we were happy to have Far East Plaza next to the hotel. Even though it's a very dated mall (think 1980s), it provided us with easy takeaway options and alleviated the need for us to walk too long and too much to get food and amenities.
Tourists may also want to visit this old mall to see how shopping malls in the 1980s were like, in terms of mall layout. 
Complimentary Parking for Hotel Guests
Another thing to note about Goodwood Park Hotel – parking was complimentary for hotel guests during our stay. Just collect the redemption coupon when you exit the carpark. 
You may also like to know that there is limited sheltered parking – most of the lots are open-air. Also, you'll need to climb stairs to get to the basement carpark (no lift). 
Now, let's check into the hotel, shall we? 
---
Checking into Goodwood Park Hotel
I've passed by this distinctive hotel all the time whenever I visit Orchard. Finally, Covid gave me a good reason to stay in this hotel and see how its' interior was like.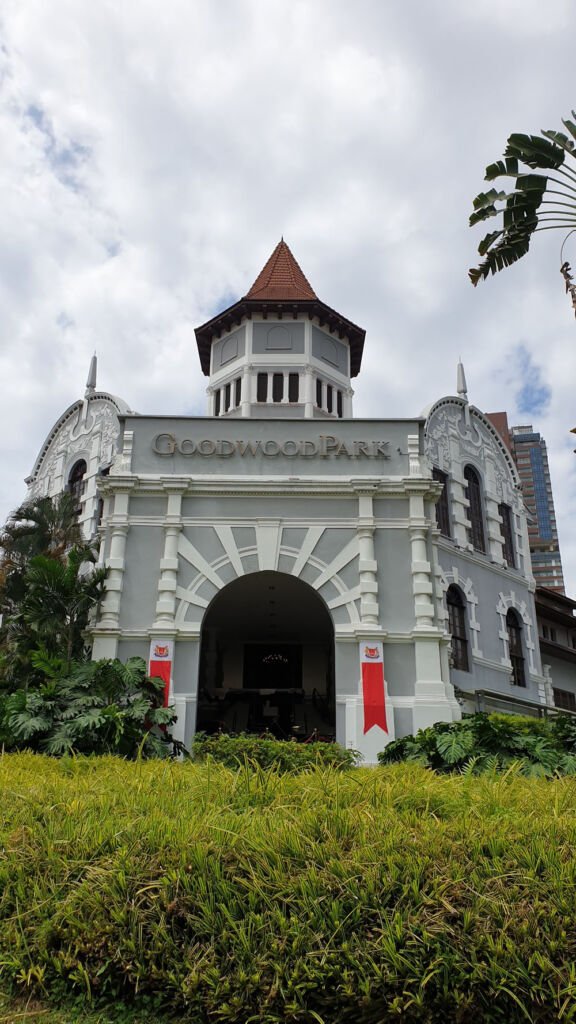 The first impression was good. When I emailed them to request for early check-in (official was 2pm), they replied promptly to share that I could check in early at 1pm. The window period given to me was 10mins, meaning I had to arrive on time (1pm to 1.10pm) if I want to secure my early check-in. This is a good initiative as it ensured that guests are kept apart during such pandemic period – and it worked well.
When I arrived at Goodwood Park Hotel, I did not have to wait at all. Check-in was almost instantaneous. And did I mention that there were ample seats for guests to relax and wait at lobby. Definitely a more peaceful and exclusive experience than the next hotel I would be visiting the next day (will blog about it soon. :))
Soon, a staff came and led me to my deluxe room on the 3rd level.
> MUST-READ: Orchard Hotel was more modern than I'd thought
---
First Impression of Deluxe Mayfair Room
Big! Spacious! Huge mirrors! That was my first impression. There's no doubt that the room was indeed 35 sqm as advertised (perhaps even bigger). 
However, I didn't exactly fall insanely in love with the room immediately. I later found out that the room layout differed significantly from the stock photo shown on hotel booking portal. I could have gotten a rare and unique room of the same category – perhaps a corner room. 
Stock Photo of Deluxe Mayfair Room
Here's the stock photo of hotel that I saw on hotel booking website. 

The Mayfair Room that was assigned to me
And here's the room I was given.
Room differed from Hotel Stock Photo
The Deluxe Mayfair Room that I was allocated had a small balcony entrance at the front of the bed instead of being adjacent to it. From within the room, I couldn't enjoy any view unless I stepped out of the balcony and take a 90-degrees turn to the right.
Even then, the balcony view (or even the balcony itself) wasn't pretty – I didn't use it at all during my stay.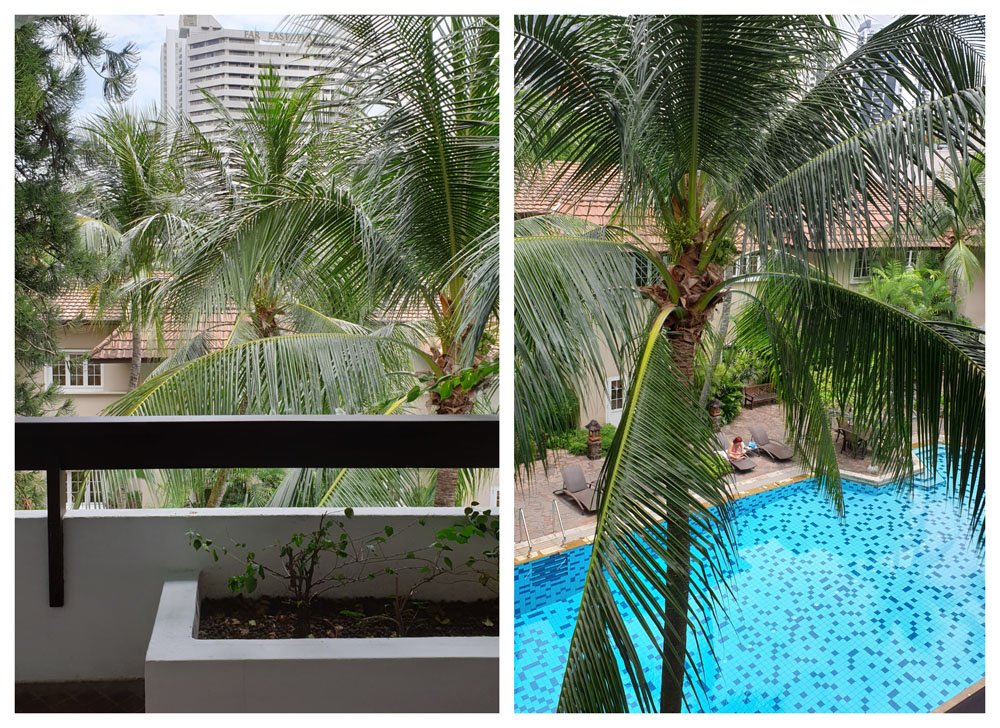 Another thing that differed from stock photo was how the study desk was back-facing the window, instead of being next to the window. It didn't feel like a happening place to be working at. Hence, I didn't use the area much even though I normally hogged the work desk in every hotels that I stayed in. 
> RELATED: Park Hotel Farrer Park Review – A centrally-located & affordable hotel in Singapore
The 50+ inch TV was also not directly in front of the bed, but at a side wall, next to the study desk. Luckily, the TV could swivel to a better angle so that we didn't have to turn our head too much. 
Oh, can you see the connecting door beside the bed? I would prefer not to have a connecting room as it just felt less exclusive or private. My neighbor tried turning the knob several times. Perhaps, he or she felt insecure too and wanted to ensure it was locked. LOL! I could have asked for a room change if I didn't mind the trouble.
TIP: Emphasize to hotel you do not want a connecting room if you prefer privacy and better sound-proofing. 
Still a nice room to be in
Even though the room differed quite a lot from what I thought I would be getting, it was an ok room to be in. If one is really particular, I am sure the hotel would oblige and exchange a room that meets your expectation. As for me, I just didn't bother to say anything. :) So, to be fair to the hotel, the room was ok and comfy, just not as expected.
Here's a tour of the room in video. Now, let's check out the room amenities. 
---
Room Amenities of Deluxe Mayfair Room
I am impressed with the coffee/tea options. You get TWG tea that comes in a wooden box. The same box also holds normal Nescafe coffee as well as decaf ones. I thought they provided more tea/coffee than hotel norm. 
Other than that, Goodwood Park Hotel also offered glasses that look presentable for holding wine. You can also find a bottle/wine opener within the same compartment. And I thought that the clear-door fridge looks cool! 
However, the coffee cups were too small and would result in a strong-strength of coffee/tea. You'll may like it if you love espresso.
Other amenities provided included a good-sized safe box, full-sized ironing board and iron and the normal toiletries. You'll also get some masks and sanitizer.
In terms of digital devices, the Wi-Fi worked well and TV channels were sufficient though it didn't offer smart TV option (cannot connect to internet). It would be great to have USB connectivity too.
Some Areas that could be improved
Unfortunately, some things were broken. This included a kettle with a broken lid and a chair with a spoilt height-control pump. We changed the former, but didn't want to bother the hotel staff to change the chair.
---
Room Layout – Deluxe Mayfair Room
The room was pretty functional. I love the large luggage-holding area. However, I couldn't find a suitable spot (with natural daylight) to apply my makeup.  
Electrical points could also be more ideally located. For instance, I couldn't find a convenient power outlet near where kettle should be placed (when work desk was occupied). As such, I resorted to boiling water using a bedside table. In addition, I plugged the hairdryer at a power point near the floor, by the balcony door.
The room also has visible wear and tear. This may be a good time for the hotel to do some room enhancement as opportunity cost would be low. I believe they are doing it gradually at the moment. 
> MUST-READ: Orchard Hotel Review
Despite some of the imperfections mentioned, the room was still a good room to be in. The hotel has done much to update this historical building and the stay was good. It's definitely worth every penny, and I like how clean the room was. Even the furniture in the balcony was dustless.
Bathroom of Goodwood Park Hotel 
Now, let's talk about one of the most important aspect of a hotel stay – its' toilet. :)
Goodwood Park's toilet is probably the only area that's not as spacious as the rest of the room. But it's still decent and comes with a bath tub. That's the only area to take a bath, by the way. So you'll climb in even if you like a standing shower.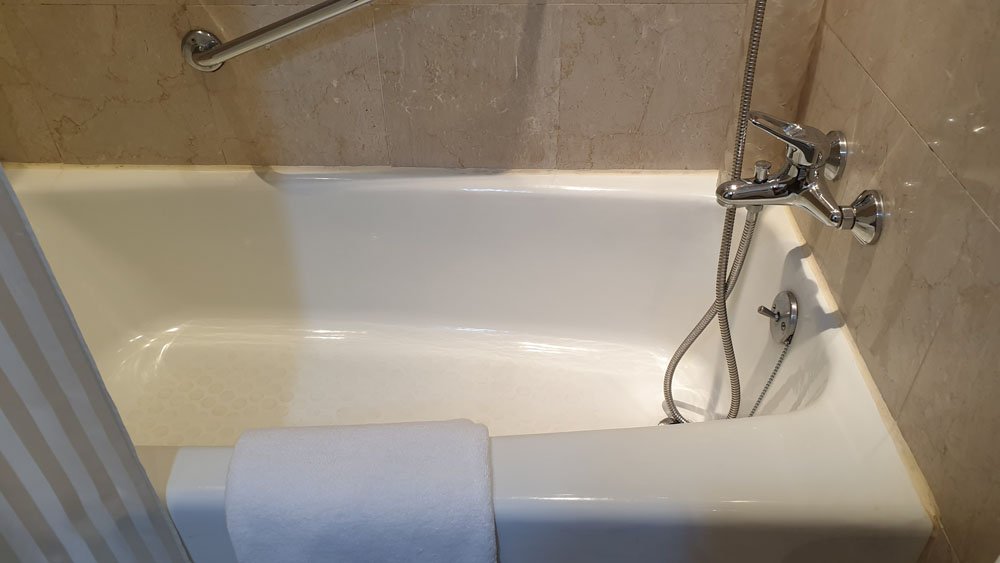 Other than that, there's nothing much to say about it as it's interior design is not the most modern. You'll get the usual toiletries.
The water pressure was good and hot/cold water easy to control. Oh, you'll even get to weigh yourself on a elegant-looking weighing scale to see if you've over-indulged during your stay. :)
One memorable thing though, I took ages to open the soap pack. Even resorted to biting the edges and using a key's sharp edge to tear open the plastic wrapper. 
Also wished the duo-knob taps that required full palm contact (and turning action) to control cold/hot water were easier to operate. No bidet by the way, for those who love Japanese style of cleansing. :)
---
Convenience – Out to get Grocery & Lunch
Done with checking out the room, we left the hotel to get lunch. The nearest place to pack lunch was at Far East Plaza, as shared earlier. 
This is a very old shopping mall, where most food outlets are located at B1. We bought some Thai Food, curry puffs, Liho Milk Tea and some snacks and bottled water from a Korean mart before heading back to the hotel. It was convenient. The hotel was nicely located in Orchard Road, and proved its convenience especially during soft-lock down when dining out was not allowed. 
Here's us back in hotel, eating very affordable food. 
---
Lovely Swimming Pool at Goodwood Park Hotel
During such times, the gym was closed. So, the only thing we could do was to swim. Even that required advance booking and we were so glad that we managed to book a slot at 3.30pm. 
Goodwood Park Hotel has two pools. Sadly, each room could only book a 1-hour slot at one of the pools. So we chose the main pool, which is bigger.
Main Pool
Though the main pool wasn't big, it sure was deep! One end was 1.2m and the other 2.6m deep. For the first half of the session, I hung around only at the shallow side even though I could swim. It took me a while to overcome my fear of deep water, and to swim the entire length of the pool. 
The swim was enjoyable and we even competed who could hold our breath in water longer. I was the champion – 1 min 22 seconds. Thank you very much! LOL! Guess my regular jogging helped boost my lung power, huh? 
Other than the pool, the surrounding landscape was pretty too. Love the lush greenery and comfortable sun loungers. My partner also liked it that the pool received direct sunlight which made it good for sunbathing. It also made entering water easy, as the water was warm.
We spent a good 2 hours plus at the pool. By the time we returned to our room, something awaited us. Check it out!
---
Complimentary Birthday Cake that was yummy!
The hotel was so nice to offer us a 250g of birthday cake. The cake was delicious and I absolutely loved it even though I'm not someone who has a sweet tooth. If I'm not wrong, this could be a hazelnut chocolate cake.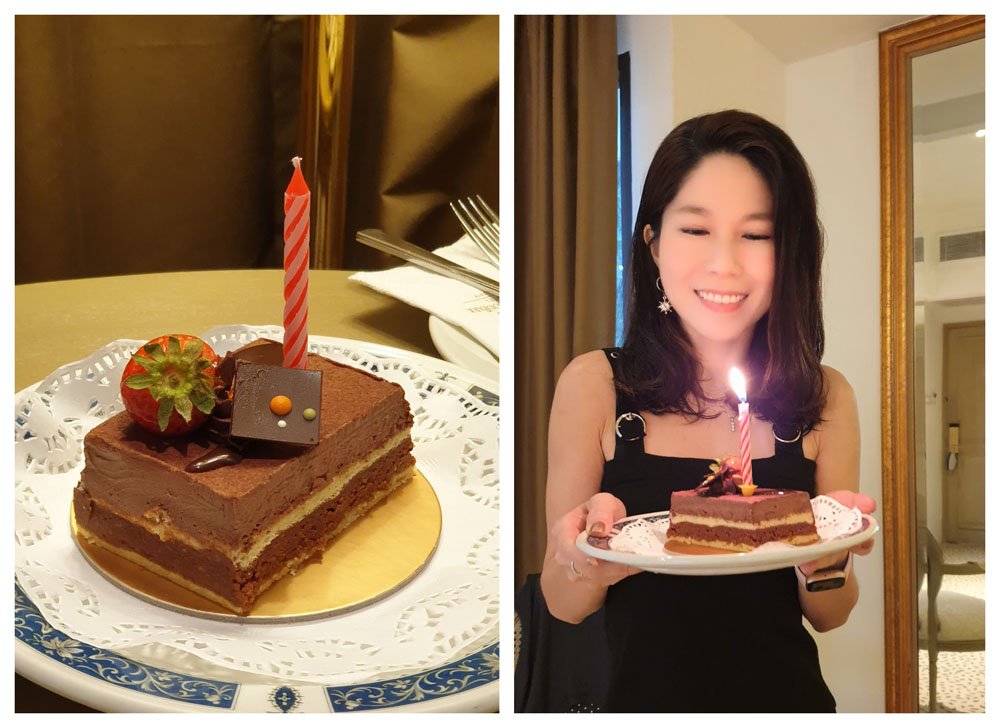 The timing was right as we felt hungry after the swim. After snapping some photos and making birthday wishes, we devoured the cake quickly, together with a cup of TWG Sencha tea. :)
Thank you, Goodwood Park Hotel for the nice gesture! 
---
Out and About: Shopping & Dinner 
What do we do for the rest of the evening? We walked to Takashimaya to search for food. As we couldn't dine-in during Phase 2 Heightened Alert (Jul – Aug), we had to do a takeaway and decided that we would have soupy Pao Fan 泡饭 (soaked rice) from Taka's food court.
The only place we could think of eating without having to return to hotel was at Taka's outdoor fountain area. Tough life hor? That was then we realised that we made a mistake in terms of the type of food we bought. 
Each order came with 3 plastic containers, making it quite an inconvenient food to eat on the go (without table). Also, the hot soupy dish we had in outdoor non-airconditioned environment made us perspired like nobody's business. Did I mention I was bitten by ants too? LOL! What a memorable dinner, all thanks to pandemic. =)
But the food was delicious. The soup has a distinct lobster taste. I'll probably visit again when we could dine in. It was a good meal (about $9 each)! 
Shopping in Orchard Road
We then continued walking further away from Goodwood Park Hotel, and shopped at 313 Somerset, Don Don Donki at Orchard Central, and finally Decathalon at Centrepoint. 
Don Don Donki was a great place to load up on snacks in case we got hungry at night. Bought some mochi, almond/sardine snack and Umai Bar. 
Couldn't believe how much we walked. By the time we returned to hotel at 11pm, we were exhausted and hungry. The curry puff we bought earlier came to good use as supper. 
Ok. Time to sleep!
---
What an amazing sleep I had at Goodwood Park Hotel
We'd wanted to wake up early to get breakfast. But I couldn't get up, and kept snoozing the alarm. 
The bed was too comfortable! So soft, cushy and yet provided excellent support. Even though the bed was disjointed in the middle (king-sized bed was made of two twin beds), that didn't affect the quality of our sleep. It was the best sleep I've had in a long while. 
Pillow Menu
For info, Goodwood Park Hotel offered pillow menu. We didn't change the default pillow as it was good enough. The goose feather pillow was soft and yet provided sufficient support. 
Sound in the morning
The only imperfect mark about the sleep quality was the noise that came from the pool. Since Goodwood Park Hotel is a historical building, it wasn't very tall. I believe we were already staying at the highest floor (3rd floor) and inevitably, children who were having fun at the pool in early morning woke me up as I'm a very light sleeper. 
---
The Price
We paid around S$200+ during pandemic (no dine-out). It should normally cost a lot more during normal times.
Check out its latest price here. 
---
Summary: 
What's Good? 
Great location for tourists – close to shopping malls, food and amenities
Quick check-in and good crowd-control (felt the exclusivity)
Spacious room with big mirrors
Nice kitchen amenities given (e.g. quality TWG tea, wine glasses, bottle opener)
Lovely deep pool, surrounded by greenery (and receives direct sunlight if you love a tan)
Super comfortable bed! 
What's Bad? 
Low-rise building – no unblocked view 
Interior were not the most modern design; expect some wear and tear
Some stuff were defective, e.g. swivel chair, kettle
Tea cups were too small to make a normal-strength tea
---
Recommendation: Should you book Goodwood Park Hotel? 
Despite the fact that the room given differed from hotel stock photo, I enjoyed the stay. The bed was to die for, and I thoroughly enjoyed my swimming session at the well-landscaped pool. 
I also enjoyed the spaciousness of the room, and the exclusivity that I felt right from the moment I checked-in. There was no maddening crowd at the hotel – and it exudes a calm and relaxing ambience. Being next door to an old shopping mall also meant you could get affordable food and amenities easily. 
There were imperfections definitely, but many could be resolved if I'd bothered to. :) Therefore, I recommend this hotel to both Singaporeans and tourists alike. It was a great stay! Rating: 4/5
---
That's all to today's review. Love more of such honest reviews? Just click the button below to subscribe. 
SUBSCRIBE
This post may contain affiliate links, meaning I earn a commission if you make a purchase, at no cost to you. Read my full disclosure for more info.
Hotel Info:
(Visited 108 time, 1 visit today)