I've shared with you a while earlier that I'm enhancing my website to improve the design, ease of use and loading speed of myBeautyCravings.com. I shan't bore you with the technical details of what had taken place. 
What I really wanted to share with you today is how I'm letting Google Auto Ads take control and play around with my website. I'll also touch on 10 Blogging Tips which are basically enhancements I've made to this website in April 2018.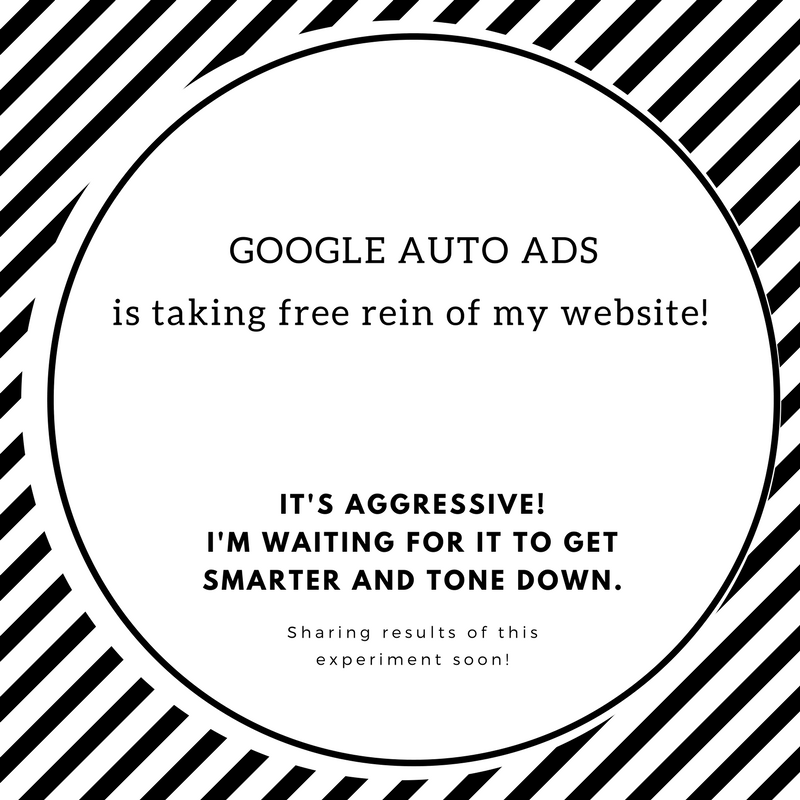 What does it mean to let Google Auto Ads take control of my website? 
In a nutshell, Google will decide where and when to place ads on my website. Previously, I was the one in control of where the Ads would be placed. Since Google has just come up with a brand new Ad intelligence program, I thought I'll give it a try and see if it's really intelligent in figuring out the best spots and timing to display ads on my website. 
---
OMG! Google Auto Ads is aggressive
I've just started Google Auto Ads trial a few days ago and based on what I'm seeing, Google seems a little aggressive and placing too many ads right now. And honestly, I really dislike the low-budget Text Ads being shown here. I feel that it cheapens the look of my website and unfortunately, I am not able to opt out under Google Auto Ads. For some reasons, advertisers shown aren't the established ones I used to see in the past. Perhaps, that's because I'm opening up my website to all forms of ad formats including low-budget ones. 
I hope you can bear with Google together with me, as Google is supposed to be "intelligent" and learn with time on what works best. So I'm hoping to see the Ads reducing to an optimal level. I'm giving Google Auto Ads a few weeks to become smarter (actually, I'm so tempted to pull the plug right now!). Let's see if Google is truly as intelligent as it said it is or would be. In the meantime, I'll like to apologize for the excessive ads that you are seeing now. I sincerely hope it's temporary. 
I'll continue to keep you updated on developments of my website. If you notice any errors or funny mistakes on my website such as a broken link, I'll be thankful if you can let me know so that I can get them corrected.
Okay, now I'm going to talk about some boring and technical blogging stuff. Those who are keen in blogging, website enhancements and passive income can stay on! For the rest, I'll see you in my next post.
---
Blogging Tips: Website Enhancements made in April 2018
Honestly, you can skip this section if you want to. No hard feelings!
For those who love blogging or want to find a way to make some passive income, you can explore this section where you'll see a record of things I did to improve my website. Improvements are in the form of increasing website loading speed, page views, subscribers, ease of navigation, design and revenue (through monetizing).
Why are you monetizing your website? Aren't you passionate in blogging anymore?
Before anyone jumps in and complain about why it's wrong to monetize a website, please know that I spend a lot of time contributing free contents here. By producing 100% honest reviews, it also meant my blog would be less favored by brands over others influencers who have the tendency to provide raving reviews unconditionally. 
The money that is generated from this website helps go into paying my monthly bill for hosting server, domain maintenance and other technical plugins and services that are required to run this website (yes, even things like auto-email delivery and image-editing requires monthly subscription and they are not cheap!).
What's more important is that the money incentivizes me to continue writing and contributing free contents, just like how we are incentivized to commute to work and take in nonsense from our overbearing bosses. Right from the start, I've treated this blog as a business and I chose to start this business with topics I was and still am passionate in – Beauty, Travel and probably Finance or Passive Income to come next.
I believe I'm in the right direction as I've received feedback from readers who appreciated my unbiased reviews.
"Thank you for giving us honest review. I google some products and found your blog…We need honest blogger like you because many others just gave a lot of fake reviews when they were sponsored." ~ Brenda (May 2017)
"I love your recommended posts – they're super helpful." ~ Ivana (April 2017)
"Thanks for the sharing! I am currently planning for my first solo trip and your post really helps!" ~ Valerie (Jan 2018)
I've always wanted to contribute not just by sharing about new products but by sharing about products that work (and those that don't) and to say it in the most truthful and straight-forward manner. So are you with me?
How to Support 100% Honest Reviews? 
If you are supportive of my honest reviews approach, I hope you can support this website by subscribing to myBeautyCravings and by visiting the Recommendation Page and clicking those links whenever you need to embark on the recommended service. This will bring me a referral fee that is ABSOLUTELY not at your cost. It is simply the service providers paying me for brand exposure.
Rest assured that I'll only recommend things I've personally used and loved! My 4 years of reputation would be at stake if I recommend any Tom, Dick and Harry just to earn referral fee that's probably just enough to buy me a cup of tea in most instances.
---
10 Blogging Tips to increase Pageviews, Speed & Subscribers
Below shows a list of website enhancements made on this website in April 2018. They have proven to be useful in increasing my website loading speed and boosting the number of pageviews and subscribers. I'm sharing these blogging tips more for my own record and future reference of the things I did to improve my website. If you find these blogging tips useful and relevant, drop me a comment so that I know I should continue to share on such topics.
1. Switched to Mailchimp for Email Delivery
After blogging for 4 years, I've finally made the switch to Mailchimp. Instead of letting Jetpack deliver emails to my subscribers, I'm letting Mailchimp do the job.

Most new bloggers would start off with Jetpack as it's an all-in-one plugin for wordpress platform and is easy to implement. In contrast, Mailchimp is a standalone email delivery option that involves a rather steep learning curve. However, once I'd succeeded in creating my first email and understanding the workflow, the rest was a breeze. I could then start to enjoy powerful features that Mailchimp offers such as allowing me to send other emails to subscribers (Jetpack only allows us to send RSS emails, i.e. email generated whenever a new blog post is published).
What's truly amazing in Mailchimp is how it allows you to design and generate auto-email campaigns. So I can have a series of emails delivered to my new subscriber on a timed basis (decided by me).
In today's high-tech world, most things should be automated as much as possible. If you are new to blogging, I strongly urge you to kick-start the implementation of Mailchimp ASAP because it would involve a lot more migration work and consolidation later on, just like how I'd to spend many late nights migrating my subscribers. I also lost 30% of my subscribers – those who subscribed via wordpress.com accounts – when I deactivated Jetpack. You can get $30 credit in your account when you sign up through my link. 
2. Reduced Number of Plugins
I've been told that the smaller the number of plugins I have, the better it is for the performance of my website. I've since deleted a few including Jetpack, Social Media Feather, Child Pages and iThemes. Only plugins that can bring me significant benefits such as Yoast SEO is retained. 
"How to decide which plugin to delete?"
I used P3 plugin to show me the most resource-intensive plugins that I have. Looking at the result, I then decide if the top five resource-draining plugins are worth retaining. Of course, I would then delete P3 after using it – no point keeping plugins that you use only momentarily. I can always download it again when the need arises. 
Right now, I have trimmed my plugins by close to 20%.  I am looking to cut two more plugins when I can find a workaround solution.
3. Implemented Monarch and Blooms Plugins
Although I was actively deleting plugins, I have also installed two new ones during this period.
Monarch places social media buttons on my posts such as those you see on left and bottom of each post. It seems to take on very little loading time and is aesthetically pretty. I'm happy with it thus far.
I've also implemented Blooms which is a plugin that helps increase email subscribers. It can create email opt-in forms such as the one you see at bottom of post or on this landing page. I have seen good results after implementing it for less than a month. I will continue to monitor and see if it's worth retaining.
4. Created an e-Book "Super Beauty Holy Grails"
I've created my first PDF ebook "Super Beauty Holy Grails" which is exclusively for my email subscribers. Such premium content is to thank readers for their support and for entrusting their email address with me and having the faith in me that I won't abuse it. 
A free e-book also encourages random visitors to sign up and become new subscribers to myBeautyCravings.com.
5. Created Landing Page
To better deliver my free e-book, I created a landing page. All links to the free ebook will be directed to this dedicated page which was built using the Bloom plugin. 
6. Caching my Website
Caching a website should have been one of the first few things to do when implementing a website. I wasn't able to cache my website earlier because it was incompatible with my wordpress theme and made my website looked distorted when viewed on mobile devices.
After months of exploring, I managed to find a workaround and hence was able to activate WP Super Cache plugin. It is by far one of the best enhancements in improving my website loading speed.
7. Removed Fanciful Effects on Website Themes
I wanted to change to a better-coded WordPress theme (i.e. website design) and it would likely have to be a paid theme instead of the free one I'm using right now. A paid theme would cost around USD120 and engaging a web developer would cost thousands. But it's not the money that's deterring me from changing. It's how difficult it would be to change a theme on an existing website with existing contents.
Contents would definitely go haywire and it would take a lot of time to correct it. There would also be a learning curve in familiarizing with the technical aspect of a new WordPress theme.
So prior to finding the best theme and committing to the change, I've decided to strip this existing theme of most fanciful features, such as hovering menu, 3D button effects and sliders. This has helped contribute to a faster loading website.
Updated on Oct 2018: A few months ago, I was forced to upgrade to a premium WordPress theme. The old free theme crashed my website following a regular update. I've been spending many late nights restoring this website. Even after two months, I'm still updating the format of my archives as a swap in themes has caused some incompatibility.
8. Resumed Pinterest Posting
I've had a Pinterest account since years ago, but wasn't active in pining my images there. As you can probably tell from the list above, there's a lot that goes into maintaining a website other than writing. Admittedly, I'd let Pinterest take a backseat.
However, I noted the constant stream of traffic from Pinterest, generated from old images pinned there. So I thought I should relook at Pinterest as a good candidate for boosting page views. Since a week ago, I've started creating Pinterest-optimized images to post them on Pinterest.
9. Designed Images with Canva
I've started using Canva to design some images on my website, especially those that are Pinterest-optimized. It is easy to use and comes with pre-made templates. The two images that you see on this post were created using Canva.com.
10. Implemented Google Auto Ads
So yes, you'll probably see many ads on my website because I've just implemented Google Auto Ads. As of now, I'm not liking that it's showing so many ads on my website. And how it's showing low-cost Text Ads.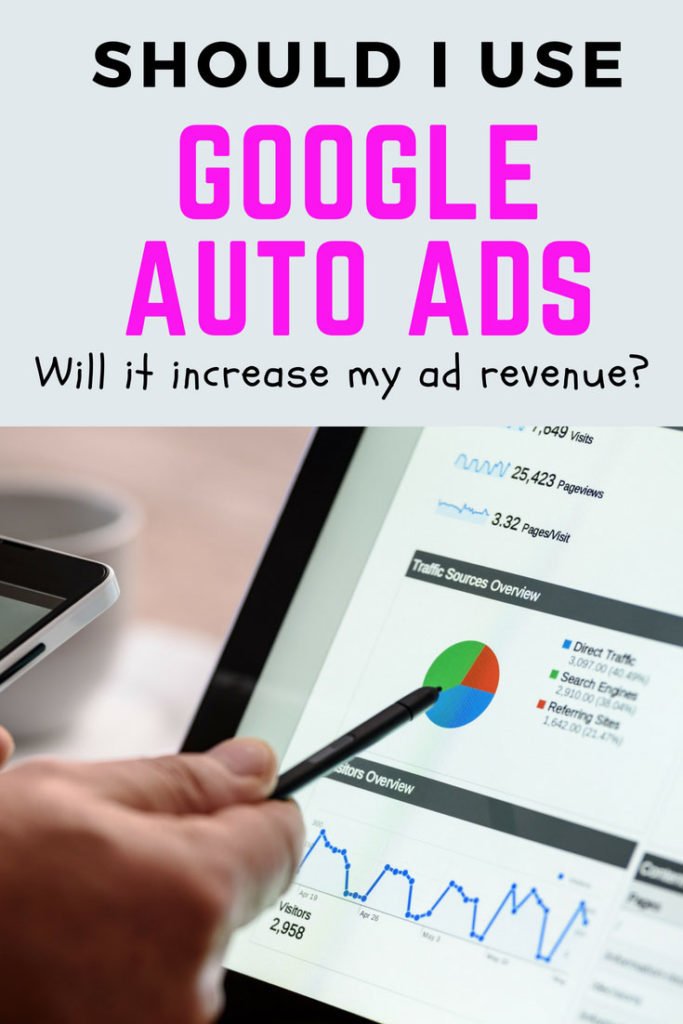 After two days of implementing Google Auto Ads, I've seen an increased bounced rate and my ads revenue has dropped drastically. My RPM (revenue per thousand impressions) shrunk by 50% and I am annoyed by the number and type of ads showing on my website. I'm tempted to pull the plug right now! However, for experimentation sake, I'll give this intelligence ads software a little more time to learn about what works best for my website. Hopefully, it can do so fast!
Updates: I've pulled the plug after two weeks. The result was just too glaring for me not to remove Google Auto Ads – it was disappointing in terms of revenue, traffic and aesthetics (yes, they are popping out everywhere).
My suggestion – those who understand their website well (e.g. which slot receives higher impressions/click-through) and are familiar with placing codes should consider taking the rein in ads placement. Those who are just starting out and not sure what types of ads/slots work best for their website can consider using Google Auto-Ads.
---
That's all to my Web Enhancement post. I had started off with just wanting to update all about the new Google Auto-Ads implementation but ended up saying a lot more. If you like me to continue sharing blogging tips, let me know and I may come up with a dedicated series on Blogging Tips or Passive Income. 
I'll see you again in my next post. If you like to get notified of my new posts, you can click the button below to subscribe. I'll even give you some free and exclusive stuff.
This post may contain affiliate links, meaning I earn a commission if you make a purchase, at no cost to you. Read my full disclosure for more info.
SUBSCRIBE
(Visited 531 time, 1 visit today)