Grand Paragon Hotel JB is one of the hardest hotel reviews I've ever written. I stayed there for 3 nights and my thoughts of it were mixed…very mixed. This is similar to online reviews that you see on hotel booking portals, that can vary from good to bad.
So, is this 4-star hotel in Johor Bahru (Malaysia) worth a stay, given its really affordable price?
Well, if you like a quick answer, what I can say is that it would suit some, especially those who are "chin cai" (anything also can) and who can live with some inconveniences. Grand Paragon JB would also suit those who love a buffet breakfast thrown in at a steal. 
Hence, in spite of the numerous negative things you'll read in the initial part of this review, don't write this Johor Bahru hotel off yet as the overall experience would improve. I have no doubts that Grand Paragon JB would suit a certain segment (unlike this hotel in JB which I would not recommend at all). 
Read on to check out pros and cons of Grand Paragon Hotel Johor Bahru which I'll share in chronological order of stay. 
---
Why I chose Grand Paragon Hotel JB
1. We were not ready to book Airbnb yet
To be honest, I wasn't all that keen on Grand Paragon Hotel, especially for a 3 nights stay as we know the hotel has been around for a long time. My preference was to book an Airbnb (entire condo unit) which I normally did pre-Covid.
In fact, I'd shortlisted many. But most Airbnb units didn't have many or any recent reviews. So I wasn't sure if those units had stayed vacant for a long time, and I didn't want to be the guinea pig. :) That's why we decided to stick to hotels for the time being. 
2. Cheap Pricing during Public Holiday (Long Weekend)
Another reason for choosing Grand Paragon Hotel was its consistent and cheap pricing during holiday period.
Even though prices of other hotels had surged (some by two-fold or more), Grand Paragon's pricing stayed the same. 
Hotel Room Price: The price was between $40 to $50 for an entry-level room during holiday period. Check out its latest room rate.
3. Good Breakfast at Grand Paragon Johor Bahru? 
Many online reviews also shared that Grand Paragon Hotel JB offered a good and wide spread of breakfast.
We normally wouldn't opt for hotel breakfast as that's one sure way of over-eating and getting fat. But, Grand Paragon Hotel JB's room with breakfast was too hard to resist. It'd cost only S$9 extra (as at time of booking), which effectively worked out to about S$4.50 per pax for a buffet breakfast.
How to resist?
All in all, the reasons why we chose Grand Paragon Hotel JB were:
Attractive pricing during holiday season
Free Parking
Said to offer Good Breakfast
Central location, near to KSL building and many food options
Status of a 4-star hotel
Now, let me bring you straight to the hotel check-in process.
---
Check in at Grand Paragon Hotel JB (Malaysia)
How I wish that the check-in was as swift and unmemorable as at Trove Hotel. But it wasn't!
First of all, the hotel lobby looked like a make-shift restaurant. There was no waiting areas for guests to sit or place their luggage. So, we had to carry our 4D3N of barang barang while queuing for check-in.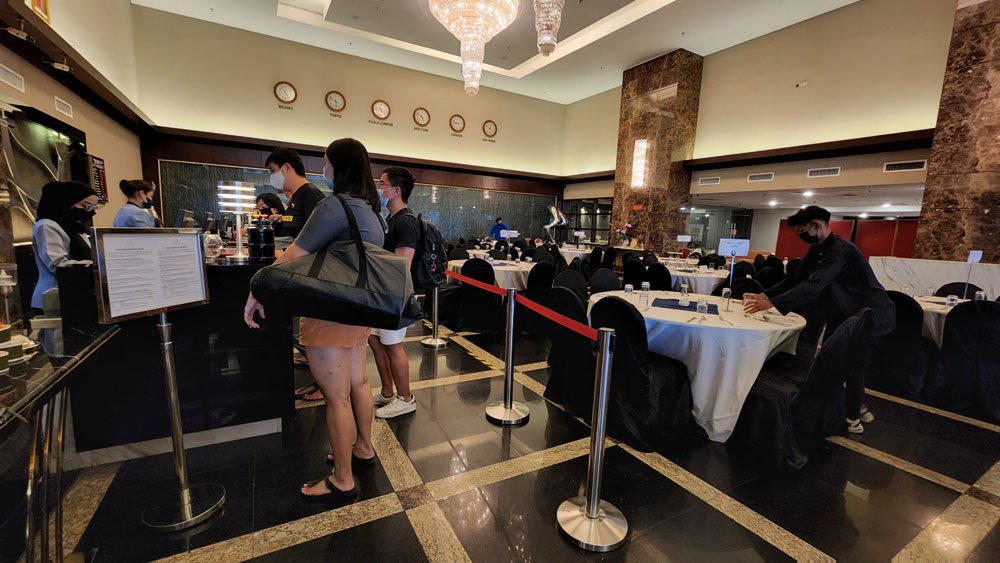 Yes, you've heard it right. There was a queue even though we checked in late at 4.50pm (instead of 3pm), but it wasn't a long wait.
Here's another perspective of the lobby set-up from where I stood at the reception counter.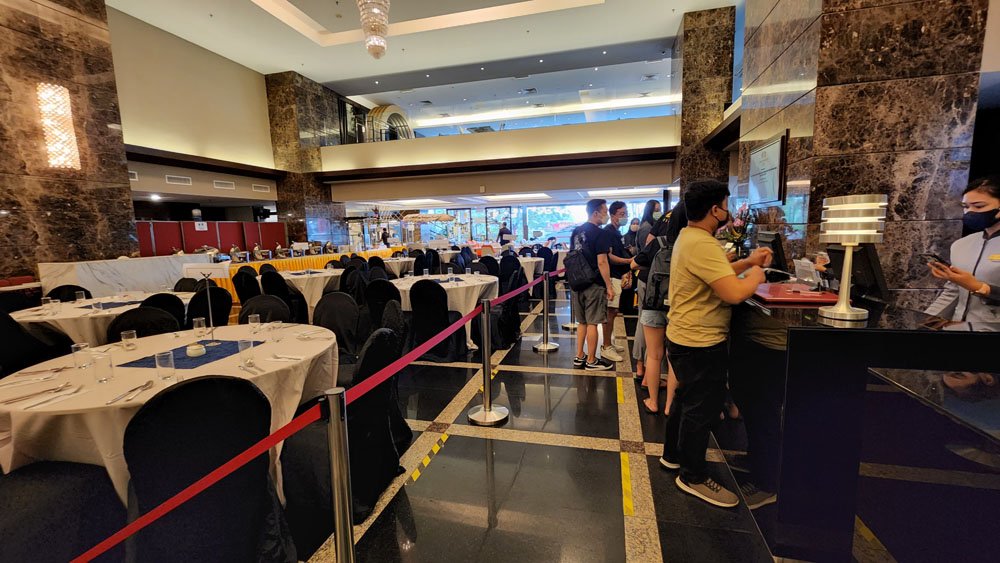 I also didn't appreciate the rm100 deposit requested by the hotel as this meant the onus was on me to remember to collect it back 3 days later. I think it's quite an unnecessary hassle for guests, but there could be reasons why Grand Paragon Hotel did it. 
Lobby's layout was temporary: I learnt later that the buffet dinner at hotel lobby was a temporary arrangement for Ramadan Buffet. The hotel reverted to its original state (spacious seating area) when I checked out a few days later.
Assigned Room was 100% Different 
But what could make things worse was to be assigned a room "No. 1313" that was 100% different from the "Standard King" room we'd booked via Agoda.
The image below shows what we'd booked – wooden floor, 32 m2.
And the photo below shows what we were assigned – carpeted and small. It appeared to me that the assigned room was at most 24 m2. Or maybe 18 m2.
Look at the toilet! It didn't even have a glass panel to separate the shower from dry area.
And not forgetting to mention the small vanity with very limited surface area to place our toiletries. For info, I was already standing at the edge of the toilet when taking the above photo. That's really how small the toilet was. 
A Room Change was deemed necessary
We considered for a short while if we should just "take it and leave it" like what we did for many hotels that gave us different-looking rooms, such as Goodwood Park hotel in Singapore.
But given that this was a totally different room (and it being so much smaller and aesthetically less appealing), plus the fact that we would be staying for 3 nights, we decided to take the trouble to request for a change of room. 
How troublesome! 
Unempathetic Front Desk Staff
Back at the reception, I told the Front Desk staff that I'd booked a Standard Room (with wooden floor). The lady staff who attended to me and who seemed quite senior in rank told me that the room I was assigned (with carpeted floor) was a Standard Room.
She added that wooden floor rooms were "smoking rooms".  
Well, some may just accept what the staff said, but for us, we'd specifically chosen Standard Room (with wooden floor) because Agoda told us this was a non-smoking room. See screen grab below.
That's why we didn't even consider Deluxe room because those sold on Agoda were indicated as "Smoking allowed".
But here, the lady staff was telling us that whatever was reflected on Agoda was reverse and wrong. And that they couldn't do anything about it.
She didn't appear apologetic at all. Instead, she exuded this "I am right" attitude. The only options for me then were to either stick to the small carpeted room, or change to the wooden floor room but take in the cigarette smell. 
Room Misrepresentation (Grand Paragon Hotel JB)
At that point, I was admittedly triggered and was contemplating seeking a refund because this was misrepresentation in contract law. When asked if they think this was right, the lady staff offered to let me take a look at the smoking room and see if I could accept it.
Luckily, things worked out from there – I didn't sniff a scent of cigarette in that room. Really, was that a smoking room or was I being smoked?
When I came down to accept the change of room (up-down-up-down…so troublesome k?), the lady staff added that the "wooden floor aka smoking room" was a Deluxe Room (making me feel like I was getting more than what I had paid for). But I had already shown you what a Standard Room was and wasn't above. 
I was merely getting the room I'd booked. 
Well, if there was a communication problem between the front desk and sales team (who submitted the photos to online booking platforms), then let me show you what was shared in the hotel's own lift display panel.
Can you see that the Standard Room on the left image comes with wooden floor? And Deluxe Room carpeted?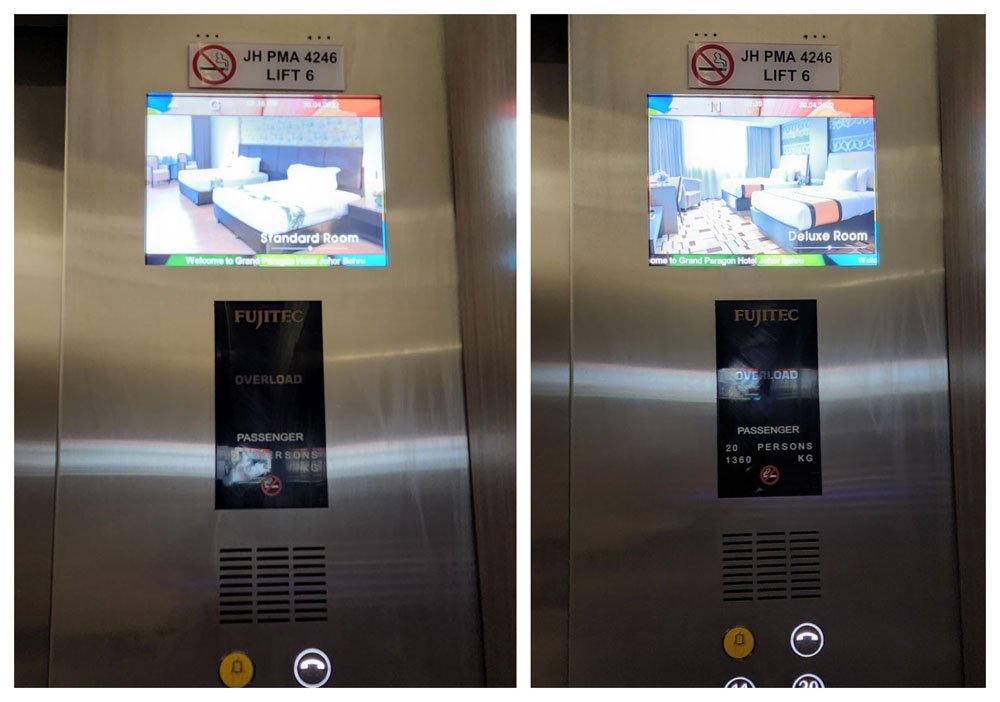 If I'd written this hotel review on Day 1, it would be a very bad review. But luckily, I held my horses and always chose to write a review after the entire stay for a more objective review. The overall experience and perception did improve, for info.
So do stay on and read through the rest – there would be redeeming factors coming up. 
---
First Impression of Room: Grand Paragon Hotel JB
We loved the second room better. This "Standard King" room was clearly more spacious and closer to the 34 sqm as indicated on Agoda.
Look at the window with its unblocked view that has a lot of sky in it. Doesn't it look like a picture frame? Can you believe we were only on the 9th floor? 
What we paid: We paid S$55 for a "Standard King" room with breakfast thrown in during May 2022's holiday (long weekend). Check out its latest room rate.
We could also see Trove Hotel which we stayed in a few weeks ago – read review here. 
So, the first impression of the newly-assigned room was good – bright, airy and lovely. And we loved that the toilet was so much bigger than the first room.
Phew! Luckily we'd asked for a room change. Otherwise, the next 4D3N would not be as comfortable. 
Design & Layout of Standard King Room (Grand Paragon Hotel JB)
In terms of design, we definitely preferred wooden floor than carpeted ones. They felt cleaner to walk on.
We also appreciated the room layout which was much better than Trove Hotel (except the toilet, which I'll share later). For instance, the workspace was very conducive – bright and comfortable.
It also came with mirror and plugs which served as a great spot to apply makeup and skincare. We could also sit down comfortably while blow-drying our hair. Furthermore, there was a full length mirror near the door for us to do a last-minute grooming check before heading out.
I also appreciated the ample surface areas for us to place all our stuff, such as luggage, snacks, laptop etc.
One thing that could be improved in terms of layout is to have some plugs available by the bedside. That can allow guests to charge their phones conveniently while resting in bed. 
Room Amenities of Grand Paragon Hotel JB
Amenities-wise, the Standard Room at Grand Paragon came with a decent-sized wardrobe that contained the usual ironing board, iron, safe box and hair dryer.
I couldn't help but show you the labelling on the hairdryer. OK, now we all know that the hairdryer is probably at least 7 years old and came from Hong Kong? It's small and old, but thankfully, it worked unlike the one at Grand Belllo JB Hotel.
Take a look also at the state of the TV remote control. Don't worry, this worked too. Just surprised that the hotel didn't do more to improve its appearance.
Next up, I'll have to show you the "thinnest slippers" we've ever worn. It wasn't easy slipping our feet into such flat and thin slippers – we would need to bend down and lift its "flap" with our fingers before our feet could slip through. 
From this point onwards, I figured that Grand Paragon Hotel Johor Bahru didn't mind letting its guests know that it is operating on a cost-saving mode.
I understand why such measures have to be done, but sincerely hope that with the Covid situation improving and border easing, Grand Paragon Hotel JB can invest in improving the state of its room and amenities (as well as customers' experience) so as to stay competitive. 
I really wish to see this hotel – with decades of history – get stronger and better.
TV & WiFi
Back to amenities, the WiFi speed at Grand Paragon JB was decent. And the TV was of an acceptable size, though it seemed a tad smaller than what we normally get these days. Resolution wasn't perfect, but we could watch a show.
Only that there weren't many shows for us to choose from.
The TV channels were pathetic (sorry for the harsh words). But you'll understand why I used that word, because we only found two English channels – CNA and Channel 5. That's a poor offering from a 4-star hotel.
In case you wonder, this wasn't a smart TV – so you can't connect your own devices and play your movies even if you wanted to. 
Luckily, I hardly watch TV. :) 
Coffee & Tea
Coffee and tea given were economical and similar to what we had in Trove Hotel – just Lipton tea and Nescafe sachets. 
If you are into coffee and tea, I recommend that you bring your own or buy some from Malaysia. Here's a list of 25 things to buy from Malaysia.
Another thing we noted was the lack of teaspoons. In place of them was a single piece of wooden stirrer – one piece only. Were we supposed to reuse the wooden stirrer?  
My Thoughts: Sometimes, a hotel's behaviour may be influenced by guests' behaviour. Sadly, this appeared to me like the hotel was trying to prevent items from getting stolen.

If only everyone could do their part, they would enjoy better service ultimately, such as having a proper steel teaspoon to use, and not having to place a rm100 deposit.
---
Toilet of Standard King (Grand Paragon Hotel JB)
It's Basic & Functional
There's quite a bit to write about Grand Paragon's room toilet (sigh!).
Let's talk about the good things first. The toilet was spacious and water pressure was good. Temperature was also easy to control, though there were two occasions at night when the water wasn't as hot as I'd wanted it to be.
But no problem. It should be good enough for most people…I just happened to like really hot shower…like onsen, you know? :)
And that's the end of the "good" list. Let's move on to talk about the not-so-good toilet experiences.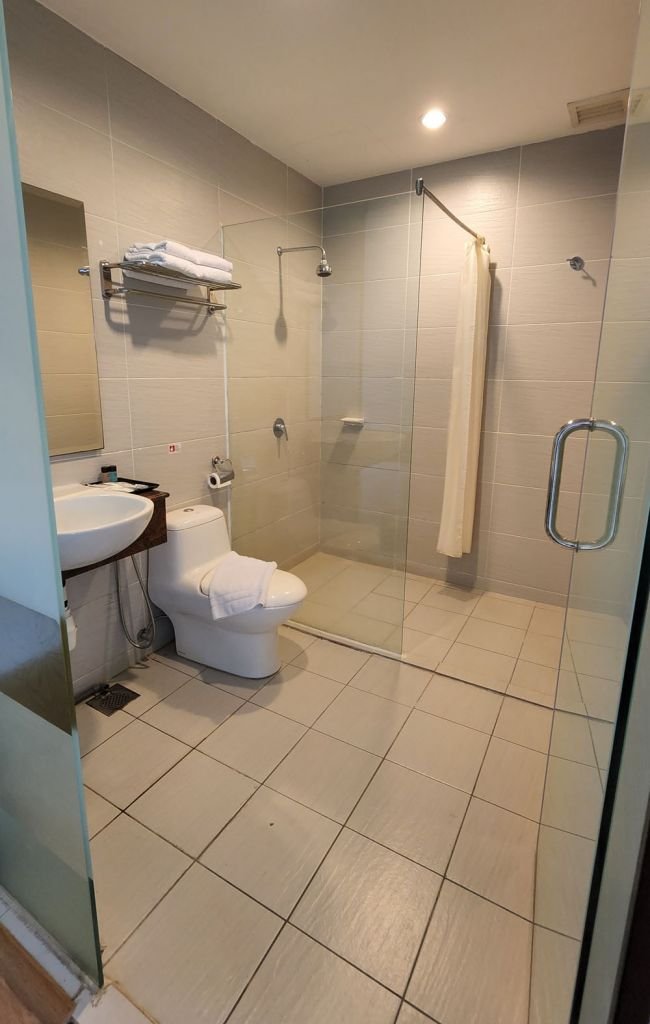 Toilet Design of Grand Paragon Hotel JB
Design-wise, you can tell that the toilet at Grand Paragon JB was quite dated.
The basin appeared like it was installed years ago. You would also notice the limited vanity top to place our toiletries.
Now, I like to bring your attention to the toilet roll holder. Imagine yourself sitting on the toilet bowl and trying to reach the toilet paper. That was quite a sharp angle! You need to be very flexible. :) 
Talking about toilet roll, do also take a look at amount of toilet paper we were given during check-in? Does it seem like left-over to you? Would this last me 4D3N?
You know, I really hate to call the hotel for service or replenishment, but Grand Paragon Hotel JB has a way to make me do it all the time. 
More Inconveniences
Next, take a look at the shower area. I was surprised that the toilet did not come with hand-held showerhead. This was inconvenient especially in instances when we just wanted to wash our feet or take a shower without wetting the hair.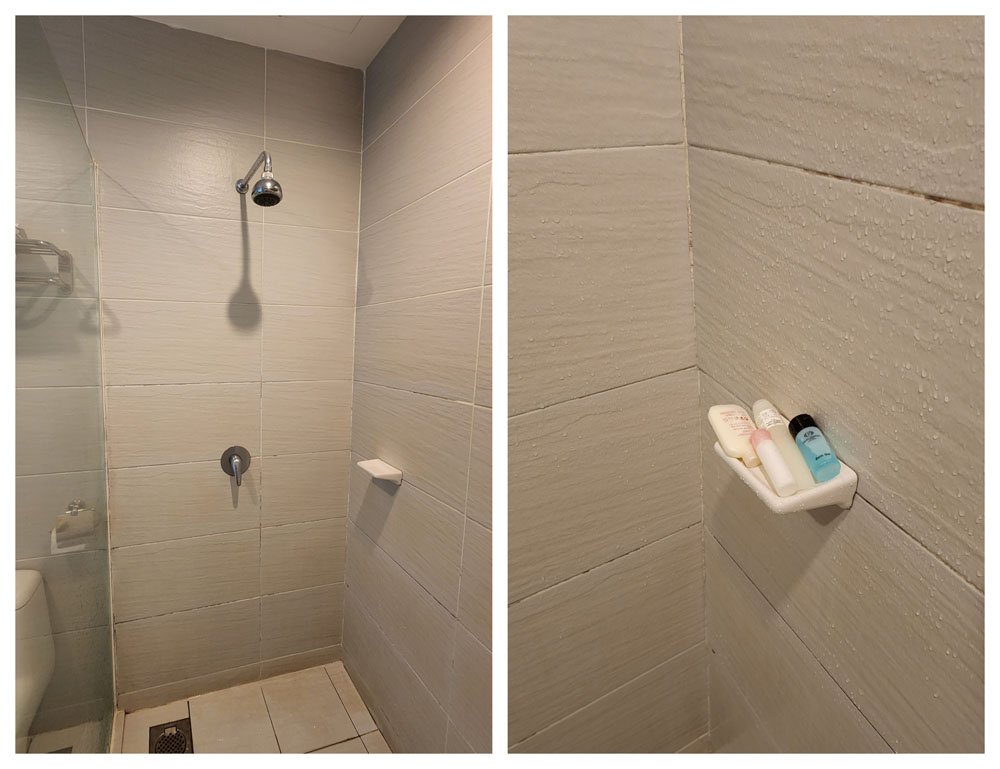 But what was even more annoying was the limited space to hold our toiletries – only a small soap dish was offered in the large space. To make things worse, the surface wasn't even flat and our bottles couldn't stand upright.
Seriously? I wondered what the hotel was thinking of. The shower area clearly has enough space to install better shelving for the guests.
What's my workaround solutions? I had to remove some of my toiletries after my shower to make space for my partner. I also had to walk in and out of the shower area to retrieve items from the basin top. Sometimes, I placed the toiletries on the floor too.
Toiletries offered by Grand Paragon Hotel JB
For those who are interested, the following bathroom toiletries were provided. I was delighted to see the shower cap because it would come in handy with a toilet that offered only a fixed highly-hung showerhead.
Faulty Toilet Fixtures
Quite a number of things were not functioning in the toilet of Grand Paragon Hotel. Firstly, the towel hook was spoilt and we struggled to find a place to hang our wet towels.
One alternative was to hang them via the rack above the toilet bowl, but we would run the risk of the towels touching the toilet lid. Not very hygienic leh! The workaround solution was to bring the towel out everyday and hung it over the back of the chair. 
Next, take a look at the state of the phone. Honestly, it didn't cause any inconvenience because who needs to use a land line in the toilet given the prevalence of mobile phone? Perhaps, the hotel could consider removing it to improve the toilet's aesthetic? 
And look at the perpetual puddle of water beneath the basin – I had to stand away from the basin in order to keep my very thin slippers dry.
By the end of Day 2 and noticing the puddle was never going to dry up, I had to call the service staff to provide an additional floor mat to block the seepage.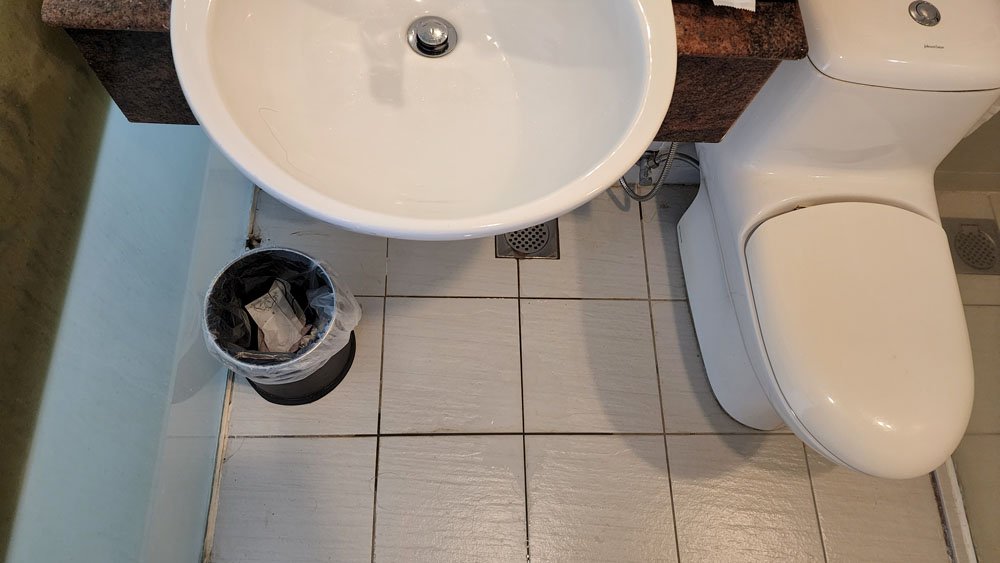 We later realised that the water came from the dripping bidet. By the way, the bidet eventually broke down on Day 3. We pressed the nozzle and got splashed all over. LOL!
Yeah, luckily it was already nearing the end of the stay. Phew!
---
Service: Generally Good except Front-desk Experience
The first taste of their service standards originating from front desk experience wasn't great. Other than being assigned a totally different room during check-in, we also encountered the following incidents.
Incident #1. Faulty Safe Box 
A faulty safe box can be easily resolved with a phone call, and normally would not affect my perception of their service standards. The reason why I'm highlighting it here is to share the service experienced when the staff attempted to repair the safe. 
Coincidentally or not, the same front desk lady staff came up to repair the safe. We thanked her multiple times although the safe should have been in working condition in the first place. This caused inconvenience to us having to call and wait for things to get rectified before we could venture out for our activities. 
But the staff did not apologize or smile. When we thanked her once again when she was about to leave the room, she didn't even bother to look at us.
There's this lack of empathy that I sensed from this particular lady staff. We were made to feel like we were bothering her and not the hotel disrupting our experience. 
Incident #2: "Faulty" Keycard? 
Remember I'd told you about going down to the reception to accept the newly-assigned room. On my way up, I was stuck in the lift because the keycard didn't work (or so I'd thought). I couldn't press the 9th-floor button to get to my room level.
What's worse was that I couldn't even exit the lift as the door wouldn't open. I was basically trapped alone in the lift. After pressing multiple buttons, only B3 button worked and that brought me – a solo female – to the basement carpark. 
Luckily after the movement of the lift, I could now activate the "G" button and the door opened on the ground floor, releasing me from the lift.
Guests' Fault again? 
I'm not complaining about this experience, but when I reversed track and went back to the reception to seek assistance (so troublesome…so tired already), the same lady staff told me not to place the keycard near my phone. It's like telling me that I was the one that caused the keycard error.
For info, my keycard was on my right hand and my phone on my left when I spoke with her. They never came into contact. Even if they did, I doubt this would cause the keycard to malfunction. 
Once again, this demonstrated a lack of empathy – the staff failed to consider what the customers went through.
Just to recap, I'd already wasted so much time and effort. The following shows the things I had to do to get things right.
Carried luggage down to change room
Went up to view newly-assigned room
Returned to reception to confirm acceptance of room
Got trapped in lift for a while
Walked back to reception to seek assistance 
Went back up to room again
Called for help to repair safebox
Sought replenishment of toilet roll
Called housekeeper yet again the next day to get additional floor mat (to soak up the perpetual toilet puddle)
After going through all these hassle, I think we ought to be treated better – at least with a smile and sincere apologies? 
Incident #3: Lift was faulty
By the way, we'd learnt by Day 2 that the card security scanner in "Lift No. 3" was spoilt. That's why the keycard didn't work earlier as I was in that lift. So it's neither the keycard's fault, nor the customers' fault.
For info, the lift #3 stayed spoilt throughout our 4D3N stay and we learnt to avoid it.
Hope the hotel would spend some money to repair the lift (or at least place a notice) as we saw another couple got stuck in the lift too. They were "released" when we pressed the button from outside to rescue them. 
But, Generally Good Service from the Rest
Though the front desk service wasn't great, the rest of the staff – such as those from housekeeping and restaurant teams – were generally prompt and friendly. 
However, I did notice inconsistent room servicing as follows:
We were

missing hand towels

for 2 days. It was only after the room was cleaned on Day 3 that we noticed that the hand towels were supposed to be provided
The room was

missing room makeup/DND door hanger

for two days. We only knew it was a room item when the staff provided it on Day 3 (when they made up the room). 
Normally, we didn't need our room to be made-up, but had

no way to indicate our DND preference

. When we'd walked in after a swim, wanting to get ready quickly for our dinner, the housekeeper was halfway through the cleaning and we had to wait)
Toilet-roll was not checked
State of fixtures was not checked or maintained, e.g. toilet hook and bidet
Some negative online reviews also pointed out that the hotel only clean the room every alternate days. That's true! If you prefer your room to be cleaned daily, this hotel may not go well with you. 
---
Part 2 Review on Hotel Recreational Facilities, Breakfast, Nearby Food & More
See, I told you this is a tough hotel review. I've already written over 3,000 words and I'm not even halfway through this review.
Let me continue with Part 2 in next post in which I'll share about the hotel's recreational facilities, breakfast spread, nearby food options and overall recommendations. Remember, don't write off Grand Paragon JB yet as the experience would improve. Stay tuned to find out!
In the meantime, you can check out these JB hotels I've stayed in and see if any suits your needs. 
>> MUST-READ: Part 2 of review is ready. Check out overall recommendation of Grand Paragon Hotel JB
Do you find this post useful? If you like to get notified of newly-published travel stories, just click the button below to subscribe. See you!
This post may contain affiliate links, meaning I earn a commission if you make a purchase, at no cost to you. Read my full disclosure for more info.
SUBSCRIBE
(Visited 307 time, 9 visit today)