This is a continuation of my earlier review on Grand Paragon Hotel Johor Bahru, and I will share about the hotel's recreational facilities, food options, as well as overall recommendation. If you've missed Part 1 of the review, check it out here before you continue.
For info, Part 1 of the review talked more about the hotel room's design, layout and comfort. Today's post (Part 2 review) would touch more on things you can do in and around Grand Paragon Hotel JB.
Without any further ado, let's dive straight into food first because we got hungry at night! :) 
---
Great Food Options: Grand Paragon Hotel JB 
Even though Grand Paragon Hotel didn't fare well in part 1 of the review (on room experience & customer service), it scored high in the department of food. Check out how easy it was for us to grab a late night supper.
Street Food so near Grand Paragon Hotel
On Day 1, we got hungry at night and was happy to see an open-air food court – Cedar Point Food Centre – located next to the hotel (see location). In fact, I could actually see it from my hotel unit.
Nah, show you! :)
The food centre was so near I didn't even bother putting on makeup when I went down for my supper. 
Cedar Point Food Centre next to Grand Paragon
At the food centre, you'll see a wide range of local food options such as Lok Lok, BBQ chicken wings and Satay. Cedar Point also seemed like a popular spot for locals to enjoy a mug of beer. 
Come, take a look at the sinful stuff we ordered at 9pm. That's Char Kway Teow (rm7), Oyster Omelette (rm9) and 300g of Stingray (rm24).
The best dish for today's order turned out to be the cheapest – the Char Kway Teow had a taste of Wok Hei. Delicious!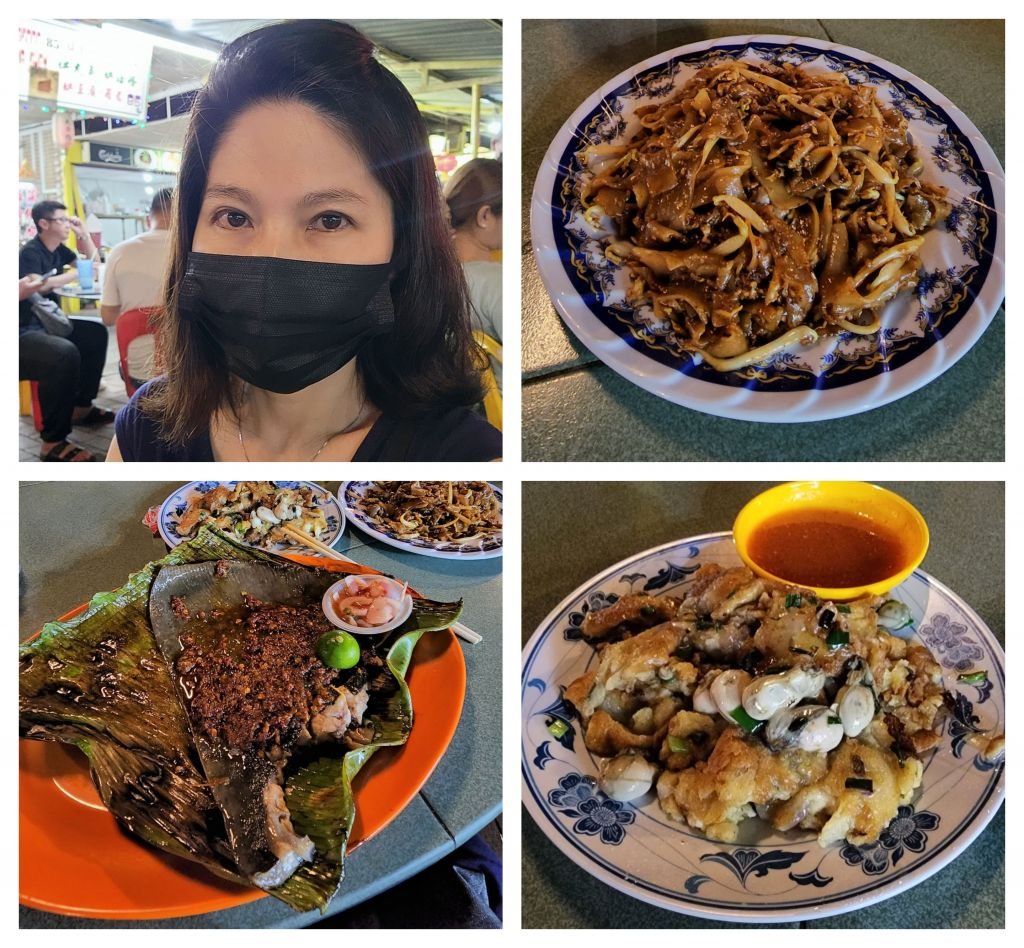 And the least outstanding was the most pricey. The portion of stingray was small – a flat slab with very little meat.
That's all for the indulgence. Next, I'll share with you the breakfast we had at the hotel.
Hotel Breakfast at Grand Paragon Hotel (Johor Bahru)
Many online reviews said that Grand Paragon's breakfast was good. Was it really so? 
I think the variety offered was quite good for a hotel in Johor Bahru. But I wouldn't say the spread is of top-notch quality. You'll get a few average (low-cost) dishes to choose from each category, e.g. bakery, Asian food, Western food, porridge, local kweh, cereal and fruits.
Take a look at some of the things I had over the 3-day period. It was satisfying for a non-foodie like me. 
We went in with the mindset to eat just enough. With 3 nights of stay, I even contemplated eating just one type of cuisine a day. But ended up eating croissants and sunny side ups every day. I'm still someone who prefers Western-style breakfast! :)
I also need to compliment the hotel for its modern-looking restaurant. I think just sitting there by the window and enjoying a cup of tea was worth the S$4.50 breakfast price tag. :)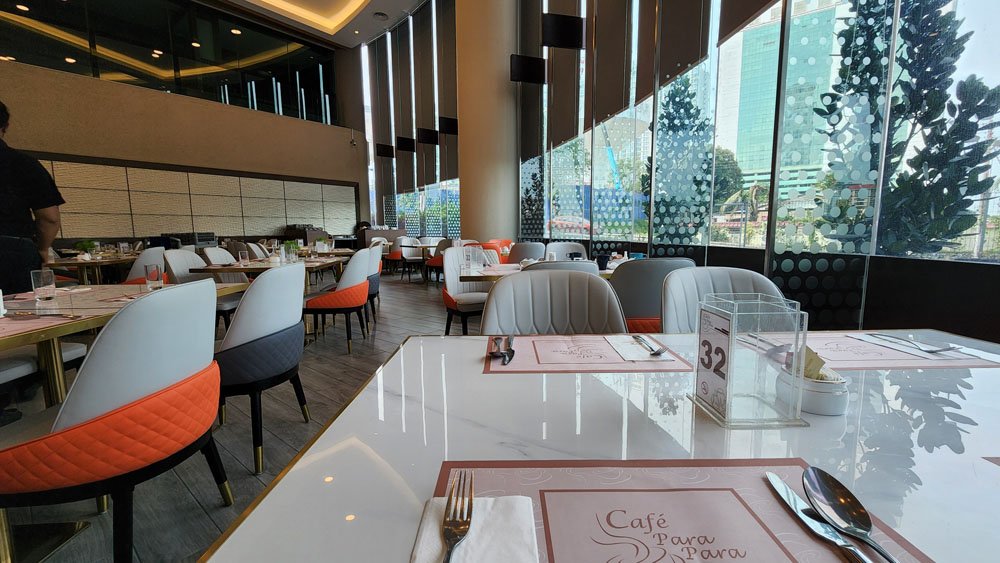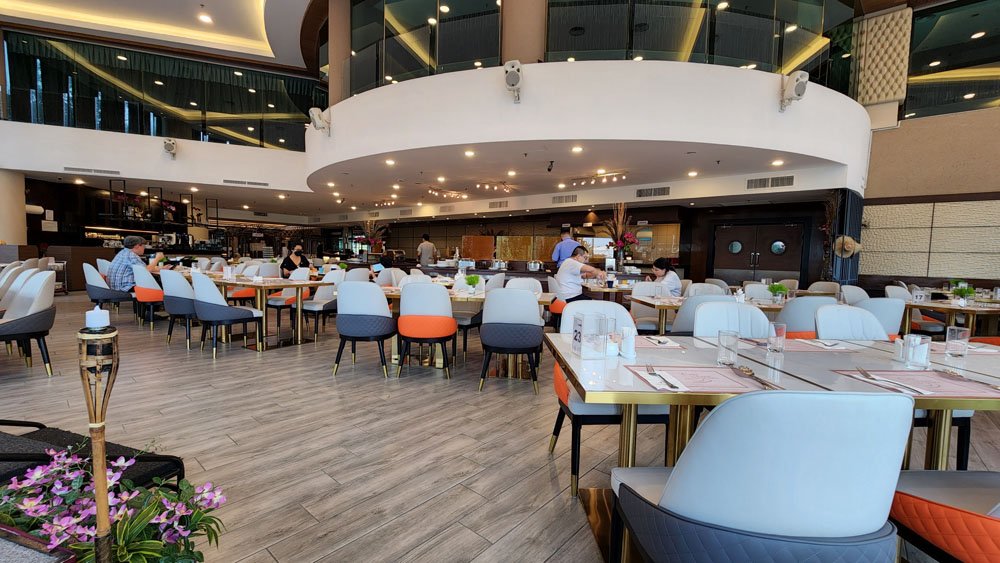 Great for Families
I would imagine an affordable buffet breakfast at the hotel would make things very convenient for families, such as those who have kids or elderly in tow. Being able to settle the first meal of the day just by taking a lift down can save a lot of efforts for families. 
After a heavy breakfast, it's time to hit the gym and pool. Join me as we explore the hotel's recreational facilities.  
Electricity down: When we returned to the room after our breakfast, the electricity suddenly cut off on its own. We contemplated calling the hotel but thought this appeared to be more of a hotel-wide short circuit issue. Indeed, electricity was back on after about 15 minutes. 
---
Recreational Facilities at Grand Paragon Hotel Johor Bahru
Both the gym and pool were located on Level 11 of the hotel. You'll also see a hair salon and massage spa on the same floor, that seemed under-patronized.
Spacious Gym at Grand Paragon JB
The gym at Grand Paragon Hotel was very big by hotel's standard, and it boosted a great view. Unfortunately, the window was dirty and equipment old and not well-maintained. A few of them were spoilt.
I could still use the old cardio machines, but my partner who was mainly into strength training mentioned about rubberized bits coming off the weights/machines. 
You can also see water dripping from a part of the ceiling. I think as far as maintenance of equipment is concerned, Grand Paragon isn't really putting its focus and money there. 
Well, but at least they provided drinking water and sanitizer, unlike Trove Hotel. But why they only had one bottle of sanitizer outside the gym leh? I had to go in and out to sanitize my hands in between stations. It would also be ideal if gym towels were provided. 
Done with gym. Let's go for a swim!
>> RELATED: What I think of Trove Hotel after staying for 2 nights
Small Pool for dipping
The design of the pool at Grand Paragon Hotel looked too similar to that of Trove Hotel. Both were semi-circular in shape even though the buildings were built in different eras. Think it's the result of limited space within a dense city.
When we first arrived at the pool, the sun was scotching hot and there was no place to take shelter. As you can see, the sun lounger didn't come with any umbrellas. So, it's not exactly an ideal set-up especially for ladies who do not like to be under the sun the entire session.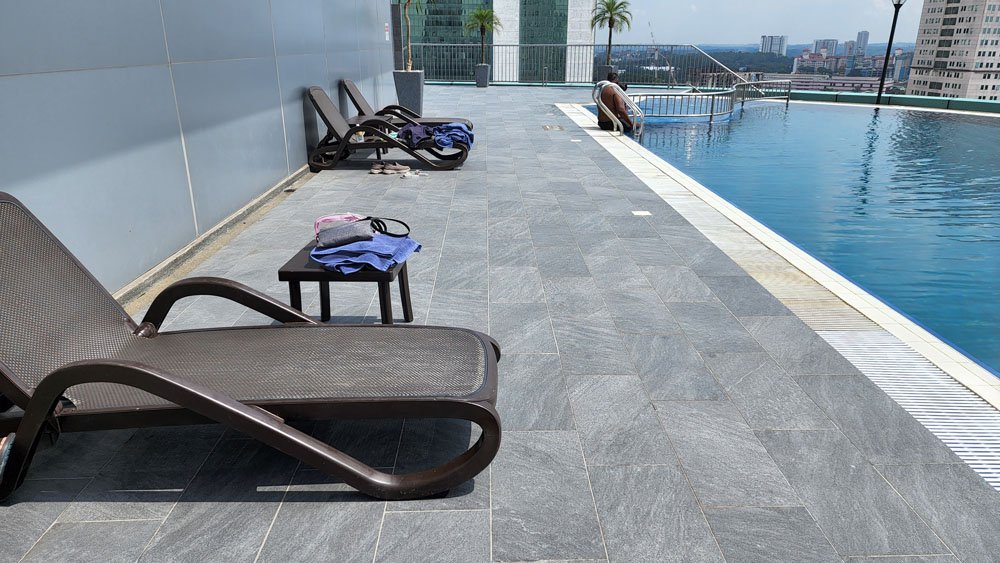 Another thing to highlight was the limited sun loungers available. I had to share a sun lounger with my partner. Well, that kind of forced me to get into the pool. 
I attempted a swim and it was fun, but the lap was really too short. Still, we had fun! 
After a swim, the stomach was begging for food. Let's walk to KSL shopping mall. 
---
Walk from Grand Paragon Hotel to KSL City Mall 
Was it easy and safe to walk to KSL Shopping mall (see location)? 
The distance was short, about 8 minutes, but it wasn't as comfortable as walking along pedestrian walkways because there weren't any.
You'll be walking on roads – part of which may have pot-holes or uneven surface. A good pair of walking shoes will make the walk easier. Do also watch out for cars that would come from multi directions. 
As to whether it's safe, I think it's ok if you are not alone. I would not walk the path as a solo female traveler, especially at night as it was dark and deserted.
TIP: When walking along the road, try to have your bag swing to the side away from the road. It's better to carry a sling bag instead of shoulder bag. This is to prevent snatch thief on motorbikes. 

If you carry a backpack, hug it in front of your body.
Food we had at KSL Shopping Mall
As a mall, you'll get a decent offering of food and cafes at KSL. The man was craving for Matang Seafood, and so we braved the hot dish even though it was a hot and humid day. The fact that the outlet was located in the non-airconditioned (outer) segment of the mall didn't help.
For the first time in an extremely long while, I was dripping perspiration while eating (I normally don't perspire easily). 
Actually, our favorite branch was located elsewhere and had closed down due to the pandemic. This outlet at KSL served ok food, but I found the ingredients a lot less generous than before. See my order of Seafood Bee Hoon (rm32) above. 
The soup base was good, but we are not sure if we would crave for it again.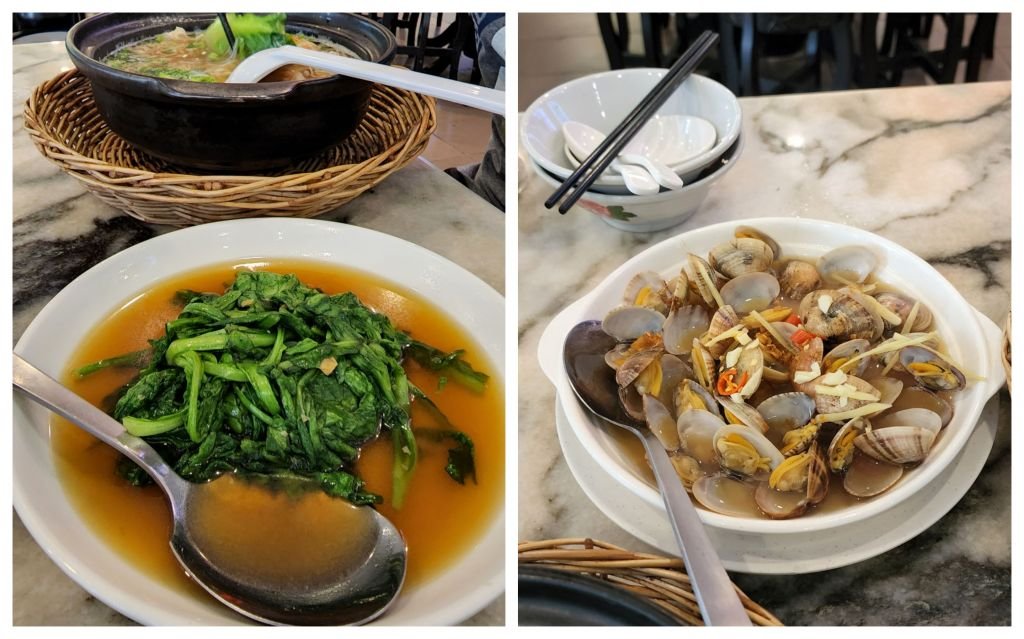 Lots of Nail and Hair Salons at KSL Mall
We walked around KSL mall a bit and found that it didn't appeal to our interest. But if you are looking for hair service, manicure or massage, you will love KSL mall as there were so many of such outlets around – more than 30?
Other than a strong specialization in nail and hair services, you can also find the usual pharmacies, apparel shops and a supermarket. KSL mall also has many small booth stalls, selling tech/phone accessories. 
>> MUST-READ: 25 Things to buy in Malaysia
Open-concept Coffeeshop at KSL Shopping Mall
Soon, we got thirsty and found ourselves at an unenclosed coffeeshop within the mall. I ordered a Coconut iced-blended drink (rm7).
So, is it as good as Mr Coconut? 
I never got to know as I spilled the drink. 
This is what happened with butter fingers. The main essence of the drink – a large scoop of ice cream, presumably coconut-flavoured – was spilled on the table. Whatever was left was quite diluted. What a mess! *Sad*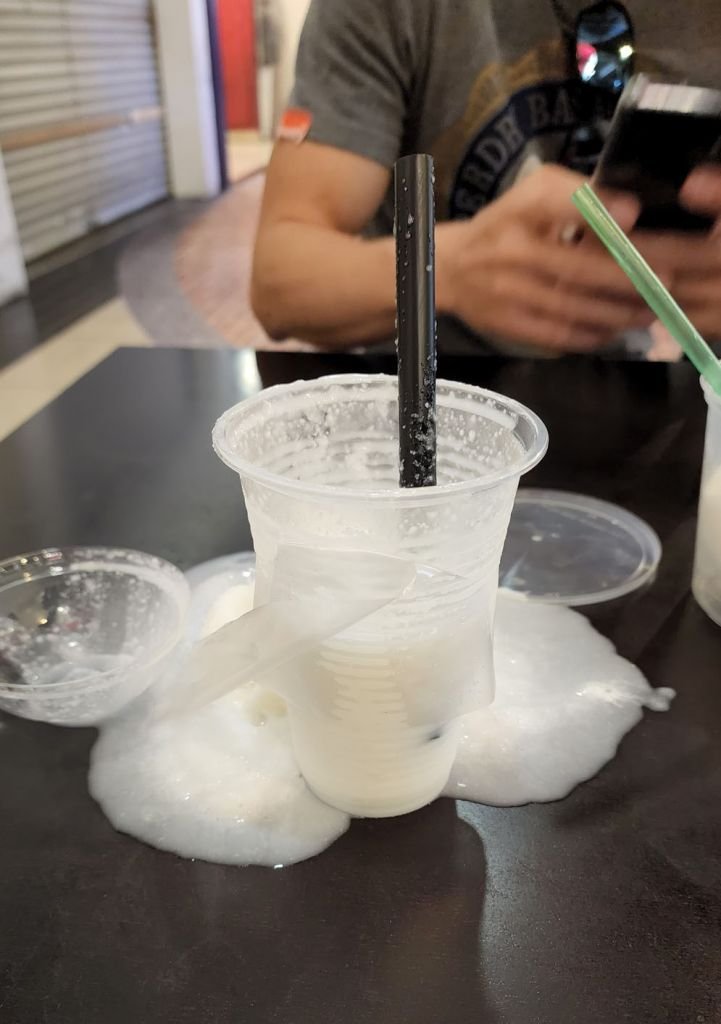 The man then ordered a mango-black glutinous rice dessert. Luckily, nothing spilled this time around.
The rice was a little undercooked, but otherwise was an ok dessert. 
Done with KSL mall, let's bring you to another eating place near Grand Paragon – Century Street Food Court.
---
Century Street Food Court near KSL Mall
Century Street Food Court is not exactly a food court as you would imagine. Instead, it's an open-air street food area similar to Cedar Point Food Centre.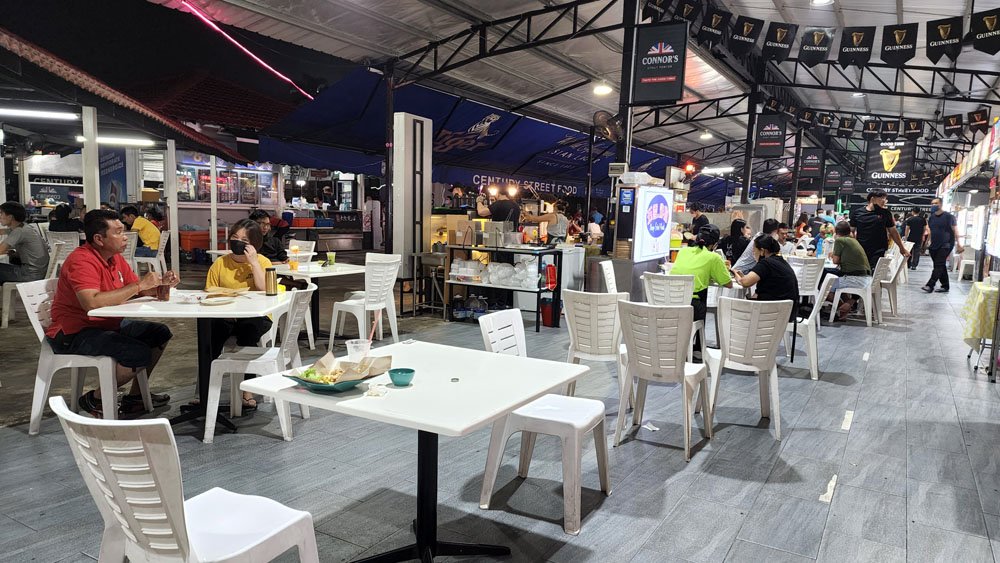 Located near KSL City Mall (see location), this 'food court' was larger and more vibrant than Cedar Point. 
The place was well-ventilated and there was a stage that might have performances during certain day or time. Century Street Food Court sold a large variety of food from Taiwan and Korea cuisines, to Western and local food. 
To be honest, I was still very full from the earlier bee hoon, but forced myself to eat again at around 10pm. These were our orders in anti-clockwise:
Claypot Chicken (rm10)
BBQ Chicken (rm13 for four chicken wings)
A large cup of carrot juice (rm8),
10pcs of Satay Chicken (rm11)
Rojak (rm8)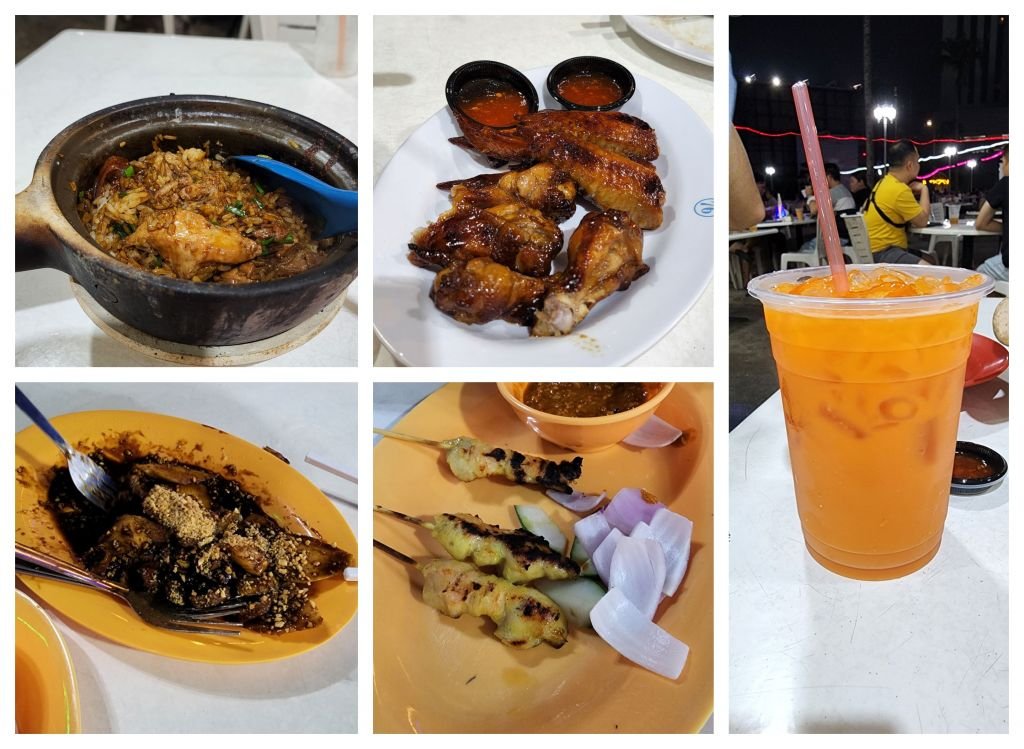 Update (Jun 2022): In subsequent visits, I also tried Lok Lok, Laksa La La and Takoyaki. The Lok Lok (about rm30 for 20 sticks) was really tasty. The Laksa La La was not bad too. 
Just a word of caution – please take care of your stomach. I ate so much (coupled with daily buffet breakfast) that I suffered heartburn the next day and was basically down and out for the next few days in JB.
Heartburn means I had to avoid acidic food, which comprises almost everything enjoyable, from tea and coffee to meat and everything else. LOL!
So my holiday was kind of spoilt with frequent bouts of sharp pain every few minutes, that carried on for two to three days. Do eat in moderation, k? =) Friendly reminder!
---
F&B near Grand Paragon Hotel
There are also plenty of F&B places within short driving distance away. Here's an F&B cluster (see map).
Due to my heartburn, I could only take bland food such as fish soup at RMB Noodle House (长江一品粿条汤).
Food was cheaper than Matang Seafood, but the soup base wasn't as tasty.
If you have a health appetite, you can consider other highly-reviewed eateries within the cluster, such as:
Grill Bar Steakhouse
Moonlight Cake House
The Secret Cafe
Kim Chi & BBQ
Raw Brew & Dine
Yaoki Japanese
---
In Summary: Pros vs Cons
This sums up our 3 nights stay at Grand Paragon Hotel Johor Bahru. As shared in part 1 of the review, we understood why online reviews were mixed. You really need to fit a certain type of traveler profile in order to enjoy your stay at this hotel. 
Let me help you recap the goods and bads of Grand Paragon Hotel before I share an overall recommendation. 
What's Good? 
Unblocked view
Workspace was conducive 
Convenient access to popular food centres (even during late nights)
Walking distance to KSL City Mall
Decent breakfast spread at an attractive price
What's Bad?
Poor and old toilet design
Poor overall maintenance
You may get a very different room without apologies
Small pool with limited sun loungers
Old gym equipment (old "many things")
No daily room-cleaning service
---
Recommendation: Should you stay at Grand Paragon Hotel Johor Bahru?
If you enjoy good access to food, be it popular food centres or affordable/decent hotel breakfast, you may enjoy your stay at Grand Paragon Hotel. It would also appeal to those who want to be able to walk to shopping mall, especially one where they can get their manicures or hair groomed at a good price. 
On the contrary, those who wish to spend a decent amount of time within the hotel room, or to use the gym or pool may not find Grand Paragon Hotel a good choice. For such profiles, I would recommend either Amari Hotel or Capri by Fraser JB. Rating: Rating: 3.5/5.
Do you find this post useful? If you like to get notified of newly-published travel stories, just click the button below to subscribe. See you!
This post may contain affiliate links, meaning I earn a commission if you make a purchase, at no cost to you. Read my full disclosure for more info.
SUBSCRIBE
(Visited 316 time, 1 visit today)