How many days should you spend in Hakone? I would say at least 3 days. Check out what I did on my third and final day in Hakone.
Blessed with a perfect weather, you'll see me immersing in nature and greeneries. We are talking about charming gardens, beautiful open-air museum and an unique lunch. 
If you can recall, I'd completed the popular Hakone loop on my first day in Hakone, and spent my second day exploring Hakone in the rain.
Today, I would make up for lost time and visit attractions high on my to-go list before I bid Hakone goodbye and return to Tokyo. Without any further ado, let's get on with Day 3's rather busy and eventful day in Hakone! 
Don't miss these posts!
---
Hot Spring & Jap Breakfast: A great start to Day 3 in Hakone
 (5.30am)
I had a superb, best-quality sleep in the quiet "Japanese room" at Hotel Tenseien, and fully recovered from the lousy sleep I had the day before. 
Glad I made the right decision to switch to a quiet, corner room that faced the soothing river instead of the gushing waterfalls. 
Now, let's start the day like most Japanese here would, which was to take an early morning hot-spring dip. 
Early-morning Onsen at Hakone (Tenseien Hotel)
I'd visited onsen every single day in Hakone, usually late at night after the day's itinerary. What made today's experience special was how early I was doing it, before 6am. 
Once again, with the benefit of daylight, I was able to take in the mountain views while "hopping" from bath to bath. There were at least five baths to choose from in Hotel Tenseien, which was great! 
ONSEN TIPS: Remember to tie your hair (best into a bun) before entering the water or wrap it in a towel. Don't let the hair touch the water as it is deemed as unclean (even if you've shampooed your hair).

For the same reason, don't let the small towel enter the water. You can fold and place it on your head when soaking. More onsen etiquette here.
On the way back to the room, I saw free Yakult available for guests between 7am to 9am. That's a nice gesture from Hotel Tenseien! For info, the hotel also provided free ice cream at night.
Breakfast Tasted Better after a good night sleep
(7am)
After the hot spring session, I proceeded eagerly to the dining area.
Today's buffet breakfast variety was exactly the same as yesterday's. But for some reasons, I thought it tasted better. Either my expectation was already managed, or the quality sleep I had improved my palate.
You may not believe, but the most popular food among the locals was omelette. It was the only station that had a long queue.
I didn't bother trying it yesterday, but good to sample it today since I've had the energy to queue (after a restful sleep). 
"Very yummy and creamy…rich buttery taste with ham and cheese" was what I wrote in my travel diary. Definitely a great start to the morning.
DINING TIP: In Japan, it is common to place your food or cutleries on a tray. 
---
Waterfalls & Shrine: Hakone Day 3
(8am)
I've shared in my previous posts on the many things you can do within Hakone Tenseien Hotel (see my experience on Day 1 and Day 2 in Hakone). 
Since I would be checking out today and the weather was great, I made another attempt to visit the hotel's garden. Dressed in a Yukata, I walked to the two waterfalls to take some selfies.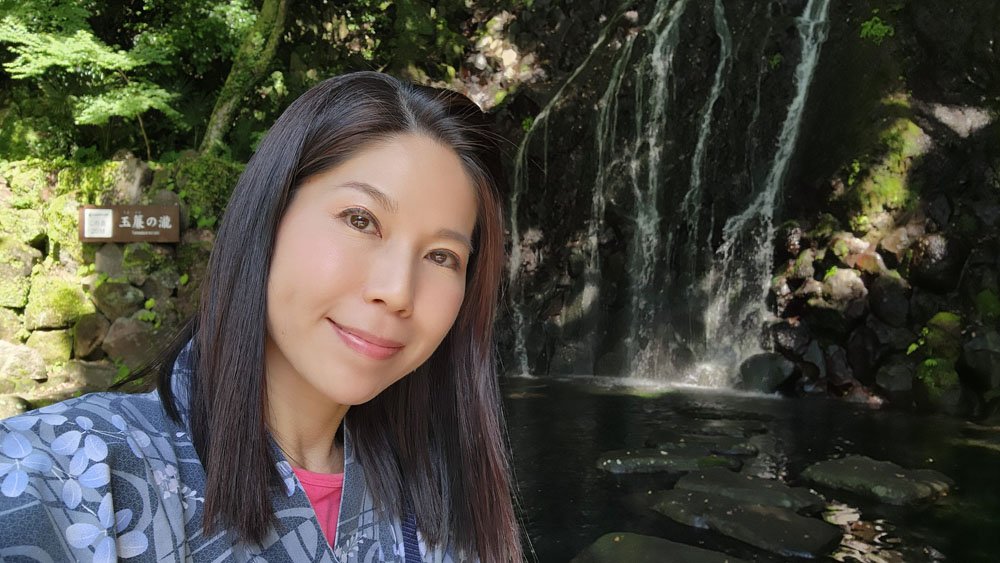 Love the convenience of staying in a hotel that has a garden. It allows me to take my "Japanese-in-a-garden" shot without having to rent any costumes or bother with the logistics. 
Done with the vanity shot, I climbed a short 105 steps to reach a shrine. Yes, there is a small shrine located within the premises of Hotel Tenseien. It seems like this resort is blessed with many things, huh?
On the way back to the hotel lobby, I stopped for a while at the koi pond to watch some ducks swimming leisurely within their "home".
And by 9.30am, I was ready to check out of Hotel Tenseien. I deposited my luggage with the hotel and ventured out for my third day of fun in Hakone.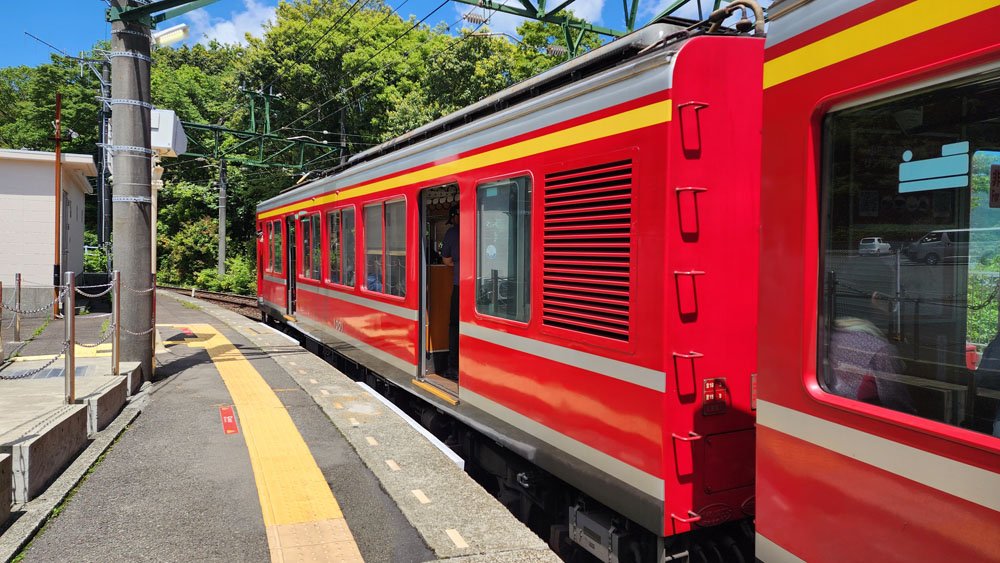 ---
5 Things to do in Hakone other than the Hakone Loop
1. Visit Hakone Open Air Museum
(10.30am)
From Hakone Yumoto Station, I boarded Tozan Railway and alighted at Chokokunomori Station. The Hakone Open Air Museum was just a two minutes' walk away.
Don't forget to flash your Hakone Free Pass to get a 100 yen discount.
I spent a solid two hours touring the huge and enjoyable museum, and highly recommend the Hakone Open Air museum as a must-do in Hakone. All the more so if you love taking photos.
Among the many art pieces, the one below amused me the most. 
Although the big lady and the "flattened" man were independent pieces, I looked at them as a single art piece and couldn't stop laughing at the "powerful lady vs defeated man" presentation. 
Other than art pieces, you'll also find a Picasso museum where you can learn more about the work and life of Picasso. 
2. Gyoza Center: A popular restaurant in Hakone
(12.45pm)
The next stop would be Gora Park. On my way there, I passed by a Gyoza Center (see location) that seemed like a very popular restaurant (and Google review confirmed this).
Saw many people entering the restaurant which made me ponder if I should have my lunch there. But I decided against it as I was running short of time. 
3. Gora Park is so alluring!
(1pm)
Once again, those holding the Hakone Free Pass can benefit from free entrance to the Gora Park.
Upon setting foot into the park, I was charmed by the picturesque and charming sceneries. I sat under the red umbrella for a while to take in the view. 
There were two cafes – Isshikidosaro and Cafe Pic within Gora Park. I thought it would have been a memorable experience sipping tea at a cafe located within an "enchanting" garden. 
But once again, I was defeated by time as I'd decided to dedicate my limited time towards another round of the Hakone Loop. I thought the perfect weather today would give me a chance to catch a glimpse of Mount Fuji. 
4. Doing Hakone Loop again to say "hi" to Mount Fuji 
(1.45pm)
I don't want to bore you with the details of me doing a quick Hakone loop for a second time (you can read about my first Hakone loop here). I can only share that Mount Fuji didn't reciprocate and I left feeling disappointed. 
I basically wasted two precious hours and regretted not having lunch at the popular Gyoza Center or sipping a cup of latte at one of the cafes at Gora Park. 
TIP: 3 days is definitely not enough for Hakone, at least for me. If you are considering between a 2 or 3-day Hakone Free Pass, get the latter. You can see that even that was not enough for me. :)
5. What a Unique Tofu Meal in Hakone!
(4pm)
The final experience I could squeeze into my 3-day Hakone trip was to insert a unique all-tofu dining experience.
Apparently, this Tofu restaurant (Yubadon Naokichi) – within walking distance from Hakone Yumoto station – was very popular in Hakone. 
I opted for the most expensive set (¥2300) and was served quickly starting with a cup of cold soybean milk. 
Next up was the main comprising a bowl of rice, a claypot of tofu and some cold sides. The waitress taught me how to eat this dish – scoop the hot tofu over the rice and it was yummy.
The tofu even had a "wok hei" taste to it (smoky flavour).
Accompanying the mains were two side dishes – cold tofu with grated ginger and spring onion and bean curd skin topped with wasabi. 
The meal ended with a red bean-tofu dessert.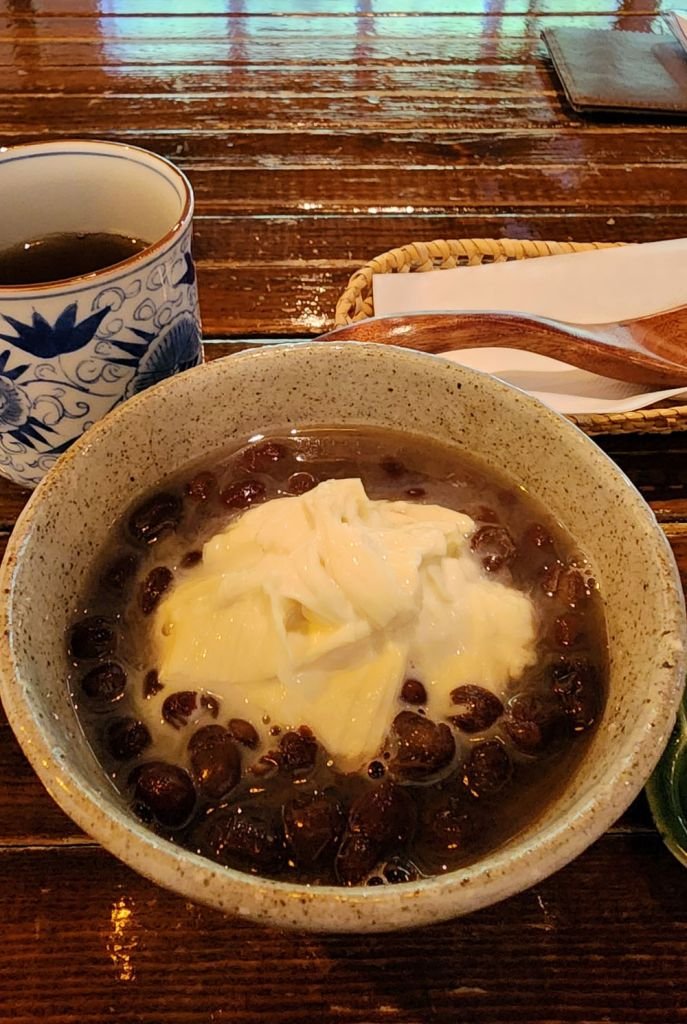 I enjoyed the simple meal that left me feeling extremely full and satisfied. However, my friend's mother who visited the same restaurant on a separate trip didn't appreciate the meal.
Therefore, you may enjoy this meal only if you are into bland and simple, healthy fare.
This meal at Yubadon Naokichi was the most expensive meal I had to-date in Japan. It may not be value-for-money since it's a meal without meat. But I had no regrets. It was a special meal that I won't forget!
---
Retrieved luggage from Hotel (Hakone Day 3)
(4.45pm)
If you didn't know, I rushed through the tofu lunch within 30 minutes, and quickly headed back to hotel to retrieve my luggage.
The reason why I was in a rush was because I had to catch the last shuttle departing Hotel Tenseien. Unlike previous trips when I could take a 15-minute stroll to the train station, I now needed a shuttle service as I was with a big and heavy luggage. 
I made it and was back at Hakone Yumoto Station, together with my luggage by 5pm. Phew! What a very rushed day! 
In my next post, I'll share my journey getting back to Tokyo, and my first night at Shibuya. Stay tuned!
Map Locations of Hakone Itinerary (Tokyo-Hakone Day 6)
Tenseien Hotel > Hakone-Yumoto Station > Hakone Open Air Museum > Gyoza Center > Hakone Gora Park > Tofu Restaurant > Tenseien Hotel
This post may contain affiliate links, meaning I earn a commission if you make a purchase, at no cost to you. Read my full disclosure for more info.
---
Related Posts:
(Visited 141 time, 1 visit today)