In today's post, watch me as I travel from Hakone to Tokyo via a local train and spend my first night in the very vibrant and happening Shibuya. This will form the final leg of my Tokyo 9-day trip in which I'll spend the next three nights exploring the most popular and populous part of Tokyo. 
For a chronological story flow, read these first: 
---
Hakone to Tokyo (Local Train vs Romance Car)
(5pm)
After spending most part of Day 6 exploring Hakone, I was ready to make my way back to Tokyo.
Hakone to Odawara
At Hakone Yumoto Station with my bulky luggage, I tapped on my Hakone Free Pass and boarded a train bound for Odawara. 
20 minutes later, I alighted at Odawara station to make a transfer. If you had upgraded to a Romance Car, you would be able to skip this transfer and travel directly from Hakone to Shinjuku. 
Odawara to Shinjuku (via Odakyu Line)
The journey on the Shinjuku-bound train took about 1 hour 40 minutes. To be honest, it wasn't a great experience and I highly recommend that you upgrade to a Romance Car instead.
See this photo below? My toes were tilted upwards at the base of the luggage to prevent it from rolling. Imagine in this posture for close to two hours? :~)
Unlike my earlier experience via a Romance Car, I couldn't relax or sleep in this local train. It was pretty painful as I was actually very sleepy after a hectic day touring Hakone. 
HAKONE TRANSPORT TIP: To minimize transport waiting time, use Google Map's "direction" feature to check the schedule of train or buses. For example, type in "Hakone-Yumoto Station" to "Odawara" and you will be presented with multiple travel options (e.g. Romance Car, local train, bus).

You will also see the next few arrival timings for each transport option.
---
My Hotel in Shibuya: Conveniently located near Shibuya Station
(8pm)
Fast forward to Shinjuku, a quick transfer (one station only) brought me to Shibuya – my base for the next three days. Let's walk to Sakura Fleur Aoyama hotel which is located about 10 minutes away by foot. 
TOKYO TRANSPORT TIP: I'm back to using my Suica card (something like Singapore's EZ link) as it saves me the trouble of figuring how much to pay per trip, and buying tickets for every trip. Do also check out Tokyo Subway Pass (unlimited rides) if you intend to travel a lot each day. 
Quick Review of Sakura Fleur Aoyama Hotel (Shibuya)
Sakura Fleur Aoyama hotel has an "oldish" design and still uses a physical key for the room. The room I had was also rather small and its design and layout were not as functional as compared to my hotel in Akihabara.
I found it a challenge finding enough table space for my stuff.  
You also need to deposit the key at the counter when you leave the hotel, and collect it when you return. 
What I was disappointed in was the lack of large-bottled toiletries which is synonymous with offerings in most Japanese hotels. Instead, the hotel handed out small sachets of toiletries at the counter, upon request.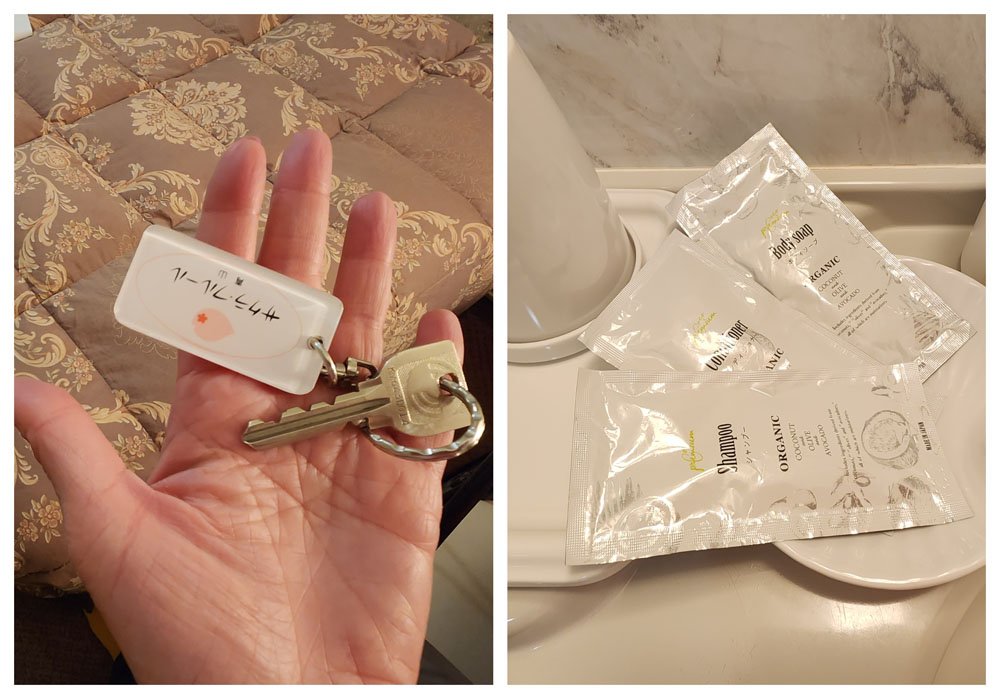 The room also felt hot and stuffy even with the aircon turned on. Plus there was no safe in the room. Did I mention that the room came with only two hangers (and no wardrobe, just hooks). Aiyoh!
Sakura Fleur is not perfect, but its location is! 
You can probably tell that I didn't have a very good first impression of Sakura Fleur Aoyama. However, this hotel has its redeeming factors too. 
For example, the boutique hotel was clean and the service was great (e.g. they were helpful in providing solutions, such as giving me more hangers, more shampoo sachets etc). The toiletries and tea provided were of above-average quality. 
You can also get free coffee at the counter every morning. However, nothing beats its location!
From Sakura Fleur Aoyama, you can walk to many places such as Shibuya Scramble Crossing, Hachiko Statue and good shopping malls.
Most importantly, the Shibuya train station was within walking distance. A few train rides away will bring you to two other popular wards in Tokyo – Harajuku and Shinjuku – that can offer you even more things to do and explore. 
So, would I recommend Sakura Fleur Aoyama Hotel?  
If you intend to base yourself in Shibuya (to explore the western and popular part of Central Tokyo), Sakura Fleur Aoyama Hotel provides a lot of convenience. 
With the shorter commute, I could carve out more time exploring places in Shinjuku, Harajuku and Shibuya. I could also get quick and easy access to food and amenities anytime of the day. 
So yes, despite some of the imperfections, Sakura Fleur Aoyama is worth a consideration though it's probably not the best! 
---
A happening weekend in Shibuya! 
(10pm)
By the time I was ready to leave the hotel again, it was late at 10pm (because I was trying to solve "problems" in the hotel, such as a stuffy room).
Fortunately, Shibuya was still very much alive and bustling on a Friday night (unlike our Orchard Road in Singapore). The huge crowds of young people in fanciful dressing kept my spirit high even though I was a bit exhausted. 
I also found myself pausing on a street to admire a Japanese busker belting out local songs. He sang beautifully and I was charmed by his vocals even though I didn't understand the lyrics. 
Shibuya Scramble Crossing: Funny things people do in the middle of the road
I then walked through the famous Shibuya Scramble Crossing and found it amusing seeing people do funny things in the middle of the crossing. 
Some sat in the middle of the road while others film themselves on the go. It was touristy but fun to watch!
Shopping at Shibuya-Center Gai
Can you still find things to do at 10pm along Orchard Road? Not much I supposed. But in Shibuya, the Shibuya-Center Gai street was very much alive, with small shops selling fanciful apparels and accessories that I wouldn't dare wear. :)
Well of course, it's a youth street and I'm no longer one. But it was interesting walking through it and I did find a place to shop in. 
Look at this outlet with Gashapon (toy capsule vending machine) from floor to ceiling, and many aisles to explore. I was busy shortlisting the machines and got myself two random toys for ¥600.
Mega Don Quijote Shibuya 
What's next would be to shop in Mega Don Quijote Shibuya. It's a huge and extremely popular Don Quijote with super duper long queues at the cashiers. 
There were too many people and I told myself to return another day for the real shopping (of beauty stuff and bring-home snacks)
TIP: Don Quijote at Shibuya has very long queue, especially at the duty-free counter (even past 12am). I'm talking about queues that would loop around the outlet. So if you intend to buy lots of duty-free stuff, go visit another Don Quijote in Tokyo. 
I only bought some cream puff, sandwich and snacks for dinner. For info, consumables are not tax-deductible. So I need not go through the horrible duty-free queue.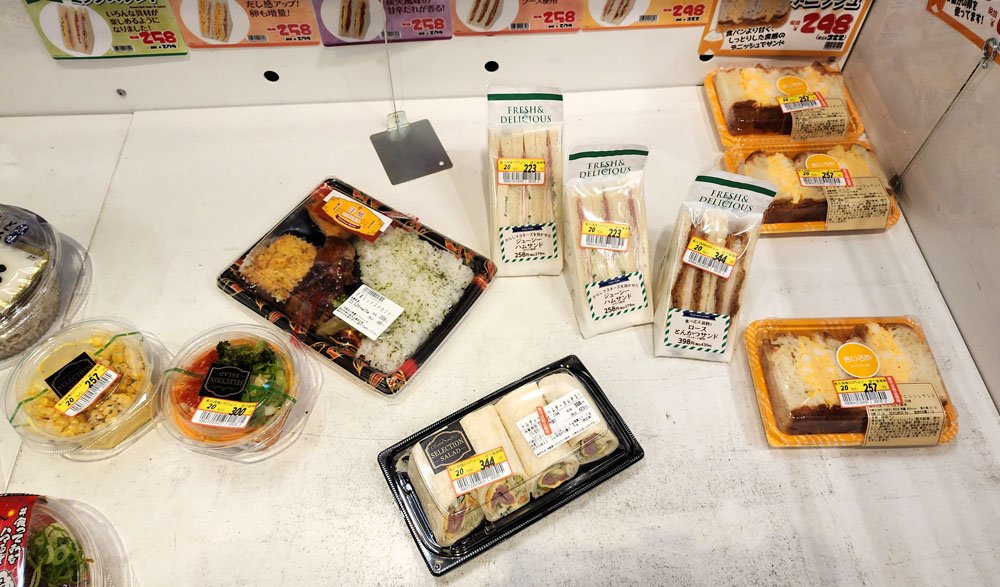 Hachiko Memorial (Dog Statue)
Similar to the Shibuya Scramble crossing, I would walk past Hachiko Memorial Statue many times for the next three days.
Today is the first night I'm seeing this tourist attraction, known for a dog's loyalty to his owner even after he'd passed away. As the professor master died at the University and never returned, Hachiko – a Akita dog – waited for him at Shibuya train station. And he did so for the next 10 years until its very own death. 
Dogs are such loving and faithful animals – a man's best friend without doubts.
Enjoying Takeaway Dinner in Hotel
(11.20pm)
Finally, it was time to call it a day. I had my late-night "takeaway" dinner at the comfort of the hotel. 
Surprisingly, it was a good meal! The cream puff was so good! And four pieces of this cost less than ¥200.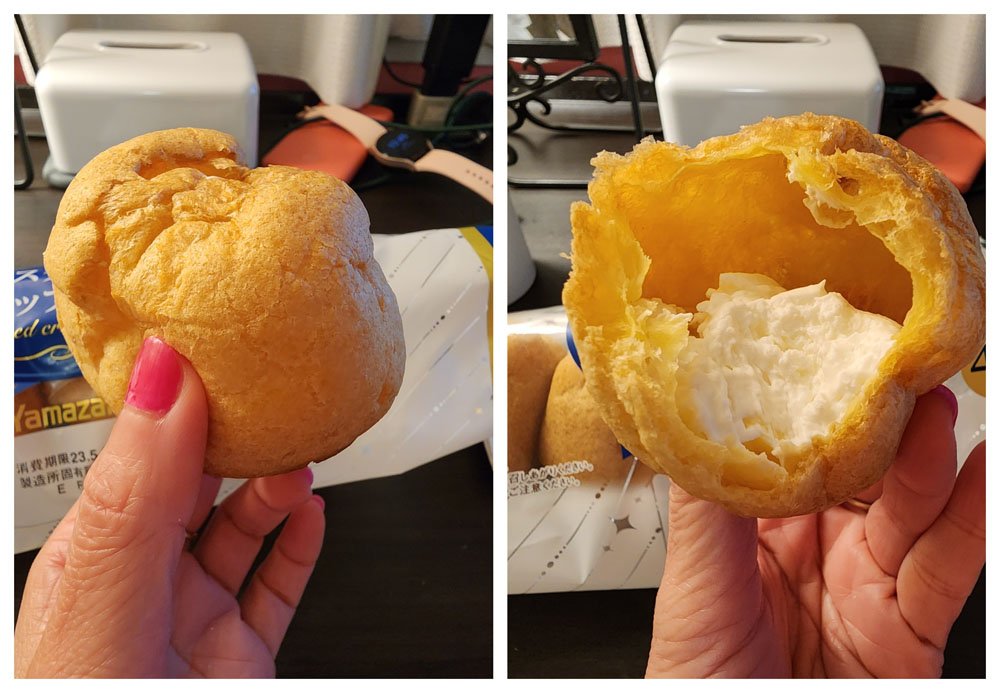 The pork loin sandwich was quite decent too. See that thick slab of pork sandwiched in between? It's definitely worth every penny (or Yen)! 
I ended the day with a citrusy Sapporo Lemon Sake which was refreshing by the way, and paired well with Calbee potato chips in clam flavor.
That's it for Day 6 in my solo Tokyo trip. Stay tuned to the next post where I would explore Shibuya and Harajuku. 
Map Locations of Hakone Itinerary (Tokyo Day 6 Night)
Hakone Yumoto Station > Odawara Station > Shinjuku Station > Shibuya Station > Sakura Fleur Aoyama Hotel > Shibuya Scramble Crossing > Shibuya-Center Gai > Mega Don Quijote Shibuya > Hachiko Memorial > Back at Hotel
This post may contain affiliate links, meaning I earn a commission if you make a purchase, at no cost to you. Read my full disclosure for more info.
---
Related Posts:
(Visited 104 time, 1 visit today)