If you are thinking of where to go for your next holiday, why not consider Okinawa? It's a charming island in southern Japan that rewards you daily with turquoise water, abundant marine life, yummy seafood and delicious meat. Most importantly, it's a great place to load up on beauty products (oops, pardon me!).
Hope I've gotten you excited! To make travel planning easy for you, I'm sharing with you 11 tips that can help you choose the right hotel in Okinawa. Okinawa has unique hotel characteristics that're different from other countries. So, reading these tips may help you save some money and get the best hotel that suits your traveling preference.
---
11 Tips to help you Choose the Right Hotel in Okinawa
1. Don't assume parking comes free with hotel booking
Unlike other countries, free parking is not a given in Okinawa when you book a hotel. What's worse is that such additional parking charges are not clearly indicated upfront during booking. Even if you've added a filter for "Car Park" facility when performing a search on hotel booking portal, please don't assume that the generated hotel listings provide free parking. They are just telling you that these hotels have parking onsite.
How then do you know if a hotel offers free parking? It's best to assume that they don't unless they explicitly said parking is free. Here are other ways to verify:
Many hotels in populated areas such as Naha city do not come with free parking. The nearer it is to Yui Monorail, the higher the chance that it wouldn't be free.
2. Non-smoking room is not a default
As with most places in Japan, smoking is allowed in many hotels. If you are sensitive to cigarette smell, book a room that clearly indicates it's a non-smoking room. 
If the hotel only provides a generic listing of the room, it is possible that the hotel may be a smoke-free property. Check the listing or contact the hotel to confirm.
3. Double Room may be short in supply if you book late
In Japan, it is not uncommon for couples to sleep separately. Hence, hotels in Okinawa may offer more twin rooms than hotels in other countries. Since most tourists prefer to snuggle together, double room may be in short supply during peak traveling season, and especially so if you book at the last minute.
4. Western Room or Japanese Room?
This is cultural – it is common for Japanese to sleep on the floor, cushioned with a Futon. A futon is like a super cushy and soft sleeping bag. If you prefer a real bed, do not opt for a Japanese Room.
If you need to request additional beds, please confirm with hotel or Airbnb if they are really giving you an extra bed or just a futon. By the way, you should experience sleeping in a futon. It's actually quite comfortable and a memorable cultural experience.
5. Tiny Room is a standard
Rooms in Okinawa (especially in Naha City) are tiny. A room with 13 square meters is common. If you get 20 square meters, it's considered spacious. If you prefer larger rooms, go for Airbnb. You can normally get larger units at a lower price.
Travel and Save: Get S$62 off your first Airbnb stay and experience
6. Don't get impacted by Minpaku Ruling that affects Airbnb
This ruling that came into effect in June 2018 restricts the number of days an Airbnb host can rent out their property, and also imposes stricter regulations. We were impacted as our Airbnb host was forced to cancel our reservation just a few weeks before our trip.
Do take note of this ruling and confirm with Airbnb host if they meet this ruling requirement before committing.
7. Scan hotel surrounding for Cemeteries 
Okinawa has a tragic past relating to World War II. 150,000 have perished on the island. I'm not sure if that explains the large number of cemeteries in Okinawa. Most of them seem to be concentrated between Naha and Ginowan.
While it may not be possible to avoid staying near one, I do not wish to stay directly beside a cemetery. When booking accommodations, scan the surrounding using google map. Do note that some cemeteries may not be marked on google map. We almost booked an apartment right next to a big unmarked cemetery. Luckily, we'd done a "street view" scanning. 
8. Book Accommodations Early (I mean really early)
I booked my hotels 2.5 months ahead of my trip to Okinawa. And yet, many hotels and apartments of great value were fully booked. When my Airbnb host canceled my reservation two weeks before my trip, it was worse! I ended up having only two Airbnb options to choose from, and one was located beside a big cemetery.
> MUST-READ: 18 Things to know before visiting Okinawa
With the new Minpaku ruling, you may expect even more challenges when booking Airbnb units in Okinawa. This may indirectly lead to higher demand for hotels. So, try to make hotel bookings as early as possible too.
By the way, we noticed hotel rates increased drastically the closer it was to our staying period. So, once again, please book early. Hope I've emphasized this enough.
9. Where to stay in Okinawa?
If you have a week or more in Okinawa, you can choose to spread out your days and base yourself in different parts of Okinawa. Perhaps, one in Naha or Chatan and another near Nago. I'd based myself in Naha and Nago and then back to Naha again on the last day to make it easier to get to the airport by monorail.
> MUST-READ: Mr Kinjo in Mihara – A Tricky Hotel in Okinawa to Check into but worth every hassle
For those with a big budget, you can consider staying at luxurious beach-front accommodations dotted along the western coast of Okinawa (between Cape Maeda and Nago). Those with an even bigger budget can consider flying to nearby popular islands such as Ishigaki and Miyako.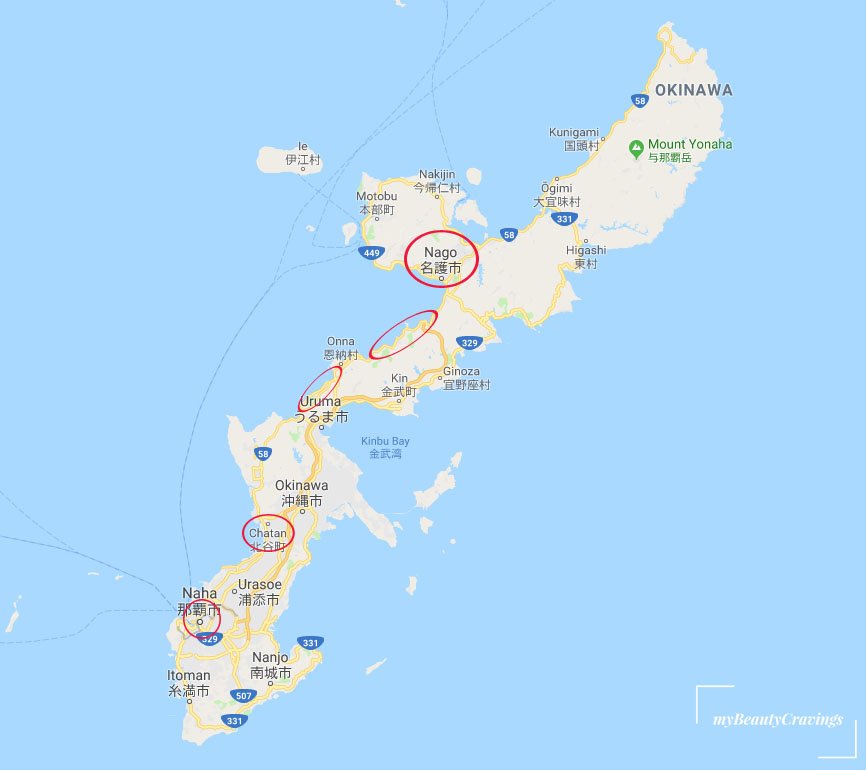 In general, you can find castles dotted in all the places I've mentioned (yes, Okinawa has soooo many castles). If you are gonna stay for just a few days, it's probably easier to base yourself at Naha since that's the biggest city and its where the monorail operates in.
> ALSO SEE: 9 Days Okinawa Itinerary | Things to do in Okinawa
If you love snorkeling you can base yourself near Nago or Onna or stay in some offshore islands mentioned earlier. Of the three places I've snorkeled in (main island), Kouri Island offered the best experience.
Nature lovers can stay a few nights in Nago. There are many waterfalls, mountains and natural landscape in the region. 
10. Self-drive to reduce Hotel Expenses
Public transport in Okinawa is rather limited. Most accommodations located near to Yui Rail (monorail in Okinawa) are small and priced at a premium. So, why not rent a car? Not only would driving provide convenience and bring you to attractions scattered around the island, you can also choose to stay at just about anywhere.
Staying in off-central accommodations tend to be cheaper. Units are likely to be larger too. The savings in accommodation can probably offset the cost of a car because car rental isn't expensive in Okinawa, especially during the low season. You can view live car rental rates here. 
> RELATED: Our car rental experience in Okinawa
11. Don't apply too many hotel search filters
When shortlisting hotels in Okinawa, don't add too many search filters such as "Gym" or "Pool" on hotel portals. You may end up with very limited and expensive options. Unlike other countries, many mid-range hotels in Okinawa do not have gyms or pools. Of course, if you are willing to splurge, that's a different story.
---
Ready to book a hotel in Okinawa? 
Do you feel the above tips have given you confidence in choosing a hotel in Okinawa? If you want bigger and cheaper accommodations, book Airbnb months ahead. You can get S$45 off your first Airbnb accommodation through this link.
If you prefer to stay in hotels in Okinawa Main Island, here are some recommendations based on my research (criteria: value for money). The three I've stayed in are marked with asterisks (***) and I enjoyed my stay at these properties. 
Recommended Hotels in Naha (near public transport)
Recommended Hotels near Naha (if you drive)
Recommended Hotels in Chatan (near good amenities)
Recommended Hotels in Nago (near Churaumi Aquarium)
Recommended Luxurious Resorts with Ocean View
The hotels listed above were not randomly obtained from the internet. They were plucked from my travel excel sheet after extensive research (for my own trip). It should help you zoom into hotels that are value for money. 
---
Know of anyone who is traveling to Okinawa? Don't forget to share these tips with them. If you like to get notified of newly-published travel stories, just click the button below to subscribe. I'll even give you some free and exclusive stuff. See you there!
SUBSCRIBE
This post may contain affiliate links, meaning I earn a commission if you make a purchase, at no cost to you. Read my full disclosure for more info.
Related Posts:
(Visited 3,453 time, 1 visit today)