Did you know that you can hike Hehuanshan, and not just stay around the roadside viewpoints where most tour buses would bring you to?
During one winter season, we hiked up Hehuanshan and was surprised to find the climb easy, even for beginners. An hour was all we needed to reach the summit that stood at a respectable altitude of over 3,000 metres.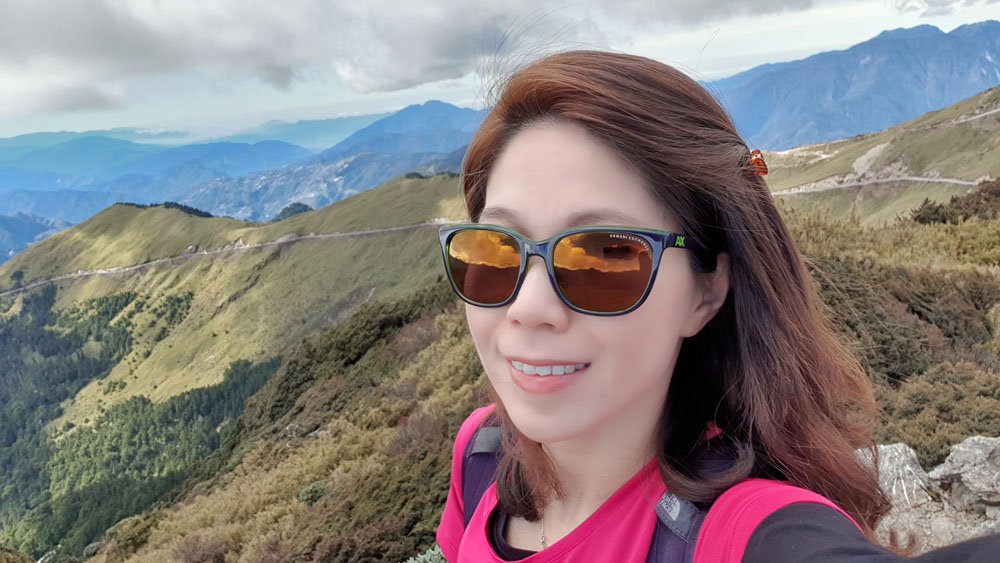 Read on to find tips and logistics guide on how to hike Hehuanshan mountains and what to prepare for the climb. For a better story flow, you may want to check out our 9 Days Central Taiwan Itinerary that ties the pieces together:
---
How to get to Hehuanshan?
Hehuanshan (合歡山), also known as Mount Hehuan, is located within the mountainous region in Central Taiwan. Most tourists would base themselves at Cingjing and join tour buses the next morning to get to popular viewpoints in Hehuanshan. 
One such view point is Wuling, which is popular because it's the highest paved road in Taiwan (3,275 m). 
How to get to Cingjing? You can take public buses from Taichung city, which would include a few transfers along the way, depending on where you are at Taichung. To skip the hassle, you can book a shared shuttle service that offers direct route to Cingjing from several popular locations in Taichung, such as Feng Chia. 
Unfortunately, tourists who join a bus tour would likely not have time to hike up the major peaks at Hehuanshan, as the duration of such tours tend to be short. Remember, the key objective of such tours is to catch the sunrise.
One alternative is to take a public bus from Cingjing to Hehuanshan. But there are only a few trips a day. Therefore, having your own private transport would likely make things a lot easier if you want to hike Hehuanshan.
Hiking Hehuanshan made easy with Private Transport
You can either engage a local driver (which is a common travel culture in Taiwan), or drive up the mountain on your own. We chose to go up via a rental car as it's not only cheaper (see price), but also comes with absolute freedom, flexibility and privacy. 
> RELATED: How safe is it to drive up Hehuanshan on your own? 
Furthermore, renting a car proved to be extremely useful when exploring the entire Central Taiwan region, which is undeniably less connected by public transport as compared to Taipei.
TIP: I've written a post on why we rented a car when exploring Central Taiwan. You can check out our experience renting a car in Taiwan.
As an added bonus, the rental car gave us a second chance to catch a fabulous view at Hehuanshan as our first trip there was a flop due to bad weather. 
TIP: It rained half the time we were at Cingjing. Based on what I've read online, bad weather isn't uncommon in this region. Therefore, you may want to set a buffer, by having an extra day there.
---
Which Peak to conquer at Hehuanshan? 
There are many peaks and trails that you can hike at Hehuanshan. The easier ones, based on my research, are:
Shimenshan – Gentle trail, 30 mins one-way
Jianshan – 45 mins return (behind 3158 Cafe)
East Peak – 2 hrs return (mostly steps)
Main Peak – 2 hrs return
Other peaks include Hehuanshan North Peak (tallest peak) and West Peak (most challenging). 
Why we chose to Hike Hehuanshan East Peak
Our original intention was to hike two or three trails, such as the East and Main Peaks. Unfortunately, bad weather made us retreat on the first attempt giving us just enough time for one. And we chose Hehuanshan East Peak.
We like the East Peak for its height, being the second-tallest in Hehuanshan – at 3,421 metres – and its ample parking space and easily-located trail entrance.
For info, the tallest peak – North Peak – is one metre taller than East Peak.
---
Hiking Hehuanshan East Peak
We set off from Cingjing at around 9am on a bright and sunny day (second attempt) and reached Wuling Viewing Platform (see location) about an hour later. There, we took a toilet break and briefly admired the views at the popular spot. 
> MUST-READ: The perfect weather to drive from Cingjing to Hehuanshan as a tourist
How's the view at Wuling? 
To be honest, we thought the view at Wuling, even on a good-weather day, was just average as compared to what we've seen in this part of Taiwan.
For instance, the views at Cingjing Farm or our accommodation in Cingjing easily offered better views. But not to worry as we would have a chance to get to the summit in a bit.
As a benchmark, you may want to know what we consider as stunning views. Here are some: 
Hehuanshan East Peak: Car Park Info
From Wuling viewpoint, we continued our drive for another 3 minutes to reach 3158 Cafe.
Did you know? The cafe is named this way because of its altitude. Yep, it's 3,158m in height.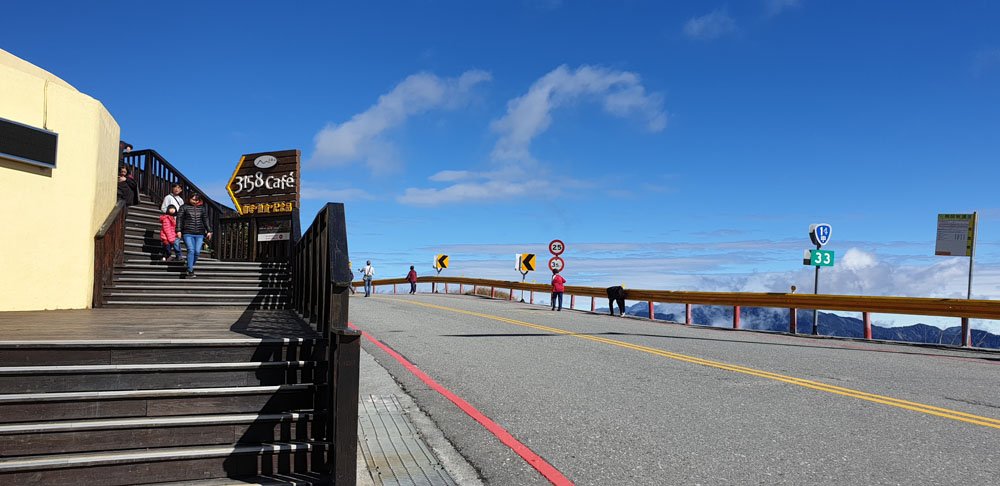 There, we parked our car and crossed the road to get to another viewing platform – Hehuanshan Lookout. 
Getting to Hehuanshan East Peak Trail Entrance
Done with the touristy activities, we began a 10 minutes walk towards Songsyue Lodge. 
The trail entrance of Hehuanshan East Peak is another 5 minutes walk away from behind the lodge.
Here's the map locations to guide you to the trail entrance:
We noted then that the temperature was 12°C at the base of Hehuanshan in January (the coldest month in Taiwan). A day before, it was 7°C at the same spot on a rainy day. For info, Taichung was hovering between 24 to 28°C while Cingjing was a 16°C during the same week.
TIP: There's another trail that you can do at 3158 Cafe – Jianshan trail (see location). It's a short trail, which if you continue, can bring you to Shimenshan Trail. 
---
Let's Begin our Hike up Hehuanshan East Peak
(10.35am)
It was a bright and sunny day, with the sun beaming on our face as we hiked up Mount Hehuan East Peak. Bring a shade and apply sunblock as the sun will be on your face throughout the entire hike.
Uni-directional Hike via Wooden Steps
The trail to Hehuanshan East Peak was an uni-directional climb up well-maintained wooden steps. As long as you can climb stairs, you can conquer the mountain. That's why I rate this as an easy summit to get to. 
However, this doesn't mean the climb up would be a breeze. As the hike is almost 95% made of steps, it can get quite strenuous especially if you haven't been working out often. Just imagine climbing stairs for about an hour.
As a reference, it takes me about 2 minutes to walk up 10 storeys. Since this climb takes an hour, I would have conquered a 300-storey tower by the time I end the climb. :)
No wonder I found myself stopping more often than I normally would. And panting quite loudly too, though this could be partially due to the thin air at such a high altitude.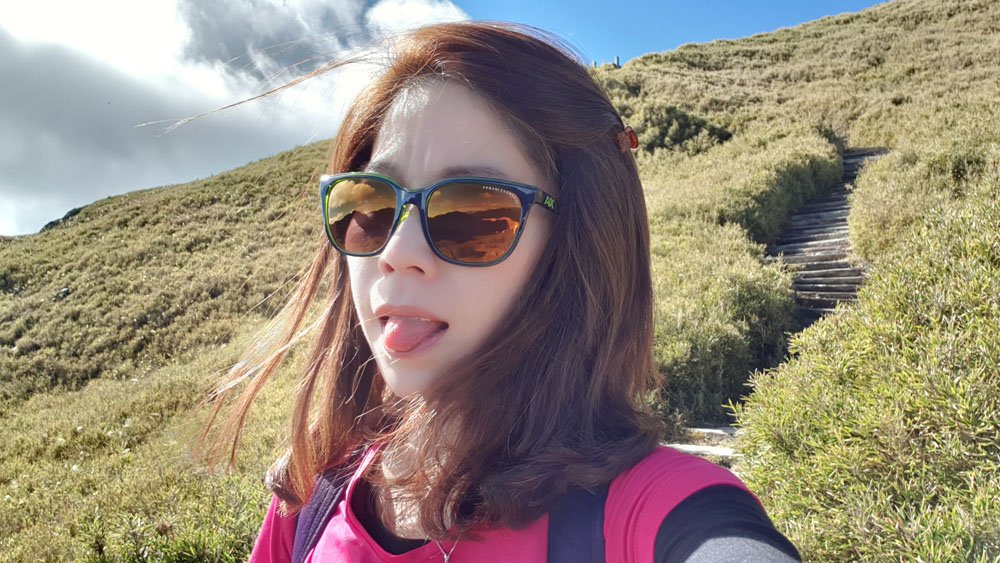 My nose was also blocked and I had to reach for my tissue often to clear it in order to take a deep, proper breath.
TIP: Wear a hiking pants if you have one as they normally come with many conveniently-placed pockets, large enough to keep your essentials. Some stuff I had in my pockets include wallet, phone, tissue, sunblock, sunglasses and power bank. Oh, I also had the Taiwan Pocket WiFi in my pocket.
Hiking Hehuanshan is Strenuous, but not uncomfortable 
By the time we reached the 600-metre mark, we found ourselves mounting up steep rocks. It was tiring and we were stripped down to our final layer of clothing. 
TIP: Wear layers when you hike up cold mountains. As you climb, you will feel hot even in cold climate and it's important to take off layers to prevent perspiring. Because the last thing you want, is to be wet and cold when you reach the summit.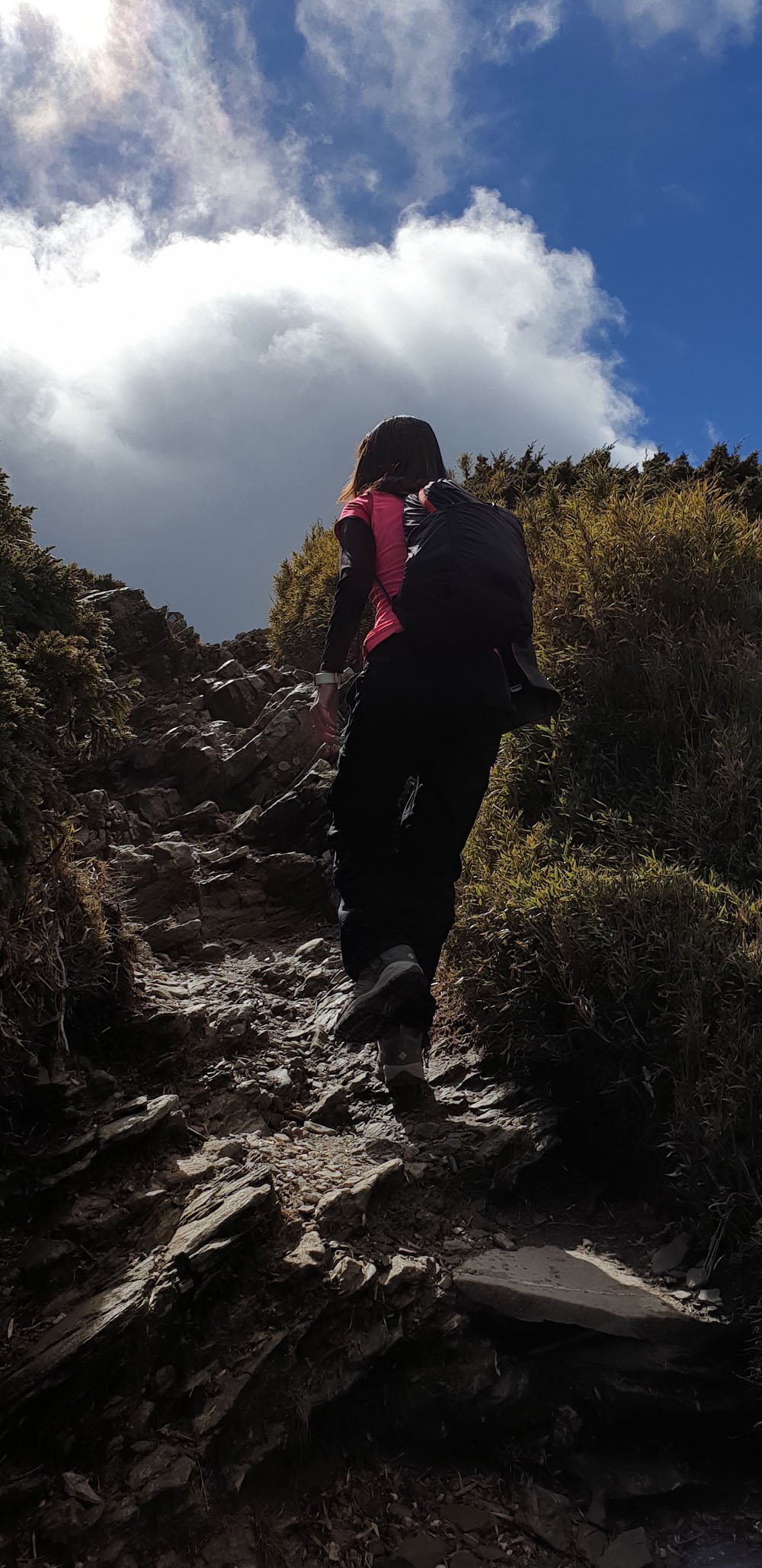 Despite the workout, we were thankful that the climb wasn't as hot and clammy as our experience at Teapot Mountain. That was the most uncomfortable climb I've had because I was dripping with perspiration right from the beginning. Super hot, okay? 
In contrast, I didn't perspire much when hiking up Hehuanshan. The cold climate was useful.
Bored After a While
Throughout the entire climb, we never felt at any point that we were in danger. Perhaps, it's this feeling of safety and ease that made the hike a little less exciting. 
We then realized that mountains that can be conquered almost entirely via steps don't make the most interesting hike. But we appreciate how the authority took the effort to make Hehuanshan East Peak safe and easy to access by almost everyone who wishes to experience it, including kids and elderly.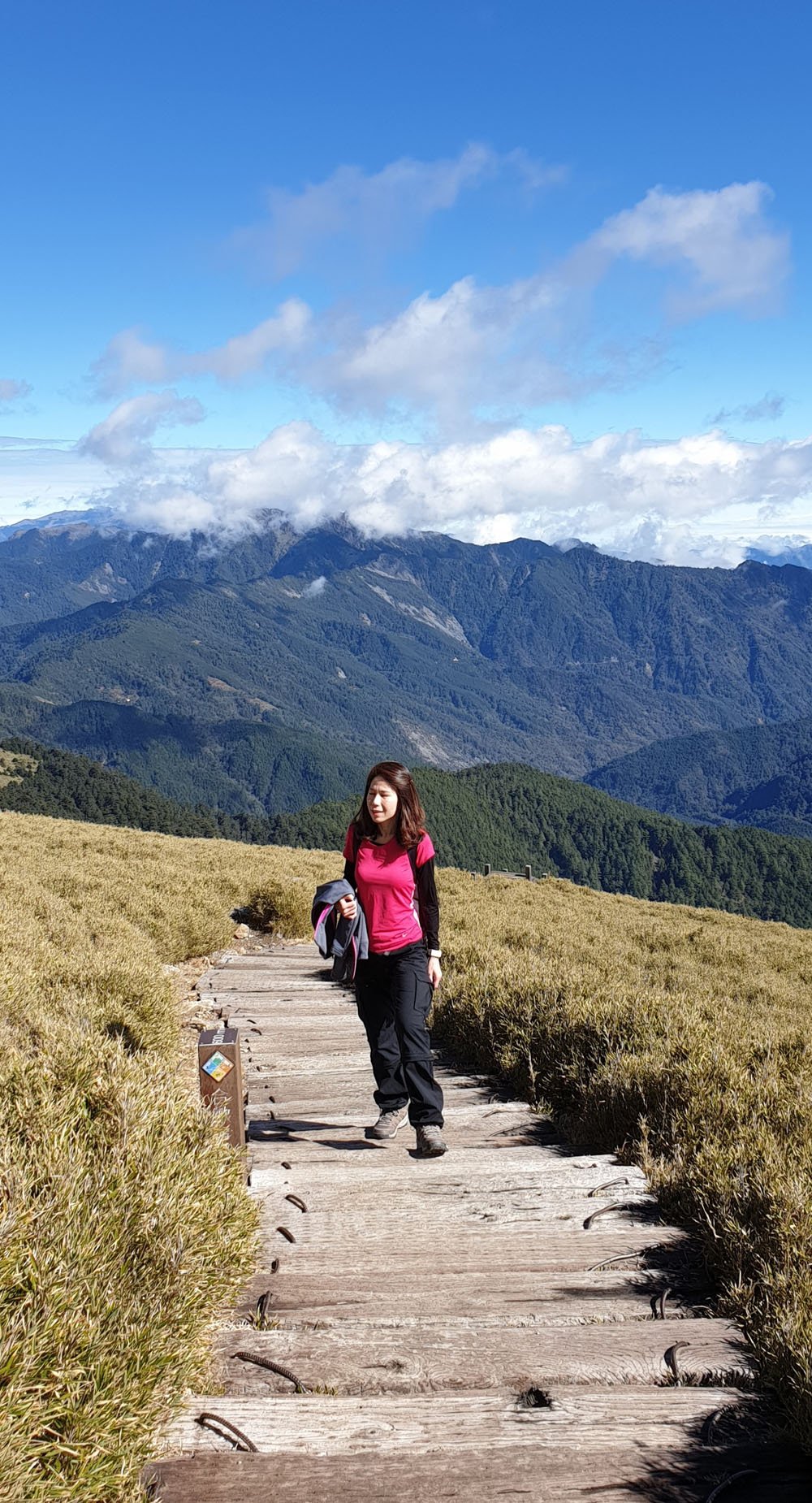 Another reason why we got bored after a while was because we were having the same scenery throughout the 50-minute climb. The view was – the mountain! LOL! This differ from other mountains we've hiked that presented different views at different parts of the trail. 
TIP: If you come during Spring season (April to June), you may see a bed of blooming flowers. 
But it was so Beautiful at the Top
Soon, we were just a short distance from the summit of Hehuanshan East Peak and were rewarded with a beautiful and panoramic view of lush mountain ranges.
These countless peaks were shrouded by fluffy clouds and adorned in different shades of green.
Doesn't this look like a green piece of map? Look at those "continents"!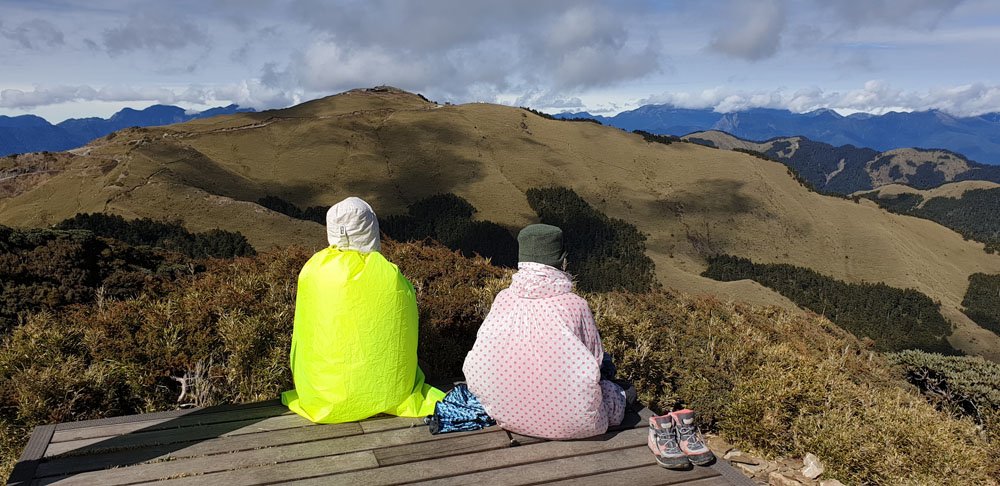 ---
The Summit: Hehuanshan East Peak
(11.20am)
Finally, we reached the summit after about 50 minutes of hike (see map location).
Standing at 3,421 metres tall, the summit of Hehuanshan East Peak was a small and flat space. But it's not as small as the summit of Mount Katsuudake and Teapot Mountain, and the flat surface makes walking and standing easy and comfortable. 
We rested for a few minutes and started putting on all layers of clothing that we brought along, as it started feeling chilly once we stopped moving.
What I wore at Hehuanshan Summit: I brought along a base layer, a T-shirt, wool jacket and a thick wind-breaker, plus a woolen beanie. All are made of materials that don't absorb water easily. 

For footwear, I wore hiking boots. But sports shoes should be fine too as the trail wasn't rough.
Summit Scenery at Hehuanshan East Peak
The scenery at the summit was good. You'll see blue tinted mountain range, clouds and mountain roads. But we thought the view at a lower vantage point was better.
Anyway, the main things I did at Hehuanshan summit was to test my Taiwan Pocket WiFi (it worked so well) and play with friendly "mountain" birds. 
TIP: You can either book a 4G Sim Card or Pocket WiFi online and collect them at Taipei Taoyuan Airport. I've used the Pocket WiFi and highly recommend it (read review). 
To our surprise, these lovely birds from the wild were not shy at all. It seemed like they had already gotten used to human presence. At that moment, I felt like Snow White as I was surrounded by lovely little birdies. :) I think they love me! LOL!
---
Descending Mount Hehuan (East Peak)
You'll head down the same path that brought you up the mountain. Getting down was super easy. Unlike other mountains, you don't have to worry about slipping because you'll be taking the steps down (I bounced my way down). 
While doing so, we were presented with a beautiful view of clouds, mountain peaks and greenery throughout the entire descend. The boring mountain view we'd on the way up was now behind us.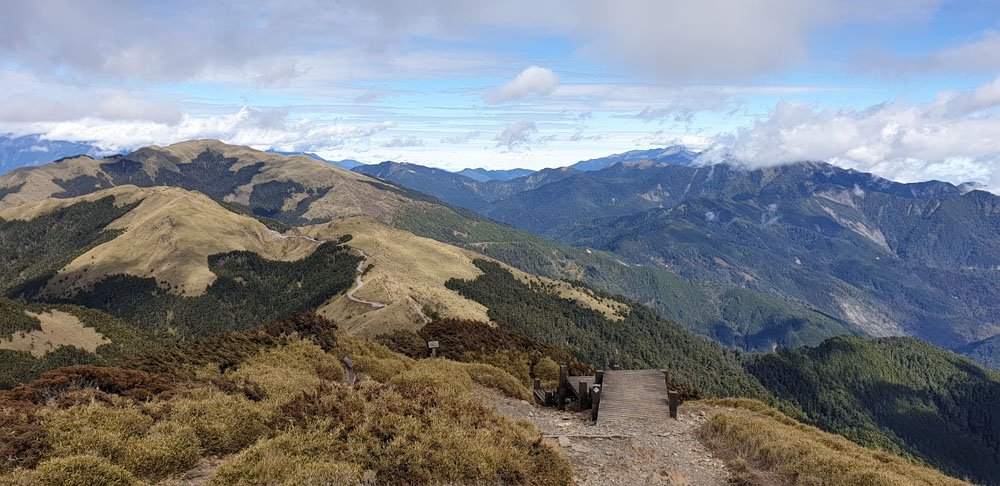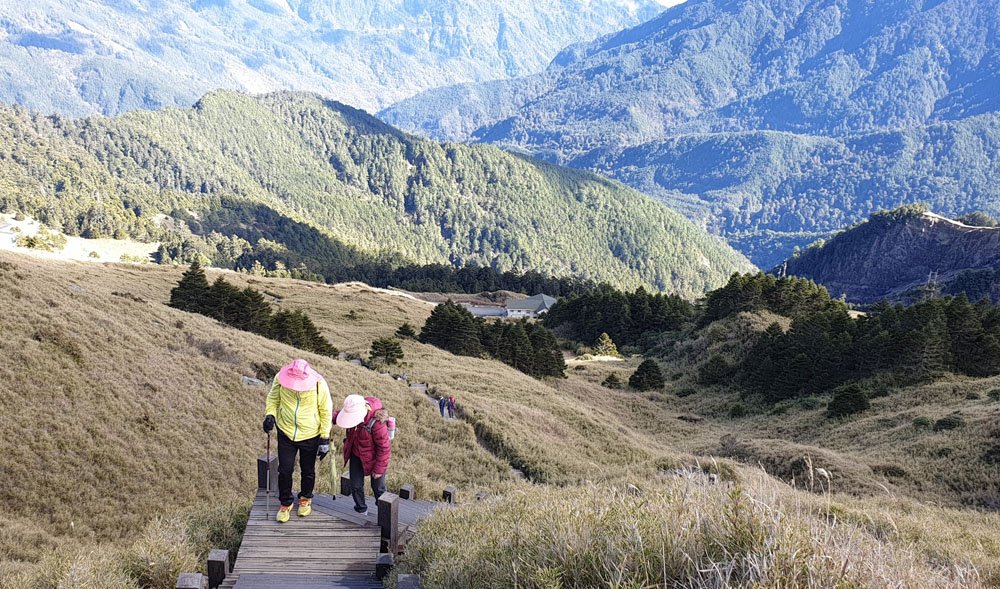 Midway through the descend, we saw a small group gathering at an old structure. I later learnt that it's an abandoned ski cable station that was built way before I was born (view location).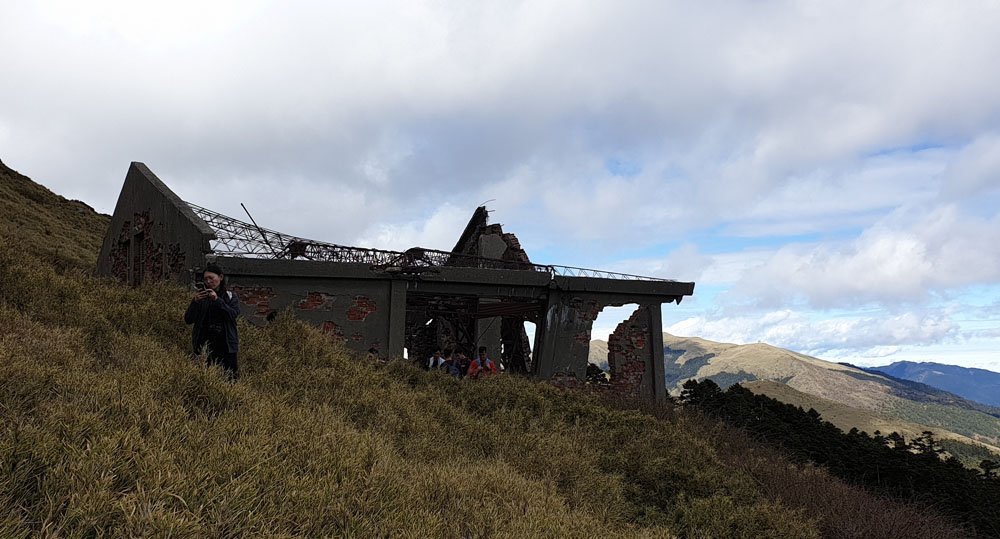 And before I knew it, I was back at the trail entrance. All in all, we spent about 1.5 hours at Hehuanshan East Peak.
That's all I have for you today. Hope this post will give you more ideas on what to do at Hehuanshan, other the touristy ones. But if you are short of time or prefer a more relaxing itinerary, check out this day tour from Taichung that allows you to explore both Cingjing Farm and Hehuanshan. 
Next, I'll prepare a post on how we drove up Hehuanshan on both a rainy day, and a bright and sunny morning. Stay tuned and get alerted to new post by clicking the button below to subscribe. See you soon!
SUBSCRIBE
This post may contain affiliate links, meaning I earn a commission if you make a purchase, at no cost to you. Read my full disclosure for more info.
---
Related Post:
Pin This!
(Visited 547 time, 1 visit today)