Whoa, are we stringent or what? It's 9 months into the year and I've only managed to find the third beauty holy grail. Let's welcome Integrate Curl Waterproof Mascara into the holy grail family. If you are looking for a mascara that is close to being perfect, you have to check this out.
Oh, wait. Does Integrate Curl Waterproof Mascara sound familiar? Good memory you have! Yes, we have earlier reviewed Integrate Volume Mascara, but they are not the same. One targets volume while the other promises great curls! I'll point out more differences along the way so that you can gauge which one would work better for you.
---
Tell me More About Integrate Curl Waterproof Mascara
You would most likely have seen Integrate as one of the drugstore brands when you shop in Japan (or Taiwan). Integrate happens to be one of the many brands under Shiseido Group and offers makeup at mid-low prices (around ¥1200+). It sits between brands like Cezanne/Chifure which are cheap and Shiseido Maquillage/Elixir that are priced slightly higher.
At the time of writing, Integrate offers five types of mascara to address varying needs such as a desire for curl, length or volume. Today's review is on Integrate Curl Waterproof Mascara. As its name suggests, this mascara is meant for those looking for great curls that don't smudge upon contact with water.
Her Marketing Promises
It seems like Integrate doesn't have an English website – I could only find one in Japanese (Integrate website). Not to worry, Chrome and myBeautyCravings are here to the rescue. Below is an edited translation of what Integrate Curl Waterproof Mascara promises to achieve:
"Integrate Curl Waterproof Mascara curls lashes from root to tip and 'memorizes' the shape of the curl. It is waterproof and doesn't smudge easily from sweat or sebum and can lasts 12 hours." ~ Integrate
Sounds good? It is good, but let's see why it is good. As usual, we'll begin with the great stuff before moving on to the bad.
---
What's Great about Integrate Curl Waterproof Mascara? 
1. Easy and Mess-free Application 
Integrate Curl Waterproof Mascara comes with a unique wand head. It is flat, slim and curved. Instead of a fully-rounded bristle, there are only two slim rows of comb teeth resting on either side of the wand head.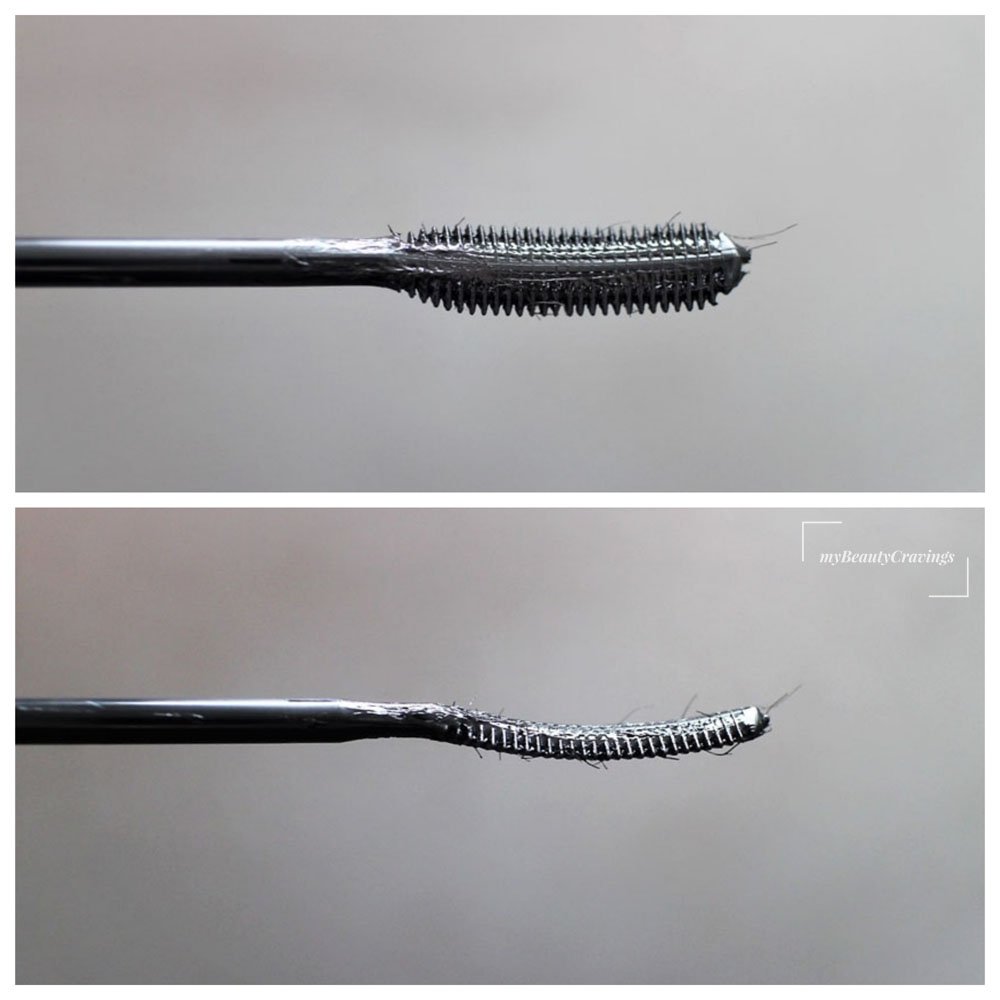 The wand head's thin profile allows it to reach any part of the lashes easily. You don't have to worry about accidental smudge when coating difficult areas, such as inner corners and lower lashes. I am super pleased because this is the first mascara I've used that allows me to coat all parts of my lashes evenly.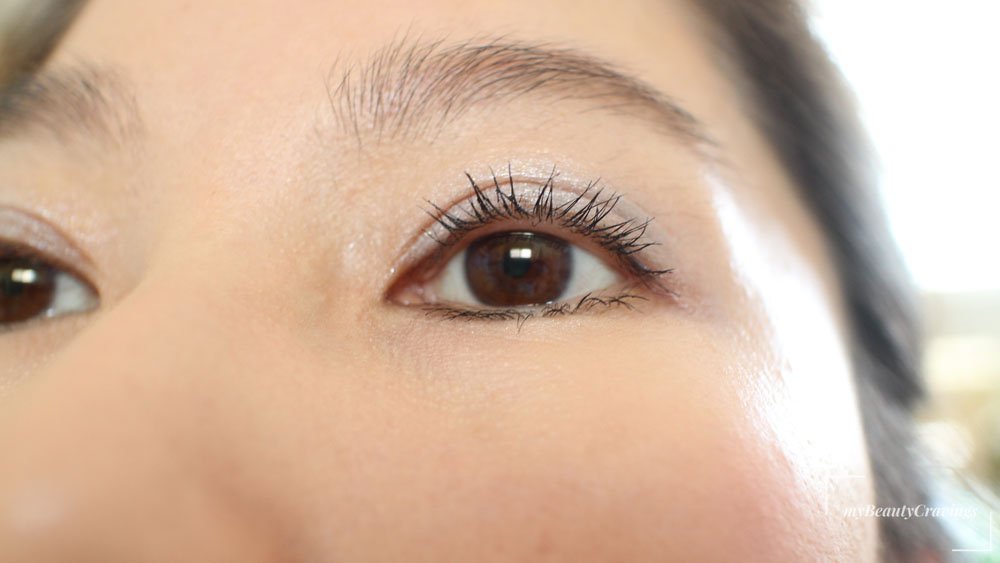 2. Absolutely Clump Free
Integrate Curl Waterproof Mascara's comb-like wand allows it to coat lashes without leaving any clumps. This is even so when this mascara contains lots of tiny fibres.
By the way, I didn't know at the point of purchase that this is a fibre mascara – it wasn't marketed to enhance length. So far, my experience with fibre mascaras hadn't been good as such mascara tends to clump like no tomorrow (read this review to know what I mean).
Had I known that Integrate Curl Waterproof Mascara contains fibre, I would have given it a miss. So glad I was ignorant (can't read Japanese, yo!). Otherwise, I would have missed this great buy!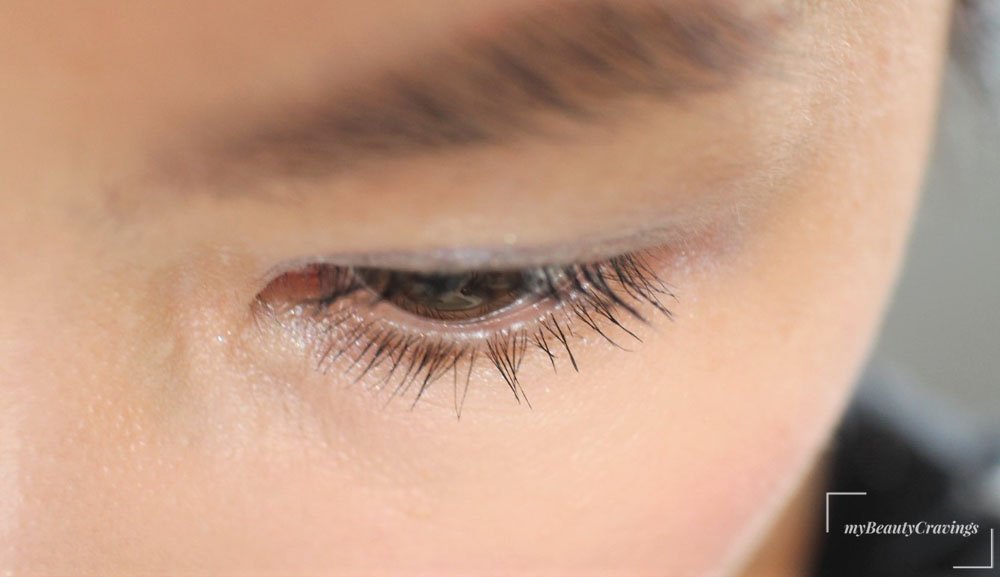 3. Lovely Doll-Eye Effect
Once I saw how slim and bristle-deficient the wand head was, my expectation automatically lowered itself.
"Ah, another no-drama, very natural-looking type of mascara," I'd thought.
I was wrong! So wrong. The lashes curl so well they open up my eyes and make them appear bigger. Look at the steep angle of the curls. By the way, this curl sets really fast.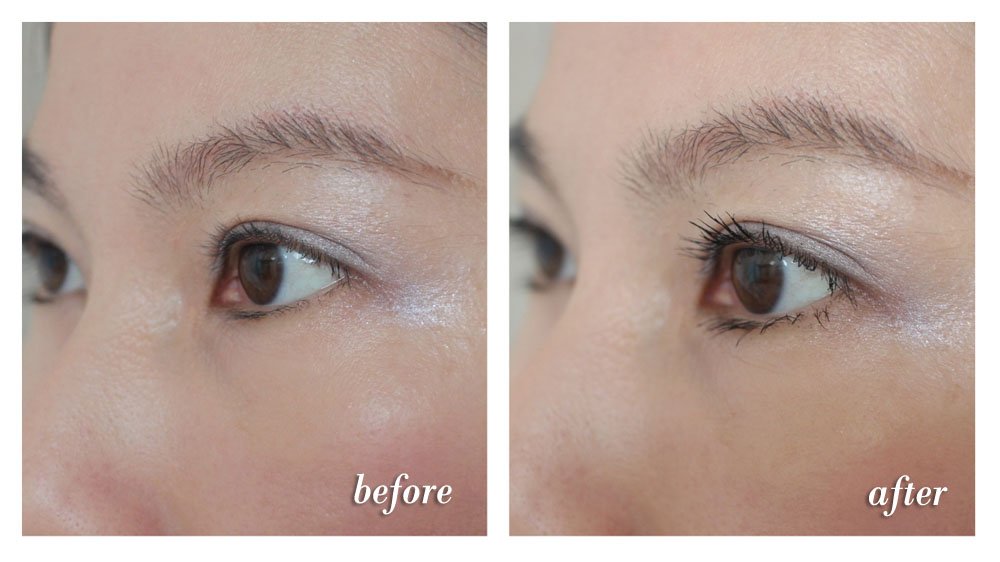 For info, my natural lashes tend to point forward/downward (yeah, I wish I have natural curls on my lashes). The before photo was taken after curling my lashes with Shiseido Eyelash Curler. 
You know what? Integrate Curl Waterproof Mascara didn't stop at just producing amazing curls. It exceeded my expectation by significantly thickening my lashes. Something I wasn't expecting because an earlier version of Integrate Curl Mascara (in Gold Packaging) hardly gave any volume (or curl). That's why I didn't bother reviewing it.
4. Curls Hold for Hours
I'm truly amazed. The curl really lasts, okay? I've tested Integrate Curl Waterproof Mascara on outings lasting more than 9 hours and the curl remains beautifully intact.
Remember Integrate's promise that the mascara can last 12 hours? I've not had the chance to test it out for this long, but I've no doubt that Integrate can meet this claim. 
> RELATED: Hide Your Imperfections with Integrate Gracy White Liquid Foundation
5. Yes, it is Waterproof
I've done a test by rubbing wet fingers vigorously against my lashes. There was no smudge. So you can rest assured that Integrate Curl Waterproof Mascara can be used during rainy (or tearful) days. Well, of course you can use it on happier occasions too like at the beach, though I've yet to test it against salt water. :)
6. No Overpowering Smell or Fume
Many mascaras that produce dramatic effect also come with strong chemical smell or fume. They may also cause the lashes to harden in order to produce the lasting curled effect. 
Thankfully, that's not the case with Integrate Curl Waterproof Mascara. There was no overpowering smell and the applied lashes feel as soft as my natural lashes. How did they do it? Amazing, no?
7. Affordably-Priced
I got Integrate Curl Waterproof Mascara for ¥1200. That's about USD11, which is really affordable for the kind of quality you get. View its latest online price on Amazon & Ebay.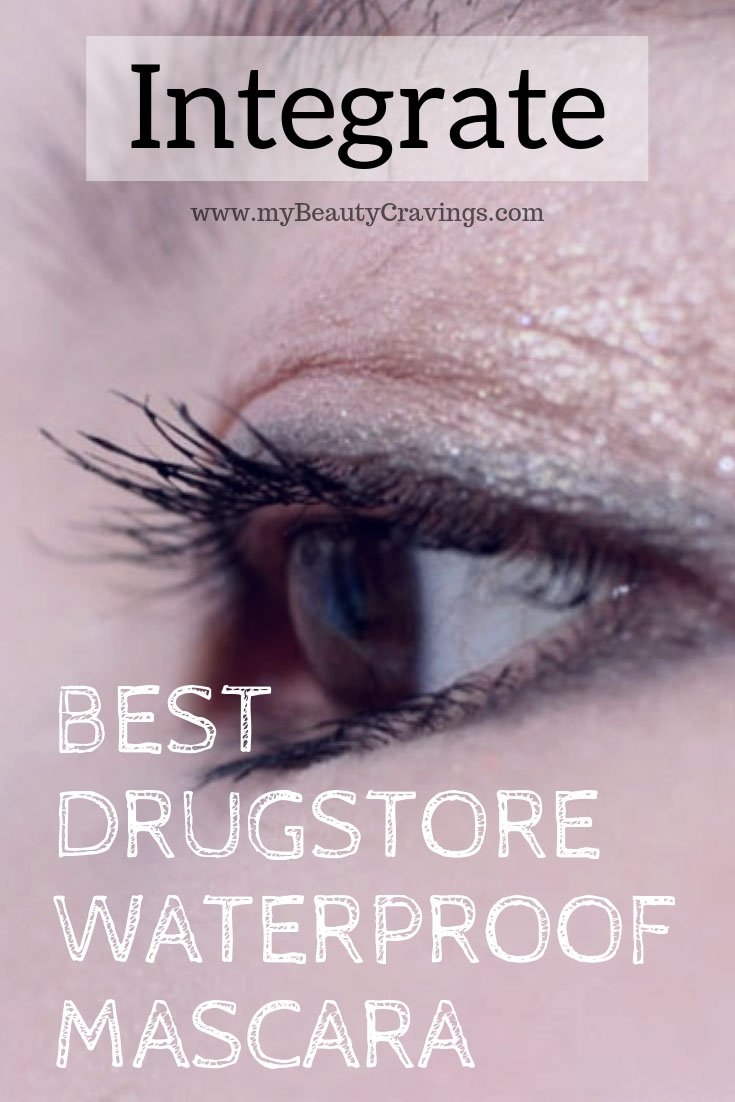 ---
What's Bad about Integrate Curl Waterproof Mascara? 
1. Slight Smudges with Sebum Contact
Although Integrate Curl Waterproof Mascara is resistant against water, it doesn't seem to do well against sebum. There was a faint smudge on the lower eye area after a few hours of usage.
I'm still giving this mascara a 5-star rating because the smudge isn't obvious enough to cause embarrassment unlike Benefit's They're Real Mascara or Lancome Hypnose Star. On a scale of 1 to 10, I would rate the smudge level at 1 or 2 the most.
And that's it. I could only find one bad thing about Integrate Curl Waterproof Mascara. Oh, maybe another bad thing is that you can only get it in Japan, Taiwan or online. 
> RELATED: Best Smudge-Proof Mascara | Integrate Real Glamour Volume Mascara
---
Recommendations
Integrate Curl Waterproof Mascara is rated 5-star, so I'm inclined to recommend it to everyone. If you like beautifully-curled lashes that can last for hours and are resistant to water, this is definitely a must-buy. In fact, I'll be adding this to my Japan Must-Buy List. Rating: 5/5.
Should you get Integrate Curl Waterproof Mascara or Integrate Volume Mascara? If you want superb curl and waterproof feature, get the former. Get the latter if you want a sebum-resistant and volumizing mascara. I bought both in my recent trip to Okinawa because they are good for different occasions. :)
View latest price on: Amazon | Ebay
This post may contain affiliate links, meaning I earn a commission if you make a purchase, at no cost to you. Read my full disclosure for more info.
---
Being an honest blogger isn't easy. Show us some love to keep us going. You can support us by subscribing to honest reviews or sharing this review with your friends. I'll even give you some free and exclusive stuff. Thank you and I'll see you soon. :)
SUBSCRIBE
(Visited 910 time, 1 visit today)