We haven't talked about foundation for quite a while, have we? Today, let's talk about one that I've brought back from Japan – Integrate Gracy White Liquid Foundation. Are you looking for a foundation that's formulated to suit middle-aged skin? Do you want to hide your skin's imperfections without looking like you have a lot of makeup on? If you are, read on for the pros and cons of this highly-rated foundation.
Of course, you'll also see before-after photos, swatch and whether Integrate Gracy Liquid Foundation would suit your skin profile.
---
More about Integrate Gracy White Liquid Foundation
When shopping in Japan, you would likely see Integrate and Integrate Gracy located side by side as two standalone brands. I've written about their difference in an earlier review. In short, Integrate Gracy seems to target those who are mature in age.
If you are starting to form lines and wrinkles, then Integrate Gracy may be the brand you should be looking out for.
Marketing Promises of Integrate Gracy Foundation
According to the marketing labels, Integrate Gracy White Liquid Foundation is said to be able to:
cover spots and freckles
provide a natural, radiant and translucent finish
moisturize the skin
offer long-lasting coverage
We'll be testing out the above claims in our review. But prior to that, aren't you curious why this product names itself as a white liquid foundation? Is it supposed to make your face all white, like Casper?
I'm not sure if that's a translation error. When "美白" is used in Chinese or Japanese, it usually means that the product can help lighten the skin tone (in contrast to the liquid being white in color). If you look at the 4 colors that're available, you'll see that none of them is white. So, if you want a white liquid foundation, this will not make the cut. Just saying. :)
Now, let's move on to its pros. Can Integrate Gracy Liquid Foundation really meet all four of its claims as stated above?
---
What's Good about Integrate Gracy White Liquid Foundation? 
1. A Natural Finish with Good Coverage
Integrate Gracy Liquid Foundation sits right in the middle of the "matte-to-shiny" scale and produces a natural finish. Great, because this is what I like for a foundation.
Despite being natural-looking, Integrate Gracy Foundation was able to minimize redness and pores and hide skin's imperfections. However, please don't expect this foundation to produce a flawless canvas. This is not what a medium-coverage foundation does.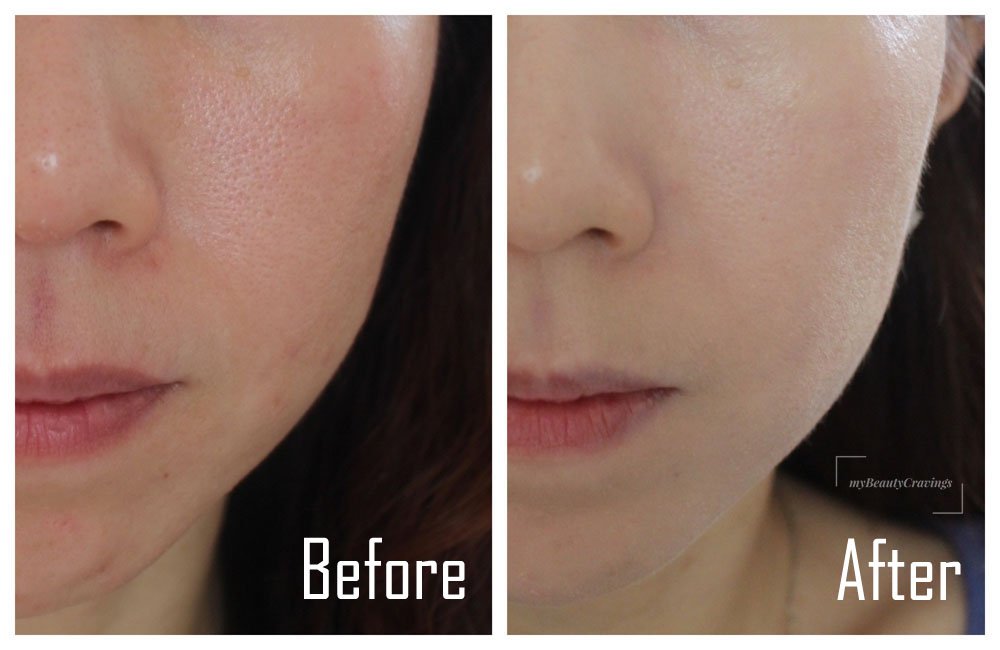 2. Easy to Apply
Integrate Gracy White Liquid Foundation comes in a balanced consistency – it's neither too thick, nor too diluted. I need only a small amount to get the right coverage. The foundation also spreads and applies easily.
3. It's Moisturizing
Integrate Gracy Liquid Foundation contains moisturizing ingredients such as Hyaluronic Acid, Tocopherol and Glycerin. My dehydrated skin feels comfortable wearing it. This foundation also doesn't emphasize fine lines and wrinkles.
For those who are interested, here's the ingredient list:
Ingredients: Water, cyclomethicone, DPG, ethylhexyl methoxycinnamate, BG, PEG-10 dimethicone, methyl methacrylate crosspolymer, PEG-6, PEG-32, sodium hyaluronate, disteardimonium hectorite, isostearic acid, triethoxycapri Lylsilane, EDTA-3Na, Al distearate, Al hydroxide, silica, silicic acid (Na / Mg), glycerin, tetrahydrotetramethylcyclotetrasiloxane, BHT, tetradecene, tocopherol, phenoxyethanol, titanium oxide, iron oxide
4. Non-Greasy Finish that Lasts
For a foundation that's said to be moisturizing, I'm happy to share that Integrate Gracy foundation doesn't feel greasy. Similar to Integrate Mineral Watery Foundation (the one that's meant for younger skin), you have the option to skip the powder if you want to.
TIP: Although I often skip the powder when using sheer foundation or BB cream, I always make it a point to lightly dust my undereye area with powder. It prevents the mascara or eyeliner from smudging.
Another great thing about Integrate Gracy White Liquid Foundation is how lasting it is. Even after half a day, you will look immaculate and won't have to deal with oily streaks. Do note however that sebum shine is unavoidable as far as I'm concerned. I get that all the time, with all kinds of foundation because I live in a very hot and humid country.
5. Pimple-free
I'm pretty sure Integrate Gracy Liquid Foundation is pimple-safe on me. I've used it exclusively in my recent Taiwan Trip and Kuala Lumpur getaway and didn't suffer any pimple breakouts.
6. Comes with Medium Sun Protection 
Similar to many foundation, Integrate Gracy Foundation offers SPF26 PA++ sun protection. The brand is kind enough to remind customers through its packaging that the amount used will not be sufficient to offer proper sun protection. Hence, please use a specialized sunblock before applying your makeup.
7. Compact and Travel-Friendly 
Unlike some western brands, Japanese's foundation packaging can be very practical for use. Instead of trying to bloat the size and weight of the foundation, Integrate Gracy White Liquid Foundation comes in a super-compact tube. It's so small you'll even wonder if you have been short-changed. LOL!
But don't worry, you just get less artificial bloating from over-packaging.
8. It's Affordable
I paid ¥1200 (tax-free) for Integrate Gracy White Liquid Foundation. This is only S$15 for a good quality foundation and definitely great bang for the buck. Check out its latest price on Amazon and Ebay.
9. Free of Fragrance
Fragrance doesn't bother me. For those who are bothered, you may be pleased to know that Integrate foundation is fragrance-free.
---
What's Bad?
1. Lower Quantity than Norm
I was expecting this foundation to come with 30g of product. Unfortunately, it comes below market norm by offering just 25g of foundation.
It doesn't really bother me because a little goes a long way for Integrate Gracy White Liquid Foundation. Just a tiny amount can give an entire face the coverage that it needs.
2. Color Selection may be Tricky
I've gotten Integrate Gracy Liquid Foundation in the color #10. Look at the color chart below and you can see that there are actually two color #10. Based on Japanese characters, mine is the one at the bottom row. Google translate tells me that the color I've gotten is Pink Ocher #10.
Immediately upon application, I thought Pink Ocher #10 looks a tad too fair on me (I'm a Mac NW20 and Lancome PO-03). I believe the other color #10 (non-pink?) may suit me better.
At the point of purchase, I didn't even realize there were two colors #10 on sale (were there?). How I wish they use different numeric to represent each color, just like how Integrate Mineral Watery Foundation (#10) was labelled (from OC#00 to OC#30). Not everyone can read Japanese, you know? Hee.
The Color Oxidises within an hour
Luckily, the color Pink #10 was able to oxidize after a short while to form a more natural shade on me.
In the photo below, you'll see me comparing 
Integrate Gracy White Liquid Foundation (Pink #10)
with my favorite foundation –
Integrate Mineral Watery Foundation (OC#10)
. In the first column, the color difference was quite pronounced. As we move to the right of the photo (last column), you can see Pink #10 oxidizing to look pretty close to my preferred color.
Extra Makeup Info – I'm wearing the following in the photo above:
---
Recommendation: Who should get Integrate Gracy Liquid Foundation?
Integrate Gracy White Liquid Foundation met all its promises. It offers good coverage and yet is able to achieve a natural and radiant finish. Best of all, it's moisturizing and yet long-lasting.
If you are looking for a moisturizing foundation for your dry and/or mature skin, you can give Integrate Gracy Liquid Foundation some thoughts. If you like something a little more sheer and dewy, then go for Integrate Liquid Foundation. Both will be added to my Japan Must-Buy List. Rating: 4.5/5
View latest price on: Amazon | Ebay
---
I hope you find today's review useful. Please feel free to connect with me if you like to receive more useful and honest reviews. Just click the button below to subscribe and you'll also get access to all my exclusive contents. Chat soon! 
SUBSCRIBE
Pin This!
(Visited 1,050 time, 1 visit today)