Hey, do you fancy foundation that gives off a dewy and fresh-faced look? If you are, this perfect-score review on Integrate Mineral Watery Foundation would be equally perfect for you. Read on as this is another rare holy grail find. 
UPDATE (2019): This product has been updated with a new packaging which you'll see as you scroll down. It has also been renamed as Integrate Liquid Foundation.
Trust me because I've been using it for three years and counting.  
All photos here were taken three years ago. LOL. Yes, this post is very much overdue because I've always believed in providing honest feedback, and that can only be achieved after spending extensive time on a product. Rest assured as I'm still using Integrate Mineral Watery Foundation (the third bottle) and this review is not based on memory work. 
---
About Integrate Mineral Watery Foundation
I've been a fan of Integrate brand ever since a visit to Japan in 2014 saw me lugging back a luggage full of beauty products. Most of the products from the Integrate brand turned out to be great to excellent. 
Must-Read: 
For those who are new to the brand, Integrate is an offspring from parent company – Shiseido and is of course a made-in-Japan beauty brand. As with all things related to Japan and Shiseido, you can expect reasonable quality. From Shiseido's website, it appeared to me that Integrate's target audience is young ladies in their twenties or younger. I'm definitely passed that age, but who cares as long as the product suits my skin, right? ;)
Integrate Mineral Watery Foundation comes in a lightweight 30ml plastic bottle and offers four color options as follows:
OC10, the second lightest shade suits my skin tone to a T (I'm a Mac NW20 and Lancome PO-03).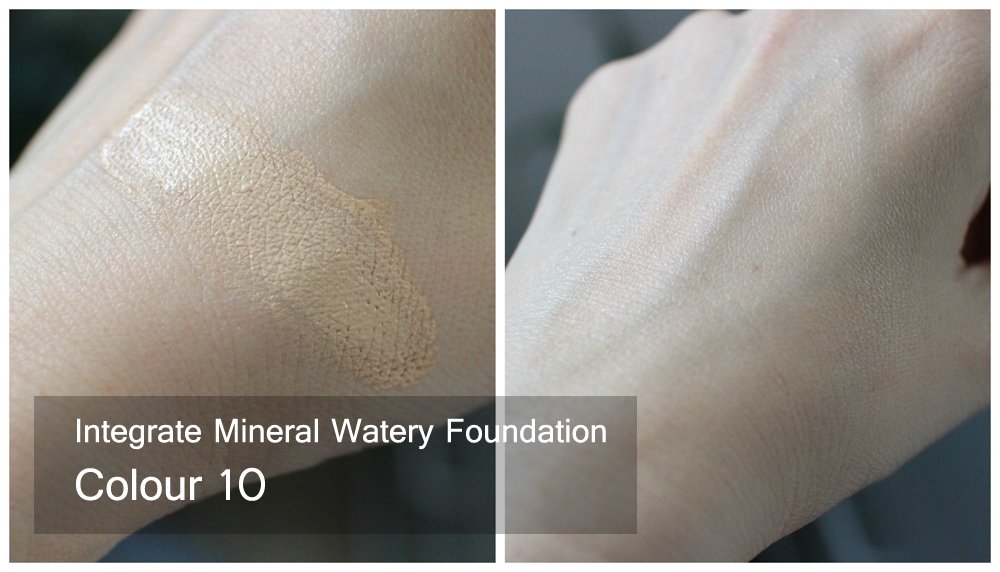 It is said to produce a finish that shines like "steam care" and "directs a natural sense of unity".  Pardon me, as that's the English translation from the Japanese website. Ok, wait, I've just gotten hold of its Chinese translation from a bottle purchased a few months ago in Taiwan.
Loosely translated (by me), it says that Integrate Mineral Watery Foundation is a hydrating formula that keeps the skin moist and "bouncy", similar to how the skin would appear after a sheet mask treatment. It also said that the foundation is non-drying and lasting. Skin would be so supple it glows. Something like that. :)  
Read on to find out why this foundation receives a 5/5 review rating. 
---
What's Great about Integrate Mineral Watery Foundation?
1. Dewy Finish
Integrate Mineral Watery Foundation gives off a fresh-faced and dewy finish. I define dewy as similar to a bare-faced beauty born with radiant skin and flawless complexion. You can expect subtle sheen similar to that of a make-up free skin or perhaps more aptly described as "a finish that shines like steam care." :)
We are not talking about oily, ultra shiny skin. No, definitely not as shiny as Innisfree's Waterglow Cushion. Neither is it matt and flat-looking.
2. Perfect Blend for a Natural Coverage
The coverage is light but sufficient to cover most of the skin's redness and imperfections. Coverage is heavier or comparable to most BB cream.
As with most natural-looking foundation, please do not expect 100% coverage.  Your red pimples would look less angry but won't disappear. Your pigmentation would fade off but won't be hidden. If you prefer heavier coverage, check out Integrate Gracy White Liquid Foundation.
3. Non-oily Finish
The non-oily finish was the sole attribute to stand out during a maiden trial of Integrate Mineral Watery Foundation. I LOVED it that I could skip the loose powder if I want to and my skin wouldn't feel sticky or oily.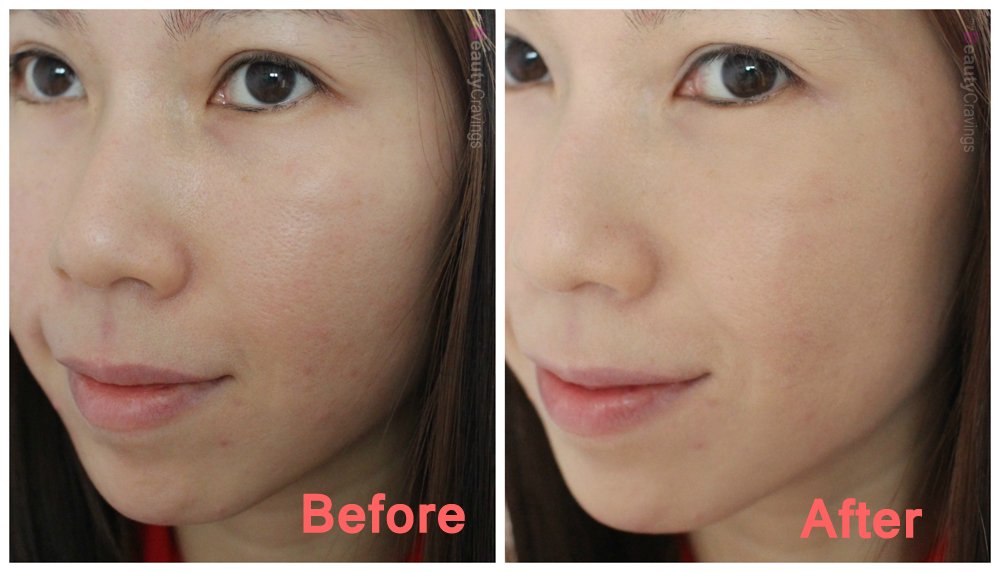 4. Pimple-friendly
As its name suggests, this is a mineral-based makeup and hence doesn't contain parabens, chemical dyes and fragrances. As such, it has fewer potential irritants and would work great for those with sensitive skin.
I've found it to work great on my pimple-prone skin as it never gave me any problem (or blemishes). I suspect that it should also be fine for those with acne skin.
> MUST-READ: Integrate Curl Waterproof Mascara | Best Drugstore Waterproof Mascara Discovered
5. Travel-Friendly
Do you know how light this tiny plastic container is? So light you probably wouldn't mind carrying it anywhere with you. It's the only foundation I could travel with without transferring it into a travel-sized pot.
They have a new packaging now, but I believe it should be equally light. (
Updates: I've repurchased the new packaging. It's equally light and portable!)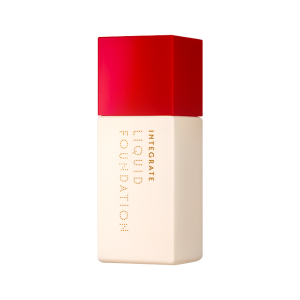 6. Affordable
You can find Integrate Liquid Foundation in drug stores within Japan and Taiwan at affordable prices.  I bought it for NT323 in Taiwan and Y1800 in Japan.
7. Sun Protection
Integrate Liquid Foundation comes with SPF30 PA++.  Not a lot, but probably good for those who stay indoor most of the time. For those who are more concerned, just use it on top of a layer of good sunscreen products. 
---
What's Bad?
1. Cheap-looking bottle
The plastic bottle is pretty and girlish, but not something you would associate with class and elegance. No biggie for me though as liquid foundation isn't something one would bring out to reapply in public areas.
---
Recommendation
If you are travelling to Japan or Taiwan, do consider getting a bottle if you can find a suitable shade. I'm pretty sure you'll love Integrate Liquid Foundation if are into natural-looking and sheer makeup.
And all the more reason to get it if you are prone to pimples because this lovely product would likely not trigger any pimples. Rating: 5/5
This foundation has been added to my Japan Must-buy and Taiwan Must-buy lists.
To find out the latest price on Ebay, click HERE
This post may contain affiliate links, meaning I earn a commission if you make a purchase, at no cost to you. Read my full disclosure for more info.
---
Do you enjoy such honest reviews? If you like to get notified of my new posts, just click the button below to subscribe. I'll even give you some free and exclusive stuff. See you there!
SUBSCRIBE
(Visited 12,067 time, 1 visit today)