Kanebo Media Blusher is the blusher that I reach out for all the time because I love how natural-looking the colours are. It also blends easily even if you have a heavy hand and appeals to those who prefer subtle enhancement to their appearance.
Read on and I'll share more about this Japan-made blusher, and why it would enter my Japan Must-Buy List. 
---
Media Blusher – Another Worthy Product from Kanebo
This is not the first time I find some great makeup from Media (媚點). You can check out some of the Media products I've reviewed. So far, none has disappointed me. In fact, I've been impressed by some!
> MUST-READ: Kanebo Media Brow – Best Brow Product of the Year
Let me reintroduce Media cosmetic to those who are new to the brand. Media is a cosmetic brand under Kanebo, and has a heavy presence in Japan and Taiwan. Fronted by celebrity Selina Jen for years, this brand likely targets those in the same age range as her (in 30s or 40s). 
Now, you may ask, why would someone choose Kanebo Media blusher over other blushers in the market? I've listed 5 things to love about Kanebo Media Blusher in the next section. 
---
What's great about Kanebo Media Blusher? 
1. So easy to blend
This is a very forgiving powder. You can have a heavy hand and still end up with natural looking colours on your cheeks. I'm impressed with Media blusher because it spreads and blends easily.
You won't see any obvious strokes or streaks of colours. This makes it a perfect blusher for makeup novice and experienced users alike. 
2. Very natural-looking
I did mention a few times that Kanebo Media blusher creates natural makeup effect. Actually, it's not just how well the colours blend into the skin. The powder itself offers a natural finish that looks like the natural flush of skin, i.e. not too matt, dewy or shimmery.
So far, the two colours I've bought (RD-01 and PK-01) looked very natural. Erm, in fact, the pink one (PK-01) may be a tad too light on my skin tone. You may consider getting a stronger colour than what you normally would. 
Here's me wearing the peachy tone (RD-01). 
Also check out the colours available as at time of writing.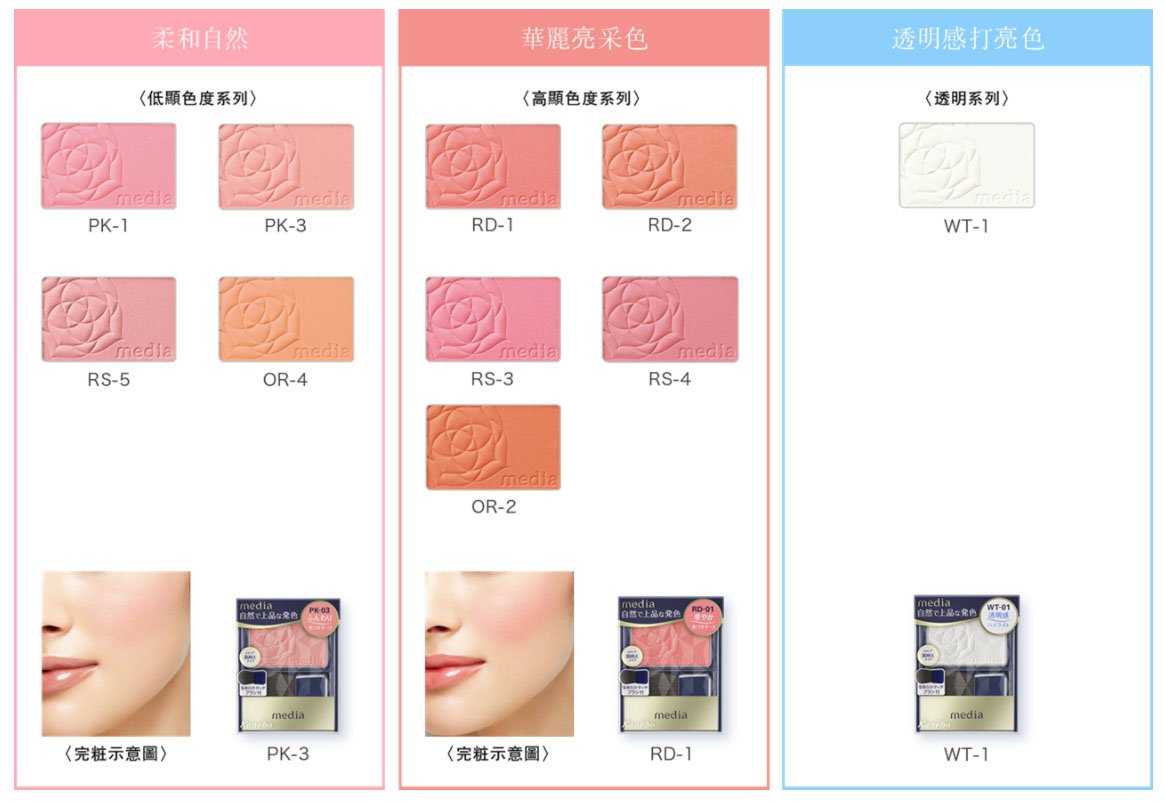 3. Kanebo Media Blusher is affordable
Media Blusher is an affordable blusher. It was selling in Japan for about 800 yen (S$10) before tax. I was fortunate to enjoy a brand-wide 30% off during my Osaka trip in 2019, making this a superb deal. 
4. You get a decent oval-shaped brush 
Normally, you wouldn't expect the brush that comes along with mass market blusher to be of good quality. Kanebo Media Blusher makes an exception.
The brush is wide and thick enough to produce a decent effect using minimal strokes. Although it would still pale in comparison with a professional cheek brush, it is definitely much better than many within-kit brushes I've used (e.g. Cezanne blusher).
I would happily carry this overseas, er…when we are able to travel again.
> MUST-READ: Top 25 things to buy in Japan
5. Free of Fragrance
According to Google translation, Media blusher is free of fragrance and contains water-soluble collagen.
---
What some may not like about Media Blusher? 
1. Not very pigmented
To those who prefer pigmented blusher, Kanebo Media may not meet your needs. But that is what makes it such a forgiving blush powder. 
If you like obvious colours, Cezanne blusher would make a better option. I normally use Cezanne blusher when I want to have more obvious and lasting colour on my face.
2. Colour fades off after 6 hours
Other than being less pigmented, Kanebo Media blusher is also not as lasting as Cezanne blusher. The colour can stay on for the whole day, but you may realise a 40% fade-off after 6 hours. 
---
Should you buy Kanebo Media Blusher? 
You would love Kanebo Media Blusher if you are a fan of a natural makeup look. I find it very useful for everyday use, such that I've been using it for almost all occasions such as when shopping for grocery, attending to business meetings and even out on a date.
Other than being a very versatile blusher, it is also easy to use and affordable. I highly recommend this to natural makeup lovers! Rating: 4/5 
This post may contain affiliate links, meaning I earn a commission if you make a purchase, at no cost to you. Read my full disclosure for more info.
---
That's all for today's review. See you again real soon! Click the button below to subscribe if you don't want to miss an honest review. 
(Visited 162 time, 1 visit today)