So, we still have one more day left of our Taiwan Eastern Travelogue. Let's do a quick switch and go back to the last day in Taiwan when I explored Luodong and Taipei. We'll visit Luodong Forestry Culture Park, Luodong Morning Market and shop for souvenirs at Taipei before wrapping up this trip with a street food session at Ningxia Night Market.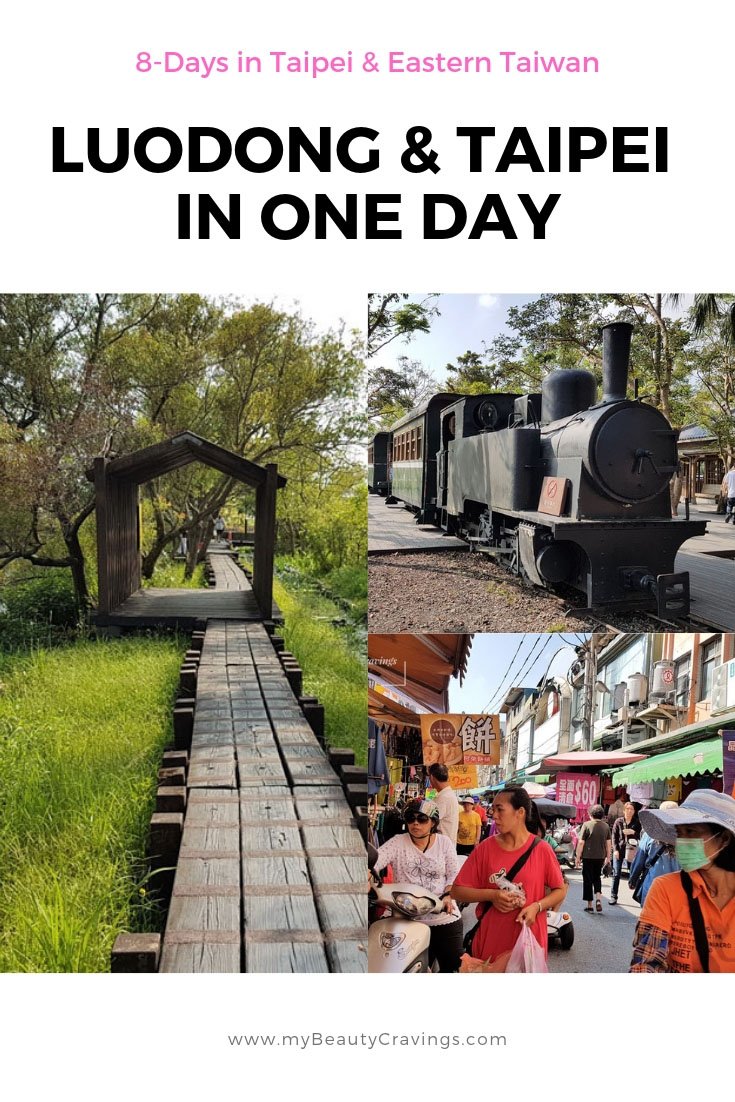 ---
Alone but not lonely: Buffet Breakfast at Sun Sweet Hotel 
(7.30am)
What happens when your travel partner prefers to sleep in, while you like to explore the town further? Let him sleep – that's the beauty of being able to 'solo travel' anytime you like. In this instance, my partner gets his beauty sleep while I get to enjoy some "me" time and visit places high on my to-go list.
Okay, so my partner treasured his snooze time so much he was willing to miss the free hotel breakfast at Sun Sweet Hotel. Not me!
I sat at the cozy hotel lounge and enjoyed traditional Taiwanese breakfast while watching passersby strolled past the glass window.
Breakfast was 90% similar to what I've had the last two mornings – so it wasn't all that exciting (now you know why my partner preferred to sleep in). Thankfully, I'm not very fussy with food. The authentic Taiwanese milk tea alone was enough to make me really happy.
A couple came later and sat at a table next to me. The lady kept glancing at me quite indiscreetly – she was probably wondering why I was alone in Luodong, a town which isn't exactly known as a popular tourist spot, well at least not in the day.
At that moment, I felt a little awkward and self-conscious. But I glanced back and smiled at her. It worked as she stopped looking at me from then onwards. LOL!
---
Luodong Forestry Culture Park: A Photogenic Park in Luodong
(9am)
It took me longer than expected to reach Luodong Forestry Culture Park. The main entrance was not opened and I had to walk along the lengthy perimeter of the park to find an entrance.
I asked a passerby for direction and he told me to walk in through the inconspicuous and narrow side alleys or parking bay.
TIP: When you need assistance, just ask any strangers. That often is the quickest way to find a solution. Most locals anywhere would be eager to assist. Unfortunately, it has been proven by statistics that men are more reluctant to seek assistance than ladies.

If you are travelling as a couple and are a girl/lady/woman, do take the initiative to seek assistance from strangers. Let science works its way! Your partner should appreciate you taking the initiative and getting problems solved quickly.
Train and Logs Form Masterpieces at Luodong Forestry Culture Park 
The first thing that welcomed me was a wooden railway track and a vintage train. These used to transport timber in the early 1900s when logging was a key economic activity in Luodong.
I spent some time taking selfies with the train before moving further into the park.
A Romantic Stroll around Scenic Lake with myself
Okay, the water body within Luodong Forestry Culture Park is not exactly a lake but a pool that was installed in the past to store logs. Most would think it's a lake or a pond because it is 'decorated' like one, with artistically-placed logs and floating plants.
I walked along elevated wooden trails and was amazed at how pretty the man-made 'lake' was. The water was so still it was reflecting the sky like a mirror.
> MUST-READ: This Taiwan 4G Pocket WiFI swept me off my feet 
"Good morning," I heard someone saying and turned around, but saw nobody. And so I walked on.
A few seconds later, the same faint voice could be heard again, "Hello! Ni Hao!" (How are you)
Glancing around, I finally found the source. It's not a day ghost. Phew! The friendly workers were half-submerged in the pond doing some maintenance work and they didn't forget to say hi. Taiwanese are such friendly people! :)
TIP: Bring along insect repellent if you want to enjoy the stroll without being kissed all over by mosquitoes.
I enjoyed my peaceful morning stroll at Luodong Forestry Culture Park and took countless selfies. The photos turned out amazing because Luodong is such a photogenic park. 
Attraction Info: Luodong Forestry Culture Park
---
Luodong Night Market is the Local's Wet Market in the Morning
(10am)
On my way back to the hotel, I passed by Luodong Night Market and was so delighted to discover something off the tourist map – something so authentic and rich in local experience!
The same area marked as Luodong Night Market transformed into a vibrant market place for the locals in the morning – let's call it Luodong Morning Market. You'll see housewives doing their marketing while still sitting on their scooters – scooting around is their way of life.
Instead of heading back to the hotel, I decided to explore this market like a local. Fruits, local pastry, meat, seafood, apparels and even adorable chicks were on sales. Wow! It was such a great experience tailing behind housewives and seeing what they buy. Yeah, I'm a housewife stalker. Ha Ha.
Since I wasn't a housewife there, I just loaded up on some fruits which we could eat in the train when traveling to Taipei later.
Attraction Info: Luodong Morning Market
---
Express Train Ride from Luodong to Taipei
(12pm)
Today, we would bid farewell to Luodong and head to Taipei. To make sure we get our express train tickets, we'd bought it the night before (NT238 per pax). Yes, lessons learned and we no longer dared to use local trains, not even for short journeys.
Upon arriving at Luodong Train Station, something caught my eyes. There's a branch outlet of the popular dessert brand 魏姐包心粉圓   (pronounced as 'Wei Jie Bao Xin') located right at the station. Great, it's the last chance for me to sample a true-blue Luodong specialty. 
The white fungus with red bean balls (NTD55) that I ordered was a refreshing in-train snack, although I do prefer the soya beancurd or grass jelly variant. :)
---
Shopping in Taipei – Ximending & Zhongxiao Fuxing 
(4.30pm)
We've been to Taipei a few times. So this last day was really for us to sleep in a city closer to Taoyuan airport.
For a one-night stay where we would be out the entire day, we chose an Airbnb that was located within walking distance to Taipei Main Station. It was a windowless unit but was clean, modern and functional (S$76/night).
Travel Savings: Get S$62 off your first Airbnb stay and experience. I highly recommend that Airbnb as it tends to be cheaper, larger and comes with more amenities. The standard of B&Bs is also quite high in Taiwan. 
After checking-in, we left almost immediately to enjoy whatever little time we have in Taipei City.
The first destination was Ximending – I headed there specially to get my fix on Ay Chung Mee Sua (NTD65). However, for some reasons, I didn't enjoy it as much as I did during an earlier solo trip. Maybe I didn't add chilli this time round? Or perhaps my partner who's not a fan of organ meats affected my appetite? Well, he couldn't stop expressing how gross the intestines were. LOL!
TIP: It's cheaper when you buy a voucher online to redeem for Ah Chung Mee Sua. This is a must-try food in Taiwan, that is, if you are okay with pork intestines. Here's how to reach Ah Chung Mee Sua store (see map).
The next shopping destination is Zhongxiao Fuxing where Sogo can be found. I'm not an avid shopper when it comes to traveling (except in Japan). All I wanted to do that day was to buy some local snacks to bring back to Singapore. I walked to where RT Mart is located on Google Map, but couldn't find the elusive supermarket.
No worries. I had a backup plan, i.e. another supermarket to load up on my Taiwan Must-Buy Souvenirs. From here, I split up with my partner because I prefer to shop alone especially when time is limited. Let's go shop for tea first!
Location Info:
---
Buying Fine Tea & Food Souvenir in Taipei
Lin Hua Tai Tea Shop
A short train ride brought me to Shuanglian Station. I strolled past Ningxia Night Market and continued my 15 minutes walk to Lin Hua Tai (林華泰茶行). It's an old-looking shop selling fine tea in Taipei, right out of big metal drums (is that what you call them?).
Entering this shopfront brought back childhood memories of me stepping into my grandpa's shophouse located along North-Bridge Road in Singapore. Unfortunately, I didn't enjoy the shopping experience because the price list was in traditional Chinese and presented in a grid form.
The lady attendant also didn't seem very helpful. You can read more about my experience shopping for fine tea at Lin Hua Tai.
Attraction Info: Lin Hua Tai Tea Shop
Loading up on Food Souvenir in Carrefour, Taipei
When it comes to buying food souvenir, I prefer to buy what the locals buy than visit tourist shops that pay commissions to tour agencies. Carrefour was just a short walk away from Lin Hua Tai (location link). Check out the link below to see the stuff I bought at Carrefour.
> RELATED: Things to buy in Taiwan (Part 2) 
---
Ningxia Night Market – A Small Street Food Alley Favored by Locals
Once I was done loading up on my food souvenirs from Carrefour, it was time for dinner. The last destination of the day was at Ningxia Night Market (寧夏夜市). It was just 7 minutes walk from Carrefour.
Readers who have been following me for a while would know how much love I have for walking. LOL! I always grabbed any opportunity to walk – it's my way of atoning for my sins for overeating during holidays. 
Ningxia Night Market is a small night market, but not any less interesting. It was bustling and well-patronized by locals.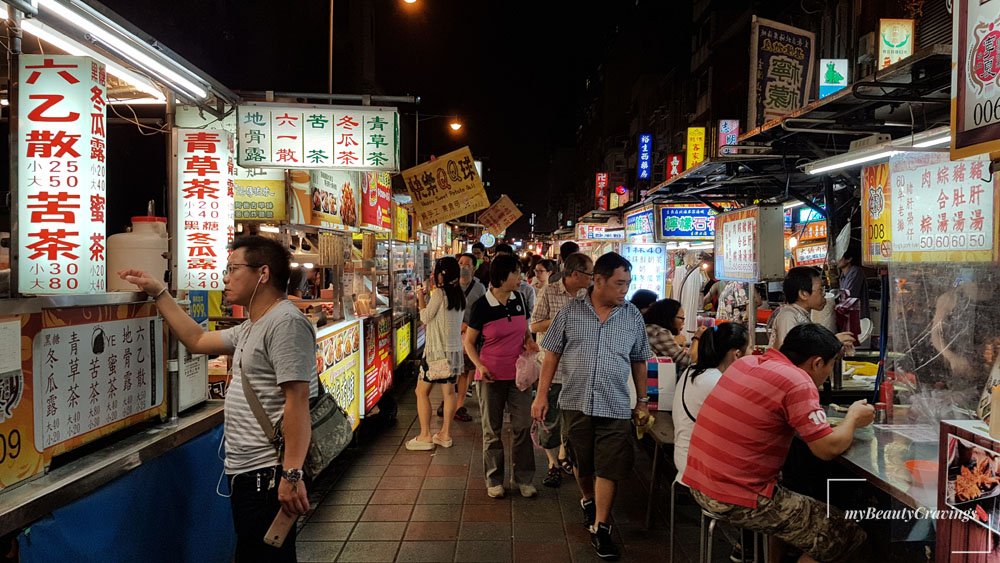 If I recall correctly, there was only a single alley of food stalls at Ningxia Night Market and it wasn't a long one. Nonetheless, it was a night market worth visiting. There were plenty of popular food options based on the queues that formed at many stalls. 
Popular Food at Ningxia Night Market – Grandma's Rice Dumpling
Sadly, I made a mistake at Ningxia Night Market (寧夏夜市) by choosing to queue at a seemingly popular stall – 慈音古早味阿婆飯糰 (Grandma's Traditional Rice Dumpling). It took me 50 minutes to get my hands on a single portion of the rice dumpling.
To be honest, I was deeply underwhelmed (NTD40) when I took my first bite. When you queue this long for street food, it kind of set your expectation sky high.
I thought the rice dumpling was too bland and over-filling as far as a tourist is concerned. It contains sour preserved vegetables, dried shrimps and thick crispy stuff which I think is deep-fried You Tiao (Fried Churros).
I really couldn't say I like it at all, although I can imagine the locals to love it as an affordable dinner option.
TIP: Tourists may want to choose light finger food over filling street food. In that way, you get to sample more local delights without straining your stomach.
It was at this point that I regrouped with my partner. He made very good food decisions as compared to mine. The Big Chicken Fillet (NTD70) was tender, juicy and mostly boneless making it an easy eating affair. 
I also took a sip of his Yam Milk Tea (NTD60). Woah, this beverage was so thick and filling – it's like drinking diluted mash yam. Not quite the right stuff for me tonight as I was already stuffed.
There were other interesting stalls which we didn't have the time or stomach space to sample. So if you have tried good stuff at NingXia Night Market, mind sharing them with our readers? 
Attraction Info: Ningxia Night Market
---
Conclusion: Eastern Taiwan Travel Series
This wraps up our Eastern Taiwan Travel Series. It wasn't the best trip for us because both of us fell sick in Taiwan (thanks to Typhoon) and was tired and coughing most of the time. But that's alright. This trip did leave behind lasting memories – memories of harrowing moments at Taroko Gorge or being literally roasted at Teapot Mountain.
Ha Ha. Okay Okay, next time, I'll visit Taiwan in Winter. :)
Thank you for reading my Taiwan travelogue.
Essential Info:
Accommodation: Sun Sweet Hotel, Taiwan
Month of Travel: October
Itinerary for the Day: Luodong Forestry Culture Park > Luodong Morning Market > Train to Taipei > Ximending > Zhongxiao Fuxing > Lin Hua Tai Tea Shop > Carrefour > Ningxia Night Market
Transport: Express Train, MRT and Foot
WiFi: Pocket WiFi / SIM Card 
Attractions: Taipei Unlimited Fun Pass
Free Taiwan 'Must-Buy' Checklist: Download
Love what you've read? If you like to get notified of newly-published beauty reviews and travel stories, just click the button below to subscribe. I'll even give you some free and exclusive stuff. See you there!
SUBSCRIBE
This post may contain affiliate links, meaning I earn a commission if you make a purchase, at no cost to you. Read my full disclosure for more info.
---
Related Posts:
(Visited 1,082 time, 1 visit today)