What's one of the best places to take in a bird's-eye view of Singapore's skyline? I've just spent a lovely evening at Ce La Vi, a SkyBar at Marina Bay Sands (MBS) and had a great time. As compared to other places that offer panoramic views in Singapore such as The Singapore Flyer and The Pinnacle Skybridge, I thought MBS SkyBar offered me the best overall experience.
Let me share more about how I spent my weekend evening at Marina Bay Sands SkyBar and why I highly recommend this as a must-visit destination in Singapore.
Update (Jun 2022): This post was first published in Jan 2020, and last updated to include latest available information. 
---
What's the difference – SkyPark vs SkyBar at MBS?
Marina Bay Sands SkyPark
To enjoy a sweeping city view of Singapore, many would visit the Marina Bay Sands SkyPark. This park located on the 57th floor of the iconic building is free to enter for hotel guests and priced at S$26 per adult visitor.
Other than getting access to the rooftop and observation deck, you'll also get to bring home souvenirs – 5 digital photos and 2 animated videos.
TIP: You can get MBS SkyPark ticket at cheaper price here. For real tourists to Singapore, check out Singapore Multi Attractions Pass that can offer you good savings. 
Marina Bay Sands SkyBar
Another way to enjoy similar view from atop Marina Bay Sands is to get to a bar or restaurant located on the rooftop. Depending on which F&B you visit, you'll be heading to the rooftop of either Tower 1, 2 or 3. 
> RELATED: Fort Siloso Skywalk – Where great view, nature and history are blended as one
Last weekend, we dropped by Ce La Vi Restaurant & SkyBar, located on the 57th floor of Marina Bay Sands Tower 3. At the ground floor of the lift lobby, we joined a quick-moving queue and paid S$23 per person in exchange for an entry voucher that can be used to offset F&B at Ce La Vi. 
Update (Jun 2022): According to Ce La Vi's website, there is currently no cover charge to enter the restaurant. Reservations are highly recommended. 
Then, we entered an elevator that brought us to the roof top in no time. "That's fast," one tourist commented as she referred to the speed at how fast the elevator reached the top floor. It was a pleasant, quiet and comfortable ride. 
Stepping out of the elevator, a Ce La Vi counter manned by gorgeous ladies in black was right before us. A friendly young lady who attended to us told us that we could access Ce La Vi Club Lounge (on left) and Restaurant & SkyBar (on right). Basically, it meant that we could wander about throughout the 57th floor as long as the passage was not blocked from access. :)
The only places we couldn't enter was the SkyPark Observation Deck and the infinity pool (although we could see them very clearly). I'll elaborate more in a bit.
---
A Great Evening at Marina Bay Sands SkyBar (Ce La Vi)
We were lucky to arrive at the time the sun was setting and caught an amazing sunset view at Ce La Vi Club Lounge. I didn't take any photos as I'd yet to get into a tourist's mood then. :)
At this section of Ce La Vi (left side), you can also see the famous MBS infinity pool. It's located right next to the lounge. Hmm, if I'm a hotel guest here, I think I'll be too shy to swim at the pool. But as a club lounge guest, you get free bikini (and trunk) show. :)
> RELATED: Everything you need to know about Sembawang Hot Spring
When we had enough of the sunset view, we strolled to Ce La Vi SkyBar & Restaurants located at the other end to order our drink. Most alcoholic drinks were priced at around S$23 and beer costs S$16. We ordered a Mai Tai and a tequila-based cocktail, both priced at S$23.
When taking our orders, the waitress clearly made known to us about the additional taxes of S$8+ that we needed to top up on top of the "entry voucher". No ambiguity here, which was great.
Be Prepared to Stand and Hold Your Drinks
As we were there during the popular sunset hours, all seats and tables were occupied. Those that were available had a reserved sign on it. The staff explained that the reserved seats were for guests with a minimum spend of S$50++ per pax.
Sounds reasonable to me as this place has a commanding view of Singapore and would likely incur a high rental cost. Hence, it's right for them to require a certain expenditure for their "more valuable assets" to be "rented". However, I was hopping that I could at least find a space to place my drinks instead of holding on to them all the time.
TIP: It was easier to get a table space after sunset. Easier, but not easy. :)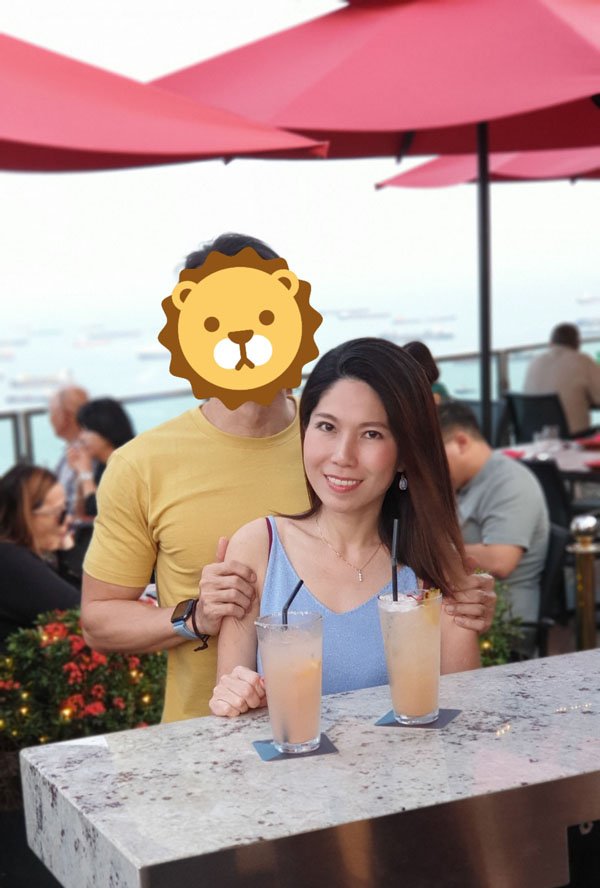 But that's okay, we made do by leaving our drinks at where it was served – at the bar counter. Finally, we could start snapping away and capture photos of Singapore's beautiful skyline. Over here, your eyes would be guided naturally to the sea, ships and distant skyscrapers that made up the horizon. 
You can also see a portion of the SkyPark located a level beneath where you are standing. This, as mentioned above, requires separate admission ticket (view discounted ticket). As you can see in the photo below, those at the SkyPark could stand near the edge of the building while we could only get to the edge if we managed to get a table. 
Chilled at Ce La Vi Club Lounge (Marina Bay Sands Rooftop)
Soon, we found ourselves back at Ce La Vi Club Lounge, the place where we viewed the sunset earlier. We basically hung out over here for the rest of the visit, sipping our cocktail, chit-chatting and enjoying the view.
Luckily for us, a bar table became available shortly after, allowing us to place our drinks, keep our hands free and to take some decent photos. 
The view over here would bring your focus to the nearer objects such as the waterfront promenade and the tall skyscrapers surrounding it. Twilight and night views over here were awesome as the brightly-lit buildings decorated the skyline and created nice reflections off the water.
How's the drinks at Ce La Vi Singapore?
I think the alcohol content is mild and the taste is not strong. It's just enough to help you feel relaxed and happy, but not to the extent of causing fatigue or loss of alertness.
I wouldn't have appreciated a mild alcoholic drink in my younger days as it's not value for money, right? LOL! But, I'm now fine with it, because I find it energy-sapping to have to try to stay alert and awake after a drink. :)
The signs of getting old? 
You get aerial view of Super Trees (Gardens by the Bay)
When we were about to leave the premises, we thought we would visit the toilet first. Along the way, we happened to chanced upon another deck that offered a different view. This time around, we were presented with a view of the Domes (Cloud Dome & Flower Dome) and Supertree Grove located at Gardens by the Bay.
Travel Savings: Visit the link to get cheaper ticket to Gardens by The Bay.
Other than the permanent fixtures, we also caught a nice aerial view of over 300 color-changing floating eggs. The eggs changed colors in a "synchronized" manner and the wave-like patterns were more obvious when viewed from the top (as compared to close-proximity viewing at Gardens by the Bay). 
We also took time to admire other iconic landmarks, such as the The Singapore Flyer.
> RELATED: National Museum of Singapore – Don't miss these 2 must-see exhibitions!
---
Wrapping up our "Singapore Tour" around MBS
All in all, we spent about 1.5 hours at Marina Bay Sands Skybar. Throughout the stay, at least three staff from Ce La Vi volunteered to help us take couple shots when they saw us attempting a wefie. That was really nice of them!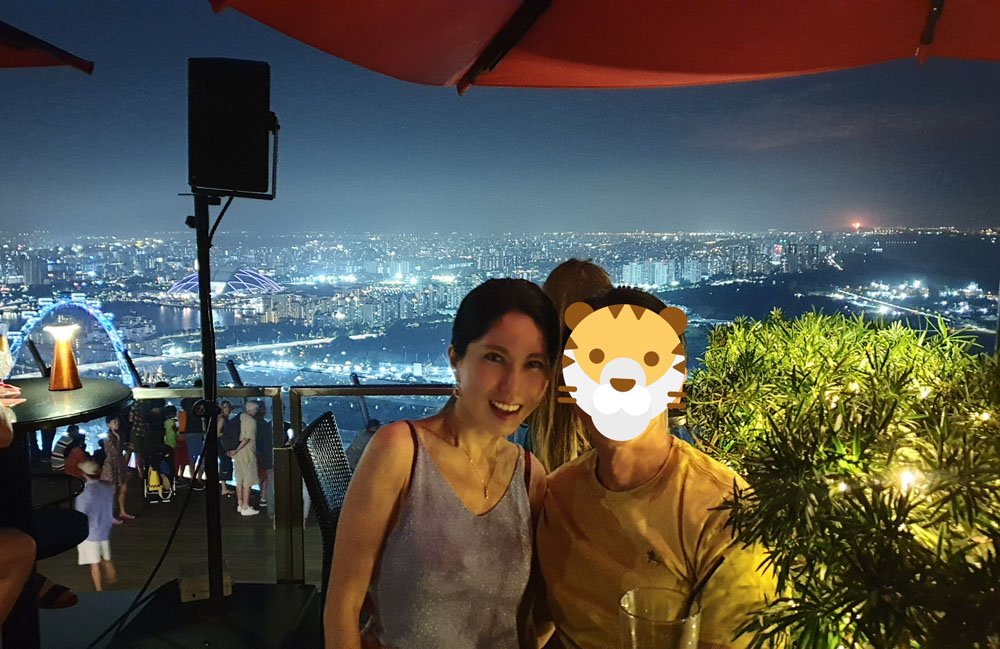 So, should you visit MBS SkyBar or SkyPark? 
If you like to bring home free souvenirs (photos and videos) and have a larger space to walk around and be right at the edge of the iconic building, paying for SkyPark admission would make a lot of sense. It is also child-friendly – no booze, no loud music.  
However, those who have time for a drink or like to enjoy dining at a superb rooftop can consider visiting the SkyBar and restaurant instead. The view here is equally spectacular and you don't have to pay admission to get to the rooftop. But do up your F&B budget as dining and drinking here is not cheap. 
A Stroll to Gardens by The Bay
Done with our Marina Bay Sands SkyBar visit and feeling somewhat happy due to the effect of alcohol, we took a slow stroll to the "floating eggs". Getting to Dragonfly Lake at Gardens by the Bay took us about 15 to 20 minutes (view location).
UPDATE: This temporary egg exhibit ended in March 2020. 
We sat by the boardwalk and followed the eggs as they changed colors in a sweeping format. As compared to viewing them from the top, seeing them now in close proximity stimulated more of our senses, from sight and hearing to touch. Yes, you can interact with the eggs – by touching them to make them change colors and produce a musical note. 
I felt so relaxed as I immersed myself in the spa-like ambiance music while my eyes followed the flow of the colors.
Finale: Marina Bay Sands Light Show
We ended the day with a daily MBS Light Show which we happened to see when we made our way back to the carpark.
Just a few hours ago, we were still standing at the top of one of MBS towers (the left one), and now we were enjoying the view of the facade at the Jubilee Bridge (view location).
TIPS: MBS Light & Water Show starts at 8pm and 9pm daily. On Friday and Saturday, there's an additional show at 10pm. Each show lasts for 15 minutes. 

You may also be interested in MBS ArtScience Museum if you are at the area. Click to view discounted ticket price.
That's a lovely "city hiking" weekend for us in Singapore. All in all, 22,000 steps walked and we were happy! :) 
That's all to my mini Singapore Day Tour at and around Marina Bay Sands. Thanks for reading! If you like more of such travelogue, just click the button below to subscribe. You'll also get access to free and exclusive stuff. Talk to you soon!
SUBSCRIBE
(This post was first published in Jan 2020, and last updated to include latest information.)
Pin This!
This post may contain affiliate links, meaning I earn a commission if you make a purchase, at no cost to you. Read my full disclosure for more info.
(Visited 2,681 time, 2 visit today)